March, 1, 2015
Mar 1
11:55
AM PT
ESPN.com news services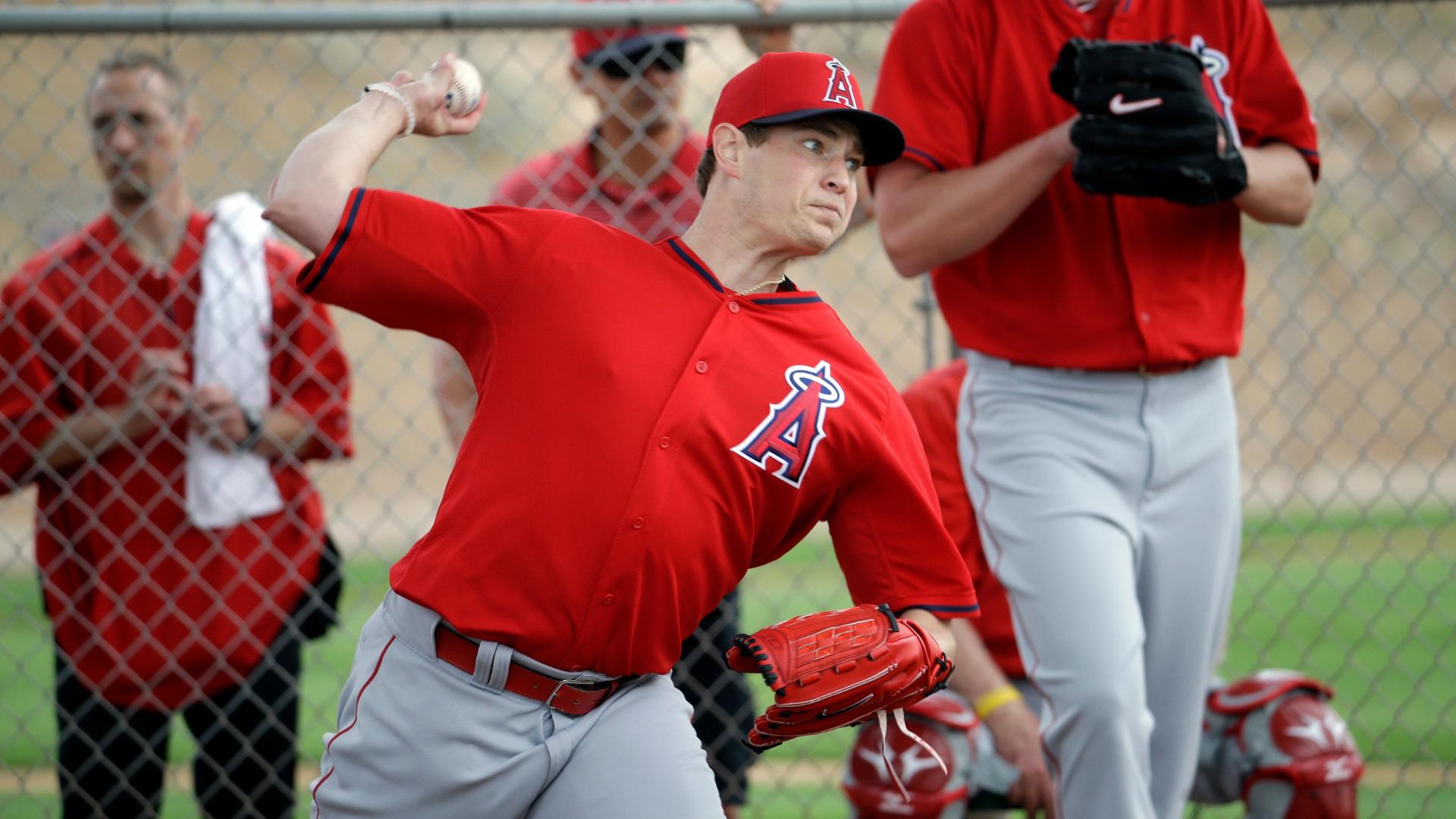 Los Angeles Angels right-hander Garrett Richards will not be ready to pitch on Opening Day, according to manager Mike Scioscia.
Richards is expected to begin pitcher fielding drills in about a week as he makes progress from August knee surgery, and the club remains hopeful he could be pitching in games two to three weeks into the regular season for the reigning AL West champions.
"It's not going to be Opening Day, let's put it that way," Scioscia said Sunday. "He knows it, and it's great that he's not going to be able to rush it because our medical staff's not going to let him. There's a progression. He has to pass every plateau. It's great that he's going to shoot for being ready. He's working very hard to be ready Opening Day, but he's not going to be ready Opening Day."
Richards and the Angels previously had hoped that the right-hander would be ready by the time their regular season starts on April 6 against the Seattle Mariners.
Scioscia said that Richards would throw a bullpen session of 40-50 pitches and do some simulated work Sunday to prepare for fully fielding his position, weather permitting with rain forecast all weekend in the Arizona desert. That work would include agility work in the outfield and making some cuts and turns like he does moving off the mound.
February, 26, 2015
Feb 26
6:06
PM PT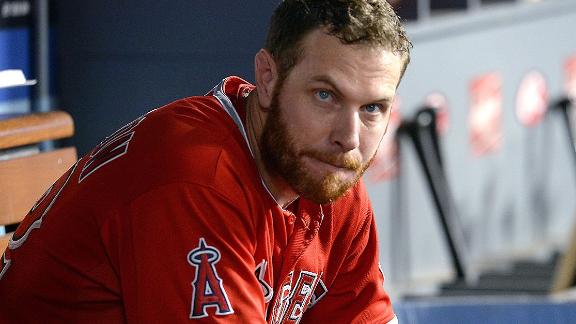 CLEARWATER, Fla. -- Room 4, in the Winning Inning Baseball Academy, still looks exactly like Josh Hamilton left it nine years ago.
The mattress he slept on, when he had nowhere else to turn in this world, still sits in a corner on a bare, uncarpeted floor. And the man who gave him that mattress to sleep on now wonders, more than ever, whether his most famous student, protégé and friend has taken the right path in life.
Like so many people who care about Hamilton, Roy Silver says, "I wish I knew more" about the apparent relapse that led Hamilton to MLB's offices in New York this week and about the details of a wrong turn that has left Hamilton's future in baseball more uncertain than ever. But more than anything, Silver wishes this man had simply turned to one of the legions of people who would be there to help him, if he'd only asked.
People such as Roy Silver, for instance.
"I don't believe he utilizes his resources to the extent he needs to so these types of things don't happen," the president and CEO of Winning Inning said by phone from Arizona on Thursday. "Whether he considers me a resource is not for me to say. But I know our relationship is genuine. I'm able to share my feelings. He's always been very receptive to my feelings."
Asked what he meant by not utilizing his resources, Silver said: "Like anybody on this earth, when something is going wrong, reaching out first [to people who can help] is what we should do."
But almost any time Hamilton has lost his struggle to control his demons, he has tended to reach out too late, after the damage has been done, and this appears to be another one of those times.
February, 26, 2015
Feb 26
1:52
PM PT
TEMPE, Ariz. --The best pitcher and the best player on the planet spent an afternoon orbiting each other while filming a few TV commercials for Subway the other day in Arizona.
Mike Trout
got there by 10:30 a.m. and left around 10 p.m., spending some of his down time in a trailer with his agent, Craig Landis, and visitors.
Clayton Kershaw
, who finished a morning workout across town in
Los Angeles Dodgers
camp, arrived at about 1:45 p.m. and was on site for about five hours, then went to meet his wife Ellen and newborn daughter, Cali Ann, who flew in that evening from Dallas.
Over a long afternoon, Trout and Kershaw patiently took turns doing their voice-overs, still shots and social media obligations for the company, then were driven on golf carts to nearby Tempe Diablo Stadium for their on-field shoots.
Inside the
Los Angeles Angels
' minor-league weight room, baseball's most transcendent talents greeted one another.
"I'm going to crash your photo shoot," Kershaw said as he walked into the room.
Trout, gripping a bat, extended his hand to offer Kershaw congratulations on winning the National League MVP award. Kershaw seemed genuinely touched.
"Thanks dude," he said.
They chatted for a few minutes, joking about the long, sometimes boring process of shooting advertisements. Trout joked that Kershaw could look forward to eating about 15 sandwiches over multiple takes. "You're gonna eat," Trout said. There was none of the tension one might expect from two of the game's fiercest competitors, paid lavishly to make the other look bad. Then again, Opening Day was still months away, the earliest they could possibly face one another in a game that counts still five months out.
So, on a crystal clear, cool Arizona afternoon, they could let down their competitive guards.
"We both play baseball, so it's not too awkward territory for us," Kershaw said.
One of baseball's narratives this spring is to wonder who becomes the face of baseball now that
Derek Jeter
, the New York Yankees' iconic shortstop, has retired. Baseball is thriving at the local and regional levels while struggling to keep up with other leagues on the national stage, so it's a fairly pressing issue for the game. World Series ratings have been in decline since the early 1990s. Last year's series had the third-worst ratings on record, just beating 2012 and 2008. Yet some teams, including the Dodgers and Angels, are living large on 10-figure local media revenues.
MLB.com crowd-sourced the "Face of Baseball" question on Twitter and the winner was
San Francisco Giants
catcher
Buster Posey
. One could just as easily make an argument for Trout or Kershaw. The Subway commercials in and of themselves are proof of that since national TV advertising campaigns are rare for major-league players. Trout grew up watching the sandwich commercials of
Philadelphia Phillies
first baseman
Ryan Howard
.
Baseball's star power hasn't exactly migrated westward since Jeter's retirement. It has taken a jet. According to the largest online retailer of officially licensed gear, Fanatics.com, the five best-selling names in baseball so far this year are all from California. In order, they are World Series hero
Madison Bumgarner
, Trout, Posey, Kershaw and Dodgers outfielder
Yasiel Puig
.
In 2013, the Dodgers finished with the highest road attendance in baseball. The Giants were second. Last year, the Dodgers were second to the
New York Yankees
. The influx of star power is benefiting West Coast teams.
"There's a benefit when our players are popular," Dodgers vice president for marketing Lon Rosen said. "Rivalries help baseball, high quality baseball helps. All of the things, you sort of put in a pot, you stir it around, it helps us and it's good for baseball in general when the players become more high-profile."
It could be that way for a while. Posey, 27, is signed through 2021. Kershaw, 26, is signed through 2020, as is Trout, 23. Kershaw and Trout are the reigning MVPs of their leagues. Posey won the award in 2012. Of course, there's no saying that the nexus of star power doesn't shift east again, perhaps to Miami's
Giancarlo Stanton
if his team contends or to
Jon Lester
if the
Chicago Cubs
make their long-anticipated big move.
February, 26, 2015
Feb 26
8:40
AM PT
ESPN.com news services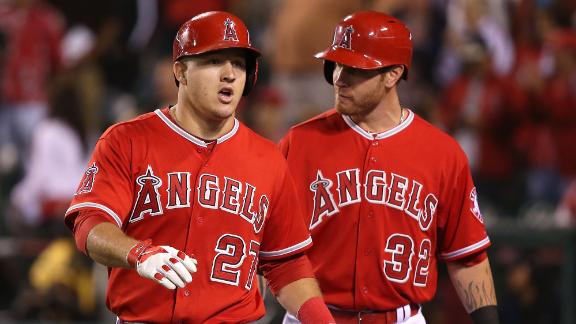 Los Angeles Angels outfielder Josh Hamilton suffered a drug relapse involving the use of cocaine and alcohol in the offseason, according to ESPN and media reports.
The New York Daily News reported news of the relapse Thursday.
On Friday, a source told ESPN's Tim Keown that Hamilton's relapse involved alcohol and a one-time use of cocaine, and when Hamilton realized a drug test, which is administered three times a week, would come out positive, he self-reported his relapse.
Hamilton has a well-documented history of substance abuse problems dating to his days in the minor leagues, when he was suspended from baseball from February 2004 to June 2006, for issues related to cocaine and alcohol addiction.
The Angels confirmed that he met with MLB officials in New York on Wednesday about a disciplinary issue but offered no specifics as to the nature of any offense.
"We're all waiting for some information to come out of New York," Angels manager Mike Scioscia said Thursday. "He obviously went up there for a meeting, and we'll see how everything unfolds. But right now, we're just in a holding pattern like everyone else."
The Los Angeles Times earlier reported the meeting between Hamilton and the league.
Hamilton's agent, Michael Moye, did not return a call seeking comment Wednesday. MLB spokesman Pat Courtney declined to comment.
The Daily News report follows tweets by Jon Heyman of CBSsports.com on Wednesday in which he wrote: "Hear hamilton had relapse. Believe occurred a couple months back. Involved at least cocaine." In another tweet, Heyman wrote, "There's no word of a failed test. Word is, Hamilton told mlb about relapse."
Hamilton, who underwent shoulder surgery
February, 26, 2015
Feb 26
6:34
AM PT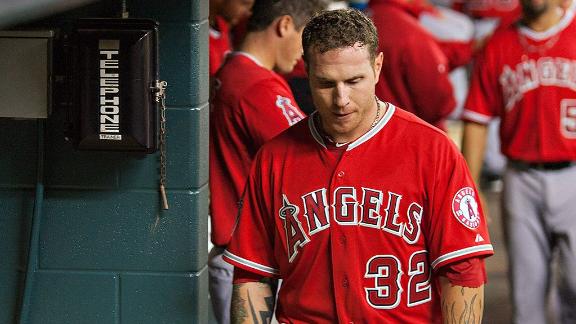 The Angels are bracing themselves for the possibility that
Josh Hamilton
will
be disciplined
by Major League Baseball, as Mike DiGiovanna reported. Hamilton's father-in-law told Steven Marcus that he has hit
a bump in the road
.
Hamilton is a big name, and for his past achievements and stardom, the Angels committed a five-year, $125 million deal to him after the 2012 season. But whether his absence from the Angels is brief or extended, the actual impact on the team