August, 22, 2014
Aug 22
10:16
PM PT
ESPN.com news services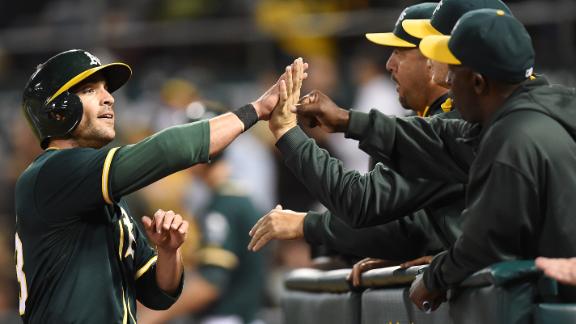 OAKLAND, Calif. -- Sonny Gray ended a monthlong losing streak, pitching into the ninth inning and leading the Oakland Athletics over the Los Angeles Angels 5-3 Friday night in a matchup of AL West rivals.
Coco Crisp hit his 15th career leadoff home run and Stephen Vogt added a solo shot for Oakland in the opener of a three-game series. Sam Fuld hit a go-ahead triple in the sixth inning and the A's pulled within one game of the division-leading Angels.
Mike Trout and Josh Hamilton homered for the Angels
Gray (13-7) allowed three runs and six hits over 8 1/3 innings. Sean Doolittle recorded the final two outs for his 19th save, fanning pinch-hitter Chris Iannetta with the bases loaded to end it.
Reliever Jason Grilli (1-2) gave up Fuld's key hit.
August, 22, 2014
Aug 22
6:11
PM PT
ESPN.com news services
OAKLAND, Calif. -- Los Angeles Angels pitcher Garrett Richards underwent surgery Friday to repair the torn patellar tendon in his left knee.
Richards tweeted a picture of himself in a hospital bed before the surgery, then used social media to announce the procedure was finished.
I'm out. Surgery went great! Thank you everyone for your support and positive vibes. I will get through this.

- Garrett Richards (@GRICHARDS26) August 23, 2014
The ace right-hander took to Twitter earlier in the day, too.
I was expecting to be wearing a different uniform today but I make this look good! #imgoingin #igot5onit pic.twitter.com/7Zw8TCrw3O

- Garrett Richards (@GRICHARDS26) August 22, 2014
Richards was 13-4 with a 2.61 ERA this year before getting hurt Wednesday while covering first base during the Angels' 8-3 win over the Boston Red Sox. He is on crutches and might rejoin the club next week in Anaheim.
Angels manager Mike Scioscia said Richards' surgery "went as expected." He added that the timetable for Richards' recovery remains six to nine months.
Information from The Associated Press was used in this report.
August, 22, 2014
Aug 22
8:30
AM PT
By
Kenton Wong
| ESPN Stats & Information
Stephen Dunn/Getty ImagesHector Santiago has overcome a bad start to his season to help solidify the Angels' rotation.
With injuries in the past few weeks to young starters
Garrett Richards
and
Tyler Skaggs
, the
Los Angeles Angels
rotation quickly became an area of need. Aside from replacing Richards' spot in the rotation (early signs look like
Wade LeBlanc
is the choice), the Angels need the other four starters to step up their game.
One starter who has quietly lowered his ERA over the summer is
Hector Santiago
. He'll get the ball as the Angels open up their weekend series against the
Oakland Athletics
.
Santiago came over in the offseason as part of the
Mark Trumbo
trade that also netted Skaggs.
The lefty put up a solid 3.41 ERA from 2011-13 with the
Chicago White Sox
. But there were warning signs as his Fielding Independent Pitching (FIP) over that span was 4.49, suggesting he was more lucky than good.
Bad first impression
Those fears turned to reality quickly this season as the Angels lost Santiago's first seven starts of the season, with the southpaw tagged for six of those losses and a 5.19 ERA.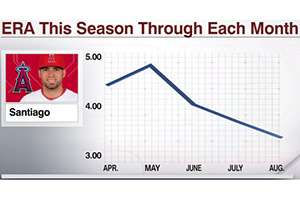 ESPN Stats & Information
Santiago spent most of May and June bouncing between the bullpen and the rotation. Since the initial demotion, his ERA has been less than half than it was in his first seven games.
Lately a stellar fastball-changeup combination has worked for Santiago. In his last 15 games Santiago has held opponents to a .161 BA in at-bats ending with a fastball and a .179 in at-bats ending with a changeup.
Getting straight A's
The Athletics have had plenty of trouble trying to hit Santiago this year. He has made two starts against them this year, both in Anaheim, allowing a total of one run and eight hits in 13 innings. That run came on a solo shot by
Yoenis Cespedes
who is no longer on the team.
Third baseman
Josh Donaldson
has really struggled against Santiago, striking out three times in six at-bats this season.
August, 22, 2014
Aug 22
12:39
AM PT
By
ESPN Stats & Information
AP Photo/Patrick SemanskyThe Angels were 19-7 (.731) in games Garrett Richards started this season.
Los Angeles Angels
pitcher
Garrett Richards
is expected to miss 6-9 months after an MRI exam Thursday revealed a torn patellar tendon in his left knee. He sustained the injury while running to cover first base in Wednesday's start against the
Boston Red Sox
.
With Richards done for the year, let's review his breakout season and his importance to the Angels.
Breakout season

Richards entered the season 9-9 with a 4.37 ERA in 29 career starts (167 innings), but the 26-year-old figured things out this year. Richards will finish the year 13-4 with a 2.61 ERA over 168 2/3 innings. In 1 2/3 more innings this year, he gave up 32 fewer runs as a starter than the previous three years.
He has become one of the best starters in the American League, ranking first in opponent slugging percentage (.261), second in opponent batting average (.201), eighth in ERA (.261), 10th in strikeout rate (24.2 percent) and sixth in ground-ball rate (51.3 percent).
Richards' opponent slugging percentage is the fourth lowest in a season in Angels history and the lowest since Nolan Ryan in 1977. It's also the third lowest by any pitcher in the last 20 seasons. The only two lower?
Pedro Martinez
(.259) in 2000 and
Greg Maddux
(.258) in 1995, both of whom went on to win Cy Young awards those years.
So just how did Richards put it together this season? His plus stuff finally started missing bats. From 2011 to '13, Richards' strikeout rate was only 15.2 percent as a starter. That ranked 168th out of 230 pitchers who started at least 20 games over that span. This season, he has increased his strikeout rate to 24.2 percent, which ranks 16th out of 95 qualified starters. In fact, only one starter in baseball has increased his strikeout rate more than Richards from last season to this season (
Brandon McCarthy
8.0 percentage points; Richards 7.9).
Importance to Angels

The Angels are 19-7 (.731) when Richards starts this season and 57-43 (.570) when anyone else does. According to Elias, the Angels' .731 win percentage with Richards on the mound is the best for any starter in the American League this season (minimum 15 starts).
Richards has been worth 4.4 Wins Above Replacement this season. Entering Thursday, all other Angels starters had been worth 3.3 WAR combined. The loss of Richards could have an effect on the Angels' bullpen as well. No bullpen has thrown more innings since the All-Star break than the Angels (122).
Replacing Richards

While it's unclear who will take Richards' spot in the rotation the rest of the season, the Angels will surely look for their other starters to step up, as
Matt Shoemaker
did Thursday night against the Red Sox.
Shoemaker no-hit the Red Sox through 6 2/3 innings and finished with 7 2/3 scoreless innings along with nine strikeouts. Since giving up a career-high eight runs against the
Kansas City Royals
on June 27, Shoemaker is 5-2 with a 2.51 ERA in seven starts.
August, 22, 2014
Aug 22
12:38
AM PT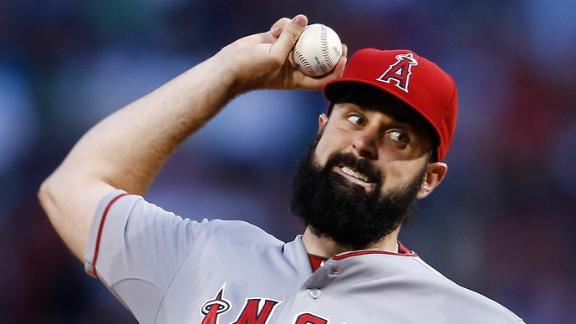 BOSTON -- Here's one way to make your first trip to Fenway Park memorable:
• Have a bucket of ice water poured on your head from the top of the Green Monster;
• Take a no-hitter into the seventh inning;
• Have your wife tweet what she thought was a "little joke" about the guy who broke up your no-no, then have to delete it because of all the grief she took.
This summed up the past two days for Angels rookie
Matt Shoemaker
, who on Wednesday created his own way to honor Pete Frates and the ALS ice bucket challenge, then iced the Red Sox Thursday night until
Will Middlebrooks
doubled with two outs in the seventh inning, Boston's only hit in a 2-0 loss to Los Angeles.
[+] Enlarge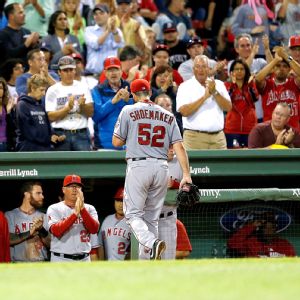 Jim Rogash/Getty ImagesMatt Shoemaker had an eventful couple of days in Boston, highlighted by his one-hitter for 7⅔ innings Thursday night.
"We were smart about it," Shoemaker said of the dousing he took from teammate
Efren Navarro
and one of the clubhouse attendants Wednesday afternoon. "We took all the ice out.
"Some of our guys have had ice dumped from three feet and gotten cut in the head. I'm not going to be stupid about it. We took the ice out. It was awesome. I didn't know about Pete Frates until we got here. For him, a big Boston fan, doing it here, that was awesome."
So was setting down 20 straight Red Sox batters, after hitting leadoff man
Brock Holt
, in a bid to become the first rookie to throw a no-hitter since Boston's
Clay Buchholz
on Sept. 1, 2007, and the first opposing pitcher to throw a no-no at Fenway since Detroit's Jim Bunning in 1958.
Shoemaker was still at Eastern Michigan University in 2007, then went undrafted in 2008 as 1,504 players were taken without his name being called. He signed with the Angels after the draft for $10,000, and has turned into one of the game's best bargains: His 12 wins are tied with
Masahiro Tanaka
for most in the majors by a rookie in 2014.
Danielle Shoemaker evidently was disappointed when Middlebrooks broke up the no-no by lining a double into the left-field corner.
"Middlebrooks you butthole," she tweeted, only to delete it later due to negative reaction.
"I'm getting a lot of rude responses for a little joke," she subsequently tweeted.
Shoemaker smiled when told of his wife's Middlebrooks tweet.
"Is that good or bad?" he said. "That's a funny way to do it, right?
"I'm glad she said it the way she said it. I know her better than other people. That's her just being funny, goofy. That's cool."
August, 21, 2014
Aug 21
7:36
PM PT
Associated Press
BOSTON -- Rookie Matt Shoemaker didn't allow a hit through 6 2/3 innings and the Los Angeles Angels held on for a 2-0 win over the Boston Red Sox on Thursday, completing a four-game sweep at Fenway Park.
Shoemaker (12-4) struck out nine and held the Red Sox to one hit over 7 2/3 innings before a two-out walk to Mookie Betts in the eighth ended his night. It was the only walk of the night for Shoemaker, who struck out nine. Jason Grilli pitched the ninth for his 12th save of the season and first with the Angels since coming to Los Angeles in a deal with Pittsburgh on June 27.
Rubby De La Rosa (4-5) pitched 6 2/3 innings, allowing two runs eight hits.
August, 21, 2014
Aug 21
10:26
PM PT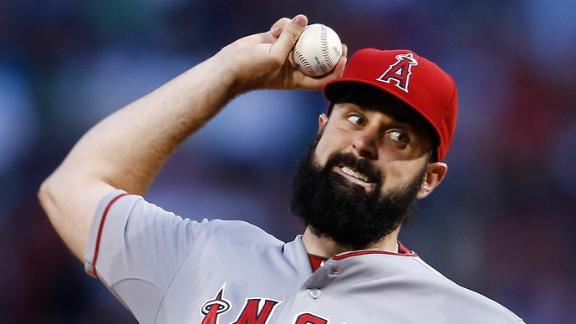 BOSTON -- So, is it piling on when the bearded stars at Fenway Park are playing for the other side?
Angels rookie pitcher
Matt Shoemaker
, the man with the shoe-black whiskers forming a hedgerow where his chin used to be, held the Red Sox hitless for 6 2/3 innings Thursday night before
Will Middlebrooks
stroked a double to left. That was Boston's only hit in a 2-0 loss to the Angels before a crowd of 36,160 in Fenway Park.
Shoemaker was pitching against a Red Sox lineup missing
David Ortiz
(day off) and
Mike Napoli
(back spasms) at the start of the game, then saw left fielder
Yoenis Cespedes
depart after the third inning for what the club termed a "personal matter." The club offered no other information during the game.


Shoemaker was attempting to become the first rookie to throw a no-hitter since
Clay Buchholz
on Sept. 1, 2007, and the first opposing pitcher to throw a no-hitter in Fenway Park since Jim Bunning on July 20, 1958.
Shoemaker, who played at Eastern Michigan and went undrafted in 2008 in a draft in which 1,504 selections were made, signed a $10,000 deal with the Angels, made his big league debut with a September start in 2013 and unexpectedly has become a dependable member of the Angels' rotation.
He hit Boston's first batter of the game,
Brock Holt
, with a pitch, then set down 20 straight batters before Middlebrooks, who entered the game after Cespedes' departure, doubled into the left-field corner.
Second one-hitter versus Sox:
The Sox also were held to one hit by
Marcus Stroman
and two relievers on July 24 in Toronto.
Shoemaker, 27, struck out the first two batters of the eighth,
Kelly Johnson
and
Xander Bogaerts
, then was lifted for reliever
Mike Morin
after walking
Mookie Betts
. Morin struck out
Christian Vazquez
to end the eighth.
Shoemaker's 12 wins matched
Masahiro Tanaka
for most in the majors this season, and it was his second win in 12 days against the Sox: He pitched three scoreless innings at the end of the Angels' 5-4, 19-inning win over the Sox in Anaheim on Aug. 9.
Southbound train:
The Sox have now lost five in a row after being swept by the Angels, their first four-game sweep since Tampa Bay took four in a row April 16-19, 2010. The only other time the Angels swept the Sox four straight came 52 years ago, in 1962.
Hometown blues:
The Sox are now 29-37 at Fenway Park this season. They are five losses away from having only their third losing record at Fenway Park in 31 years. Only the 2012 team (34-47) and '97 club (39-42) have had a losing record in a full season on Yawkey Way since 1983.
Rubby down:
The loss went to
Rubby De La Rosa
, who gave up a couple of runs on eight hits and three walks in 6 2/3 innings. De La Rosa struck out eight.
Early showers:
Angels manager Mike Scioscia and first baseman
Albert Pujols
were ejected by plate umpire Andy Fletcher for arguing ball-strike calls in the sixth inning.
August, 21, 2014
Aug 21
3:19
PM PT
[+] Enlarge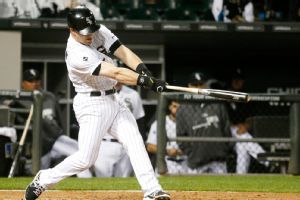 AP Photo/Charles Rex ArbogastGordon Beckham is expected to come off the bench for the Angels against left-handed pitchers.
The Chicago White Sox traded second baseman Gordon Beckham to the Los Angeles Angels for a player to be named later Thursday.
Beckham, in his sixth season with the White Sox, is batting .221 with seven home runs, 24 doubles and 36 RBIs in 101 games. A career .244 hitter, the 27-year-old struggled to replicate the success he had in his rookie season when he hit 14 home runs to go along with career highs in batting average (.270), on-base percentage (.347) and RBIs (63).
Angels general manager Jerry Dipoto said Beckham will come off the bench against left-handed pitchers. He also said they'll take a look at Beckham at shortstop along with second and third base.
"Not having a great year with the bat, but really wearing out left-handed pitching," Dipoto, who put a claim on Beckham before the trade was worked, told reporters, according to MLB.com. "We feel like it's a real nice platoon advantage for us.
"I think the benefit with our team is that you don't need him to take four at-bats a game, seven days a week. You just need him to be a part of the team."
August, 21, 2014
Aug 21
1:53
PM PT
ESPN.com news services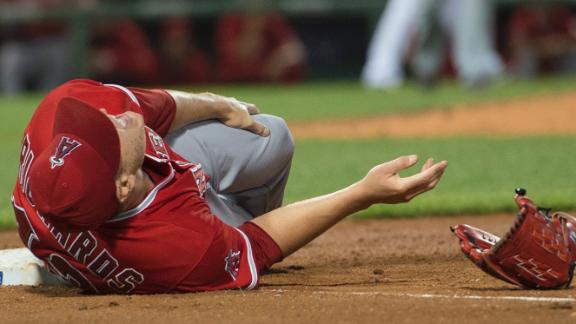 Los Angeles Angels pitcher Garrett Richards will be out six to nine months after an MRI showed he tore a left patellar tendon, the team announced Thursday.
"You're going to be thinking of Garrett once every fifth day when he was out there," manager Mike Scioscia said. "You might not be able to replace that, but it doesn't mean that we're not going to be able to reach our goal as a cumulative pitching staff."
Richards, who was placed on the 60-day disabled list, is scheduled to undergo surgery Friday. He was injured Wednesday night against the Red Sox while covering first base in the second inning.
First baseman Albert Pujols had fielded a ground ball by Brock Holt and thrown to second for a force play with Boston runners on first and second. Richards never made it to first base, as he fell to the ground, clutching his left knee in pain.
General manager Jerry Dipoto said Thursday "we'll be open" about finding a deal to replace Richards in the rotation. The Angels selected the contract of left-hander Wade LeBlanc, who pitched briefly for the New York Yankees earlier this season, from Triple-A Salt Lake.
Dipoto said that nine months is an absolute worst-case scenario, adding that the injury "should not affect" Richards' 2015 season.
Richards, who was taken off the field on a stretcher, flew back to Los Angeles on Thursday to be examined by team doctors.
Center fielder Mike Trout
August, 21, 2014
Aug 21
10:42
AM PT
Associated Press
[+] Enlarge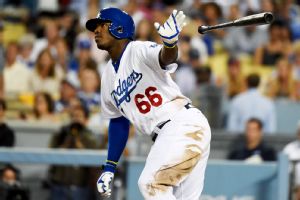 Lisa Blumenfeld/Getty ImagesDodgers outfielder Yasiel Puig will also be a part of the MLB All-Star squad that will be visiting Japan in November.
NEW YORK -- Seattle's Robinson Cano and the Los Angeles Angels' Albert Pujols will be among the players going to Japan in November for a five-game series against Japan's national team.
The announcement was made Thursday by Major League Baseball and the players' union.
Baltimore's Adam Jones and the Dodgers' Yasiel Puig also will play in the Nov. 11-20 series. Texas Rangers manager Ron Washington will lead the team in the 11th All-Star series.
The games will be in Osaka, Tokyo and Sapporo, with exhibition games in Osaka and Okinawa.
August, 20, 2014
Aug 20
11:59
PM PT
By
Eric Garcia McKinley
| ESPNLosAngeles.com
Here are six names:
Jered Weaver
,
C.J. Wilson
,
Hector Santiago
,
Matt Shoemaker
,
Tyler Skaggs
and
Garrett Richards
. These are the only pitchers to start a game for the 2014
Los Angeles Angels
of Anaheim. It's a small list that is an example of good health and good luck. For context, the
Texas Rangers
have relied on 13 different starting pitchers, seven more than the Angels, so far in 2014.
The Angels' barely-larger-than-necessary catalog of starters also helps explain some of their success this year. Where that current success ends up this season will be seriously challenged the rest of the way, because in the bottom of the second inning during Wednesday night's game in Boston, the Angels' rotation suffered a potentially devastating blow.
Boston Red Sox
third baseman
Brock Holt
hit a grounder to first baseman
Albert Pujols
; as Richards ran to cover first base, his left knee buckled. He fell to the ground in pain and had to be carted off the field. The severity of the injury is not yet known, but Angels fans would do well to withhold optimism.
[+] Enlarge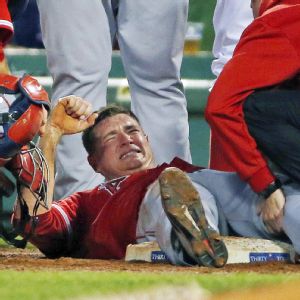 AP Photo/Elise AmendolaGarrett Richards' knee injury looked ugly from the moment he went down near first base.
The descriptor "ace" is tossed around a lot, and, although coming into the season Richards might not have been considered a major league ace -- or even a staff ace -- he has performed like one this season. Richards leads the Angels with a 2.53 ERA and a 2.59 FIP. He's striking out nearly a batter per inning and is walking fewer than three per nine. In terms of WAR, his 4.5 mark is more than double that of Weaver's second-best 2.0. Richards is also among the best pitchers in the American League. He has the fifth-best ERA in the AL and has pitched 31 percent better than league average.
With Richards hurt and Skaggs out for the year for Tommy John surgery, the four known occupants of the Angels rotation are Weaver, Wilson, Santiago and Shoemaker. Who will fill Richards' spot should he miss a significant amount of time is unclear, but the potential names currently in the organization are uninspiring. In June, the Angels acquired
Wade LeBlanc
off waivers from the
New York Yankees
. LeBlanc has pitched only 7⅓ innings in 2014; he pitched 55 last season between the
Miami Marlins
and
Houston Astros
for a 5.40 ERA.
Another possibility is
Randy Wolf
, whom the Angels signed in late July. Wolf is with his fifth organization of 2014, as he was signed and released by the
Seattle Mariners
,
Arizona Diamondbacks
, Marlins and
Baltimore Orioles
before signing with the Angels. The 5.26 ERA Wolf posted while with the Marlins resembles his 5.28 ERA from 2012, the last time he pitched in the big leagues before this season.
The final possible in-house replacement for Richards is
Chris Volstad
. Volstad spent 2013 with the
Colorado Rockies
, posting a 10.81 ERA in eight innings of major league action. That is, of course, a small sample size. The 4.94 ERA Volstad produced in more than 700 big league innings is a larger sample that's equally frightening in a playoff race.
Looking around the big leagues, there are quality starting pitchers who might be made available through a waiver deal, such as
Jorge De La Rosa
and
Bartolo Colon
, assuming the
Oakland A's
can't block the Angels with their own claim.
Richards' absence will be felt most in the playoff race. The Angels currently sit 1½ games ahead of the A's. It's entirely possible the division will be decided by a single game, and it's also entirely possible that losing Richards for the year will cost the Angels at least a win or two. As things now stand, it looks like second place in the American League West will earn one of the two wild cards, but that will come with an enormous disadvantage. An injury such as this one highlights how important it is to make it to the playoffs via a division title rather than a wild card. If the Angels finish in second place, they very well might be tasked with a one-game playoff against the
Detroit Tigers
, or maybe the
Kansas City Royals
, who would trot out
James Shields
to pitch, or perhaps
Felix Hernandez
and the Mariners. And the Angels would have to play that game without their own ace to send to the mound in a must-win game.
Richards' injury also forces us to re-evaluate the trades that general manager Jerry Dipoto made at the non-waiver deadline. The contrast between Dipoto's strategy and A's GM Billy Beane's is glaring: Dipoto reinforced the Angels' bullpen by acquiring
Joe Thatcher
,
Jason Grilli
and
Huston Street
, while Beane hoarded many of the available starting pitchers in
Jeff Samardzija
,
Jon Lester
and
Jason Hammel
. At the time, Dipoto's moves appeared to shore up a critical piece in preparation for a playoff run. Now, however, the Angels are left with a deep bullpen, four starting pitchers and a stark reminder that good health and good luck are fleeting.
Eric Garcia McKinley blogs about the Rockies for the SweetSpot network affiliate Rockies Zingers. You can follow him on Twitter at @garcia_mckinley.
August, 20, 2014
Aug 20
8:09
PM PT
Associated Press
BOSTON -- Josh Hamilton broke out of a slump with two hits and three RBIs, Howie Kendrick drove in two runs, and the Los Angeles Angels beat the Boston Red Sox 8-3 to increase their AL West lead on Wednesday night.
Hamilton was in a 5-for-41 slump with 18 strikeouts but hit two sacrifice flies and then singled in the Angels' final run in the ninth inning.
The Angels' seventh win in eight games put them 1 1-2 games ahead of Oakland but it was costly. Right-handed starter Garrett Richards sustained a patellar injury in his left knee while running to cover first base in the second inning. The extent of the injury wasn't known.
Richards, 7-2 in his previous 11 starts, left after 1 2/3 innings with a 2-0 deficit. Boston made it 3-0 on David Ortiz's homer in the third off winning pitcher Cory Rasmus (3-1).