October, 24, 2014
Oct 24
4:06
PM PT
ESPN.com news services
[+] Enlarge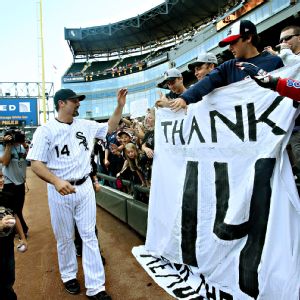 Jerry Lai/USA TODAY SportsPaul Konerko's "Bring Me Home Campaign" says it has raised nearly $450,000 to assist foster children in Illinois.
SAN FRANCISCO -- Retiring White Sox star Paul Konerko and Philadelphia shortstop Jimmy Rollins were picked Friday as the first co-winners of Major League Baseball's Roberto Clemente Award.
The annual honor is given for contributions on and off the field that best represent the sport and is named for the Pittsburgh Pirates Hall of Famer, who died on Dec. 31, 1972, in a plane crash while on a humanitarian mission to assist earthquake victims in Nicaragua.
"Their commitment to making a difference in the lives of children is a wonderful reflection of the legacy the legendary Roberto Clemente has left on our game and in society," baseball Commissioner Bud Selig said.
Konerko, the first member of the White Sox to receive the award, and wife Jennifer founded the "Bring Me Home Campaign," which also includes a pair of former teammates in retired great Jim Thome and the Los Angeles Angels' Gordon Beckham. The campaign says it has raised nearly $450,000 to assist foster children in Illinois.
October, 22, 2014
Oct 22
3:49
AM PT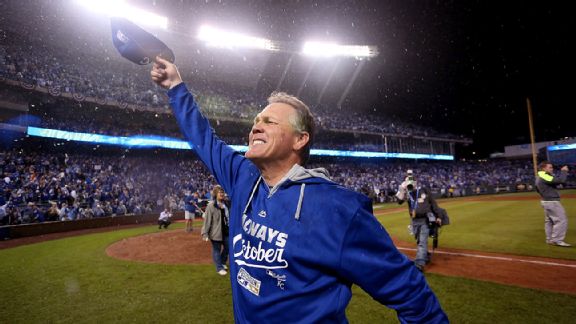 ED ZURGA/GETTY IMAGESThe 2014 Royals respect manager Ned Yost as much as the 1985 Royals respected Dick Howser.
I was lookin up when it was a cool night in October

Darryl Motley caught

a lazy fly off Andy Van Slyke's bat

Kansas City delirious as champs

we poured champagne on sweat-soaked heads

it burned our eyes

we didn't care

we screamed we sang we laughed

drunk with victory

--"A Career," from On Days Like This, poems by Dan Quisenberry
KANSAS CITY, Mo. -- Long time, 29 years. The airport, a hub for TWA, is still there, but TWA isn't. The Huffington Post, which wasn't around in 1985, just declared Kansas City "the coolest city in America," which might have seemed laughable back then. The ballpark is the same but different -- the beautiful grass hill in center field fell to the scourge of revenue-producing seats.
The home clubhouse has been rearranged, with the pitchers now on the side of the room closest to the field. Dan Quisenberry, the Royals' submarining closer, has passed away, a victim of brain cancer at age 45 in 1998. So has the skipper, Dick Howser, who died of the same thing less than two years after he won the World Series. Ewing Kauffman, the owner who brought the Royals to Kansas City, is also gone.
October, 21, 2014
Oct 21
4:42
PM PT
[+] Enlarge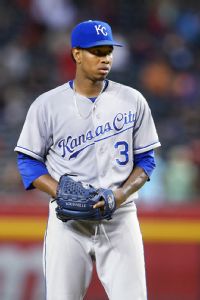 Mark J. Rebilas/USA TODAY SportsThe Royals' chances to even up the World Series rest on Yordano Ventura's shoulders.
KANSAS CITY, Mo. -- Yordano Ventura's defining moment in the 2014 postseason could have easily occurred in the American League wild-card play-in game, when he pitched in an unfamiliar role out of the Kansas City Royals' bullpen and gave up a potentially crushing homer to the Oakland A's Brandon Moss. It was the type of confidence-sapping failure on a grand stage that could have haunted him for a while. At the very least, it prompted a few Internet alarmists to mention Salomon Torres, the former Giants prospect who experienced the mother of all meltdowns on the final day of the 1993 season.
October, 9, 2014
Oct 9
9:00
AM PT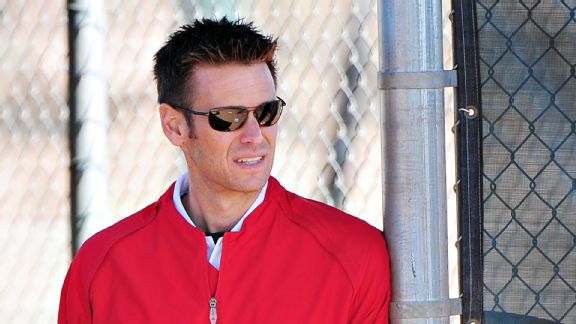 Kyle Terada/USA TODAY SportsGM Jerry Dipoto likely won't overhaul the Angels, but there are a few upgrades he needs to make.
The
Los Angeles Angels
finished the regular season with the American League's best record, but their questionable starting rotation let them down in the short division series against the
Kansas City Royals
. There is no doubt Angels general manager Jerry Dipoto's top priority this offseason will be to find an upgrade or two for their starting rotation.
Jered Weaver
will return as their ace after another successful season; he tied for the AL lead with 18 wins to go along with a 3.59 ERA and 169 strikeouts.
Garrett Richards
is expected back for most or all of the season, giving the Angels two ace-type pitchers at the top of their rotation.
Matt Shoemaker
, who just had a breakout rookie season (16-4 record, 3.04 ERA, 1.07 WHIP), should be a solid No. 3. But after those three, Dipoto has to be concerned
October, 6, 2014
Oct 6
9:50
PM PT
St. LOUIS -- St. Louis Cardinals second baseman Kolten Wong has been waiting nearly a year for a chance at redemption after getting picked off first base to end Game 4 of the World Series against the Boston Red Sox last October.
He just got his moment.
It came in the form of a go-ahead, two-run home run off Los Angeles Dodgers lefty reliever Scott Elbert in the seventh inning of the Cardinals' 3-1 victory on Monday night.
"Last year didn't go as planned," Wong said after helping the Cardinals to a 2-1 series lead. "That pickoff last year definitely crushed me for a long time throughout the offseason. I was really excited about it [this year]. To finally contribute to this team and do something special was exciting for me. I let a lot of emotion out."
Wong might have never gotten the chance to be the hero if not for the faith manager Mike Matheny showed in starting him against lefty Hyun-Jin Ryu and then leaving him to face Elbert. Some of that decision can be found in the numbers; some simply in Matheny's gut.
"There are some splits that will support that," Matheny said before the game. "But besides that, [I] like the at-bats that Kolten is taking and like him in the lineup and don't necessarily rule him out when there is a lefty on the mound."
Smart thinking.
Dodgers manager Don Mattingly probably wished Matheny felt differently while making out the lineup for Game 3.
October, 5, 2014
Oct 5
8:29
PM PT
Associated Press
KANSAS CITY, Mo. -- Alex Gordon hit a bases-clearing double in the first inning, Eric Hosmer and Mike Moustakas each homered and the Kansas City Royals beat the Los Angeles Angels 8-3 on Sunday night to finish a sweep of their AL Division Series.
Back in the playoffs for the first time since 1985, the wild-card Royals will face the Orioles in the AL Championship Series beginning Friday night in Baltimore. Kansas City went 4-3 against the O's this year.
The Royals' James Shields allowed homers to Mike Trout and Albert Pujols over six otherwise solid innings. C.J. Wilson failed to escape the first for Los Angeles, giving up all three runs on Gordon's tone-setting double.
The Angels are the second team in the divisional era to have the majors' best record and get swept from the playoffs. The Yankees were also swept by the Royals in 1980 ALCS.
October, 5, 2014
Oct 5
5:40
PM PT
Associated Press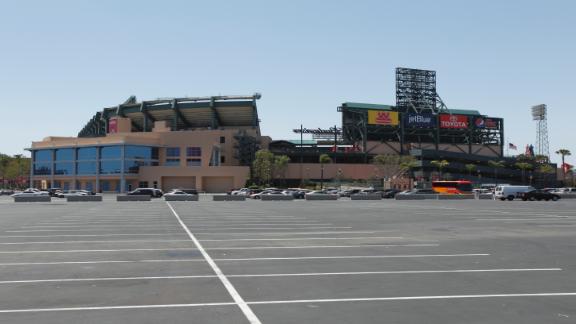 ANAHEIM, Calif. -- Police are looking for three men suspected of brutally beating a man in the Angel Stadium parking lot in what appears to have been an unprovoked attack.
The 43-year-old Huntington Beach man and his relative were walking to a car after the Angels' playoff game against the Kansas City Royals Friday night when they were attacked for no apparent reason, Lt. Bob Dunn said Sunday.
Witnesses alerted Anaheim police officers of the incident, and police found the victim unconscious. He was rushed to a hospital, where he was listed in critical condition.
The male relative was not injured.
"There is no evidence to suggest that there was an argument or any type of physical altercation prior to the incident in the parking lot," Dunn told the Orange County Register. He said there was no indication the attack had anything to do with team rivalries.
He said extra officers were on patrol for the postseason game, "above and beyond what we would deploy at a regular-season game."
Angels Stadium is located 30 miles south of Dodgers Stadium, where a San Francisco Giants fan was beaten in 2011 after a game between the rival teams. Bryan Stow, a paramedic from Northern California, suffered brain damage from the beating and is permanently disabled.
The violence sparked scrutiny of stadium security and fan behavior.
October, 5, 2014
Oct 5
3:54
PM PT
[+] Enlarge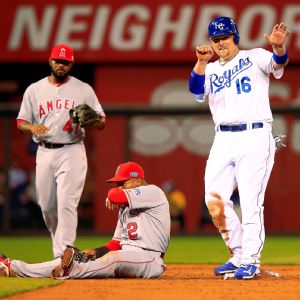 Jamie Squire/Getty ImagesBilly Butler's thunder on the basepaths symbolized the myriad ways in which the Royals surprised Angels.
KANSAS CITY -- Alex Gordon joined the Kansas City Royals organization in 2005 as the second overall pick of the draft. And then he spent the next nine Octobers in the exact same position most every Kansas City fan has spent the past 29 autumns: Spread out on the living room couch, watching oh, so many other teams spraying champagne on TV while wondering why the Royals could not even reach the postseason decade after decade ... after decade.
"I'd be thinking about what we could do to improve and get in that situation," Gordon said. "What can I do to improve? What can this team do to improve?"
It's a question asked many, many, many times by many, many, many Kansas City fans, but the Royals finally answered it. It's simple, really. Just build a team that can do everything right, from Web Gem-grade fielding to good starting pitching, to even better relief pitching, to swift, shrewd baserunning and occasional timely hitting.
October, 4, 2014
Oct 4
5:01
PM PT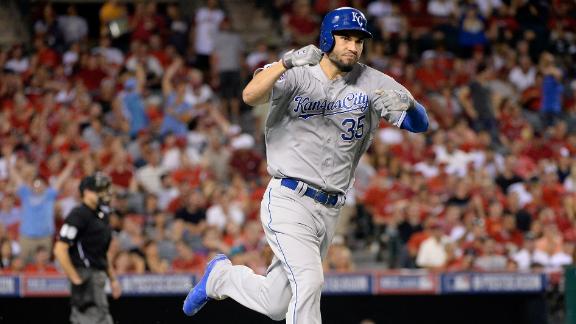 After Kansas City rallied for the third time to beat the Athletics in the 12th inning of Tuesday's American League wild-card game, Royals announcer Ryan Lefebvre needed to thread his way through the impassioned crowd for a postgame spot near the outfield corner. The celebrating fans he passed along the way were so excited, so deliriously happy, that some simply opened their arms and implored Lefebvre, "Give me a hug!"
Well, that's the way it is when you've waited nearly three decades for a postseason game, longer than any other city has ever waited during the division era. You want to embrace the moment and hold it tight. And with Kansas City now needing just one more victory over the Angels to advance to the American League Champions Series, Royals fans might be even more excited -- if that's possible -- when the division series resumes Sunday in Kansas City with ace James Shields taking the mound against the Angels' C.J. Wilson.
And as great as Sunday's game might be for fans and the players, it will be even better for the scalpers. According to online ticket aggregator TiqIQ, the most expensive tickets for the division series selling on the secondary market are in Kansas City, where Royals ducats were averaging $338 on Friday. That's the highest average price for division series games since the company started tracking it in 2010.
The average price for Game 3 is even higher at $440, or well more than double the next-highest price tag for a team's opening home game ($181 for the Giants).
October, 3, 2014
Oct 3
11:51
PM PT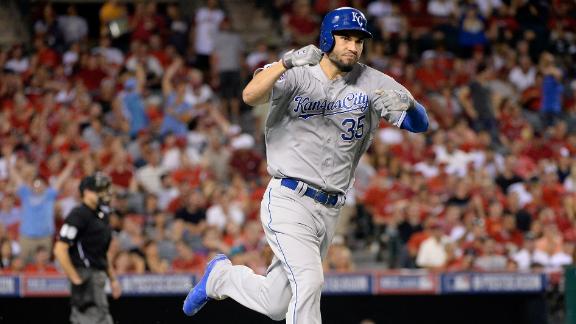 ANAHEIM, Calif. -- The Kansas City Royals have an optional workout late Saturday afternoon, but rather than taking batting practice or infield practice at Kaufmann Stadium, they might be better off visiting a manicurist somewhere in the Kansas City area. After this amazing week of baseball, their fingernails are going to need some serious work.
"We definitely sit there and start biting them when you get into these games, but you've just got to get through it and grind through them," Kansas City reliever Brandon Finnegan said. "And in these last three games, we've shown a lot of grind."
Boy, have they ever. After going nearly three decades without a postseason appearance, Kansas City is making up for lost time by layering on inning after inning of tense, cuticle-devouring drama this October. First, the Royals rallied time and again to beat Oakland in Tuesday's 12-inning American League wild-card game. Then they beat the Los Angeles Angels on Mike Moustakas' 11th-inning homer run in Thursday's division series opener. And then they extended the theatrics Friday night when Eric Hosmer slammed a two-run homer in the 11th inning in Kansas City's 4-1 victory over Anaheim in Game 2 to give the Royals a commanding 2-0 series lead as they head home.
October, 3, 2014
Oct 3
9:57
PM PT
Associated Press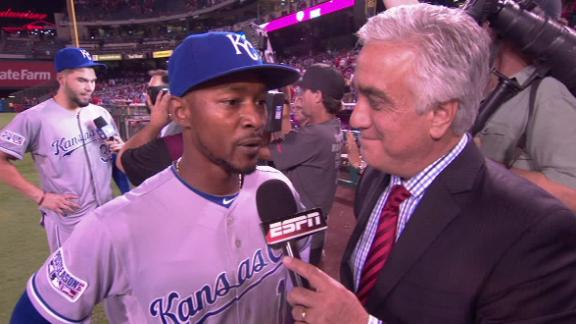 ANAHEIM, Calif. -- The Kansas City Royals are headed to extra innings for the third time in three playoff games, tied 1-1 with the Los Angeles Angels in Game 2 of their AL Division Series on Friday night.
Alex Gordon had an early run-scoring single for the Royals, who lead the best-of-five series 1-0.
Kansas City is trying to stay on a surprising postseason roll after following up its 12-inning wild-card victory over Oakland with a series-opening win at the Big A on Mike Moustakas' 11th-inning homer.
Albert Pujols had a tying RBI single in the sixth for the Angels, whose tense fans realized the stakes: Only two teams since 1995 have rallied to win a division series after losing the first two games at home.
Game 3 is Sunday in Kansas City. Angels left-hander C.J. Wilson faces James Shields.
October, 3, 2014
Oct 3
6:45
PM PT
ESPN.com news services
ANAHEIM, Calif. -- Kansas City reliever Kelvin Herrera has a flexor strain in his right forearm, and he was unavailable for the Royals' 4-1, 11-inning win in Game 2 of the American League Division Series against the Los Angeles Angels on Friday night.
Royals manager Ned Yost said he was optimistic Herrera could pitch in Game 3 at Kansas City on Sunday. The reliever will be re-evaluated when the teams get to Kansas City.
Herrera threw just five pitches in the seventh inning of Game 1 before leaving with tightness in his forearm. Yost said an MRI exam was encouraging but revealed the strain.
Kansas City won the series opener 3-2 in 11 innings.
The 24-year-old Dominican reliever with a 100 mph fastball was the seventh-inning specialist in the Royals' dominant bullpen this season. He went 4-3 with a 1.41 ERA in 70 appearances, striking out 59 in 70 innings.
The Associated Press contributed to this report.
October, 2, 2014
Oct 2
11:29
PM PT
ANAHEIM, Calif. -- Mike Moustakas wasn't sure if this day would come.
He knew what kind of team the Kansas City Royals had and he knew what kind of player he could be. He just wasn't sure if the two would cross paths this season after the start he had.
Moustakas got off the slowest start of his career and was optioned to Triple-A Omaha in late May after opening the year hitting .152. It was a humbling experience for the 26-year old third baseman who had been in the majors since being called up in 2011 and appeared destined to fulfill the potential that made him the second overall pick of the 2007 draft behind David Price.
Fast forward about four months and Moustakas is hitting the game-winning home run in the 11th inning of the opening game of the American League Division Series in front of a dozen of his friends and family members who drove to the game from his hometown 60 miles north in Chatsworth, California.
"It's unbelievable," Moustakas said. "Being able to do that in front of my friends and family, I can't explain it. ... I couldn't even tell you how many [were here]. I know I left a good amount of tickets. But I have so many friends and family around this area, and a lot of them came out here to support not only me but the Royals also."
Moustakas was born and raised in Chatsworth and his father, Mike, played college football at UCLA. He has lived in Newport Beach the past seven offseasons, which shouldn't have come as a surprise to anyone who watched him walk into the postgame interview room for the first time in his career wearing board shorts and sandals.
October, 3, 2014
Oct 3
1:54
AM PT
The
Los Angeles Angels
' 2-3-4 hitters went 0-for-13. That was the big reason the
Kansas City Royals
beat the Angels 3-2 in Game 1 ... along with a rare Royals home run that won it.
1. Mike Moustakas delivers the big home run.
The @Royals are built for drama, and Mike Moustakas did NOT disappoint. #Postseason pic.twitter.com/vDI9xCGRbD

— MLB (@MLB) October 3, 2014
Great to see Moustakas enjoy a moment like that after such a challenging season. Kid went through the wringer. #royals

— Jerry Crasnick (@jcrasnick) October 3, 2014
The Angels kept leaving runners on base so the game kept going to the 11th inning.
Fernando Salas
gave up runs in five of his 10 September appearances. That's the reason he was the fourth guy out of Mike Scioscia's bullpen. Scioscia was down to his fourth guy because his top two relievers,
Joe Smith
and
Huston Street
, threw one inning apiece but only 12 and 11 pitches, respectively. I'll never understand why managers will pull their best relievers after they've thrown so few pitches, especially with the score tied in the postseason. Don't you want to get the most possible work out of your best guys? Yes, in this day your late-inning relievers rarely return to the mound after sitting for a half-inning, but the playoffs are a different beat.
Anyway, so Salas hadn't been good in the final weeks (similar to how he faded for the Cardinals in 2011, losing his closer's job as St. Louis went on to win the World Series) but Moustakas hadn't homered since Aug. 25. I wrote earlier that the Royals, last in the majors in home runs, will need to hit some home runs, similar to how the Giants, last in the majors in home runs in 2012, hit 14 in 16 games to win the World Series that year. Moustakas hit a 1-1 changeup at the knees a couple of rows into the right-field stands. Royals manager Ned Yost still had his closer available and
Greg Holland
, who arrived at the ballpark in the sixth inning after flying to California from North Carolina to witness the birth of his son, cruised to a 1-2-3 inning for the save.
2. Danny Duffy vs. Mike Trout and Albert Pujols
Holland was available for the save because Yost decided to use Duffy, in the bullpen for this series (many wanted Duffy to start instead of
Jason Vargas
), to face the top of the Angels' lineup. Duffy threw his fastball 68 percent of the time in the regular season, the 10th-highest rate among all pitchers with 100 innings pitched. He threw seven fastballs to
Kole Calhoun
, who singled in the seventh, setting up the young lefty to face the Angels' two best hitters. He threw fastballs to Trout, the third grounded softly to shortstop for a 6-4 force. Pujols popped out on an 0-1 fastball.
Howie Kendrick
struck out on a curve as Duffy started mixing in his offspeed stuff.
That was some emotional stuff. Eyes wide, legs shaking, Danny Duffy is clearly not as his best. He gutted through heart of order anyway.

— Andy McCullough (@McCulloughStar) October 3, 2014
3. Wade Davis vs. Trout and Pujols
""I'm a starter....I don't see any reason for me to be in the bullpen." -- Wade Davis, 2012

— jasoncollette (@jasoncollette) October 3, 2014
This was postseason baseball at its most intense: Wade Davis, one of the game's most dominant relievers in 2014, facing Trout, Pujols and Kendrick with the go-ahead run on base in the eighth inning of a 2-2 game. Davis throws a 98-mph fastball, a 93-95 mph cutter and a hard curveball. There's a reason batters hit .151 against him with no home runs and he went over 30 appearances in a row without giving up a run. Not bad for a guy who washed out of the Royals' rotation last season.
Trout stepped in with one out after a walk and failed bunt attempt. The pitch sequence: 98-mph fastball swing and miss, 98 swing and miss, curve bounced (wild pitch), 95 cutter up high, 98 up, 94 cutter foul tip, 98 fastball fouled back, 98 up and in. Trout is a dead lowball hitter and Davis wasn't about to cave and give him something below the waist. Good at-bat by Trout and a good approach by Davis to keep the ball elevated. Davis then got away with two middle-of-the-plate fastballs to Pujols, one fouled back and one popped to second. He then struck out Kendrick on three pitches, two cutters and a blow-it-by-him 98-mph fastball. This is what decides postseason games -- the players. We pay too much attention to bunt attempts. This was Kansas City's best against the Angels' best and the K.C. guy won this one.
4. Jason Vargas stays in the game, avoids disaster.
Twitter was going crazy as Vargas stayed in the game in the sixth inning to face
Chris Iannetta
(who had already homered) and then the top of the Angels' lineup -- remember, over his final four starts, Vargas gave up 18 runs in 18 innings and never got past the sixth. Then there's the whole thing that pitchers, on average, do worse the third time through the order. Then there's the thing that the Angels' two and three hitters are right-handed power hitters -- Trout and Pujols -- and Vargas gives up home runs to right-handed hitters.
Vargas did do a nice job of getting Trout to fly out with Calhoun on first and one out. After a curveball for a ball, he came inside with three straight fastballs -- Vargas' usual mode against righties is to pound the outside corner. So nice job there. Still, it was living on the edge when he walked Pujols and was allowed to face Kendrick. Then this happened:
Vargas was assisted tonight with catches like this: pic.twitter.com/nuqDUOYrJL

— Kansas City Royals (@Royals) October 3, 2014
@jazayerli Yes, on a ball that *Cain* missed. Was going to ask you for six random numbers, but just missed the lotto draw. nm.

— Marc W. (@USSM_Marc) October 3, 2014
5. Royals get a run on a double, fly ball out and sacrifice fly.
A ball that doesn't get past the outfielders + two outs = run. This team is steamrolling over every law of sabermetrics. I LOVE THEM SO MUCH

— Rany Jazayerli (@jazayerli) October 3, 2014
Looking at Trout's stats AND the way he carries himself, I don't believe he'll be a center fielder in five years. #ALDS

— robneyer (@robneyer) October 3, 2014
So many PRODUCTIVE OUTS #Royals

— Craig Brown (@royalsauthority) October 3, 2014
A few notes on the Kansas City run in the fifth:
A. I don't think Trout would have caught
Alex Gordon
's fly ball into left-center, but he also clearly lost it in the lights and had to back off slightly, which may have allowed Gordon to stretch the hit into a double.
B. Trout's defensive metrics weren't good this year -- minus-9 Defensive Runs Saved, a number backed up by watching him, as he got some bad reads and he has a weak arm. It's possible another center field, say,
Lorenzo Cain
, who had 14 Defensive Runs Saved in about two-thirds the playing as a full-time center fielder, runs that ball down.
C. You might have expected Yost to bunt with
Salvador Perez
up and nobody out, but he's one of the guys Yost never bunts with (he never has had a sacrifice bunt in his career). He took
Josh Hamilton
to the wall in left and Gordon smartly tagged up and advanced to third.
D.
Omar Infante
then hit the sacrifice fly. The Royals tied for the major league lead (with the Rockies) in scoring the runner from third with less than two outs 57 percent of the time. This is one advantage of having a team that puts the ball in play, which the Royals do better than any team in baseball, with the lowest strikeout rate during the regular season.