April, 23, 2014
Apr 23
9:36
AM PT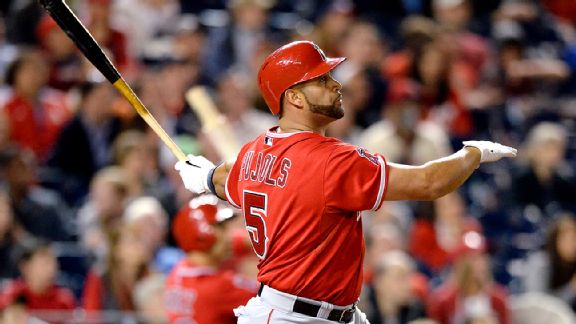 Patrick Smith/Getty ImagesWith one week left in April, Albert Pujols is already tied for his second-most homers in the month.
The fact that Los Angeles Angels first baseman Albert Pujols became the first player to hit his 499th and 500th career home runs in the same game Tuesday night is not reason alone for fantasy owners to trust the future Hall of Famer this season. After all, Pujols has been around for a long time and been rather successful, and few would presume the ol' MVP version is back. Then again, the two home runs he hit off Washington Nationals right-hander Taylor Jordan Tuesday gave him eight in April, more than anyone else, and all in the past 13 games.
To continue reading this article you must be an Insider
April, 22, 2014
Apr 22
10:32
PM PT
By
ESPN Stats & Information
Albert Pujols
has done many distinct things in his baseball career, so it's no surprise that his 500th career home run was done in a one-of-a-kind fashion.
Pujols became the first player to hit his 499th and 500th career home runs in the same game. The Elias Sports Bureau noted that two players hit their 500th and 501st home runs in the same game --
Mark McGwire
and Harmon Killebrew.
Pujols is also the fourth player to hit his 499th and 500th home run within a span of three at-bats or fewer, along with Ted Williams, McGwire and Willie Mays.
The 34-year-old Pujols is the third-youngest player to join the 500-home run club, which now numbers 26 members. He trails then-32-year-olds
Alex Rodriguez
and Jimmie Foxx.
Pujols is the fourth player to reach 500 home runs within his first 14 seasons, along with McGwire, Rodriguez and Mays.
Pujols is also the fourth player born outside the United States to hit 500 home runs, joining
Sammy Sosa
,
Rafael Palmeiro
and
Manny Ramirez
.
He is the second player to hit his 500th career home run as a member of the Angels, joining Reggie Jackson on Sept. 17, 1984.
Pujols entered the day with a career batting average of .321. Only three members of the 500-homer club have hit for a higher average: Williams (.344), Babe Ruth (.342) and Foxx (.325).
This wasn't the first milestone home run he hit at Nationals Park. He also hit his 400th career home run there against
Jordan Zimmermann
.
Pujols now has eight home runs in 2014, his most before the end of April since hitting eight in 2009. He's hit more than eight by the end of April only once (2006, when he had 14).
Getting his swing back
Pujols' 500th home run went 430 feet, his longest of the season (and longest since June 21, 2013, a 448-footer off
Gerrit Cole
). It came on a fastball at the top of the strike zone.
Pujols has four home runs on 35 swings against pitches in the upper-third of the strike zone or above. He had six home runs on 226 such swings last season.
April, 22, 2014
Apr 22
6:52
PM PT
Associated Press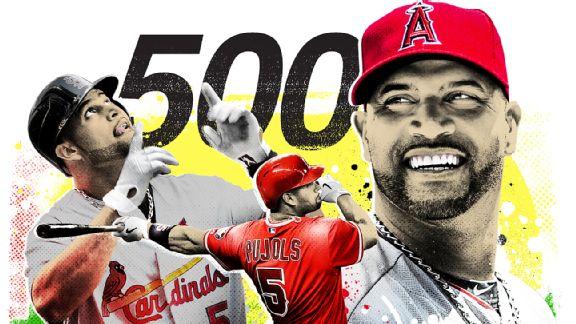 WASHINGTON -- Albert Pujols became the first major leaguer to hit his 499th and 500th homers in the same game, driving in five runs to help the Los Angeles Angels beat the Washington Nationals 7-2 Tuesday night.
The first baseman connected twice off Taylor Jordan (0-3) -- a three-run homer in the first inning and two-run drive in the fifth -- to become the 26th player in major league history to reach the milestone.
Pujols is the first player to collect Nos. 499 and 500 in the same game, according to STATS. About three months past his 34th birthday, he's also the third-youngest to get to 500. He has eight homers this season, all in the past 13 games.
Tyler Skaggs (2-0) gave up two runs in seven innings for the win.
April, 22, 2014
Apr 22
9:11
PM PT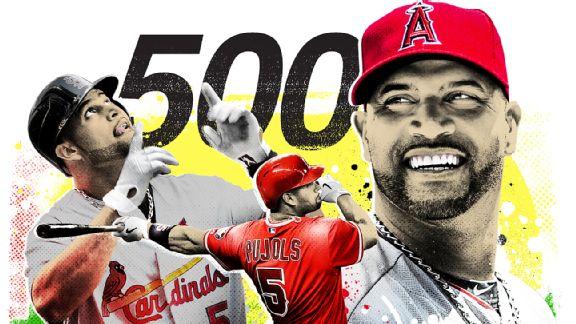 There may be 25 other members of the 500 Homer Club. But there's only one
Albert Pujols
. Just because Sir Albert had two rough, injury-riddled seasons after arriving in scenic Orange County, did we all get amnesia or something? How did we somehow seem to forget what an amazing and historic career this man has had?
Well, that's the best part of what happened Tuesday night in Washington. It's the best part about round numbers like 500 home runs because they remind us to stop and pay attention. They remind us to take stock of the man who just met the milestone. And when we take stock of Pujols and the path that led him to home run No. 500, you know what we find?
We find a guy who did so much more than just make home run trots. That's what.
How does Pujols compare with the rest of that 500 Homer Club? It's an incredible thing to behold. Let's take a look:
The .300/.400/500/.600 Club
This is one of my favorite sets of numbers because it provides us with one of the most exalted groups of hitters who ever lived. You need:
.300 batting average or better.
.400 on-base percentage or better.
500 home runs or more.
.600 slugging percentage or better.
Here are the three men in history who get to hang out in this clubhouse:
Ted Williams .344/.482/521/.634
Babe Ruth .342/.474/714/.690
Jimmie Foxx .325/.428/534/.609
And that's all, folks. Ever heard of them?
[+] Enlarge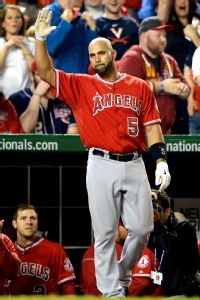 Patrick Smith/Getty ImagesPujols took a curtain call after hitting No. 500.
Well, the truth is that Pujols doesn't quite make that cut. But by only one-thousandth of a percentage point. Here's his personal slash line: .321/.409/500/.599.
Uh, that'll still work. Because here's the thing: Even if we lowered the slugging percentage cutoff to below .600, to whatever The Pujols Line is at any given moment, there would still just be those three men and Pujols.
So maybe the .300/.400/500/.599 Club doesn't have quite the same ring to it as .300/.400/.500/.600. But it's just as rarefied a group.
Now one more thing: I understand that Williams, Ruth and Foxx all had those numbers at the end of their careers, not in the middle. But I've taken a look at the entire 500 Homer Club. And
nobody
except those three had Pujols' slash line at the time of his 500th. Not even
Barry Bonds
, who finished his career at .298/.444/762/.607.
So the moral of this story remains the same: Lots of men have hit baseballs over many, many fences. Only the greatest hitters who ever lived have been the all-around offensive forces that Pujols has been. And that's a fact.
Not Your Average 500-HR Man
But suppose we take all those other numbers out of this and focus just on batting average -- which isn't a measure of power at all but merely of a man's ability to hit baseballs where nobody with a glove is standing.
At .321, Pujols has the fourth-highest average in the entire 500 Homer Club -- trailing only those same three men from the previous list: Williams (.344), Ruth (.342) and Foxx (.325).
And just to answer the next logical question, that ranking doesn't change, even if we take final career average out of the equation. He still owns the fourth-best batting average, at the time of his 500th homer, in history. The next-highest, according to Baseball-Reference.com, is .314 -- by Willie Mays, Hank Aaron and
Manny Ramirez
.
So is it safe to say there's nothing "average" about Pujols' average, except that word itself?
The Most Striking Stat Of All
Wait. We almost "missed" the coolest stat in Pujols' entire collection. And that's that this man has hardly "missed" at all, especially compared with the rest of his generation: 500 home runs -- but only 843 strikeouts.
In an age when strikeouts have become more common than the seventh-inning stretch, how astonishing is that stat? Well, let's tell you exactly how astonishing. That comes to 1.69 strikeouts for every home run. And you know how many members of the 500 Homer Club can beat that? Exactly one: Ted Williams (1.36).
Now we know that Ted, of course, was a freak. But if we invite in the rest of that 500-homer group, from across the eras, we'd still find only three others with ratios better than two strikeouts per homer. Here's that top five, which, I'm guessing again, won't require you to Google any names:
Whoa. But what do you say, just for further perspective, that we compare Pujols with the other big sluggers of his time. The next man down on the active career homer list is a fellow named Adam Dunn. This isn't fair. But for amusement purposes only, here's how Dunn stacks up against Pujols:
Heh-heh-heh. Get the picture? But even if we take Dunn and the suspended-in-animation
Alex Rodriguez
(3.17) out of the conversation, Pujols is still whiffing about half as much as the other active members of the 400 Homer Club -- if that:
So in a world where every other masher roaming the planet is shopping at Kmart two or three times a day, Pujols remains a mind-warping anomaly. He still has never struck out 100 times in a season in his career -- 500 homers later.
Five More Fun Pujols 500-HR Facts
• At 34 years, 96 days old, Pujols is the third-youngest player in history to reach 500 homers, trailing only A-Rod (32 years, 8 days) and Foxx (32 years, 337 days).
• Just seven men in history reached 500 homers in fewer at-bats than the 7,390 it took Pujols:
Mark McGwire
(5,487), Ruth (5,801), Harmon Killebrew (6,671),
Sammy Sosa
(7,036), Foxx (7,074), Mickey Mantle (7,300) and Mike Schmidt (7,331).
• Only six other hitters whose primary position was first base have hit 500 homers: McGwire, Foxx, Willie McCovey,
Rafael Palmeiro
, Eddie Murray and
Jim Thome
.
• Pujols is the 14th right-handed hitter to join the 500 Home Run Club. He needs 34 more to crash the top 10.
• The pitcher who has allowed the most home runs to Pujols? That would be
Ryan Dempster
(eight). The pitcher who has faced him the most times without serving up a homer? That would be
Bud Norris
(*41*). The Cy Young who had nightmares about him? That would be
Randy Johnson
, against whom Pujols hit .452, with six homers. And the active pitcher who should never be allowed to face Pujols again? That would be
Kevin Slowey
(two plate appearances, two homers).
April, 22, 2014
Apr 22
4:58
PM PT
ESPN.com news services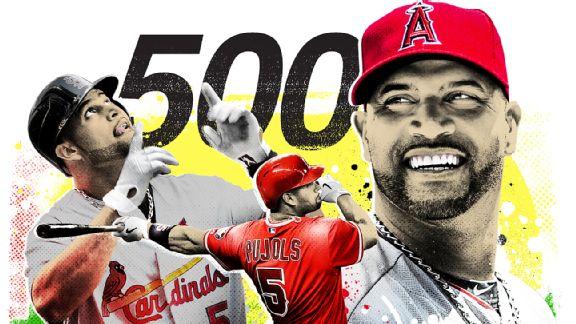 WASHINGTON -- Albert Pujols reached 500 homers in a hurry.
The Angels first baseman became the first major leaguer to hit his 499th and 500th homers in the same game, driving in five runs to help Los Angeles beat the Washington Nationals 7-2 Tuesday night.
The three-time NL MVP connected twice off Taylor Jordan (0-3) -- a three-run homer in the first inning and two-run drive in the fifth -- to become the 26th player in big league history to reach the milestone.
"It tastes better with a win," Pujols said. "I knew this year, it was going to happen, whether it was tonight, tomorrow, two months from now. So my goal was just to prepare myself every day to try to help this organization win."
Pujols is the first player to collect his 499th and 500th homers in the same game, according to STATS. About three months past his 34th birthday, he's also the third-youngest to get to 500; Alex Rodriguez and Jimmie Foxx were both 32.
Making a quick recent surge, Pujols has eight homers this season, all in the past 13 games. His five RBIs on Tuesday gave him the team lead with 19.
"The homers he's hit this year, they've been long ones. He's squaring balls up," Angels outfielder Mike Trout said. "That's the Albert I'm used to seeing. Full, healthy, 100 percent healthy."
The 500th homer went to left-center field at Nationals Park, on an 89 mph pitch with the count at 1-2.
"To have more than 19,000 players who wore a big league uniform and to have only 26 players to do this, it's pretty special," Pujols said.
Pujols clapped his hands together a few strides before trotting home, then pointed both index fingers to the sky. As soon as he touched the plate, Pujols was greeted by his Angels teammates, who streamed over from the visiting dugout.
"I was pretty emotional running the bases," Pujols said.
Fans gave Pujols a partial standing ovation, and he acknowledged the spectators by tipping his red batting helmet as he approached the dugout. After heading down the steps, he came back out for a curtain call.
After the game Pujols took to Twitter to thank the fans:
Thank you to all of my fans for the well wishes on my HR#500. I thank The Lord for you, & your support over the years. May God bless you all

- Albert Pujols (@PujolsFive) April 23, 2014
April, 22, 2014
Apr 22
10:40
AM PT
Is that such an outlandish headline? I'm not sure it is. Wood did it all in Monday's 5-1 win over the hapless Diamondbacks, pitching seven innings with nine strikeouts and no walks and going 2-for-3 with a double and three-run homer. Here's a fun tweet:
Only 4 pitchers in history have homered in each of their 1st five MLB seasons: Claude Hendrix Pat Malone Dontrelle Willis TRAVIS WOOD #Reds

— High Heat Stats (@HighHeatStats) April 22, 2014
Wood hit .222 with three home runs last year, and while we won't quite declare him the new Mike Hampton yet, there are similarities in that both are/were smallish lefties who could hit (Hampton hit seven home runs for the Rockies in 2001 and hit .344 the next season with three home runs).
More importantly, Wood is off to a great start on the mound (2.52 ERA), so far proving his 2013 breakout wasn't a fluke. In 25 innings, he has 28 K's and four walks and two home runs allowed. That's a big boost in his strikeout rate from 2013 -- 17.5 percent to 25.7 percent -- and if this is a real improvement then it's time to start thinking of him as an elite starter.
Unfortunately for the Cubs, while Wood and Jeff Samardzija have allowed just 14 runs in their eight starts, those two are a combined 1-4 as the Cubs are next-to-last in the NL in runs.
Other quick thoughts from Monday's action:
New Pirates first baseman Ike Davis hit a grand slam and then the Pirates scored runs in the eighth and ninth to beat the Reds 6-5. The Reds have an MLB-worst 5.77 bullpen ERA with an atrocious 1.72 WHIP. J.J. Hoover and Manny Parra have really struggled, so even Aroldis Chapman's return isn't an automatic fix. As for Davis, he's been plagued by inconsistency in his career, but we're not that far removed from the second half of 2012 when he hit .255/.346/.542 with 20 home runs. Who knows if it will work out, but it was a good risk by the Pirates to get him. Sure, you worry about all the strikeouts and low average you're going to get from Davis and Pedro Alvarez but they may also combine for 65 home runs.
Some sweet fielding plays on Monday. Loved this double play by Ruben Tejeda and Daniel Murphy for the Mets and this slick bare-handed play by Albert Pujols. Tejeda made another diving stop and out as the Mets blanked the Cardinals 2-0 behind Jenrry Mejia's 6.2 scoreless innings and Kyle Farnsworth's first save.
Nice 4-3 win for the Rangers over the A's on a night Yu Darvish didn't have a dominant outing, with eight hits and four walks in six innings. Fun fact: Prince Fielder has already been intentionally walked nine times, the most ever for an AL player in April. He's hitting just .205 but opposing managers still want to get a righty-righty matchup when possible.
Fielder's old teammate in Detroit, some guy named Miguel Cabrera, continues to struggle with a .206/.275/.333 line and one home run. It's gone relatively unnoticed because he's Miguel Cabrera and we expect him to heat up soon enough -- and the Tigers are still 9-7 after losing to John Danks on Monday -- but this is a guy who never has a bad month (last September, when he was injured, being the exception). He only has one opposite-field hit all season. Last year, 55 of his 193 hits went to right.
Keep an eye on Corey Dickerson, who gets a chance to play for the Rockies with Michael Cuddyer on the DL. He can hit and went 3-for-4 with one of the five home runs the Rockies hit against the Giants.
Things are turning ugly in Seattle. The Mariners returned home to face the Astros with Felix Hernandez pitching and put up a stinkbomb of a game for their seventh straight loss. An error by Kyle Seager in the sixth inning led to four unearned runs as Hernandez gave up three run-scoring hits with two outs. Dustin Ackley was moved up to the No. 2 spot in the lineup and promptly went 0-for-4 with three strikeouts. Justin Smoak is hitting .170 after his big opening series against the Angels. Seager and Brad Miller are hitting under .200. Leadoff hitter Abraham Almonte has 28 strikeouts in 19 games. Looks like the same old Mariners.
April, 22, 2014
Apr 22
12:38
AM PT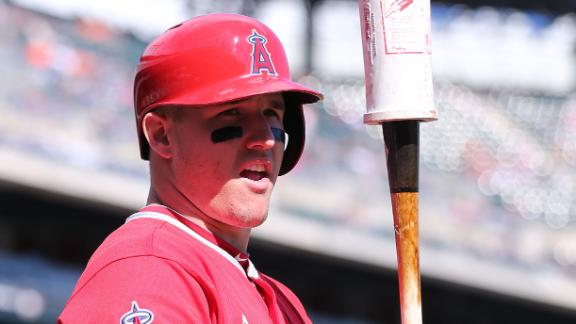 Baseball is a different animal than other sports, so those of us in the media who keep playing the Magic Johnson-Larry Bird card regarding Mike Trout and Bryce Harper are overlooking an inconvenient truth: The pitcher is the guy with the baseball in his hand, so he controls the vast majority of what takes place on a given night.

The first big league meeting ever between Trout and Harper featured two starting pitchers who aren't going to adorn a season-ticket brochure anytime soon. The Los Angeles Angels' Garrett Richards, a former Oklahoma Sooner with a 98-mph fastball and occasionally wandering control, stifled the Washington Nationals on one hit through six innings Monday night. His Washington counterpart, Tanner Roark, countered with 6 2/3 shutout innings before leaving to some well-deserved applause in the seventh.

The attendance at Nationals Park was 24,371, or 58.7 percent of capacity, which goes to show that even the novelty of two wunderkinds in the same venue can fill only so many seats on a clear April night in the nation's capital.
[+] Enlarge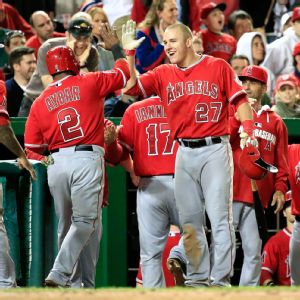 Rob Carr/Getty ImagesIt turned out that Mike Trout had more to celebrate on Monday night.

Harper went 0-for-3 with a walk in four plate appearances. Trout contributed two singles in five at-bats, and a pair of double-play takeout slides that were hard enough to leave a mark. But at the end of the night, they both stepped aside as their elders put their stamp on the proceedings. Albert Pujols started an eighth-inning rally with an infield squibber and a stolen base, and old war horse Raul Ibanez came off the bench and lined a three-run double into the gap to propel the Angels to a 4-2 win in the opener of a three-game series.

On a night that revolved around baseball's long-term future, the winning rally could have been sponsored by Lipitor. But the game was still a ringing endorsement for interleague play, and the notion that MLB does right by customers by giving them snippets of something they really want between the inevitable filler in the schedule.

Heaven knows, that quirky 15-15 configuration has left us with some early matchups that are less than riveting. That rain-induced day-night doubleheader between Cleveland and San Diego at Progressive Field in early April comes to mind. And the recent Seattle-Miami matchup certainly didn't look like much on paper, although Giancarlo Stanton gave it an injection of oomph with a game-winning grand slam.

Washington and Los Angeles, in contrast, provided some "must see" April interleague viewing because it's the first time Harper and Trout have taken the field together since they were teammates with the Scottsdale Scorpions in the Arizona Fall League in 2011. The double-bill was sufficiently hype-worthy that Nationals broadcast team Bob Carpenter and F.P. Santangelo devoted almost their entire pregame setup to the occasion. They changed course only at the end, when Carpenter offered up the "footnote" that Pujols has 498 career homers and could be making history any day now.

Seeing Trout and Harper on the same field together lent context to their respective paths and the attributes that link and distinguish them. Harper has been the designated golden boy since age 16, while Trout somehow lasted until the 25th pick in the 2009. Trout, who turns 23 in August, is 14 months older than Harper. But they arrived from the minors together on April 28, 2012, instantly looking as if they belonged.

Their disparate styles have helped fuel the "rivalry" narrative, even though they're friends who enjoy texting one another. Harper burns with an intensity that scouts love and fans either embrace or find off-putting. Trout leaps fences and comes away with the ball in his glove and a disarming smile on his face. Harper has more raw power and a better arm, while Trout runs faster, controls the strike zone better and plays superior defense in the outfield. They're also in different financial neighborhoods now that Trout has agreed to a six-year, $144.5 million extension and Harper has to muddle along with that measly $6.25 million signing bonus as the first pick in 2010.
[+] Enlarge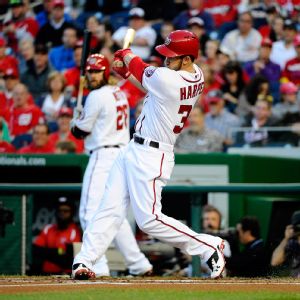 Brad Mills/USA TODAY SportsBryce Harper didn't shine in the first game, but give him time.

All uber-prospects, no matter how highly acclaimed, have to proceed at their own pace. Ken Griffey Jr. hit .264 in his first season with Seattle, while Barry Bonds batted .223 and .261 in his first two years with Pittsburgh. Harper won a Rookie of the Year award at age 19, but he hasn't had much margin for error breaking in alongside Trout, whose idea of "struggling" is finishing second to Miguel Cabrera twice in the American League MVP balloting.

In some ways, Harper's occasional travails and missteps make him the more compelling human story. He has gone from the cocky, eyeblack-smeared junior college Bryce to the wall-banging, bull-in-a-china-shop rookie to the Bryce who's ready to take on a more expansive leadership role in Washington. One day he's in a 3-for-21 funk with 10 strikeouts and proclaiming himself "pretty lost right now." A week later, you look up and he has raised his average from .192 to .412.

Over the weekend, Harper became the poster boy for new manager Matt Williams' quest to put a stamp on the team when he jogged out a ground ball, peeled off toward the dugout and received an instant benching. Oddly enough, the Nationals' TV feed still features a promotional spot for Harper with the caption "Nothing But Hustle."

A National League scout who was in town for the weekend series with St. Louis, and the infamous jog, thinks Harper could stand to relax a little. After a slow start last season, the Nationals were hoping to bust out with authority this year. But they lead the majors in errors, Ryan Zimmerman and Wilson Ramos are on the disabled list, and they're muddling along at 11-9.

"It's almost like he's trying to do too much right now," the scout said. "He started the year and his timing was horrible. Then he got real hot. Now I think he's trying to throw that whole team on his shoulders because they didn't win last year and Zimmerman is out. He doesn't have to do that."

If one player secretly burns to outdo the other in the Trout-Harper "rivalry," the conventional wisdom is that it's Harper -- no matter how much they both downplay any semblance of competition with their public comments.

"I'm sure he's like a caged lion," the scout said of Harper before Monday's game. "I'd probably throw him a changeup the first pitch, and bounce a breaking ball the second pitch and see if I can feed off all the energy he has going."


Richards strayed from that script, pumping five straight fastballs on his way to striking Harper out swinging. It was that kind of night.

The good news is that the Angels and Nationals will meet again Tuesday, with Tyler Skaggs on the mound for Los Angeles and Taylor Jordan pitching for Washington in the second of three installments of April appointment baseball. If you're a Mickey Mantle fan, you're probably partial to Trout. If you prefer something more edgy -- say, in the Pete Rose mold -- you probably like Harper.

And if you love baseball, you just relish the thought of them sharing the same field, as the quintessential endorsement for interleague play.
April, 21, 2014
Apr 21
7:35
PM PT
Associated Press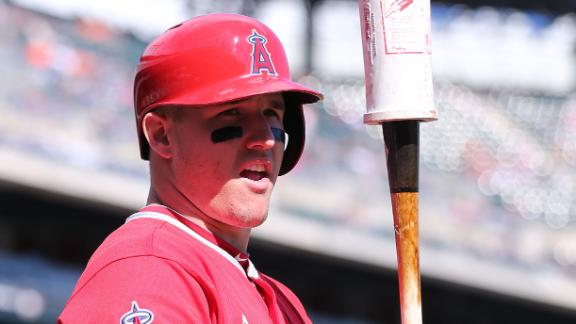 WASHINGTON -- Raul Ibanez delivered a tiebreaking three-run double as a pinch hitter in the eighth inning on a night that Mike Trout and Bryce Harper went a combined 2 for 8 with zero runs or RBIs in their first matchup as opponents, and the Los Angeles Angels beat the Washington Nationals 4-2 Monday.
Los Angeles trailed 1-0 going into the eighth. But Albert Pujols -- who went 0 for 5, staying on 498 homers -- reached on the first of shortstop Ian Desmond's two errors in the inning, raising his season total to nine. Later, Erick Aybar's third hit of the night scored Pujols to even it.
After Tyler Clippard (1-2) walked the bases loaded, Ibanez doubled to left-center.
Fernando Salas (1-0) won with a hitless seventh.
April, 21, 2014
Apr 21
2:30
PM PT
Mike Trout
and
Bryce Harper
will forever be linked after they burst on to the scene in 2012, Trout as an MVP candidate as a 20-year-old, Harper with maybe the best season ever by a 19-year-old position player. As much as we've talked about them the past two-plus seasons, Monday's game in Washington will be the first head-to-head meeting between the two.
While Trout's star ascended in 2013 with another MVP runner-up finish, Harper got off to a hot start in April before injuries took their toll and he finished with similar numbers to his rookie season. It's easy to forget that Harper may have been the best player in baseball last April, when he hit .344/.430/.720 with nine home runs, six doubles, 18 RBIs and nearly as many walks (14) as strikeouts (16). A year ago, the Trout-versus-Harper debate was still legitimately raging.
On May 13, however, Harper
crashed chin-first into the wall
at Dodger Stadium. He missed one game and listed what was sore the day after the collision: "Both legs, [left] shoulder, ribs, hand, wrist, chin of course."
Whether that collision was the direct cause or not, Harper wasn't the same player the rest of the season and would undergo knee surgery in the offseason. Check out his hit chart last year through May 13 and how it looks since: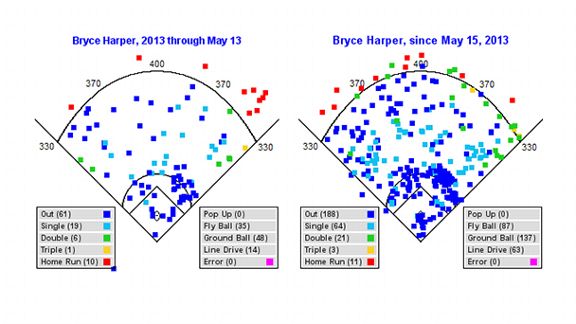 ESPN Stats & InformationBryce Harper hasn't pulled the ball with the same authority as early last season.
Of those 10 early home runs, he had pulled seven of them to right field, and six of the 10 came on inside pitches. Since the collision, he's hit 11 home runs -- and only pulled two to right field (the
one home run he's hit in 2014
doesn't show up on the hit chart above, but it was yanked over the right-field foul pole).
Again, it's hard to say how much the knee bothered him last year, and his opposite-field home runs showcased his raw power, but home run hitters still make a living pulling the majority of their home runs. During that hot start, Harper hit .344/.417/.938 on inside pitches; since then he's .265/.452/.426 on inside pitches.
Through May 13 last year, 25.7 percent of pitches Harper saw were classified as inside -- the inner third of the plate or in and off the plate. Since then, that number is 23.6 percent, although it's only 19.3 percent in 2014. Pitchers are certainly challenging Harper less often inside, but when he does get inside pitches he's not doing much damage.
Some of this frustration may have reached a boiling point Saturday -- for Harper and manager Matt Williams, when Harper was removed from the game after
not running out
a tapper back to the pitcher's mound. When factoring in that Williams batted Harper as low as seventh earlier in the season (he's been moved back up to second in the past five games), it's clear that the Nationals' skipper is trying to teach his young star some lessons. To me, it seems the biggest lesson is one Williams can't help: Harper is still learning to adjust to major league pitching.
Trout has had no issues adjusting to whatever adjustments pitchers have tried to make to him, although he did go 0-for-4 on Saturday with four strikeouts. But he enters Monday's game hitting .307 and leading the American League with a .613 slugging percentage, and already atop the AL leaderboard for WAR.
As I've touched upon here before, back in spring training Trout said he wanted to be more aggressive this year on first pitches or when ahead in the count. His overall swing rate is up 3 percent over 2013, but his chase percentage -- the percentage of pitches outside the strike zone that he's swung at -- is up from 21 percent to 27 percent. Perhaps as a result, his strikeouts are up and his walks are down so far from 2013; he's on pace for 198 strikeouts and 63 walks after going 136 and 110 a year ago. That hasn't hurt his productivity yet, and I suspect those walk and strikeout numbers will eventually fall back closer to a 1-1 ratio, in part because Trout has killed fastballs so far (.378, four of his five home runs). If he gets fed more off-speed pitches, expect the walk rate to go back up.
While we'll all be watching the Trout-Harper showdown, this is a big road trip for the Angels -- six games against the Nationals and then six against the Yankees. Despite the strong start from Trout (and
Albert Pujols
, who has six home runs to give him 498 for his career), the Angels are 8-10, hoping to avoid a third straight awful April.
April, 21, 2014
Apr 21
10:48
AM PT
1.
I wrote about the Brewers-Pirates brawl
here
. While the brawl was certainly interesting, the biggest takeaway from the weekend has to be Ryan Braun's two home runs off Jason Grilli in the ninth -- one to win the game on Saturday, one to tie it on Sunday. It's only eight innings, but Grilli has yet to match last year's dominance, so something to watch.
2.
The Oakland A's continue to impress and have the majors' biggest run differential at +32. Jesse Chavez, who replaced Jarrod Parker in the rotation when Parker went down in spring training, had his fourth straight solid start in Sunday's 4-1 win over the Astros and has allowed six runs in 26 innings with a 28/5 strikeout/walk ratio. Chavez pitches up in the strike zone with his 90-93 mph fastball but his cutter has developed into a nice weapon. What's interesting about it is that he locates on the outside part of the plate to left-handers
and
to right-handers. He's actually thrown it more than his four-seamer and while two of the three home runs he's allowed came off the cutter, batters are hitting .209 off it. He mixes in a curveball and changeup, making him four-pitch starter with good command. You have to like what he's done.
3.
After a slow start, Josh Donaldson is also heating up. Over his past 12 games he's hitting .345 with four home runs, seven doubles and 12 RBIs and looking like the guy who finished fourth in the AL MVP voting last season. The A's have yet to play a team currently over .500, so this week's three-game series against the Rangers will be a good test.
4.
Should the Braves be a little worried about Craig Kimbrel? He actually got pulled from Saturday's relief appearance -- his first outing in a week after resting a sore shoulder -- after giving up three hits, a walk and two runs. Jordan Walden had to come on to get the final out for the save. Kimbrel then wasn't used in Sunday's 14-inning loss to the Mets.
5.
Dee Gordon continues to do good things for the Dodgers, hitting .367/.409/.483 with 10 steals in 11 attempts. Going back to last August, when he was recalled from Triple-A, Gordon is hitting .363 in 99 plate appearances. Still a sample size, but it's not like he has
no
track record of hitting. He's a career .301 hitter in the minors and hit .304 in 56 games as a rookie in 2011. Yes, he has no power, but if he can hit close to .300 and draw a few walks, he's going to steal a lot of bases and score runs in front of the big boys.
6.
Giancarlo Stanton beat the Mariners with a walk-off grand slam on Friday, giving him six home runs and an MLB-leading 26 RBIs. The Stanton Fear Factor came into play in a big way on Sunday. The Mariners led 2-1 in the eighth. One out, runner on second, Mariners manager Lloyd McClendon elects to intentionally walk Stanton, putting the go-ahead on base. I get it: Stanton has delivered some big hits. But he also has four times as many strikeouts as home runs. What is more likely to happen there? You cannot put the go-ahead on base there. If he beats you, he beats you, but giving the opponent a free runner often leads to bad things. A walk, fielder's choice and sacrifice fly gave the Marlins the win as Stanton came around to score. Great player, bad managing.
7.
Robinson Cano is not driving the ball at all. He's hitting .268/.321/.352 with three doubles and one home run, his one home run coming in Texas when he did manage to sort of one-arm the ball just over the fence in right. Cano had hit 40-plus doubles the past five seasons, so the lack of extra-base hits is as concerning as the lack of home runs. Again, just 18 games, and he had an April like this in 2012 when he hit .267 with one home run and four RBIs, but he's part of the reason the Mariners have looked awful since that 3-0 start.
8.
The Tigers won 2-1 on Sunday, in part because Ian Kinsler
created a run
all by himself with the help of some sloppy Angels defense. The Angels were credited (discredited?) with three errors on the play. By the way, Kinsler has played well so far, hitting .317/.353/.476. Miguel Cabrera, however, has yet to get untracked, hitting .220 with one home run.
9.
Big win for the Nationals on Sunday, ralling from a 2-0 deficit against the Cardinals with two runs in the seventh and the winning run in the ninth. Danny Espinosa played a key role in both rallies, driving in a run in the seventh and single to start the winning rally. I criticized the Nationals on Thursday after a sloppy 8-0 loss to the Cardinals, but they managed a little redemption with wins on Friday and Sunday, sandwiched around Bryce Harper
getting benched
on Saturday for not running out a groundball.
10.
Finally, Brewers backup catcher Martin Maldonado had a busy weekend. On Sunday, he was heavily involved in the brawl, sucker-punching Travis Snider. On Friday, he pulled a Roy Hobbs and literally
knocked the cover off the ball
. Poor Pedro Alvarez; he's led the majors in errors the past two seasons and had to try and throw that thing to first base. It was ruled an infield hit.
April, 20, 2014
Apr 20
1:49
PM PT
Associated Press
DETROIT -- Rick Porcello pitched seven sharp innings, and the Detroit Tigers took advantage of four Los Angeles errors in a 2-1 victory over the Angels on Sunday.
Three of those errors came on one play in the first inning, allowing Detroit's Ian Kinsler to score from first on a walk. Then in the sixth, Angels catcher Hank Conger threw wildly to first trying to pick off Austin Jackson. It was his second error of the game, and Jackson went to second.
Nick Castellanos followed with an RBI single to put Detroit ahead 2-1.
Porcello (2-1) allowed a run and five hits, striking out four and walking one. Three relievers finished, with Joe Nathan pitching the ninth for his third save in five chances.
Hector Santiago (0-3) allowed two unearned runs and two hits in 5 2/3 innings. He walked five and struck out seven.
April, 19, 2014
Apr 19
1:40
PM PT
Associated Press
DETROIT -- Max Scherzer struck out nine in seven innings and the Detroit Tigers finally managed to beat the Los Angeles Angels, 5-2 on Saturday.
Detroit had lost 10 straight to the Angels and hadn't beaten them since Aug. 26, 2012. The Tigers snapped that skid behind a sharp outing by Scherzer and home runs from Nick Castellanos and Victor Martinez.
Albert Pujols hit his 498th homer, connecting for a solo shot in the ninth.
Scherzer (1-1) allowed a run and three hits with two walks. The AL Cy Young winner earned his first victory of the season, striking out Mike Trout three times and Pujols twice.
C.J. Wilson (2-2) gave up three earned runs in five innings.
J.B. Shuck led off the game with a homer, but that was all the scoring for the Angels until Pujols homered for the second straight day, hitting his sixth shot of the season.