Los Angeles Angels:

Oakland Athletics
July, 6, 2014
Jul 6
8:00
PM PT
We've reached the most fun part of the All-Star Game: Arguing about the final rosters.
The starters and reserves were named on Sunday and it was interesting to note the different philosophies of managers John Farrell and
Mike Matheny
in filling out their rosters. As expected, some worthy American League players were excluded and there were a couple surprising choices in the National League.
Some quick thoughts:
Worst American League starter: Derek Jeter, Yankees.
While I actually don't have that big of an issue with Jeter starting -- there is no
Troy Tulowitzki
in the AL that he's keeping out of the lineup -- he's probably the worst starter we've had in a long time, hitting an empty .273 with mediocre defense and no power, worth 0.5 WAR so far.
Matt Wieters
was inexplicably voted in by the fans at catcher, but since he's out for the season,
Salvador Perez
will rightfully start in his place.
Worst National League starter: Aramis Ramirez, Brewers.
Cincinnati's
Todd Frazier
is clearly the deserving starter at third base based on 2014 numbers while Ramirez is hitting .287 with 11 home runs. Considering Frazier,
Matt Carpenter
of the Cardinals and
Anthony Rendon
of the Nationals are better all-around players than Ramirez, his selection cost somebody an All-Star spot (Rendon is on the final player ballot).
Best ballot stuffing: Orioles and Brewers fans.
Who says you need to play for the Yankees, Red Sox or Dodgers to have an edge in fan balloting?
Adam Jones
was never in the top three among outfielders until passing
Yoenis Cespedes
at the wire. He's a fine selection, however, and has come on strong after a slow April. Orioles fans also voted in Wieters and
Nelson Cruz
in that crowded DH slot that included
Victor Martinez
,
Edwin Encarnacion
,
Brandon Moss
and
David Ortiz
. Likewise,
Carlos Gomez
passed
Giancarlo Stanton
for the third outfield spot in the NL behind
Yasiel Puig
and
Andrew McCutchen
. Stanton clearly should be starting but Gomez is arguably one of the top three outfielders in the NL. Brewers fans, however, couldn't get
Jonathan Lucroy
voted in over
Yadier Molina
, so Lucroy will be the backup.
National League DH should be: Stanton.
Pretty each choice here for Matheny. Heck, start him and let him play the entire game. A nation that never watches Marlins games should see this guy get four at-bats.
Jeff Samardzija, almost an All-Star.
The players had actually voted for Samardzija as one of the five best starters in the NL, along with
Johnny Cueto
,
Adam Wainwright
,
Clayton Kershaw
and
Madison Bumgarner
. Samardzija had a 1.68 ERA through May, so you can see why he fared well in the balloting. His ERA had since climbed to 2.83 with some bad outings and he was replaced by
Julio Teheran
of the Braves.
Worst player selection: Charlie Blackmon, Rockies.
The players actually did a much better job than they usually do and Blackmon's selection was the only dubious choice, a guy who had a monster April but is down to .295/.341/.463, mediocre numbers for a guy who plays in Colorado. To be fair, the NL lacked obvious choices for the fifth and sixth outfielders, but they somehow came up with a player ranked 21st among NL outfielders in FanGraphs WAR.
Justin Upton
,
Ryan Braun
,
Billy Hamilton
or even Rockies teammate
Corey Dickerson
(hitting .340) would have been better selections.
The AL crunch:
Farrell had some tough choices in filling out his squad. His manager selections were
Jon Lester
(deserving and the only Red Sox rep),
David Price
(deserving and the only Rays rep),
Glen Perkins
of the Twins,
Max Scherzer
of the Tigers,
Kurt Suzuki
of the Twins (a third catcher), Encarnacion and Moss. I guess you have to carry three catchers and I don't have a problem with the Scherzer selection. Encarnacion was a lock with his big numbers so the final choice probably came down to Moss or another player.
Biggest snubs: Ian Kinsler, Tigers; Kyle Seager, Mariners.
And that led to Kinser and Seager being this year's biggest snubs. Entering Sunday, Kinsler ranked third among AL position players in fWAR and Seager seventh. In Baseball-Reference WAR, they ranked third and sixth, so by either measure two of the AL's top 10 players didn't make it. It's not that an undeserving player made it -- the players voted in
Jose Altuve
and
Adrian Beltre
as the backups at second and third -- just that there were too many good players and not enough spots (unless you want to knock out a third catcher). You can debate the Moss selection, but I can see the desire to have the left-handed power off the bench if needed late in the game. (Remember, it counts!)
Matt Carpenter and Pat Neshek are good selections:
Matheny picked two of his own players -- third baseman Carpenter and righty reliever Neshek. I'm sure both picks will be criticized but when you dig into the numbers, both are worthy choices. Carpenter isn't having as good a season as last year, but he's still 10th among NL position players in fWAR and 15th in bWAR. Please, I don't want to hear that
Casey McGehee
is more deserving.
As for Neshek, his numbers are outstanding: 0.78 ERA, 35 strikeouts, four walks and a .134 average allowed. He has been as dominant as any reliever in the game, even if he's not a closer. He's also a great story, once one of the game's top set-up guys with the Twins in 2007 but suffering years of injuries since. On the day the A's clinched the AL West on the final day of the 2012 season, his infant son died after just 23 hours. The Cardinals signed him in February to a minor league deal with an invite to spring training, so Neshek certainly qualifies as this year's most improbable All-Star (along with
Dellin Betances
of the Yankees).
I suspect Matheny also picked Neshek for late-game strategic purposes -- his sidearm delivery is killer on right-handed batters (although he has been just as effective against lefties this year), so you can see him matching up against Encarnacion or
Jose Abreu
if there's a big moment late in the game. Similarly, Matheny picked Pirates lefty reliever
Tony Watson
, a good strategic move since he had only three other lefties on the team.
Strangest selection:
That picking reserves for strategic reasons also led to the selection of Pirates utility man
Josh Harrison
. I get it: He's having a nice season and can play multiple positions, but it's a little odd to pick a guy who doesn't even start regularly for his own team (reminiscent of the
Omar Infante
choice a few years ago). Rendon -- who has played second and third -- is the better player and Matheny already had versatility with Carpenter and
Dee Gordon
.
Best AL final man: Chris Sale, White Sox.
Farrell went with five pitchers -- Sale,
Dallas Keuchel
,
Corey Kluber
,
Garrett Richards
and
Rick Porcello
. I wrote the other day that four of these guys would be battling for a spot or two (along with
Scott Kazmir
, who got voted on by the players). All are worthy but the best choice is pretty easy since Sale is one of the top starters in the game and would have otherwise already made the team if not missing some time with an injury.
Best NL final man: Anthony Rizzo, Cubs.
Torn here between Rizzo and Rendon, but since Matheny has already loaded up with third basemen and second basemen, let's go with Rizzo in case you need to swing for the fences late in the game.
Suggested AL lineup: Jeter better hit ninth.
Mike Trout
, CF;
Robinson Cano
, 2B;
Jose Bautista
, RF;
Miguel Cabrera
, 1B; Nelson Cruz, DH; Adam Jones, LF;
Josh Donaldson
, 3B; Salvador Perez, C; Derek Jeter, SS. With
Felix Hernandez
on the mound.
Suggested NL lineup.
Yasiel Puig, RF; Andrew McCutchen, CF; Troy Tulowitzki, SS; Giancarlo Stanton, DH;
Paul Goldschmidt
, 1B; Carlos Gomez, LF; Aramis Ramirez, 3B;
Chase Utley
, 2B; Yadier Molina, C. With Clayton Kershaw on the bump.
April, 14, 2014
Apr 14
12:24
PM PT
By
ESPN Stats & Information
The
Oakland Athletics
and
Los Angeles Angels
face off in part two of an ESPN doubleheader Monday night (read about part one
here
). Here are some of the statistical storylines we'll be tracking from that matchup.
Oakland's economical pitching
The Athletics are going with a very low-budget starting rotation this season as they've spent only $11.3 million on their five starters. Only the Marlins ($3.2 million) have spent less.
Scott Kazmir
accounts for $9 million of the starting pitching budget. The next highest paid starter,
Jesse Chavez
($775,000), starts Monday night.
Chavez, a 42nd-round pick in 2002, is now pitching for his seventh major league team, and he seems to have found a groove early this season.
In 13 innings pitched, Chavez has posted a 1.38 ERA, 13 strikeouts and only two walks (6.5 strikeout-to-walk ratio). He has done most of the damage with his cutter.
Chavez has thrown his cutter on nearly 37 percent of his pitches, second only to
Travis Wood
(44 percent, min. 2 starts). Opponents have gone 4-for-24 (.174) against the pitch with eight strikeouts and no extra-base hits in 2014. The Angels have struggled against cutters so far this season, batting .160 against those pitches.
A more aggressive Mike Trout
Mike Trout
mentioned this past offseason he wanted to be more aggressive early in the count. While the sample is small, so far he's staying true to his word.
Trout has increased his swing percentage on the first pitch by 47 percent, which has led to him doubling his chase percentage against the first pitch as well.
Trout hasn't put many of these balls in play (just 1-for-3), but falling behind early hasn't been a detriment. Trout is batting .346 this season after falling behind in the count 0-1.
Josh Donaldson's early slump
Athletics third baseman
Josh Donaldson
has gotten off to a slow start in 2014, hitting .222 through the first dozen games. The biggest difference for Donaldson is in his strikeout and walk totals. He's struck out 15 times and walked only once this season, after 110 strikeouts and 76 walks in 2013.
An early issue for Donaldson has been the inside pitch. He's 3-for-22 (.136) against pitches thrown to the inner third of the plate or off the inside corner this season, after hitting .330 against those pitches last season.
Hector Santiago's fastball a concern
Hector Santiago
pitches tonight for the Angels. He has posted a 7.71 ERA in his first two starts, both losses.
Opponents have posted a .346/.485/.577 slash line against Santiago's fastball this season, which is compounded by Santiago throwing the pitch 74 percent of the time. Against Santiago's other pitches opponents have hit .250 with a .500 OPS.
April, 10, 2013
4/10/13
12:48
AM PT
By
David Schoenfield | ESPN.com
The first rule of April: It's too early to panic.
The second rule April: It's never too early to panic.
So the
Los Angeles Angels
of Anaheim returned to the sun and the strip malls and the land where orange groves once filled the horizon for their home opener … and by the top of the second inning were getting booed.
C.J. Wilson
had thrown 43 pitches in the first inning while allowing three runs. The Angels then loaded the bases with no outs against
Jarrod Parker
but failed to score. When
Coco Crisp
slammed a home run in the second inning to make it 4-0, the boos came. They were mild, Southern California laid-back boos, but there they were. Considering the news earlier in the day that
Jered Weaver
will miss at least four weeks
with a broken bone in his non-pitching elbow, it was understandable that Angels fans were starting to wonder if they were heading for a repeat of last year's disastrous 8-15 start after the team's 2-4 road trip to begin this season.
It ended up being a crazy game. The Angels got the leadoff man on in each of the first five innings but scored only two runs in the third -- an inning that could have been bigger in not for an
Albert Pujols
baserunning gaffe. With no outs,
Yoenis Cespedes
ran down
Josh Hamilton
's fly in deep left-center, but Pujols misread the play and had rounded second base; hobbled by plantar fasciitis, Pujols was doubled off first base.
The A's later attempted to give the game away when
Chris Young
dropped a fly ball and
Jed Lowrie
booted a grounder, helping the Angels take a 5-4 lead, but
John Jaso
hit a three-run homer pinch-hit homer off
Kevin Jepsen
in the seventh and
Brandon Moss
followed with a two-run shot as
the A's won 9-5
for their sixth consecutive victory, dropping the Angels to 2-5.
[+] Enlarge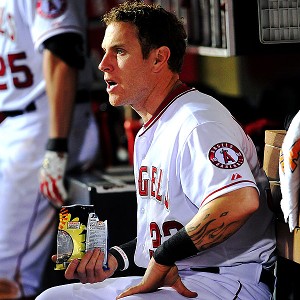 Gary A. Vasquez/USA TODAY SportsThe A's used Josh Hamilton's aggressive approach against him with a diet of off-speed pitches.
But the major takeaway from this game has to be Hamilton: What's going on with the Angels' $125 million free-agent signing? The Rangers intentionally walked Pujols three times Saturday to get to Hamilton. Perhaps Texas manager Ron Washington was having flashbacks to the 2011 World Series, or maybe the Rangers were playing mind games, or maybe Washington really believes in the intentional walk, or maybe they just thought Hamilton was an easier out.
Guys making $25 million aren't supposed to be easy outs, but right now Josh Hamilton is a pretty easy out. (Caveat to analysis below: It's just seven games; if this happened in the middle of June we wouldn't necessarily even notice.)
Entering Tuesday's game, here were three facts about Hamilton:
1. He had the fourth-highest percentage of swings on pitches outside the strike zone, at 48 percent (behind
Alexei Ramirez
,
Pablo Sandoval
and
Alfonso Soriano
). Nothing new there: Hamilton had the
highest
such percentage last season of any qualified hitter.
2. His contact percentage when he did swing was tied for 11th-worst. Hard to make contact when you're swinging at pitches out of the strike zone. Again, nothing new here: He was the worst in this category among regulars in 2012.
3. He was tied for 26th in percentage of pitches seen within the strike zone (41.7 percent). That will probably change. Last year, Hamilton saw the
fewest
percentage of pitches in the strike zone, at 34 percent.
Now, he managed to hit 43 home runs last year anyway, certainly a testament to his talent. But we also know he tailed off in the second half -- .259 with 16 home runs in 69 games after hitting .308 with 27 home runs in 77 games in the first half -- as pitchers realized they didn't have to feed him as many strikes.
On Tuesday, here were Hamilton's five plate appearances:
First inning -- Struck out on three Parker changeups with the bases loaded.
Third inning -- Batting with two on, Hamilton did take two balls in the dirt to work the count full against Parker before lining a 93-mph fastball to deep left-center that Cespedes hauled in.
Fourth inning -- Batting again with the bases loaded, this time against
Chris Resop
, Hamilton got the count full but tapped weakly back to Resop, who got the force at home. Resop threw seven pitches -- five changeups, a curve and one fastball.
Sixth inning -- Against lefty
Jerry Blevins
with runners at the corners, he lofted an 0-2 slider to center for a sac fly. All three pitches from Blevins were sliders; the first two were fouled off.
Eighth inning -- Facing lefty
Sean Doolittle
, fouled off five fastballs before finally grounding out to first on a 2-2 curve.
There were some positive signs on the day: After striking out 10 times in his first 29 plate appearances entering the game, Hamilton whiffed just once. He fouled off pitches. But you can see the game plan. Other than against Doolittle, the A's fed him a steady diet of off-speed stuff, hoping to use Hamilton's aggressive approach against him. That's what pitchers did last year and what most teams will do moving forward, at least until Hamilton shows he won't stop swinging at those pitches when they're out of the strike zone. It's only a week, but I don't see any signs yet that Hamilton is any different than the hitter we saw the second half last year.
Now, he can still be a good hitter. Can he be a great hitter? I don't think so. Hamilton just gets himself out too often.
Look, it's too early to panic about Hamilton's production. But it's not too early to wonder what the long-term ramifications about his approach will mean.