Los Angeles Angels:

Spring Training
March, 19, 2013
3/19/13
5:49
PM PT
By
Christina Kahrl
| ESPNLosAngeles.com
MARYVALE, Ariz. -- For the second consecutive winter the
Los Angeles Angels
made a splash during the offseason, signing the best hitter available as a free agent. Adding
Josh Hamilton
may have commanded this past winter's headlines, but on Tuesday the Angels were worrying about yesterday's news. That's because their big-ticket addition for 2012, first baseman
Albert Pujols
, was finally able to return to first base to show that his recovery from offseason knee surgery was proceeding well.
[+] Enlarge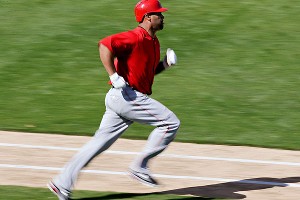 AP Photo/Chris CarlsonThe Angels are hoping that Albert Pujols now has his legs back under him.
The big question might be whether Pujols will be ready in more than enough time to take his position on Opening Day, but he and manager Mike Scioscia both sounded confident after the Angels' 6-1 loss to the Brewers, as Pujols declared himself ready.
Scioscia said of Pujols' five-inning return to fielding, "He looked fine, he was moving to the bag well. He's a terrific first baseman, so he's not that far away from where he needs to be. I think it's an important first step for him to get out there and play a little defense."
Pujols has been working hard to get himself back on the field. "He took an aggressive practice today as far as taking ground balls," Scioscia said.
That said, it isn't entirely smooth sailing. "I think that as long as he feels comfortable out there, I think that what's giving him more trouble now is really his heel, his foot," Scioscia added. "We want to get that under control, but he's looking fine out there; he's got a little bit of plantar fasciitis. His knee is feeling good, so that is not an issue. I think he's going to be fine. Right now, he's in the part of the spring where he's got to get his legs under him for defense. I don't think it's something we're concerned about right now."
But couldn't the plantar fasciitis be a nagging worry? "I think the fact that his knee's OK gives us a little more comfort than anything else."
So the question then is, will Albert return to first base on Wednesday, or will he return to DH? Immediately after the game, Scioscia kept his options open, saying, "We'll see how he comes out of [today]. We'll pretty much go with our core lineup, and we'll get Albert out there at DH or at first base."
Christina Kahrl covers baseball for ESPN.com. You can follow her on Twitter.
March, 19, 2013
3/19/13
5:30
PM PT
By
Christina Kahrl
| ESPNLosAngeles.com
MARYVALE, AZ -- Bringing
Jason Vargas
over from the
Seattle Mariners
made sense in that the
Los Angeles Angels
needed to restock a rotation that had lost
Dan Haren
,
Ervin Santana
and
Zack Greinke
as free agents, and trading for Vargas (as well as Atlanta's
Tommy Hanson
) was a case of circumventing the expense of the open market to patch things up cost-effectively.
[+] Enlarge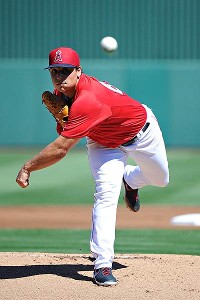 Lisa Blumenfeld/Getty ImagesJason Vargas got a couple pitches up against the Brewers in Cactus League action Tuesday.
But cutting these kinds of corners risked incurring a different expense, priced in wins and losses. There are open questions over how effective Vargas will be outside of Safeco Field now that he's no longer in Seattle. Even in a career-best 2012 season, he allowed 35 home runs, and that was with the benefit of the best park in the league in suppressing big flies, especially homers off right-handed bats (per Baseball Info Solutions), indexing at a league-low 67 over the last three years. Angel Stadium is also one of the better parks to pitch in, with a righty-homer index of 81 over that same stretch; that's still 21 percent easier to homer in relation to Safeco.
The Cactus League is never friendly to men on the mound, and spring stats don't matter. But Vargas got off on the wrong foot from the outset on Tuesday, allowing a titanic two-run tater to
Rickie Weeks
in the first inning. Weeks pulled a double hard to the left-field corner his next time up, fueling another two-spot on the scoreboard for the Brewers. Add in
Aramis Ramirez
's fifth-inning homer, and it wasn't the best day for Vargas.
Vargas didn't make light of getting lit up by Weeks, saying afterward, "I'm still trying to figure out how to get him out. He's gotten me more times than not over the past few years."
Still, Vargas took the broad view of his start, focusing on getting his work in. "It was good to get into the sixth inning, get the pitch count up, continue to get stronger."
That was Angels manager Mike Scioscia's pointed purpose on Tuesday. Despite the five runs allowed through five, Scioscia sent Vargas out to the mound in the sixth to get one more out (first baseman
Alex Gonzalez
), as he has with
C.J. Wilson
and
Joe Blanton
as well this spring.
"Just getting up, get up, take your warmups, get out there for an inning to give yourself a little bit of stamina," Scioscia said. "There's no doubt the ups are as important as the pitches."
As far as the results, Scioscia observed, "Vargas got the ball up a little bit. He threw some good off-speed pitches, some good changeups, but this is not a forgiving park when you get the ball up."
Vargas mulled his objectives for the day, and said, "I was just trying to execute like I would in the regular season. The goal is to get comfortable doing what I've had success doing: Changing speeds, making the hitters move back and forth, that's been a key for me."
It has worked for him in the past, but today's pair of homers might foreshadow what's to come for Vargas in the Big A. If so, it might be a long season in Anaheim.
Christina Kahrl covers baseball for ESPN.com. You can follow her on Twitter.
March, 21, 2012
3/21/12
3:45
PM PT
TEMPE, Ariz. -- Angels manager Mike Scioscia won't say so yet, but Garrett Richards is on the verge of winning the final spot in the Angels' talented rotation.

Jerome Williams still hasn't stepped on a mound since straining his left hamstring March 2 and time is virtually out on him regaining his already-thin edge in the team's only appreciable competition this spring. In other words, Richards, 23, likely will make his third major-league start -- and second start at Yankee Stadium -- on April 15.

"It is exciting. I'm trying to show to them that I have been working hard and that I've committed myself to my craft," Richards said. "Like I said, I'm happy with where I am right now and I'm just going to continue to improve and show them things they might still have questions about."

Richards made his fourth start of the spring -- this time in a minor-league game since the Angels' big-league club was off Wednesday -- and gave up two earned runs and six hits over five innings.

*****

Richards' Double-A roommate -- Mike Trout -- looks as if he's back to being every bit the elite prospect he was before an illness cost him more than two weeks of action. Trout nearly reached base on a routine grounder to the shortstop and he legged out a triple to left-center. His legs are all the way recovered and he said his right shoulder feels fine, too.

He might be at designated hitter for a while, as Scioscia said it could be 10 days to two weeks before he's playing the outfield again.

"It's perfectly fine. They just want to make sure it's 120 percent," Trout said.
March, 21, 2012
3/21/12
11:01
AM PT
TEMPE, Ariz. --
Jorge Cantu
's career is near -- if not at -- its low point, his chances of making the Angels 50-50 at best. Even if he does latch on, he figures to play about once a week, if that, and for a salary that's a pittance compared with what he made a couple of years ago.
It's been a fairly dizzying fall for a 30-year old who, not long ago, was one of the steadiest run producers in baseball.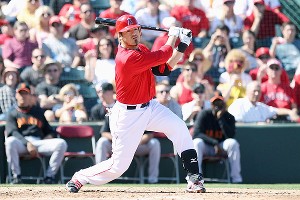 Christian Petersen/Getty Images
Jorge Cantu is batting .321 with four RBIs in 28 at-bats for the Angels this spring.
So why does Cantu seem like the happiest man in camp this spring?
"You might laugh, but it really doesn't get to my head," Cantu said. "At the end of the day, it's a game. You can't take this to the house. You have to balance your life, one way or another."
And, right now, Cantu's life is brimming. His girlfriend, Mexican actress and talk-show host
Cynthia Urias
, is six months pregnant with the couple's first child, a boy. Cantu has an opt-out clause in his contract that he can trigger on May 1 if he's still at Triple-A. He has even considered taking a couple of months off this summer to be with his newborn child in Mexico City.
In other words, not everything revolves around a revolving little white ball, even for those who make a career of hitting it.
Cantu, one of the finest Mexican hitters of all time, had just finished taping an interview and was walking down a hallway at the offices of Televisa in 2009 when one of the producers asked him to stop and pose for a picture. The two men looked around for someone to snap the photo. Urias heard them talking and popped out of a nearby cubicle.
"I froze, like stage fright," Cantu said. "I couldn't get a single word out."
Cantu called around and secured Urias' number from a mutual friend and soon the romance was on. It has become fodder for celebrity gossip columns in Mexico ever since. Urias flew to be with Cantu, 30, in Arizona recently, but soon she'll return to Mexico and won't be able to fly as her due date approaches.
Meanwhile, at locales around the Cactus League, Cantu is attempting to steer his career back from the brink. It veered oddly off track in what should have been the prime of his career.