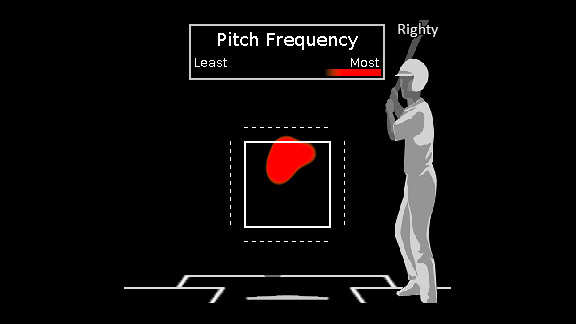 Garrett Richards had limited success against the Yankees on Wednesday, but he was able to get outs by keeping his fastball up (as noted by the red shading) against right-handed hitters.
NEW YORK -- At least Angels rookie Garrett Richards will be able to look back on his major league debut and say he struck out a baseball legend.
Richards 95-mph fastball was a little too hittable Wednesday night in the Bronx. He gave up six runs and six hits in five innings. He got his first visit from pitching coach Mike Butcher after 12 pitches and two walks, then allowed the first of two home runs to Curtis Granderson on his 14th straight fastball. Richards' first 16 pitches of the game were fastballs.
"That's his pitch," said Angels catcher Jeff Mathis. "He throws it hard and has good movement with it. I was just trying to get him to find the zone."
Richards had some success in the middle innings, as he worked in his slider, though he didn't get a swing-and-miss on any of the 32 he threw in this game, and an occasional changeup.
"As he refines things, I think you're going to see a very good major-league pitcher," said Angels manager Mike Scioscia.
Richards was able to locate the ball up in the strike zone against right-handed hitters, as noted in the heat map at the top of this post.
He allowed only one of the seven he faced to reach base via hit or walk, and his first whiff was a future Hall-of-Famer, Derek Jeter, in the fifth inning. That may have been the best series of pitches executed by Richards-- a pair of sliders on the plates edges for strikes, then a 95-mile-per-hour high heater that Jeter could only tick into the mitt of Mathis.
"That was the best thing that came out of this for me," Richards said, with a smile, before going to visit the 14 friends and family who came to the game.
Richards couldn't put Jeter away in the first inning, despite getting ahead of him 1-2, after walking pesky leadoff man Brett Gardner. After a pitchout, he missed with two pitches that weren't close. Granderson than tagged him for the first of his pair of home runs.
"He's a tremendous hitter and he got me tonight," Richards said.
Left-handers, even those other than Granderson gave Richards trouble. Yankees lefties were 6-for-15 with five extra-base hits and a walk against Richards. All but one of those hits came with the count 0-0, 0-1, 1-0 or 1-1.
For his part, Granderson, a veteran of nearly 4,000 major-league plate appearances, was impressed with what the Angels rookie showed.
"He came right at guys," said Granderson, who now has a career-best 31 home runs. "He had really good velocity. He pretty much was able to throw all three pitches at any time. I didn't want to fall behind against a guy like that because you don't know what his put-away pitch is. The main thing is to try to be aggressive early because he's coming right at you. I think that pretty much was the success, the reason why we were able to score some runs early in the ball game."
The six runs were tied for the third-most allowed by an Angels pitcher in his major-league debut, matching teammate Ervin Santana, among others, and two shy of Steve Eddy (1979) and Chris Bootcheck (2003).