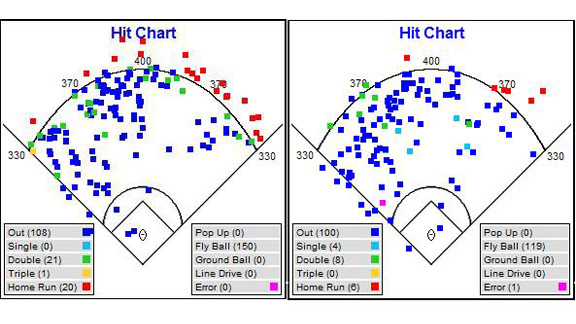 Left: Bobby Abreu's fly ball spray chart from 2010.
Right: Abreu's fly ball spray chart from 2011.What exactly happened to Bobby Abreu in 2011?
Check out Abreu's spray charts from the last two seasons above.
On the left is a look at the fly balls that Abreu hit in 2010. On the right is his fly balls from 2011.
Bobby Abreu's Fly Balls
Last season, Abreu got into a rut in which if he lifted the ball into the air, he struggled to hit the ball far. His fly balls became lazy cans of corn. His power to center field completely vanished.
The chart on the right shows the difference from a statistical perspective.
Inside Edge, which does video review of every pitch from every game uses a classification system by which they'll categorize balls off the bat as "hard-hit."
Abreu's rate of hard-hit fly balls dropped from 43 percent in 2010 to 26 percent in 2011. In 2010, he had 11 extra-base hits in which he hit the ball to center field. In 2011, he had two. That's how you go from hitting 20 home runs to hitting eight and being a non-threat for most of the season.
Based on his comments Tuesday, Abreu thinks he still has something to contribute from a power perspective. But he'll probably need a nicer looking spray chart than last season's to earn playing time.