May, 4, 113
May 23
8:24
PM ET
Associated Press
KANSAS CITY, Mo. -- Mike Trout and Albert Pujols hit solo home runs, and Mark Trumbo hit a two-run shot to help the Los Angeles Angels beat the Kansas City Royals 5-4 Thursday night.
Joe Blanton got his first victory of the season after going 0-7 in his first nine starts. He held the Royals to seven hits and two runs in 6 1/3 innings. Trumbo put the Angels up 5-2 in the eighth with his team-leading 11th homer.
Ervin Santana (3-4), who spent 12 seasons in the Angels' organization before being traded during the offseason to the Royals, struck out eight without a walk, but allowed five runs and eight hits -- four of which were homers. Chris Iannetta hit one in the fifth.
The Royals scored on ground outs by Alex Gordon and Mike Moustakas.
May, 4, 113
May 23
11:53
AM ET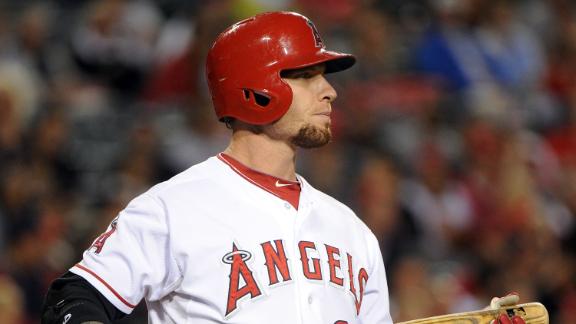 Look at the hot-and-cold Angels. Behold the listing Dodgers, who seem about to get Don Mattingly fired if his verbal bombs don't first. And the Toronto Blue Jays? Cover your eyes. The Blue Jays' latest rebuilding strategy was to remake their club by defibrillating a significant portion of the dead-on-arrival 2012 Marlins and adding Melky Cabrera, a man whose run at the batting title was fluffed up by PED use. Now look. So far, the 2013 Toronto Marlins have been dead on arrival, too.
But at least Toronto added baseball's poet-in-residence, R.A. Dickey, who excels at putting things in perspective. "We're somewhat of a dysfunctional team right now," Dickey said a couple of weeks ago, after being booed off the mound.
The same feeling applies when you watch the Dodgers' and Angels' grand experiments, too. There's still time to pull it together. But all three teams have lurched around so far like Frankensteins slapped and sutured together out of disparate parts.
"It's a bit of a force," Dickey allowed of his Jays.
It's important to acknowledge injuries have hurt all three clubs. But that's not all that has gone wrong.
Tony La Russa works as a special adviser for the commissioner's office, not out of a dugout anymore. But the Hall of Fame-bound former Cardinals, A's and White Sox manager says generally speaking there are certain things about underperforming and overperforming clubs that "just yell out at you, that just scream out at you" no matter what your vantage point is, if you know what to look for.
May, 23, 2013
May 23
1:20
PM ET
By
Jason A. Churchill
| ESPN.com
The
Pittsburgh Pirates
are 23-17 after pn the season, but have done so on good pitching. The club's offense has struggled, posting a .242 batting average in 46 games, good for No. 12 in the National League. The Bucs also rank No. 10 in on-base percentage, offsetting their respectable No. 8 ranking in slugging. One of the problematic spots in the order is occupied by third baseman
Pedro Alvarez
.
To continue reading this article you must be an Insider
May, 3, 113
May 22
7:02
PM ET
Associated Press
ANAHEIM, Calif. -- C.J. Wilson struck out 10 in eight innings, Josh Hamilton had a two-run single and the Los Angeles Angels beat Seattle 7-1 on Wednesday to hand the Mariners their season-worst sixth straight loss.
Wilson (4-3) allowed a run and six hits in his longest outing since June 8, 2012, when he also went eight innings in a 7-2 interleague victory at Colorado. The left-hander won for the first time since May 1 at Oakland after losing his previous three starts, including back-to-back 3-0 decisions against Chris Sale of the Chicago White Sox.
Brandon Maurer (2-6) gave up seven runs and 11 hits in three innings for Seattle.
May, 22, 2013
May 22
1:07
PM ET
By
Jason A. Churchill
| ESPN.com
The
Cleveland Indians
are in first place in the American League Central and may be a club that looks to add to their roster to make a deep run for a playoff spot this season. They could use some starting pitching, and perhaps another reliever, too. Adding a quality starter such as
Chicago Cubs
right-hander
Matt Garza
, who just returned from the disabled list and looked sharp in his first outing, could give the rotation the boost it needs to sustain their early-season success.
To continue reading this article you must be an Insider
May, 22, 2013
May 22
12:15
PM ET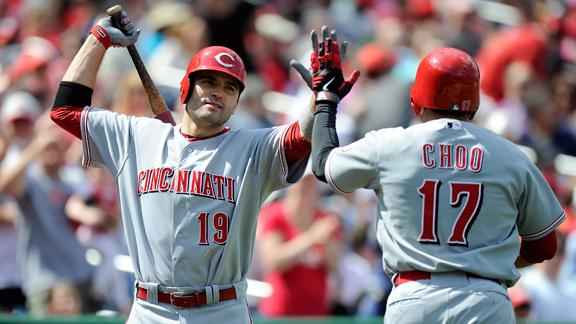 OK, let's stir up some arguing and yelling again. Yesterday, I ranked the
top five pitching duos
. Today, let's do the majors' best hitting duos.
Ranking the pitchers was difficult because there were so many excellent pairs to choose. Ranking the hitters is difficult because of a lack of obvious candidates. But here goes. Angry comments can be posted below!
1. Miguel Cabrera and Prince Fielder, Tigers
They seem like the pretty clear choice for No. 1 to me. You have the best hitter in baseball in Cabrera and a power-hitting, on-base machine in Fielder. One bats right-handed, the other hits lefty. They never miss a game and the fact that they can't run is but a minor inconvenience. Right,
Cabrera ranks first in wOBA and Fielder 21st
. Last year they ranked first and sixth.
2. Joey Votto and Shin-Soo Choo, Reds
They've been the best pair so, ranking third and fourth in wOBA (Baltimore's
Chris Davis
is second). They've also combined to create the most runs of any pair -- Votto is second in the majors and Choo third in runs created, behind only Cabrera. As good as they've been, I can't put them No. 1 for a couple of reasons. First, Choo is unlikely to sustain this level of play (after hitting .337 in April, he's hitting .250 in May, albeit with power and walks). But it's hard to rate this duo as the best when Choo is also completely helpless against left-handers -- .146/.317/.188. He hit .199 against them last year, so you can pretty easily argue that he should be platooned.
3. Buster Posey and Pablo Sandoval, Giants
The Giants are no longer fueled by their starting rotation but by this pair. Their raw stats may not blow you away, but some of their effectiveness is masked by playing half their games in AT&T Park. Last year, for example, Posey hit 17 of his 24 home runs on the road (although this year he's hitting .367 at home and .227 on the road). Sandoval has been inconsistent throughout his career -- his year-by-year OPS totals since 2009 are .943, .732, .909, .789 and .832 so far in 2013 -- but after breaking a bone in each hand the past two seasons, looks poised for a big season. And we mean big. He's the ultimate bad-ball, bad-body hitter, and while I wished he walked more, he and Posey have developed into a lethal combo. Put them in a different park and their numbers would be even better.
4. Jose Bautista and Edwin Encarnacion, Blue Jays
Both started a little slow but have still combined for 21 home runs. Each has the ability to hit 40 home runs (Encarnacion hit 42 last year, Bautista passed the 40 mark in 2010 and 2011). Both are hitting under .260 right now, but they draw walks so they will post solid-to-excellent on-base percentages. If Bautista ends up hitting closer to the .302 mark he posted in 2011 and Encarnacion hits .280 as he did last year instead of his current .256, they could end up challenging Cabrera and Fielder for the top spot.
5. Mike Trout and Albert Pujols, Angels
Oh, yeah, Trout is now hitting .293/.373/.558, including .343/.434/.757 in May, and provides added offensive value with his speed. The question: What does Pujols bring to the table? He has scuffled so far with a .247/.318/.420 line, including a league-leading 10 double plays. The foot is clearly bothering him and maybe it doesn't get better. Maybe Pujols doesn't get better even if the foot does. But I'm not quite ready to write him off just yet.

OK, I know I'm going to hear it from Rockies fans about not including
Troy Tulowitzki
and
Carlos Gonzalez
-- but I'm going to include them in the poll instead of Trout and Pujols. For the first time in his career, CarGo is actually hitting on the road, a robust .325/.407/.625. His walk rate is up as well, so we could be seeing an improved Gonzalez this year. If CarGo
does
keep hitting on the road, then I'll move them into the top five.
Worth mentioning:
•
Ryan Braun
and
Carlos Gomez
/
Jean Segura
, Brewers. Gomez and Segura are off to great starts, but let's wait a bit to see if they're
this
good.
•
Carlos Santana
and
Mark Reynolds
, Indians. Two reasons the Indians have scored a lot of runs.
•
David Ortiz
and
Dustin Pedroia
, Red Sox. Ortiz has 29 RBIs in 27 games since returning from the DL and Pedroia has a .420 OBP.
•
Adrian Gonzalez
and
Matt Kemp
, Dodgers. If Kemp gets going.
• Chris Davis and
Manny Machado
/
Adam Jones
, Orioles. Machado falls into the Gomez/Segura camp: Let's see him do it for bit longer period of time.