Albert Pujols spent the first month-and-a-half of the season making headlines for all the wrong reasons. The perfect balance of power and average for each of his first 11 years in major league baseball, Pujols was hitting for neither. As of May 14, his average was under .200 and he had hit just one home run.
Many blamed Pujols' slow start on having to adjust to a new city and team. He had a whole new league's worth of pitchers to figure out too, right?
As it turned out, Pujols was merely a victim of his own consistency; it made his slump seem even worse than it was.
Albert Pujols this season
Pujols entered this season with a career batting average on balls in play (BABIP) of .311. During the first 35 games this year his BABIP was .220. Since then it is back up to a much more normal .306.
Of course a low BABIP cannot solely be blamed on bad luck. After all, if you keep chopping soft grounders to third base, you can expect most to go for outs. So what adjustments has Pujols made since May 15?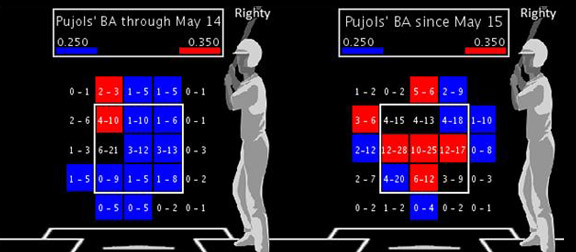 Graphic by Kenton Wong
PUNISH MISTAKES
The first improvement was simply hitting the pitches he's supposed to hit. After turning a large portion of pitches over the middle of the plate into outs early this season, a look at his heat maps show mistake pitches are now turning into hits.
RECOGNIZE CHANGE-UPS
Pujols struggled with most off-speed pitches early this season, but change-ups were his nemesis. He had just one hit in his first 12 at-bats ending in change-ups this season. Since then he has gone 8-27 with two home runs and three doubles.
HAVE BETTER PLATE DISCIPLINE
After being overly aggressive in chasing 36 percent of pitches out of the strike zone early in the year, Pujols has been more disciplined since mid-May (29 percent chase rate).
USE THE WHOLE FIELD
In his first 149 plate appearances this season, Pujols put just 13 balls in play to the opposite field (8.7 percent). Since then he has hit 46 pitches the other way in 272 plate appearances (16.9 percent).
At least for now, it seems Pujols has returned to his "machine-like" form. His .618 slugging percentage since May 15 is tied for fourth in the American League behind only Robinson Cano, Miguel Cabrera and Mike Trout.