May, 18, 2013
May 18
12:13
AM CT
By
Dan Arritt
| Special to ESPNChicago.com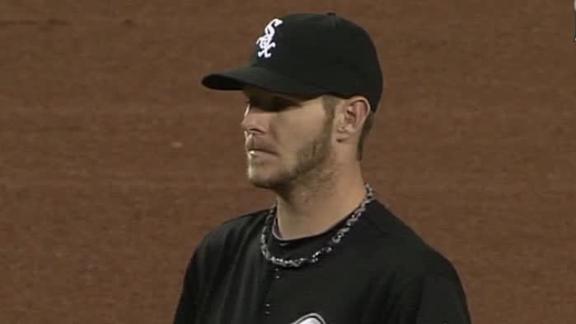 ANAHEIM, Calif. --
Chris Sale
ran his scoreless streak to 23 innings Friday and
Alex Rios
homered for the second straight game as the visiting
Chicago White Sox
won their season-high fourth straight game with a 3-0 victory against the
Los Angeles Angels
.
How it happened:
Sale wasn't as unhittable as the last time he faced the Angels, but he was just as unbeatable. Six days after slinging a one-hit shutout against the Angels, Sale breezed through their batting order again, this time giving up three hits while striking out a season-high 12 in 7 2/3 innings. Sale received all the run support he would need on a first-inning solo home run by Rios, teased the Angels with two first-inning walks -- the first he surrendered in 17 2/3 innings -- then put the hammer down the rest of the way. He improved to 5-2 on the season, lowered his ERA to 2.53 and improved his career mark to 10-0 against the American League West.
What it means:
The White Sox entered the day four games behind the Tigers and Indians in the American League Central, then fell to 4 1/2 back after Detroit edged the Rangers 2-1 and Cleveland beat the Mariners 6-3 on a three-run homer in the bottom of the 10th inning. The Sox don't face either team until late June, so they need to take care of business and hope for a little help along the way. Sale certainly did his part Friday.
Outside the box:
Something about the month of May brings out the best in Rios. He came into Friday's game with his highest career average (.289), most home runs (37) and most RBIs (118) of any full regular-season month. He then went out and gave the White Sox a 1-0 lead with a home run for the second consecutive game and added a single in his second plate appearance and a walk in his third. His second base hit upped his average to .396 during his current hitting streak.
Off beat:
Sale made his other career start against the Angels a year ago Friday at Angel Stadium, giving up one run -- a homer by
Albert Pujols
-- in 5 1/3 innings of a 6-1 victory by the White Sox. Sale is now 19-8 since that victory. Left-handers came into the game hitting 3-for-49 (.067) off Sale this season and struggling Angels outfielder
Josh Hamilton
had no chance against Sale, striking out on three pitches in his second and third at-bats.
Up next:
The White Sox will send left-hander
Hector Santiago
(1-2, 2.23 ERA) to the mound in the third game of the four-game series. The Angels will counter with right-hander
Joe Blanton
(0-7, 6.46) in the 3:05 p.m. CT start from Angel Stadium.
May, 5, 113
May 17
10:10
PM ET
Associated Press
ANAHEIM, Calif. -- Chris Sale stifled the Los Angeles Angels' bats for the second time in six days, scattering three hits over 7 2/3 innings with a season-high 12 strikeouts on Friday night to lead the Chicago White Sox to a 3-0 victory.
Alex Rios and Adam Dunn homered for the White Sox, who extended their winning streak to a season-high four games.
Sale (5-2) threw 79 of his 113 pitches for strikes in another competitive duel with fellow lefty C.J. Wilson, whom he beat 3-0 last Sunday night at Chicago.
Addison Reed pitched a perfect ninth for his 14th save in 15 chances.
Wilson (3-3) lost his third straight start, allowing two runs and six hits over seven innings.
May, 5, 113
May 17
12:44
AM ET
ESPN MLB Insider Jim Bowden joins Mark Willard & Mychal Thompson to talk Dodgers and Angels. Jim thinks both Don Mattingly & Mike Scioscia jobs should be safe and Clayton Kershaw will be the highest paid player in MLB history.
May, 17, 2013
May 17
2:55
PM ET
By
Jason A. Churchill
| ESPN.com
Yes, it's still quite early and the
Los Angeles Angels
aren't a club with a recent history of moving players simply to save payroll, but they are 15-26 with a negative-42 run differential and a 12-game deficit in the American League West.
To continue reading this article you must be an Insider
May, 5, 113
May 17
11:56
AM ET
Associated Press
OAKLAND, Calif. -- The Kansas City Royals placed center fielder Jarrod Dyson on the 15-day disabled list Friday with a sprained right ankle and recalled outfielder David Lough from Triple-A Omaha.
The speedy Dyson hurt his ankle Wednesday night against the Angels while attempting to scale the outfield wall and rob Mike Trout of a home run. He was forced to leave the game in the eighth inning and an examination by the medical staff revealed the sprain.
Dyson was hitting .268 with a homer and eight RBIs. He had provided a spark for a struggling offense with his ability to cause problems on the basepaths.
Lough was hitting .340 with three homers and three triples for the Storm Chasers, and was riding a 16-game hitting streak that ended May 8. He was in the starting lineup in right field and batting leadoff for the Royals in the opener of a weekend series at Oakland.
May, 17, 2013
May 17
12:57
AM CT
By
Dan Arritt
| Special to ESPNChicago.com
ANAHEIM, Calif. -- The White Sox rallied from a two-run deficit Thursday night by scoring three runs in the eighth and then holding on for a 5-4 victory, their third consecutive win to match their season high.
How it happened:
When White Sox second baseman
Jeff Keppinger
stepped to the plate with the bases loaded and two outs in the eighth inning of a tied game, he had gone 140 plate appearances without drawing a walk this season, the most in the major leagues. Angels reliever
Michael Kohn
had walked the previous two batters so it wasn't entirely a surprise when he threw four straight balls to Keppinger, forcing in
Adam Dunn
with the go-ahead run.
Jesse Crain
pitched the eighth for his 15th consecutive scoreless outing and
Addison Reed
retired the Angels in order in the ninth for his 13th save.
What it means:
The White Sox moved to within four games of the Tigers and Indians in the American League Central, taking advantage of one of the worst outings in the career of Detroit ace
Justin Verlander
, who couldn't get out of the third inning in a 10-4 loss to the Rangers earlier in the day. The White Sox are back to three games under .500 for the first time since May 2 and didn't commit an error for the second straight game, something they did 30 times through the first 37 games.
Outside the box:
Alex Rios
came into the game ranked third among active American League outfielders in assists with 79. He added to that total in the third inning after Angels catcher
Chris Iannetta
singled to center to represent the game's first base runner. He was sacrificed to second and attempted to score on
Erick Aybar
's liner to right, but Rios came up throwing and nailed Iannetta at the plate with a perfect one-hop throw to end the inning. Rios then further quieted the crowd with a solo homer to left with two outs in the fourth, giving the White Sox a 1-0 lead and extending his hitting streak to 11 games.
Off beat:
In an interesting scoring decision in the fifth inning, Keppinger was awarded an RBI on a hard grounder to Aybar at shortstop with the infield in and
Conor Gillaspie
at third. Aybar appeared to have the ball in his glove in plenty of time to throw Gillaspie out at the plate, but lost the ball in transition, allowing Gillaspie to tie the score at 2-2. Aybar was charged with an error, but Keppinger was given an RBI and, thus, the run was earned. Gillaspie, who had doubled to lead off the inning, came in leading American League rookies in base hits (29) and second in extra-base hits (eight).
Up next:
The White Sox will send left-hander
Chris Sale
(4-2, 2.88 ERA) to the mound at Angel Stadium in the second game of the four-game series. The Angels will counter with left-hander
C.J. Wilson
(3-2, 3.88) in the 9:05 p.m. CT start.
May, 4, 113
May 16
10:28
PM ET
Associated Press
ANAHEIM, Calif. -- Jeff Keppinger walked with the bases loaded to drive in the go-ahead run -- his first base on balls in 141 plate appearances this season -- and the Chicago White Sox rallied with three runs in the eighth to beat the Los Angeles Angels 5-4 on Thursday night for their season-high third straight road win.
The Angels' bullpen wasted a two-run lead as the club lost its second straight and dropped to 8-12 at home.
Matt Lindstrom (2-2) got the victory after facing one batter in the seventh, getting Mike Trout to fly out to right to end the inning.
Addison Reed pitched the ninth to earn his 13th save in 14 chances.
Dane Del La Rosa (1-1) took the loss, giving up all three runs in the eighth.
May, 4, 113
May 16
8:10
PM ET
ESPN.com news services
Doctors have told Josh Hamilton that his allergies were not caused by his past cocaine use, the Angels slugger told the Los Angeles Times.
Hamilton told MLB.com this week that he's sick with sinus congestion that makes him prone to dizziness and sensitive to the lights at major league stadiums.
Hamilton's drug use led to multiple suspensions from 2003 to 2006, before he made his major league debut.
"You have a hallway up the middle of your nose and sinus cavities on each side," Hamilton told the Times. "When you breathe air, it goes up and down the hallway.
"Same thing when you do drugs, it goes up the hallway, not into the sinus cavities. I told the doctor I had never had allergies before I started doing any of that stuff, but he said [drug use] has nothing to do with it."
Hamilton, who entered Thursday's game hitting just .214, has scheduled a visit with an allergist after suffering from sinus and throat discomfort.
"You think about the consequences of the decisions you made, especially when you put things in your body that aren't good for you," Hamilton told the newspaper. "But your body is a fascinating thing. It can heal itself. From the doctors I've talked to, it seems like the effects from the years of drug use have healed up."
May, 16, 2013
May 16
5:08
PM ET
Hernandez
Watching
Felix Hernandez
the other night prompted me to look up the pitchers with the highest career Wins Above Replacement who never started a postseason game. Hernandez's career WAR is 36.3 and I had no idea if he would top the list or even be near the top, but it seems like most good pitchers eventually find themselves in a playoff game.
So, since 1969 and the divisional era, here are the pitchers who accumulated the most WAR but never started a playoff game:
1. Ferguson Jenkins (67.7 WAR, 16th overall)
His career WAR is actually higher, but we're only counting WAR earned from 1969 and beyond. Anyway, Jenkins played for the Cubs, Rangers and Red Sox and had 284 career wins. Those late 1960s/early 1970s Cubs teams have four Hall of Famers -- Jenkins, Ernie Banks, Billy Williams and Ron Santo -- and had some other good players (Bill Hands, Ken Holtzman, Milt Pappas) but never reached the postseason.
2. Mariano Rivera (54.9 WAR, 30th overall)
Well, he hasn't
started
a postseason game ...
3. Mark Langston (50.2 WAR, 41st overall)
Very underrated pitcher in the '80s and '90s, spending most of his career with the bad Mariners and mediocre Angels. From 1986 to 1993 he averaged 247 innings per season. Did pitch in relief for the Padres in the 1998 postseason.
4. Wilbur Wood (45.9 WAR, 47th overall)
Had 11.7 and 10.7 WAR in in 1971 and 1972 when he pitched 334 and then 376 innings for the White Sox.
5. Goose Gossage (41.9 WAR, 57th overall)
See Rivera. Pitched in four postseasons, including three World Series.
6. Danny Darwin (40.6 WAR, 48th overall)
Won 171 games and an ERA title, but never pitched in the postseason although he played for eight different franchises. He was on the '86 Astros, who made the playoffs, and went 5-2, 2.32 ERA, after they acquired him from Milwaukee, but was injured and missed the playoffs. Also pitched for the '97 Giants, who made the playoffs, but didn't appear in the postseason.
7. Charlie Hough (39.3 WAR, 61st overall)
Pitched in relief for the Dodgers in three World Series, but spent the bulk of his rotation days with the playoff-less Rangers.
8. Felix Hernandez (36.3 WAR, 71st overall)
And now we get to Hernandez, the active leader among starting pitchers in this dubious category. Is he destined to become the Fergie Jenkins of his generation?