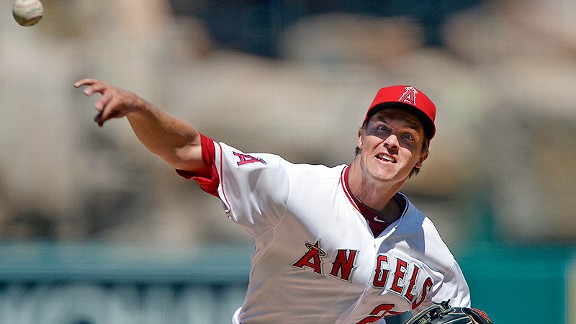 AP Photo/Mark J. Terrill
ANAHEIM, Calif. -- Pitchers would like to tell you that nothing fazes them. That one start has no bearing on the next and that outside factors have no effect on their performance.
This, of course, is what they tell themselves and others but it's not always true.
Pitchers, as much as they'd like to deny it, are just as human as everybody else. Success and failure within a rotation can sometimes be as contagious as the flu in an office. Suddenly giving up home runs can be infectious if you allow it to get out of hand.
"When you're seeing the other starters pitch good, in your mind you think, 'Oh, it's not that hard. It's possible to get these guys out,'" said Los Angeles Angels pitcher Zack Greinke. "Whereas when they don't, it's the opposite. Say against Detroit, in the first game they score eight runs and in the second they score six and you're thinking, 'Man, this is going to be tough.' When you see other guys doing good, it makes you feel more confident going in."
The newfound confidence of the Angels after sweeping the Oakland A's and Detroit Tigers, the first back-to-back series sweeps this season for the team, stems directly from their surging pitching staff. As much as the staff was blamed for the Angels' downfall after the All-Star break, no group deserves more credit for the team winning six straight and 11 of 12 since Aug. 28.
"I'm excited about what our pitchers are doing," Angels manager Mike Scioscia said. "What our pitching staff has done over these last 20 games is remarkable. … It can be contagious. We have enough front-line pitchers on the staff when you look at Zack and Danny Haren, who has been a No. 1 before, and [Jered] Weaver and C.J. [Wilson]. These guys take pride in going out there and stopping a streak if it's happening. They want to turn things around. Unfortunately, for a long time we weren't getting any consistent starts and now they're much more comfortable in making their pitches out there."
In August the Angels' pitchers had the worst ERA in all of baseball at 5.68, but so far in September they have the best ERA in the majors at 1.65. It is a dramatic one-month jump that could save the Angels' season, if it continues.
"I thought it was going to be like this the whole time," Greinke said. "Our pitching staff is so talented. It's pretty amazing. I just expected to be good right away. It was a little surprising but I was struggling too. Every team goes through it but you just have to battle through it and we have."
Before this run for the Angels, who are now a season-high 14 games over .500 and one game out of the final wild-card spot, Scioscia would have constant team meetings to remind his players to relax and play within themselves. He knew the talent was there for this team to be so much better than the way they were performing.
"I think this current stretch we're on has definitely let some guys exhale and maybe get some frustration out of the clubhouse," Scioscia said. "I think particularly on the pitching side because when you're evaluating our club and why we really lost ground from the All-Star break until we started playing better during this stretch it's very clear what it was. We just weren't getting the pitching that we anticipated from our starters and that put a strain on our bullpen."
Scioscia had long ago stated that the Angels' bullpen wasn't really in a position to be tested early and often. He needed his starters to go seven innings to feel comfortable. Until recently, that was rarely the case.
"I think it was an extreme stretch of four guys struggling to an extreme extent," Scioscia said. "These guys weren't pitching nearly to their capabilities. So as we didn't put up the wins we had anticipated there was some frustration that was growing in our clubhouse, much like there was at the beginning of the season and it started to come back again after the All-Star break."
The Angels' bullpen was absolutely atrocious in August before the Angels' turnaround. They had a 7.17 ERA and eight blown saves last month. Not only was it beginning to take a toll on the team in the standings but also in the clubhouse, where the offense was putting up enough runs to win games but watching those leads evaporate late.
"I think the confidence level of our club is higher because of the performance of our pitchers and our offense has continued to move forward," Scioscia said. "That has alleviated a lot of the frustration that was slowly stating to brew in the clubhouse. Guys understood we had a good team but we were not performing the way we needed to."
Scioscia was always confident his pitchers would turn it around. He was just hopeful that it would come with enough time left in the season for the Angels to make a playoff push. With 22 games left in the season and 13 of their next 16 at home, they might have come around at just the right time.
"There's no doubt from a talent level and what their track record says, you felt that those guys were going to turn it around," Scioscia said. "Each guy had a different set of circumstances. It wasn't one thing where you said this is why these guys are struggling. There were some tangible things with each guy that needed to be worked out. Whether it was a mechanical thing or maybe an injury or whatever it was. When you looked at each individual case you had a lot of optimism that they were going to be able to turn it around and we've seen it."