May, 18, 2013
May 18
8:54
PM CT
By
Dan Arritt
| ESPNChicago.com
ANAHEIM, Calif. --
Hector Santiago
strolled to the mound in the fourth inning with one thing on his mind Saturday afternoon: get the
Chicago White Sox
back in the dugout as quickly as possible.
[+] Enlarge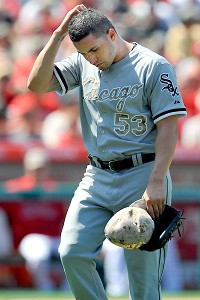 Gary A. Vasquez/USA TODAY SportsHector Santiago's tough outing on Saturday in Anaheim might hurt his chances of staying in the rotation.
Instead, it was Santiago who took the slow walk back to the dugout alone, unable to protect a four-run lead handed to him in the top half of the inning. The
Los Angeles Angels
would chase Santiago with three runs in the fourth, take the lead with two more in the fifth and eventually hold on to win 12-9, ending Chicago's season-long four-game winning streak.
"I was trying to make stuff happen when I didn't need to," the 25-year-old left-hander said. "That one inning I just tried to keep my pitch count down."
Santiago had walked a tightrope in the third, surrendering a walk, a single and a hit batter. He escaped the inning unscathed, but his pitch count had ballooned into the 60s. Santiago made note of that as he prepared to pitch the fourth.
"I never go out there and worry about my pitch count," he said. "If I go five [innings], or I go seven, it doesn't matter. I was trying to make better pitches than I needed to."
He began the inning by giving up a long home run to
Mark Trumbo
on an 0-and-2 pitch. He got
Howie Kendrick
to fly out, gave up a single to
Alberto Callaspo
, and then the wheels came off. He walked three straight batters with a wild pitch mixed in between, allowing the Angels to cut the deficit in half.
May, 18, 2013
May 18
7:15
PM CT
By
Dan Arritt
| Special to ESPNChicago.com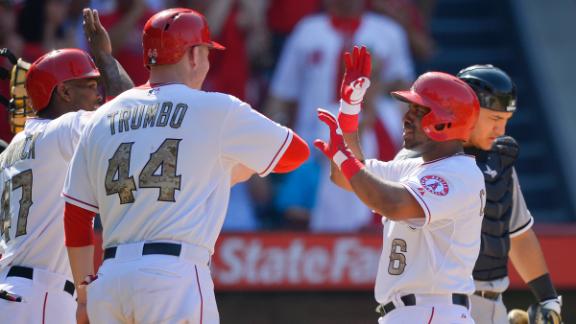 ANAHEIM, Calif. -- The
Chicago White Sox
produced a season-high 17 hits Saturday against the
Los Angeles Angels
, but their pitching didn't hold up in a 12-9 loss that ends their season-high four-game winning streak.
How it happened:
The Sox took a 4-0 lead in their half of the fourth inning and appeared to be setting sail toward their fifth consecutive victory against the slumping Angels. But a leadoff home run by
Mark Trumbo
in the bottom of the fourth seemed to give the Angels life and frazzle Chicago starter
Hector Santiago
. The Angels scored twice more in the fourth and then took the lead for good with two runs in the fifth. The White Sox rallied from a two-run deficit in the eighth inning in Thursday's series opener, but the Angels thought they ended any chances of a comeback by scoring five runs in the seventh on Saturday, but Chicago came back with five of its own in the eighth, the last three on a home run by backup catcher
Hector Gimenez
that was his fourth hit of the game. That was as close as the Sox would come, however, as the Angels came back with two runs in the eighth for the highest run total against the White Sox this season.
What it means:
With the
Cleveland Indians
posting another walk-off win earlier Saturday against the
Seattle Mariners
, the White Sox dropped five games back in the American League Central. More concerning could be the health of first baseman/designated hitter
Adam Dunn
, who did not take the field in the fifth inning after experiencing back spasms. Dunn had a two-run single earlier in the game to make him 8-for-19 with four home runs and 10 RBIs in the past five games. Still, the White Sox can finish 5-2 on the trip with a win Sunday in the finale of the four-game series.
Outside the box:
Santiago landed in the starting rotation after
Jake Peavy
was scratched from a May 2 start because of back spasms and earned a longer stay when it was learned
Gavin Floyd
would need season-ending elbow surgery. With fellow left-hander
John Danks
close to returning from offseason shoulder surgery, the White Sox will need to make room in the rotation as soon as next week. Santiago certainly didn't help his cause by failing to take advantage of a four-run lead in his fourth start this season. After the leadoff homer by Trumbo in the fourth, Santiago gave up a single and three straight walks to earn a much-deserved early hook.
Off beat:
Angels starter
Joe Blanton
entered the game with an 0-7 record and a major league leading 75 hits surrendered in 46 innings. He certainly didn't improve that average by giving up two hits in each of the first three innings, but the White Sox couldn't muster a third hit in any of them and stranded all six runners. They loaded the bases in the fourth and this time didn't let Blanton off the hook, getting a two-run double from
Alex Rios
and a two-run single from Dunn for a 4-0 lead. Unfortunately, the White Sox continued to strand runners, leaving 11 on base through the first five innings and 12 in all, something that would come back to haunt them later in the game.
Up next:
The White Sox will send right-hander Jake Peavy (5-1, 2.96 ERA) to the mound in the finale of the four-game series. The Angels will counter with left-hander
Jason Vargas
(2-3, 4.03 ERA) in the 2:35 p.m. CT start from Angel Stadium.
May, 6, 113
May 18
5:11
PM ET
Associated Press
ANAHEIM, Calif. -- Alberto Callaspo hit a three-run homer in Los Angeles' five-run seventh inning, and the Angels beat the White Sox 12-9 on Saturday to end Chicago's four-game winning streak.
Callaspo also had a pair of sacrifice flies to give him five RBIs on the day. Mark Trumbo also went deep for Los Angeles, which finished with 17 hits.
Robert Coello (1-0) recorded his first major league victory, retiring all five batters he faced and striking out three after relieving Joe Blanton after another ineffective performance.
May, 18, 2013
May 18
12:13
AM CT
By
Dan Arritt
| Special to ESPNChicago.com
ANAHEIM, Calif. --
Chris Sale
ran his scoreless streak to 23 innings Friday and
Alex Rios
homered for the second straight game as the visiting
Chicago White Sox
won their season-high fourth straight game with a 3-0 victory against the
Los Angeles Angels
.
How it happened:
Sale wasn't as unhittable as the last time he faced the Angels, but he was just as unbeatable. Six days after slinging a one-hit shutout against the Angels, Sale breezed through their batting order again, this time giving up three hits while striking out a season-high 12 in 7 2/3 innings. Sale received all the run support he would need on a first-inning solo home run by Rios, teased the Angels with two first-inning walks -- the first he surrendered in 17 2/3 innings -- then put the hammer down the rest of the way. He improved to 5-2 on the season, lowered his ERA to 2.53 and improved his career mark to 10-0 against the American League West.
What it means:
The White Sox entered the day four games behind the Tigers and Indians in the American League Central, then fell to 4 1/2 back after Detroit edged the Rangers 2-1 and Cleveland beat the Mariners 6-3 on a three-run homer in the bottom of the 10th inning. The Sox don't face either team until late June, so they need to take care of business and hope for a little help along the way. Sale certainly did his part Friday.
Outside the box:
Something about the month of May brings out the best in Rios. He came into Friday's game with his highest career average (.289), most home runs (37) and most RBIs (118) of any full regular-season month. He then went out and gave the White Sox a 1-0 lead with a home run for the second consecutive game and added a single in his second plate appearance and a walk in his third. His second base hit upped his average to .396 during his current hitting streak.
Off beat:
Sale made his other career start against the Angels a year ago Friday at Angel Stadium, giving up one run -- a homer by
Albert Pujols
-- in 5 1/3 innings of a 6-1 victory by the White Sox. Sale is now 19-8 since that victory. Left-handers came into the game hitting 3-for-49 (.067) off Sale this season and struggling Angels outfielder
Josh Hamilton
had no chance against Sale, striking out on three pitches in his second and third at-bats.
Up next:
The White Sox will send left-hander
Hector Santiago
(1-2, 2.23 ERA) to the mound in the third game of the four-game series. The Angels will counter with right-hander
Joe Blanton
(0-7, 6.46) in the 3:05 p.m. CT start from Angel Stadium.
May, 5, 113
May 17
10:11
PM ET
Associated Press
ANAHEIM, Calif. -- Chris Sale stifled the Los Angeles Angels' bats for the second time in six days, scattering three hits over 7 2/3 innings with a season-high 12 strikeouts on Friday night to lead the Chicago White Sox to a 3-0 victory.
Alex Rios and Adam Dunn homered for the White Sox, who extended their winning streak to a season-high four games.
Sale (5-2) threw 79 of his 113 pitches for strikes in another competitive duel with fellow lefty C.J. Wilson, whom he beat 3-0 last Sunday night at Chicago.
Addison Reed pitched a perfect ninth for his 14th save in 15 chances.
Wilson (3-3) lost his third straight start, allowing two runs and six hits over seven innings.
May, 5, 113
May 17
12:44
AM ET
ESPN MLB Insider Jim Bowden joins Mark Willard & Mychal Thompson to talk Dodgers and Angels. Jim thinks both Don Mattingly & Mike Scioscia jobs should be safe and Clayton Kershaw will be the highest paid player in MLB history.
May, 17, 2013
May 17
2:55
PM ET
By
Jason A. Churchill
| ESPN.com
Yes, it's still quite early and the
Los Angeles Angels
aren't a club with a recent history of moving players simply to save payroll, but they are 15-26 with a negative-42 run differential and a 12-game deficit in the American League West.
To continue reading this article you must be an Insider
May, 5, 113
May 17
11:57
AM ET
Associated Press
OAKLAND, Calif. -- The Kansas City Royals placed center fielder Jarrod Dyson on the 15-day disabled list Friday with a sprained right ankle and recalled outfielder David Lough from Triple-A Omaha.
The speedy Dyson hurt his ankle Wednesday night against the Angels while attempting to scale the outfield wall and rob Mike Trout of a home run. He was forced to leave the game in the eighth inning and an examination by the medical staff revealed the sprain.
Dyson was hitting .268 with a homer and eight RBIs. He had provided a spark for a struggling offense with his ability to cause problems on the basepaths.
Lough was hitting .340 with three homers and three triples for the Storm Chasers, and was riding a 16-game hitting streak that ended May 8. He was in the starting lineup in right field and batting leadoff for the Royals in the opener of a weekend series at Oakland.