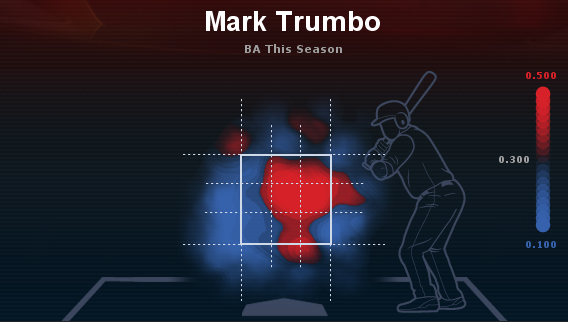 ESPN Stats & Information
Some better plate discipline would allow Mark Trumbo to take the next step in his career.
On July 21, a 5-for 38 slump had Mark Trumbo's batting average down to .241 on the year. After going 2-for-4 on Thursday with his 24th home run of the year, the slugger is starting to get his average going in the right direction. He now has multiple hits in six of his last 11 games. Let's take a look at what he's doing well at the plate and where his trouble areas are.
Punishing mistakes
Highest BA This Season
Pitches Over Heart of Plate in AL
Most players are successful against pitches over the middle, but Trumbo is one of the best players in baseball at taking advantage when a pitcher makes a mistake over the heart of the plate. On pitches considered "center cut," Trumbo is hitting .511 this season.
Looking at the strike zone as a whole, 22 of Trumbo's 24 home runs this season have come up on pitches that were in the strike zone. Again this is not surprising at all, but it does lead us to Trumbo's biggest problem.
Gone fishin'
Trumbo has chased over a third of pitches to him that are out of the strike zone this season. That's 34.5 percent to be precise, which ranks 12th-highest in baseball.
Plate discipline has been a serious issue for the Los Angeles Angels all season. The scary part is Trumbo's chase rate is only fourth-worst on his own team. Josh Hamilton (39 percent), Howie Kendrick (38 percent) and Erick Aybar (38 percent) are each in the top ten of this lamentable leaderboard.
Change won't do you good
Another problem for Trumbo at the plate is his ability to pick up changeups. His aggressive approach makes it easy for pitchers to take advantage of him with as he is hitting just .122 against slow stuff. The only hitters who have been victimized worse against changeups are Dan Uggla (.070) and Russell Martin (.115).
Today's matchup
Redmond (TOR) vs Hanson (LAA)
The Angels will look to get to the Blue Jays Todd Redmond today. The journeyman righty is coming off of the best start of his career in which he struck out 10 Houston Astros on Sunday.
Redmond is a fastball-slider pitcher who throws an occasional changeup. Unlike a lot of pitchers that rely on those two pitches, Redmond has had most success finishing off hitters with his fastball, which tops out at 93 mph. This season hitters are just 1-for-36 against Redmond's fastball in a two-strike count.