Los Angeles Angels:

Adrian Beltre
September, 19, 2012
9/19/12
10:29
PM PT
ANAHEIM, Calif. -- At some point, the
Los Angeles Angels
are going to start running out of these crucial must-win games. Maybe that will be a good thing for frustrated fans who have been forced to sit through one heartbreaking loss after another as the Angels fall further behind in the playoff race.
On Wednesday night, the Angels lost to a
Texas Rangers
team playing without
Josh Hamilton
and
Adrian Beltre
6-2, as
C.J. Wilson
was unable to make it out of the third inning. The Angels are now 7½ games behind Texas in the American League West and 3½ games behind Baltimore for the final wild-card spot.
The Good:


Callaspo's big hit:
On a night when the runs were, once again, few and far between for the Angels,
Alberto Callaspo
hit a two-run home run to left field that scored
Howie Kendrick
, who led off the fifth inning with a double. The homer was Callaspo's 10th of the season and brought the Angels to within 3-2, which was as close as they would get in the game.
Williams in relief:
Jerome Williams
got the call sooner than he expected, but he did his part to keep the Angels in the game when he came in to relieve Wilson in the third inning. He pitched 4 1/3 innings, giving up only one hit and no runs and striking out four. Unfortunately for the Angels, the rest of the bullpen was not as effective.
Pujols is back:
After missing Tuesday night's 11-3 win over the Rangers to be with his wife, Deidre, in Kansas City, where she gave birth to the couple's fifth child, Esther Grace, on Sunday morning,
Albert Pujols
returned to Anaheim on Wednesday. When Angels manager Mike Scioscia was teased that the team didn't seem to miss Pujols, he shook his head. "No, you always miss a player like Albert." Pujols finished the game 2-for-4 but didn't do a particularly great job when he did get on base (see below).
The Bad:
Wilson's bad start:
Wilson's start against his former team couldn't have gone much worse. He lasted only 2 2/3 innings, giving up three runs, all earned, and four hits. It looked as if Wilson might have been called even earlier, as Williams, who relieved Wilson, started warming up after the first inning. Wilson's nightmarish third inning did him in, as he gave up all three runs and three extra-base hits in that inning before being pulled. Wilson had won three straight coming into the game after compiling an 11-game winless streak earlier this season.
Pujols' base running:
Perhaps he was still catching up on sleep after the birth of his daughter, but Pujols inexplicably tried to stretch a routine single into a double in the sixth inning when he had no business doing so. As he jogged to second base after rounding first, you figured at some point in time he'd realize what he was doing and run back, but he never did. He was thrown out by about 15 feet. Making matters worse,
Torii Hunter
followed Pujols with a ground-rule double. Had Pujols stayed at first instead of trying to stretch his single, he would have been at third base and Hunter would have been at second with one out. Instead, the inning ended with Kendrick striking out with the next at-bat.
Just for good measure:
As Scioscia has stated many times, his bullpen is simply not built be tested early. He needs his starters to go at least six to seven innings to give his relievers a chance to be successful. Obviously, that was not the case Wednesday night, as Wilson was pulled in the third inning and the Angels rolled through three relievers who gave up a combined three runs, all earned, on six hits.
May, 12, 2012
5/12/12
4:23
PM PT
By
Randy Jennings
| ESPNLosAngeles.com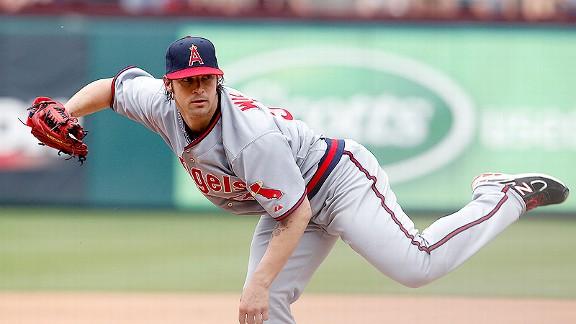 AP Photo/Tony GutierrezIt was clear the boos in Texas were a bit stinging for former Rangers pitcher C.J. Wilson.
ARLINGTON, Texas --
C.J. Wilson
may never enjoy a no-decision more than in Saturday afternoon's 4-2 Angels win over Texas in front of a hostile sellout crowd at Rangers Ballpark.
His pitching line (5.2 innings, five hits, two earned runs, four strikeouts) might not be an eye-catcher, but there were numerous hurdles facing the 31-year-old.
In the opposing dugout were former teammates that happened to be riding a hot streak the last week.
There was the matter of Friday's rain delay that influenced the Angels to replace Wilson with
Jerome Williams
once the delay approached two hours.
Random thought: What do you do when you return to the hotel to rest while the rest of the team continues to play?
If you're Wilson, you don't watch the game on television, especially with your team down by multiple runs. You read a book.
Wilson made Angels history Saturday as the first pitcher to start a game on consecutive days, something that hadn't been done in the majors since 2002.
In Wilson's postgame comments Saturday, it was obvious the boos from fans that formerly cheered him were stinging. For 11 seasons, Wilson toiled in the Rangers' organization. He helped the team reach the World Series in 2010 and again last year. The association ended in December when he signed a five-year, $77.5 million deal with the Angels.
Rangers fans didn't approve.
So it was important, Wilson said, to block out all the negative: "Emotionally I had a dry run Friday and was able to see what it would feel like. I got to hear some colorful, insightful comments on my career. I just had to tune all that out.''
September, 26, 2011
9/26/11
10:19
PM PT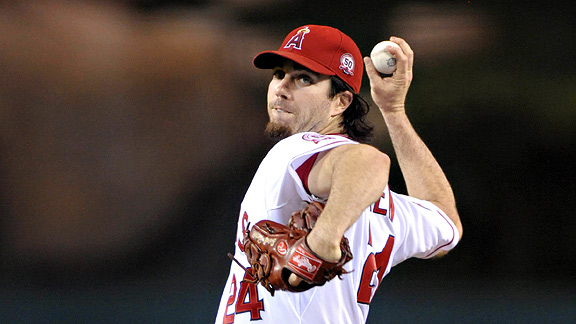 Kirby Lee/US PresswireDan Haren improved his stats against Texas on Monday, but generally he struggled against the Rangers in 2011.
ANAHEIM -- Once again, the Angels failed to take advantage of a golden opportunity. This was the last one they'll get.
The Angels were eliminated from the playoff race with a 4-3 loss to the Texas Rangers at Angel Stadium on Monday night. The Boston Red Sox loss at Baltimore earlier in the evening kept the Angels alive in the wild-card race, but only for a matter of hours.
The Good:
Pitching progress.
One of the reasons the Angels have lost the season series to the Rangers is that their strength (starting pitching) hasn't worked well against Texas' strength (hitting).
Dan Haren
went into this game 0-1 with a 7.71 ERA against the Rangers in four starts this year. His final start of 2011 was a step forward. Haren allowed three earned runs in eight innings. He couldn't quite reach his 17th victory, which would have been a career best.
Fresh Trout.
One of the subplots of the end of the season is how
Mike Trout
handles failure. The team's top prospect hasn't been playing lately, because he has been stuck in a bad slump (1-for-22). He said a couple of days ago that he was getting himself out at times by expanding his strike zone. Trout tightened it up, drew a walk in the first inning, and fueled the Angels' sixth-inning rally with an RBI single. Good day for the 20-year old.
Hungry Hunter.
Didn't it seem, at times, as if
Torii Hunter
was the only guy who cared during this 4-7 stretch that has cost the Angels a playoff berth? Perhaps that's because he has been the only consistent producer in the lineup. Hunter had only one hit, but it was the double that sparked the Angels' only rally of the night. Unfortunately for the Angels, this race ended with Hunter in the on-deck circle.
The Bad:
Pop-up king.Vernon Wells
entered Monday with the worst on-base percentage of any qualified batter in the major leagues. It only got worse from the .250 it started the day at, because Wells hit four more pop-ups. The sight of him swinging at a high fastball and skying the ball to the shortstop is one of the enduring Angels images of 2011.
Rush effort. Jeff Mathis
plays for one reason only. It's certainly not for his .174 batting average. Mathis is a very good catcher, but he fielded
Elvis Andrus
' bunt attempt and had little shot to get him at first. He threw anyway, wildly, and it wound up costing the Angels an unearned run in the first inning. Not the way you want to start a desperation game.
Rusty Branyan.
If you're going to keep
Russell Branyan
around as your late-inning power guy off the bench, don't you need to give him enough at-bats to stay sharp? Branyan came up in the ninth inning for his fourth at-bat this month. He took a called third strike and went back to the bench.
August, 26, 2011
8/26/11
12:15
PM PT
These three games kind of speak for themselves, don't they?

By the end of this weekend's series in Texas, the Angels could be anywhere from first place (by a game) to barely clinging to contention, five games out with 29 to go.

But what doesn't speak for itself is the direction the teams have been heading lately. To catch up on the state of the Rangers, we checked in with our friend from ESPNDallas.com, Richard Durrett:

MS. Richard, What has happened to the Rangers? From your seat, is it just that they've been playing a tough team, the Red Sox, or are there indications of more systematic breakdowns?

RD. No question, the Red Sox came in with their bats swinging and ready to go. But two big concerns came out of the series. First, the starting pitching didn't do the job in the final three games. CJ Wilson has been great, but other than that, it's a trend for the whole month, really. Derek Holland, Matt Harrison and Alexi Ogando have all pitched more innings this season than they ever have and it might be taking a toll. They say they aren't tired, but they look it. Second, the offense struggled to do anything. They are batting .197 in the last 8 games, which includes that walkoff win by Trumbo, and are 2-6. The Rangers must get those trends turned around to win this series.

MS. Momentum is fickle in baseball. Do you see it as a factor in this series?

RD. Momentum can change quickly. We saw that last week in Anaheim. It's a factor early in the series, in that both teams come in on vastly different runs. But once the game starts, it just depends on who can get on a roll. I think it's more critical for the Rangers to score early just to feel like the bats can get going and that they have a lead. They haven't really had that feeling in three days.

MS. I read Nolan Ryan's comments about the pitching looking tired. Can you draw this out a little bit? Which guys, specifically, are wearing down?

RD. As I mentioned earlier, it's the young guys like Holland, Harrison and Ogando, though Lewis has struggled at times too. Harrison's velocity was down in his last start, which makes me wonder if that's also fatigue. But he said he felt good physically out there. The Rangers know it's an issue and they are meeting after the series to decide if they want to spot start someone and how to work the rotation with the off days. I think they'll do something to try to give these guys a little bit of a break.

MS. Everyone talks about the heat of Texas. This year it's been more ridiculous than usual. Something about a high-pressure system. Is it too late to build a retractable roof, can you give us some details about first-pitch temperatures and is it a factor in this series? In this season?

RD. It's been triple-digit first pitches for much of July and August. And it is more ridiculous than normal. A retractable roof isn't possible. Way too costly. I do wish there was a way to configure Cowboys Stadium for baseball, but I can't see that happening. So everyone will just have to deal with it. Even starting the game at midnight wouldn't help much. It's just hot here all the time right now.

MS. What's your prediction for the next three games?

RD. Though the Rangers are clearly struggling, I'll say they win 2 out of 3. I don't think either team will sweep and I can't think the offense can struggle like this much longer. But it should be very entertaining. What the Angels have done is make this a great race.
August, 15, 2011
8/15/11
8:49
AM PT
In advance of the Angels' crucial four-game series with the first-place Texas Rangers this week, we caught up with ESPNDallas.com's
Richard Durrett
to hear his thoughts about the team the Angels are chasing.
For one-stop shopping on Rangers' news, information and analysis, be sure to check out
Durrett's blog
.
Q. From afar, it looks like the Rangers have gained their most consistent groove in a while. How have they done it without Adrian Beltre? When will he be back?
The Rangers are playing consistent baseball. The starting pitching has found a groove and the entire team seems to have more confidence knowing if a starter can go six, manager Ron Washington has Koji Uehara and Mike Adams in that bullpen along with Mark Lowe, who has pitched well. Neftali Feliz has been inconsistent this season, but he's still the closer and a force when he's right. Add in the fact that the offense is getting the clutch hits that it wasn't producing just a few weeks ago and you have a team that is confident and consistent. It's good timing, too. The schedule stiffens with this series against the Angels and a couple coming up with Boston and Tampa Bay on the road, not to mention another visit from the Angels in late August.
Q. As you say, in addition to the Angels series, which are usually hardfought, the Rangers have to play the Red Sox and Rays a bunch of times coming up. How have they typically fared against those clubs and what do you expect?
It will be tough, no doubt about that. But the Rangers believe they can compete with any team and for whatever reason the past few seasons, they've raised their level of play against that type of competition. I think beating David Price in Game 5 in Tampa Bay last year certainly helps with that confidence. Yes, it's a different team in 2011. But a lot of those guys are still around and to win in that kind of environment allows them to draw on that experience. It's a much different Boston team the Rangers will face than the one they swept to start the season. And it could be a ALCS preview too. It's never easy to win in Fenway. It should be interesting.
Q. You're around these guys a lot and covered them during their World Series run. What is the vibe like compared to a year ago? Will the fact that they're in a tight pennant race vs. a rout make any impact on their psyches?
It's different this year, I will say. Not sure exactly why, but different. It's still a close bunch, but they have their own identity. You won't see them doing the claw anymore, BTW. The players felt that was a 2010 thing. And I like that about them. They've got the same lofty goals, but want to chart their own path. That said, Cliff Lee gave this team an ace in the hole that they knew would rise up in the postseason. They don't have that kind of starting pitcher this season, but the staff as a whole has done a solid job. And they are slightly better by record now than they were a year ago. I honestly don't think a tight pennant race will get to this team at all.
Q. If you compare these two teams in the three phases, Texas would appear to have the edge because its offense is so much stronger. The Angels say the key to this race is for them to get their offense going. Is there one key for Texas, in your mind?
Defense. It just hasn't been as good as expected. They'll score enough runs and now that management has taken care of the bullpen issue, that's not a problem. But the defense has been way too inconsistent. Part of that is not having Adrian Beltre around. He seems to lift the entire infield, though Michael Young has certainly filled that spot well in his absence. But Elvis Andrus has made too many errors on routine balls and they aren't doing the little things consistently like throwing to the proper base, hitting the cutoff man, etc. If they can sharpen that up, you'll see a complete team ready to make noise again in the postseason.
Q. Is the bullpen better with the new guys, Adams and Uehara? How solid is Neftali Feliz entering this home

stretch

?
The bullpen is way better. It allows Washington to shove Mark Lowe, who has pitched well, to the sixth or seventh and still have Uehara and Adams to go to. It gives them depth late that they haven't had all season. Feliz is still fine on the velocity, but the fastball command hasn't been the same. He's just not the dominant pitcher he was last year. His walks are up and strikeouts down. Still, he's shown flashes. They've got to figure out how to get those flashes into more lenghty bursts down the stretch.