Los Angeles Angels:

Alexi Ogando
May, 12, 2012
5/12/12
1:11
PM PT
By
Randy Jennings
| ESPNLosAngeles.com
C.J. Wilson
and four relievers cooled off the Texas bats and the Angels played a little small ball to win Game 2 of the three game series Saturday at Rangers Ballpark.
In contrast to Game 1, the Angels were crisp on defense, turning double plays in each of the first two innings. And their winning rally in the seventh inning came immediately after Texas tied the score at 2.
The Good:


Little things mean a lot.
Textbook execution at the plate, something that couldn't be said a lot about the Angels in 2012, produced a decisive pair of runs in the seventh. After
Mark Trumbo
waited out a leadoff walk, Howie Kendrick and
Peter Bourjos
bunted for base hits to load the bases. Facing hard-throwing Rangers reliever
Alexi Ogando
, pinch hitter
Kendrys Morales
and
Mike Trout
delivered sacrifice flies for a two-run Angels lead. Along with John Hester's infield single, none of the three Angels hits in the inning reached the outfield. It was the kind of inning that could make an oldtimer smile.
Going deep.
Coming off an impressive rookie season, the Angels 2012 expectations for Mark Trumbo are high. With good reason. In the fourth inning of a scoreless pitcher's duel, Trumbo launched a drive into the left field stands an estimated 420 feet off
Matt Harrison
for a 2-0 lead. It was home run No. 5 for Trumbo, tying Torri Hunter for the team lead. His previous four were solo homers. Trumbo hit a team-leading 29 as a rookie in 2011 and was named the club's MVP.
Good first impression.
Newest Angels catcher
John Hester
, who joined the team on Friday, lined an opposite-field single in the third inning, the first hit off Rangers starter Matt Harrison. Maybe it shouldn't come as surprise because Hester hit a pinch-hit home run in his first Major League plate appearance with Arizona in 2009.
The Bad:
Groovin.
C.J. Wilson admirably handled Rangers slugger
Josh Hamilton
in his first two plate appearances, recording swinging strikeouts. Perhaps that lured C.J. into a false sense of security. Hamilton continued his torrid home run streak, his eighth in five games and third of the series, with a game-tying solo home run in the sixth. Wilson failed to finish the inning and left with a no-decision on a day when he pitched well.
Going quietly.
Three hits through six innings is not going to cut it for the Angels. Three hits was all they could muster through the first six against
Yu Darvish
and
Mark Lowe
in Friday's 10-3 loss to Texas. It was the same story in six against Matt Harrison on Saturday. A little early offense could make things less stressful for the starting staff.
K Zone.
The first time through the batting order, four Angels struck out. But they also showed plate patience that was lacking all to often in the first 33 games. Angels fans can accept strikeouts when it means better at-bats.
February, 1, 2012
2/01/12
10:21
AM PT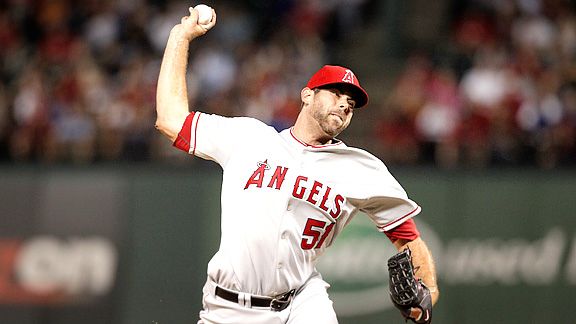 AP Photo/Tony Gutierrez
The Angels stood pat at closer, leaving their most crucial relief role to 24-year-old Jordan Walden.
This is part of an occasional series comparing the rosters of the two-time defending AL champion Texas Rangers and the rebuilt Angels, who could have the hottest rivalry in the league this year.
Bullpens are as unpredictable as the economy nowadays. You just never know what direction they'll go.
At this time 10 years ago,
Brendan Donnelly
had never thrown a major-league pitch,
Ben Weber
was a 32-year-old minor-league journeyman with a career 4.15 ERA and nobody had ever heard of a 20-year-old Venezuelan kid named
Francisco Rodriguez.
The Angels' 2002 bullpen became a virtually impermeable barrier to late-inning rallies.
Both the Angels and Rangers have had to accept some risk as they enter this season, the Rangers because they tinkered with the bullpen, the Angels because they didn't.
Instead of sticking with what worked -- strong setup men funneling the game to
Neftali Feliz
-- Texas seems intent on moving Feliz to its rotation and added 37-year old
Joe Nathan
to be its closer. Nathan pitched in 48 games for the Minnesota Twins last year -- two seasons removed from ligament-replacement surgery in his right elbow -- and had a 4.84 ERA.
The Angels sat back and watched a regiment of closer candidates sign with other teams this winter, leaving its most crucial relief role to 24-year old
Jordan Walden
(hometown: Arlington, Texas). Walden's blazing fastball earned him an All-Star bid but he wobbled in the final few weeks of the pennant race, one memorable meltdown against Oakland virtually ending the Angels' chances.
Whose bullpen would you rather have? The Angels had a surprising edge in 2011, with their relievers putting up a 3.52 ERA, second in the American League to the New York Yankees. Texas relievers had a 4.11 ERA, near the bottom of the league, but they also blew six fewer saves than the Angels. And Texas fortified the seventh and eighth innings by adding
Mike Adams
and
Koji Uehara
near the trade deadline.
August, 26, 2011
8/26/11
12:15
PM PT
These three games kind of speak for themselves, don't they?

By the end of this weekend's series in Texas, the Angels could be anywhere from first place (by a game) to barely clinging to contention, five games out with 29 to go.

But what doesn't speak for itself is the direction the teams have been heading lately. To catch up on the state of the Rangers, we checked in with our friend from ESPNDallas.com, Richard Durrett:

MS. Richard, What has happened to the Rangers? From your seat, is it just that they've been playing a tough team, the Red Sox, or are there indications of more systematic breakdowns?

RD. No question, the Red Sox came in with their bats swinging and ready to go. But two big concerns came out of the series. First, the starting pitching didn't do the job in the final three games. CJ Wilson has been great, but other than that, it's a trend for the whole month, really. Derek Holland, Matt Harrison and Alexi Ogando have all pitched more innings this season than they ever have and it might be taking a toll. They say they aren't tired, but they look it. Second, the offense struggled to do anything. They are batting .197 in the last 8 games, which includes that walkoff win by Trumbo, and are 2-6. The Rangers must get those trends turned around to win this series.

MS. Momentum is fickle in baseball. Do you see it as a factor in this series?

RD. Momentum can change quickly. We saw that last week in Anaheim. It's a factor early in the series, in that both teams come in on vastly different runs. But once the game starts, it just depends on who can get on a roll. I think it's more critical for the Rangers to score early just to feel like the bats can get going and that they have a lead. They haven't really had that feeling in three days.

MS. I read Nolan Ryan's comments about the pitching looking tired. Can you draw this out a little bit? Which guys, specifically, are wearing down?

RD. As I mentioned earlier, it's the young guys like Holland, Harrison and Ogando, though Lewis has struggled at times too. Harrison's velocity was down in his last start, which makes me wonder if that's also fatigue. But he said he felt good physically out there. The Rangers know it's an issue and they are meeting after the series to decide if they want to spot start someone and how to work the rotation with the off days. I think they'll do something to try to give these guys a little bit of a break.

MS. Everyone talks about the heat of Texas. This year it's been more ridiculous than usual. Something about a high-pressure system. Is it too late to build a retractable roof, can you give us some details about first-pitch temperatures and is it a factor in this series? In this season?

RD. It's been triple-digit first pitches for much of July and August. And it is more ridiculous than normal. A retractable roof isn't possible. Way too costly. I do wish there was a way to configure Cowboys Stadium for baseball, but I can't see that happening. So everyone will just have to deal with it. Even starting the game at midnight wouldn't help much. It's just hot here all the time right now.

MS. What's your prediction for the next three games?

RD. Though the Rangers are clearly struggling, I'll say they win 2 out of 3. I don't think either team will sweep and I can't think the offense can struggle like this much longer. But it should be very entertaining. What the Angels have done is make this a great race.
August, 16, 2011
8/16/11
5:48
PM PT
The Angels have one of the most enigmatic players in the game on their roster, though most days you'd hardly notice he was around.

Russell Branyan is among the most consistent home run hitters in baseball history. Yes, you read that right. Baseball history.

In his career, which goes all the way back to 1998, he has homered once every 15.16 at-bats. That ranks No. 17 all-time, 11 slots behind Jim Thome, who just hit his 600th home run. Branyan has played for 10 franchises and has gotten 400 at-bats in a season only once, primarily because hitting home runs is about his only marketable commodity.

He does his one trick well. After not seeing a live pitch for nearly three weeks, he homered off Mariano Rivera in New York last week. Then, five days later, he hit his second pinch-hit home run in as many at-bats, this time taking Alexi Ogando deep Monday night.

It's hard to calculate the degree of difficulty of that feat.

"Pinch-hitting's tough, but that's my role here," Branyan said. "I know there's no chance I'm going to start here, so I'm happy with what I've got. In Arizona, it was a little tougher to swallow, because I felt I could have been the starter."

Here are lineups for Tuesday night:

Texas

1. Ian Kinsler 2B

2. Elvis Andrus SS

3. Josh Hamilton LF

4. Michael Young 3B

5. Nelson Cruz RF

6. Mike Napoli C

7. Mitch Moreland 1B

8. Yorvit Torrealba DH

9. Endy Chavez CF

Angels

1. Peter Bourjos CF

2. Alberto Callaspo 3B

3. Bobby Abreu DH

4. Torii Hunter RF

5. Mark Trumbo 1B

6. Vernon Wells LF

7. Howie Kendrick 2B

8. Erick Aybar SS

9. Jeff Mathis C

July, 19, 2011
7/19/11
10:36
PM PT
ANAHEIM -- The Angels started off their biggest series of the season with an awkward first step, getting blown out by the steamrolling Texas Rangers 7-0 Tuesday night at Angel Stadium.

Texas has won 12 straight games and the Angels have lost four of their last five, imperiling their playoff hopes before the dog days even arrive. The Angels slipped to five games back in the AL West.

The Good:

Pitching assignments. The best thing the Angels have going for them -- and it's not even close -- is about to get tested. This is the kind of moment when the Angels need back-to-back ace performances from Dan Haren and Jered Weaver and, guess what, those are their next two starting pitchers.

Texas' brass. A lot of people wondered how the Rangers could switch roles on Alexi Ogando after he had been such an effective reliever for them last year, but it's generally a good idea to give your best pitchers as many innings as you can. Ogando has been one of the best starters in the league and made the Angels look like they were swinging toothpicks for eight innings. Ogando is 10-3 with a 2.72 ERA.

Toughness. Tyler Chatwood is far from as good as he'll one day be, but Tuesday he had plenty of opportunities to cave early and didn't. If he ever learns to throw more strikes, he could be a solid No. 2 or 3 starter. The 21-year old struggled through five innings, giving up three runs on seven hits and three walks, but it could have been worse. Texas is hot and they were all over him in every inning.

The Bad:

Slumping again. Torii Hunter just turned 36 years old on Monday. If he were hot, we probably wouldn't bring that up. He's not hot. Hunter remains 0-for-the-second half. He is hitless in 18 at-bats after the All-Star break, striking out three times Tuesday night.

Gas on the flames. Michael Kohn never gave up home runs in the minor leagues (five in 135 innings), but he's not currently in the minor leagues (though that probably can be arranged). Kohn has yielded six long balls in 12 innings this year, a pace that probably will earn him another trip to Salt Lake pretty soon. The Angels were kind of in it until Endy Chavez -- Endy Chavez ! -- blasted a two-run shot, then Josh Hamilton and Adrian Beltre went back to back.

Huh? The Angels were down 3-0 in the fifth inning when Erick Aybar hit a ball in the gap in left-center. Somehow, he figured that would be a good time to defy the old rule about not making the first out at third, because he went for it and was out easily. He probably would have scored, too, because Mark Trumbo followed by slamming a double into left.
April, 19, 2011
4/19/11
10:47
AM PT
The Angels proved to be the moveable object when they met the Texas Rangers and lost 7-1 Monday night at the Ballpark in Arlington. The Angels had come in riding a five-game winning streak and the Rangers entered it with a 6-0 record at home.

To find out what the Angels are up against in this series, we caught up with ESPNDallas.com's Richard Durrett for a look at the 2011 Rangers:

Was there a pattern, other than the opponent, to the Rangers starting so hot (9-1) and then cooling off in the last couple of series?

The offense was on fire to start the season, beating up on the Red Sox and Mariners at home. In fact, going into Monday's game, the Rangers hadn't even batted in the ninth inning in Arlington (six wins, none in extra innings). They got good starting pitching, but frankly, they got good enough starting pitching on this just-completed nine-game road trip, but they didn't hit well as a team. The clutch at-bats and big innings just weren't there with any consistency. Add in the fact that the bullpen was wobbly and the Rangers lost some games late.

How in the world have they managed to patch together that rotation? Is Alexi Ogando's long-term future as a starter and how badly do you think they'll miss him as a late-inning reliever?

They miss him badly in relief. Manager Ron Washington is trying to piece together the late innings to get the game to closer Neftali Feliz. Ogando was the hard-throwing righty that could come in and pitch that eighth inning. Lately, the Rangers have relied on veteran lefties Darren Oliver and Arthur Rhodes for that inning. But those guys can't keep up the pace they are going. The Rangers need a right-handed arm to step up. Could it be Pedro Strop? We'll see. But you can bet bullpen help is high on the list of Rangers' needs now and in the future. BTW, the back end of the rotation is what's making this happen. Matt Harrison, Derek Holland and Ogando have been solid. You'll get to see Harrison, who is undefeated, on Wednesday.

Do you get the sense the Rangers are more concerned about Anaheim or Oakland as the team that could cut short what they hoped would be long-term dominance of the division?

Honestly, they are concerned about both. Oakland and the Angels have the pitching to stay in the division and the Rangers feel like both are a threat. They believe they can win the division, but I talked to several players the past few days about the AL West and all of them are expecting a tight, three-team race until the very end.

It seems Adrian Beltre hasn't gotten off to the slow start that some other big-money guys who changed teams have (eg., Carl Crawford and Vernon Wells). What kind of influence has he been on the team aside from his numbers, so far?

Beltre was actually much better at the plate on the road trip (he and Michael Young were the only two guys that really hit much at all on that trip) and comes into this series feeling better about his offense. But he's had big impact everywhere else. The guy grabs anything and everything hit his way, helping make the Rangers' infield one of the best in the majors. At times, it feels like he's playing third and short because of his range. That allows shortstop Elvis Andrus to slide a little bit more toward the bag, making it even tougher to get a ground ball through. Beltre also fits in well in the clubhouse. Like last year, this is a group of guys that are close-knit and like to have fun.



Catch us up on Mike Napoli. Is he viewed as an everyday player, a bench guy who a hybrid? What's your crystal ball tell you about his impact this season?

His role changed at the end of spring training when the club traded Matt Treanor to keep an extra reliever. Instead of mainly 1B or DH, Napoli is the backup catcher. They traded for him to provide some pop against lefties off the bench and that's still his primary role. But now he catches more and the short bench and no third catcher means manager Ron Washington has to get creative (he can't put Napoli at DH, for instance, with Yorvit Torrealba catching unless he wants to risk losing the DH). But Napoli is another good guy in the clubhouse and has worked well with the pitchers.

If you were to pick one area of this team that you think management is most concerned about for the rest of the season, what would it be?

Bullpen, as we've discussed. But they'll also monitor how this team responds to the loss of Josh Hamilton. Seems strange to think they'd add a bat, but you never know what might be available at the trade deadline. Also, it's still WAY early in the season and you can never have enough starting pitching depth. Watch to see how Brandon Webb progresses and when Tommy Hunter is ready. They could provide some key reinforcements.