Los Angeles Angels:

Anaheim Angels
June, 13, 2011
6/13/11
2:50
PM PT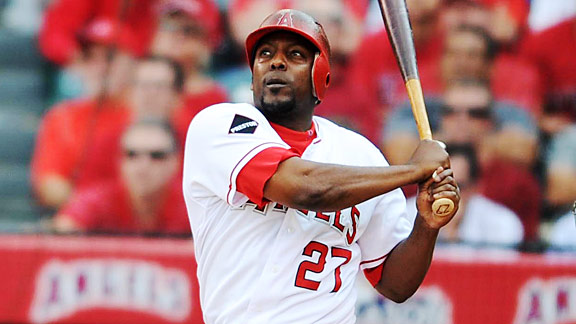 Christopher Hanewinckel / US Presswire
Vladimir Guerrero put up startling numbers in his first season as an Angel.
Vladimir Guerrero's
arrival with the Angels in 2004 wasn't exactly eye-popping. His first few swings in the batting cage in Tempe, Ariz., that spring were "worthy of Mario Mendoza," according to the Los Angeles Times.
That would be the last time such phrases were uttered around Anaheim for the next five years. Guerrero, the centerpiece of owner
Arte Moreno's
$146-million spending spree the previous winter, lived up to all of the Angels' expectations and more. The numbers he put up were startling, particularly by the standards of the anemic 2011 Angels offense.
Guerrero batted .337 with 39 home runs and 126 RBIs to win the MVP easily. He was the first Angel to win the award in 25 years, since
Don Baylor
did it after the 1979 season.
He spent eight seasons with the Montreal Expos, but suddenly, the country knew all about Guerrero's exploits, and he escaped the wide shadow cast by
Barry Bonds
in the National League.
What set Guerrero apart in his prime was his ability to hit just about any pitch anywhere. After seeing him for a few months, fellow Angels hitters marveled at his ability to hit bad balls. He could hit a curveball outside and inches off the plate out of the park for a home run. More than once, he hit a ball that bounced for a base hit. Outfielders played him with their heels practically touching the warning track, so he picked up plenty of bloop hits.
Even his outs were impressive: He once knocked over a second baseman with a line-drive that the guy caught.
That 2004 season, which also signaled the arrivals of
Bartolo Colon
,
Kelvim Escobar
and
Jose Guillen
, was all about Guerrero in his prime. He was 28 (though, his birth certificate later showed, he was actually 29).
It's not as if the rest of Guerrero's stay in Anaheim would be a disappointment. He would finish third in MVP balloting in two of the next three seasons. But in 2004, everything he did was fresh to the Angels, who had barely glimpsed his talents in Montreal.
May, 17, 2011
5/17/11
12:12
PM PT
Before 2002, the defining moment for the Angels franchise was an ultimate downer.

It was Game 5 of the 1986 American League Championship Series. Just about anybody with a passing memory of mid-eighties baseball remembers it, particularly if they live in Southern California or New England. The Angels, holding a 3-1 series lead had a 5-2 lead going into the ninth inning.

Don Baylor's home run cut it to 5-4 and Angels manager Gene Mauch summoned reliever Donnie Moore with two outs. After Dave Henderson's famous -- or is it infamous? -- home run on a 2-2 pitch from Moore, the Red Sox would go on to win in 10 innings. They made it to the World Series by winning the next two games in Boston.

To call that a tragedy, of course, is absurd. The tragic part came a little less than three years later, when Moore -- during a violent argument with his wife -- committed suicide with a handgun. He was 35.

Well before the story got to that point, a rookie left-handed reliever couldn't believe what was unfolding on the field. Chuck Finley was 22 years old and in his first season in the big leagues.

"I was sitting right there," Finley said one recent evening at Angel Stadium, pointing to what is now the right-field stands, but then was the home bullpen.

I'm going, 'Wow, I can't believe I'm going to the World Series,' " Finley said. "The place was so loud and I saw the cops lined up. I was going to the World Series in my first year and then -- Boom! -- 30 minutes later, I'm out there on the mound pitching. I got the last out and we could have won that game.

"I'm like, 'What just happened here? I'm on a plane going back to Boston,' but I never thought in my wildest dreams we'd lose two in a row."