Los Angeles Angels:

Angels position previews 2012
February, 13, 2012
2/13/12
4:00
PM PT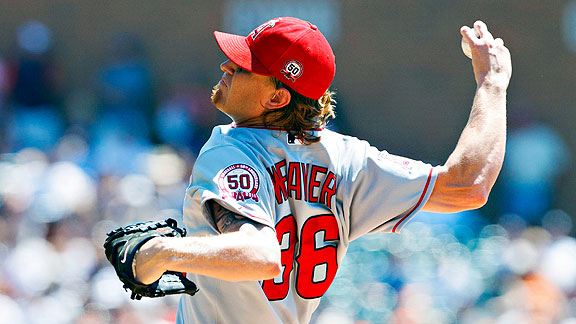 Rick Osentoski/US Presswire
In his AL West position rankings, ESPN's Sweet Spot blogger
David Schoenfield
gave the Angels the nod for the best No. 2 starter, the best No. 3 starter and the best No. 4 starter. They almost got No. 1, but
Felix Hernandez
edged out
Jered Weaver
.
Yeah, things are looking pretty good for 2012. But let's delve a little more closely into each pitcher on this Angels staff to see what could go right, what could go wrong and what we think will happen:
Jered Weaver
Best-case scenario:
Fifth in Cy Young balloting, followed by second in Cy Young balloting followed by ... Get my drift? After two successive seasons of cementing himself as one of the elite pitchers in the game and starting the All-Star game last year, one more step forward could put Weaver on top of the heap. His strikeouts were down a tick, but he produced a career-best 235 2/3 innings and 2.41 ERA. If this trajectory holds, he'll give the Angels a staff leader who can reliably lead them where they want to go.
Worst-case scenario:
Weaver's average fastball velocity last year was 89.1 mph, the lowest of his career. He picked up the slack by featuring his excellent changeup and slider more often, but it could be that the mounting innings have taken their toll on his arm. He has an ideal pitcher's body, tall and whiplike, but he's not the bulkiest guy (6-foot-7, 215 pounds). He's had some back issues and you wonder what's around the corner. An injury of any length could be a mortal blow to the Angels' playoff push.
Prediction:
I expect Weaver to tail off a bit from two Cy Young-contending seasons, but his competitiveness and stuff make him a reliable staff ace.
Dan Haren
Best-case scenario:
What's not to like? He never misses a start, gives you 230 innings a year and doesn't walk anybody. It seems like a solid foundation for one of the most consistent pitchers in the game. Nothing about last season's numbers (3.17 ERA, 1.024 WHIP) suggest they're a fluke, mostly because he does it every year (with the exception of a poor first half on a lousy Arizona team in 2010). He's as bankable as they come and only slotted No. 2 because he pitches on a staff with Weaver.
Worst-case scenario:
I won't even mention the possibility of injury, because Haren is as close to indestructible as any pitcher alive. But there was a pronounced shift in his pitching style last year due in part to some bouts where he lost touch with his strikeout pitch, the split-finger fastball. Haren threw his cutter nearly 48 percent of the time last year, by fast the highest percentage of his career while, at times, abandoning the splitter. His 7.3 strikeouts-per-nine innings were the lowest since 2006. Is he, at 31, turning into more of a middle-rotation innings eater than a true ace? Not yet, but that would be the concern.
Prediction:
Death, taxes and Dan Haren's 200-plus strong innings. Seems like as close to a sure thing as you can find among pitchers.
February, 10, 2012
2/10/12
11:59
AM PT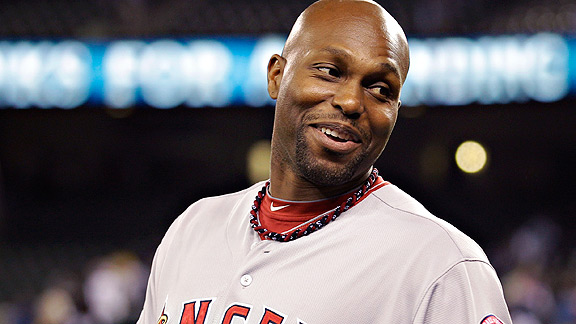 AP Photo/Ted S. Warren
The term "decline," seems to be the most popular word in the game these days.
The minute a 30-something player has a bad year, we start hearing how he's in the "decline" phase of his career. Is it really so linear? If modern analytics were around in 1957, would they have projected
Ted Williams
to hit .388 at age 38? In 1997, would they have pegged
Tony Gwynn
to win a batting title at age 37?
Seven months ago,
Torii Hunter
appeared to be on that slippery slope, one of the worst first halves of his baseball career making everybody wonder whether his skills were eroding. At the All-Star break last year, right around his 36th birthday, Hunter was batting .250 and had seemingly lost his Gold Glove touch in the outfield.
What most people didn't know is that Hunter played those months on a painful quadriceps injury. He would prove over the final months that he still has something left. Hunter's .828 OPS in the second half, had it been sustained all year, would have been his fourth-best mark in a 14-year career.
As Hunter prepares to play out the final year of his five-year, $90 million contract, he'll have some uncertainty to play through. He said last season he would like to retire as an Angel, but with the No. 1 prospect in baseball,
Mike Trout
waiting in the wings, will the Angels have much interest in extending his contract beyond 2012?
That question will loom over his season as the summer moves along, but for now, the Angels would seem to be in pretty good shape in right field. Hunter has been the team's most consistent player over the terms of his contract, with a batting average ranging between .262 and .299, an RBI total between 78 and 90 every season and an OPS above .800 every season other than the last one.
Based on the stat Defensive Runs Saved, Hunter was the best right fielder in baseball, five runs ahead of Florida youngster
Mike Stanton
, though he didn't pick up his 10th Gold Glove.
Hunter is at a place in his career that he can focus on team goals -- and reaching his first World Series -- rather than dwelling on an uncertain personal future. With
Albert Pujols
and
C.J. Wilson
as teammates this year, Hunter would seem to have his best shot yet. That should be motivation enough.
February, 8, 2012
2/08/12
11:43
AM PT
Now, we've reached the hot-potato portion of our series.
Nothing gets Angels fans more riled up than thinking about left field; specifically, the brutal 2011 season of left fielder
Vernon Wells
. What makes it particularly galling to many fans is the perception that uber-prospect
Mike Trout
, who crashed into the major leagues as a teenager last year, is being blocked by the well-paid, underperforming veteran.
[+] Enlarge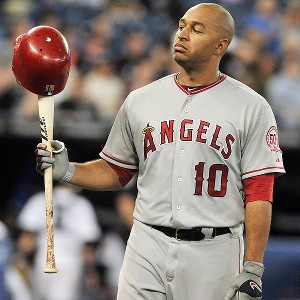 Brad White/Getty ImagesVernon Wells is the Angels left fielder, and the team's GM is confident Wells can rebound from an awful 2010 season.
Which figures to make the following comment by general manager
Jerry Dipoto
like nails on a chalkboard to some fans: "Vernon's our left fielder."
Dipoto made that statement Wednesday, when I asked him whether there will be a measure of competition for the spot this spring.
Of course, it's not strictly about talent. The Angels are on the hook to pay Wells $63 million over the next three seasons -- this for a player with the worst on-base percentage (.248) and the sixth-worst batting average (.218) in the major leagues last year among qualifying players. Few teams would be willing to leave that kind of money on their bench.
To say it's a potential conundrum is an understatement. It's widely viewed as the move that cost the last GM,
Tony Reagins
, his job.
Having inherited the issue, Dipoto is stuck hoping for the best.
Dipoto said he is "very confident" Wells will have a bounce-back season, citing 2008 and 2010 as examples of Wells recovering from sub-par seasons the year before.
"Being 33 years old is not archaic or over the hill by any means in baseball," Dipoto said. "He's still a very athletic guy, he plays above-average defense and he hit 25 home runs. He struggled, but he still found ways of contributing. The guy has 13 years of major league experience. In some way, shape or form, he'll get out of this."
Dipoto, a reliever, was traded twice as a player and called it "jarring both times." Perhaps the Angels' best hope for a rebound season from Wells is that he'll be more comfortable in his second season in Anaheim after playing his entire career in Toronto.
Dipoto said the Angels "will make sure [Trout] is playing every day, regardless of where he is," which seems to rule out a spot for the 20-year-old speedster on the major-league roster on Opening Day. That assumes that all three starting outfielders are healthy.
Trout batted .220 with five home runs in 123 at-bats with the Angels last year and retains his rookie status entering 2012. His next game at Triple-A will be his first, as the Angels summoned him to Anaheim directly from the team's Double-A Arkansas affiliate twice last year.
"Guys who make their debuts as teenagers are in a selective class. He's got a huge upside and we'll make sure he gets his reps. With our current setup, there's no reason to rush him," Dipoto said.
February, 7, 2012
2/07/12
12:08
PM PT
For generations now, the Gold Glove award for American League shortstops has been more of a coronation than a competition.

From 1993 to 2001, the Cleveland Indians' Omar Vizquel won it every year and, from 2004 to 2010, Derek Jeter won it five times. Finally last fall, Erick Aybar -- just as Orlando Cabrera had done four years earlier -- got enough attention from the league's managers and coaches to bring the trophy west.

Aybar became the third Angels shortstop to win a Gold Glove, joining Cabrera (2007) and Jim Fregosi (1967).

It was a fitting moment for a player who had dramatically changed the direction of his career, a U-turn equally dramatic on the infield as it was in the batter's box. Aybar's batting average improved by 26 points from 2010 to 2011; he scored two more runs and drove in 30 more; He stole 30 bases and hit twice as many home runs (10) as he ever had.

But the Angels felt Aybar's impact most when they were in the field. He cut down his errors from 21 to 13. He helped turn 51 double plays, nearly double his 2010 total (26). His range factor, assists and fielding percentage were all in the top four among major-league shortstops.


February, 6, 2012
2/06/12
3:21
PM PT
For a team that's supposed to have a gaping hole at third base, the Angels got pretty good production out of their third baseman last season.
Alberto Callaspo
led all qualifying third basemen in on-base percentage (.363), was second in batting average (.288) and third in OPS (.740).
That might say more about the state of the position last year than it does about Callaspo.
Evan Longoria, Adrian Beltre
,
Pablo Sandoval
,
Kevin Youkilis, David Wright
and
Chipper Jones
all missed time with injuries and there aren't a lot of promising young third basemen moving into the void.
Brett Lawrie
and
David Freese
might be exceptions.
The Angels might not find it so easy to squeeze more power out of the left side of their infield. Teams that have good third basemen aren't in a hurry to give them up.
That leaves Angels manager
Mike Scioscia
with two less-than-ideal options on a given night. He can take the safe route -- the contact hitting and solid defense of Callaspo or
Maicer Izturis
-- or the riskier, higher-reward path,
Mark Trumbo
.
In Trumbo, he has a player who homered once every 19.8 plate appearances in 2011. In Callaspo, he has a player who homered once every 89.3 at-bats. Trumbo struck out once every 4.5 plate appearances, more than three times as often as Callaspo. Izturis has more speed, but he and Callaspo otherwise boast similar skill sets.
But even if Scioscia chooses power over fielding and slap hitting -- which would seem to contradict the style he's become linked to -- can Trumbo even play the position adequately? It's
not as easy as it looks
, and Trumbo is 6-foot-5, is coming off a stress fracture in his foot and hasn't played there since a brief, failed attempt after he was drafted in 2004.
Again, it could be a question of risk vs. reward. Until they get a better sense of how well Trumbo can play there, they'd be foolish to part with Callaspo or Izturis.
February, 3, 2012
2/03/12
11:02
AM PT
The Angels have gotten more attention for snatching up other teams' free agents lately, but two of their shrewdest signings in the past six months went to homegrown talent.
Less than five months after reaching what appeared to be a club-friendly deal to keep
Jered Weaver
in town for the entirety of his prime, the Angels (under a new GM) reached a similar agreement with
Howie Kendrick
. It's not just about dollars and sense, but about timing.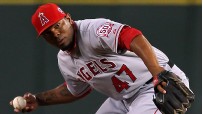 Otto Greule Jr/Getty ImagesSecond base is locked up with Howie Kendrick staying around.
Kendrick, 28, is coming off a career year and could be in position to take his game up another level while, presumably, batting in front of
Albert Pujols
. If his age and batting position converge to make Kendrick an offensive force, the Angels' four-year, $33.5 million extension with him will seem like bargain shopping.
He's starting from a pretty good place. Only four second basemen with at least 425 plate appearances last year had a higher OPS than Kendrick's .806. Two of them,
Robinson Cano
and
Dustin Pedroia
, are superstars and the other two,
Ian Kinsler
and
Ben Zobrist
, get more publicity than Kendrick does. Kendrick had the highest fielding percentage (.992) among AL second basemen.
When Kendrick broke into the major leagues, he was viewed as a potential future batting champion. Throughout the minor leagues, people wondered whether his fielder would ever be better than adequate. His career is taking a different trajectory. A .292 career hitter, Kendrick's power blossomed last season, with his home run total jumping from a habitual 10 to 18. Pitches that he used to hit into alleys, he lifted over fences. Kendrick used to be a doubles machine, but that total declined from 41 to 30 last season.
His ability to make routine plays is as reliable as any Angel and he occasionally makes spectacular diving stops. He has developed good timing with Gold Glove shortstop
Erick Aybar
after nearly a decade of working together, in the minor and major leagues. He'll never be mistaken for
Roberto Alomar
, but he is better with his glove than people expected.
With pitchers wary of facing Pujols with runners on base, they figure to pound fastballs against Kendrick. That should work in his favor as he has traditionally struggled to recognize and lay off sliders.
Bill James
projects Kendrick to regress slightly to a .287/.329/.441 line, but the Pujols effect could negate that.
Unless this season takes an unexpected turn, the Angels have little to worry about at second base.
February, 2, 2012
2/02/12
1:39
PM PT
Signing Albert Pujols to a 10-year, $240 million contract may not have been a reaction to losing Mark Teixeira to the New York Yankees three years earlier, but it might finally answer the question: What have the Angels been missing?

Since Teixeira left after 2008, the Angels have struggled to squeeze sufficient offense out of the game's most offensively potent position.

Last year, even with Mark Trumbo's Rookie of the Year runner-up season, Angels first basemen finished sixth in the American League with a .778 OPS. Much of that is a reflection of Trumbo's aggressive hitting style. He hit 29 home runs, but also had a poor .291 on-base percentage.

In 2010, with a carousel of players wearing a first baseman's mitt (remember Paul McAnulty), Angels at that position finished eighth in OPS (.755). The year before, when Kendrys Morales broke onto the scene (as opposed to broke his leg on the scene), they still ranked sixth (.881).

Unless history is no indicator at all, that's all about to change.

Pujols has finished in the top five of MVP voting 10 times. Willie Mays, Mickey Mantle, Ted Williams and Stan Musial did it nine times. Only Barry Bonds (12) did it more. They don't call Pujols The Machine for nothing.

Analyst Bill James projects a big bounceback season from Pujols, who last year had career lows in virtually every offensive category. James has Pujols batting .316/.414/.591, with 41 home runs, 115 runs scored and 120 RBIs.

Pujols, a two-time Gold Glove winner, should also stabilize the Angels' defense on the right side. Even at 31 last year, he had an Ultimate Zone Rating of 2.4, a big drop-off from his pre-2009 form but an improvement over 2010. Pujols may not supplant Teixeira or Adrian Gonzalez for the AL Gold Glove, but he could be an improvement over Trumbo, whose defensive struggles figure to be exacerbated at third base.

The big question, of course, is age. Was last season the beginning of Pujols' decline or a temporary blip? The option of using Pujols at designated hitter should help him get through the long season and reach his usual 590-or-so at-bats. Barring a trade, the Angels have plenty of backups -- Trumbo, Morales and Howie Kendrick -- if Pujols needs a day off his feet.

Even if Pujols doesn't do what he used to do in Machine-like fashion, he should help erase the memory of Teixeira in an Angels uniform. He'll certainly make everyone forget McAnulty.
January, 31, 2012
1/31/12
12:11
PM PT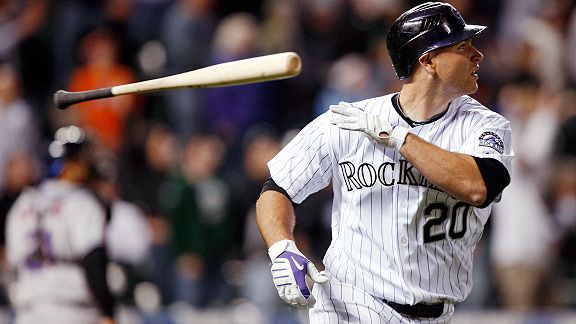 AP Photo/David Zalubowski
A few days before general manager
Jerry Dipoto
made a couple of loud noises in the free-agent market, he made two lower-decibel moves that nonetheless resonated with Angels fans.
Dipoto traded young pitcher
Tyler Chatwood
to the Colorado Rockies for catcher
Chris Iannetta
and followed that up three days later by sending catcher
Jeff Mathis
to Toronto for pitcher
Brad Mills
.
Many Angels fans, tired of watching Mathis' feeble at-bats, seemed joyous over the news. But how much better -- if at all -- will it make the team? Are the Angels simply giving up defense to gain offense? Or, was Mathis' defense -- the subject of periodic rhapsodies from manager
Mike Scioscia
-- overrated? Is Iannetta even a much better hitter?
The first few questions are difficult, maybe impossible, to answer. Baseball analytics have come a long way in the last 10 years, but they come up short when it comes to breaking down a catcher's contributions to stopping the other team from scoring.
I got assistance from ESPN statistical analyst
Mark Simon
, who said what I suspected. There really is no good overarching measure of a catcher's defense. Here's what we have to go by:
Angels pitchers had a 3.25 ERA when Mathis was catching. Only Philadelphia's
Carlos Ruiz
had a better CERA among guys who caught at least 80 games. They had a 3.86 ERA with any other Angels catcher.
Rockies pitchers had a 4.22 ERA when Iannetta was catching. They had a 4.84 ERA with any other Rockies catcher.
Summary: Both guys were slightly better than the on-hand alternatives at helping pitchers succeed, but we can't even say that with certainty. What if they were better because they were paired with better pitchers? It's not uncommon for a manager to give his best catcher a day off when the fifth starter is pitching, figuring that game is a crap shoot anyway.
But we can safely assume, probably, that both Mathis and Iannetta are good at catching and that Mathis is a little better than Iannetta.