Los Angeles Angels:

Bryce Harper
June, 22, 2012
6/22/12
8:24
AM PT
By
Kenton Wong | ESPN Stats & Info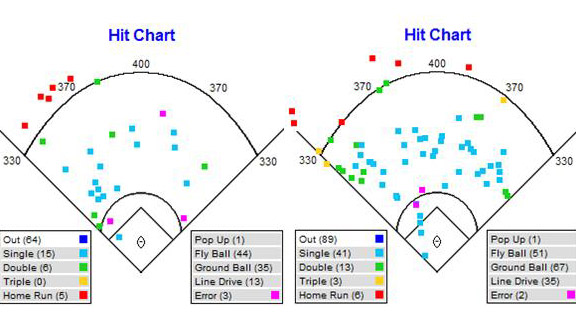 ESPN Stats & InformationHit charts for Mike Trout for the 2011 and 2012.
You all remember
Casey Kotchman
, right?
The 13th overall pick in the 2001 draft absolutely raked in the minor leagues and was a can't-miss prospect. But when his power never developed in the big leagues (a career slugging percentage under .400), the Angels did well to trade him for rent-a-player
Mark Teixeira
in 2008.
Teixeira hit .358 with 13 homers down the stretch to help the Angels win the division by 21 games. After hitting .467 in the ALDS loss to the Red Sox, Teixeira bolted for the Yankees, who gave out $180 million.
New York also had to give up the 25th pick in the 2009 draft to the Angels for signing away a Type-A free agent. That pick ended up being Mike Trout.
Among players drafted in 2009, the only ones with a higher career WAR (Wins Above Replacement) than Trout's 4.1 are the first two picks from the class:
Stephen Strasburg
(5.2) and
Dustin Ackley
(4.8).
It's becoming pretty apparent that if you could do that draft over, Strasburg and Trout would go 1-2. Good luck choosing between those two. The only reason Ackley's WAR is higher than Trout's is that he's had nearly twice as many at-bats in his career.
With an AL-leading 30 hits so far in June to go along with a major league-leading 11 steals in the month, Trout isn't just looking like one of the best rookies in baseball -- he's looking like one of the best players overall.
That's a far cry from last year, when in 40 games in the big leagues, Trout hit .220. The problem was that he got pull-happy. All but four of his 27 hits last season were to the left side of second base.
An offseason to work on his struggles has resulted in the 20-year-old hitting like a seasoned All-Star. His 2012 hit chart shows just how well he uses the entire field.
According to the Elias Sports Bureau, when Trout went 4-for-4 Tuesday, 15 days after a 4-for-4 game against Seattle on June 4, he became the first player age 20 or younger to have 4-for-4 games in such close proximity since Hall of Famer Rogers Hornsby did it July 29 and August 9, 1916.
WATER COOLER AMMO
" Remember when the Angels were shut out eight times in the first month and a half of the season? Well, they've turned the tables, throwing shutouts in three of their past five games. They lead the league with 10 shutouts.
"
Erick Aybar
has flirted with the Mendoza Line for most of this season, but in his past 10 games he is hitting .417 (15-36). He's hit safely in seven straight.
May, 8, 2012
5/08/12
10:04
AM PT
If the Washington Nationals' Bryce Harper is baseball's new wild child, Mike Trout is like the mature older brother.

They have a relationship that stems from being teammates on the Scottsdale Scorpions in the Arizona Fall League last October. Trout said the two young players, arguably the two best prospects in baseball, got to know one another and dined together several times.

Trout learned that Harper had gotten called up on the airplane as he flew to join the Angels in Cleveland. The outfielders both made their season debuts on April 28.

"I shot him a text and said, 'Good luck. Congrats. You deserve it.' " Trout said recently. "It was kind of unexpected, but he's a good kid. We got to bond a little bit in the fall league and he's going to be fine up there."

Harper, 19, is the only player in the major leagues that Trout, 20, can call "kid." They are the two youngest players in the major leagues.

So far, Harper has hit with a higher average -- .308 to Trout's .233 – but neither player has looked overmatched. Trout is batting .316 with two doubles and a home run in his past five games, his improvement helping fuel the Angels' offensive rebirth. They're also being thrust into different high-pressure roles, Trout batting leadoff and Harper often hitting third.

Trout said he feels more comfortable playing the outfield in this, his third, stint in the majors and he's trying to cultivate a patient approach given his spot in the lineup. His lifetime on-base percentage in the minor leagues was .425, though it hasn't shown up with the Angels yet. He has walked just twice in eight games.

"Leading off is something I've been doing my whole life," Trout said. "When I got called up, it made me a little more comfortable to be back where I normally would be. I've just got to get on base and score some runs."
February, 15, 2012
2/15/12
5:40
PM PT
Hudson Belinsky
started this fun blog about a month ago called Halos Daily -- which recently joined ESPN's Sweet Spot network -- and the other day he asked an intriguing question, "
What would it take to pry away Mike Trout?
"
Belinsky, who says he's a distant relation of former Angels lefty and famous
bon vivant
Bo Belinsky
, asked it like this:
You are Jerry Dipoto. It's July 30, 2012 and the Angels are tied for the AL West lead with the Rangers. In the outfield, Vernon Wells is hitting .250/.330/.500 and Peter Bourjos and Torii Hunter are repeating their 2011 campaigns. Mike Trout is hitting .400 in Triple-A and his stock is through the roof. What would it take to pry him from your organization? The team's roster looks exactly as it does today and everyone on your roster is healthy.
Unsurprisingly, none of the four Web writers polled, including me, was too keen on giving away the speedy 20-year old. Leave your ideas in the comments section below.