Los Angeles Angels:

Chicago Cubs
February, 25, 2012
2/25/12
1:18
PM PT
After Saturday morning's workout, six Angels players --
Albert Pujols, Vernon Wells, Alberto Callaspo, Kendrys Morales, Erick Aybar
and
Maicer Izturis
-- crammed onto a golf cart for the trip back to the clubhouse.
Aybar was driving, Izturis was sitting awkwardly on the dashboard and Pujols was practically in Callaspo's lap. That's about 1,300 pounds and $320 million worth of ballplayer, not to mention one bouncy ride.
"We bottomed out a couple times," Wells said.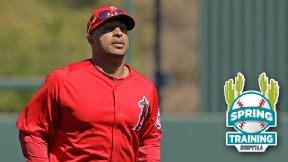 AP Photo/Mark DuncanVernon wells hit .218 last season with an on-base percentage of .248.
Wells knows what it feels like to hit the bottom. His career reached a shocking low in 2011. A .280 hitter entering his first season in Anaheim, Wells put up career lows in batting average (.218), on-base percentage (.248) and doubles (15).
It took enough of a toll on Wells' psyche that he figured something drastic was in order. He hired Chicago Cubs hitting coach
Rudy Jaramillo
, one of the most respected teachers in the business, to revamp his swing. He took two weeks off after the season and then got back to work in the cage at his Dallas-area home.
At one point,
Michael Young
and
Ian Kinsler
of the Texas Rangers stopped by to get a little work off Wells' pitching machine, which throws curveballs and sliders and can be set to 100-mph-plus velocity.
"Watching them hit off the machine was kind of funny. I was like, 'All right, I'm ahead of these guys,' " Wells said.
Asked what he did wrong last season, Wells said, "Do we have time for this interview?"
He predicted that 2012 would be one of his best seasons to date. In 2006, he batted .303 with 32 home runs and 106 RBIs. Add that to a lineup with Pujols and, possibly, Morales and the Angels could have one of the most potent lineups in baseball. Of course, that's a sentence wrought with uncertainty.
"I think it's a matter of getting that swagger back and knowing each time you get in the box, you have a chance to do damage," Wells said. "That puts fear in the pitcher. I don't think there's a pitcher out there, with the exception of a week here or there, that had fear once I got in the box and that shouldn't be the case."
Home runs -- 25 of them last year -- were Wells' undoing, he said. As his swing became more pull-happy, he lost the ability to drive balls up the middle and to right field. Pitchers learned to prey on that inability, relentlessly pecking at the holes in his swing. The drop in the number of doubles he hit, from 44 to 15 in one year, was the most drastic measure of the breakdown in his swing.
The Angels are heavily invested in Wells' turnaround, literally. They're on the hook to pay him $63 million over the next three seasons. General manager
Jerry Dipoto
said recently that "Vernon's our left fielder," even with No. 1 prospect
Mike Trout
applying pressure from below.
"Some of his numbers last year were what we would expect and some were absolutely awful," manager
Mike Scioscia
said. "I think we're going to see a more consistent Vernon than we did last year. What his numbers are going to be is impossible to tell, but I think you're going to see more productivity from him."
December, 2, 2011
12/02/11
2:34
PM PT
We don't have enough of a track record on Jerry Dipoto as a general manager to know how he likes to negotiate. Nobody does. He's been doing this job for barely a month now.

But it's clear he views his public comments as a way of swaying the market, rather than as a reliable guide for Angels fans to track his off-season progress.

On Wednesday, Dipoto essentially characterized the Angels' interest in Chicago Cubs third baseman Aramis Ramirez as "kicking the tires." On Thursday, two reports surfaced that the Angels have not only met with Ramirez and his agent, but are likely readying an offer.

Hmmm.

If these reports are true, is it a good idea or a bad idea? Here are some of Ramirez's pluses, followed by a corresponding minus:

Plus: Power: Angels third basemen -- Alberto Callaspo and Maicer Izturis, mostly -- combined to hit seven home runs last year. Only two teams in the majors got less power from the left corner of the infield: the Florida Marlins and Seattle Mariners.

Ramirez, 33, mashed 26 home runs last year and, just five years ago, hit 38. He slugged .510 in 2011. Angels third basemen slugged .379.

Minus: Wrigley Field: Fourteen of Ramirez's home runs came at Wrigley Field and it's a fair guess that a number of those balls would have been easy fly ball outs at Angel Stadium, where walls are deeper and games are typically played at night.

Still, these are not alarming home-road splits. If the Angels sign Ramirez and he has a typical season, he's probably due for 16 to 23 home runs. That's more than double what they got from the not-so-hot corner last season.

Plus: On-base percentage: Dipoto clearly is on a mission to inject walks into an Angels lineup that has been among the most free-swinging in the AL for 10 years. Ramirez is good at this, not great. He has a career on-base percentage of .342, which compares favorably to the league average most years of around .326.

Minus: 2010: Where was that patience two seasons ago? Ramirez had a dismal season, by any measure, but it was particularly brutal in the on-base department. He got on at a .294 clip. That's barely better than what Vernon Wells did last year and Wells was the worst in the majors at getting on base.

Plus: Veteran savvy: Ramirez has been in the major leagues since 1998, when he was 20 years old. That means he has a lot of experience to draw on. Plus, his hitting approach could benefit some of the Angels' younger players, as it did when they first got to watch Bobby Abreu in action a few years ago.

Minus: Reputation: I once had a conversation with a coach (who is now a manager) who worked with Ramirez in the Dominican winter league and said Ramirez had the worst attitude of any player he had ever worked with. He has a reputation for being a numbers guy, most recently according to Cubs TV analyst Bob Brenly. There was a report that he prematurely booked a flight home before Game 7 of the 2003 NLCS. Another linked him to a cockfighting ring.

Even if you ignore that baggage, Ramirez has spent his entire career in Pittsburgh and the north side of Chicago, not exactly the proving grounds for championship-caliber talent. He has 67 post-season at-bats and he's hitting .194 in those situations. The last time the Angels signed an ex-Pirates phenom with a dubious reputation (Jose Guillen), it didn't work out so well. Guillen got in an altercation with manager Mike Scioscia and was suspended a week before the playoffs started.

Conclusion: If the market falls apart and the Angels can get Ramirez for a reasonable deal (say $25 million for two years), it might be worth the risks. Otherwise, it might be a good time for Dipoto to show he means what he says.