Los Angeles Angels:

Chicago White Sox
May, 17, 2012
5/17/12
5:52
PM PT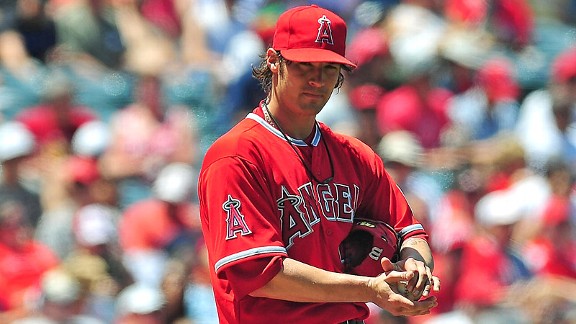 Gary A. Vasquez/US PresswireC.J. Wilson wasn't pleased with the way he threw the ball in a 6-1 loss to the White Sox.
ANAHEIM --
C.J. Wilson
took the mound Thursday with a bit of a stomach virus, but the nausea he started feeling wasn't just the result of a bug.
"It was more about how I was throwing," Wilson said.
The Angels left-hander walked six batters (plus hit one) in less than four innings and, after a while, the rest of the team seemed to pick up on that sloppiness. The result was a pretty bad all-around game of baseball, but – possibly – more of an aberration than a pattern.
This team appears to be doing things more as it expected –
Albert Pujols
is hitting home runs again, for example – but days like Thursday come along once in a while, even for good teams. So far, the Angels haven't been a good team, but Thursday doesn't prove they're not one now.
"I didn't set a good tone," Wilson said. "It was pretty much my fault. I put the defense to sleep out there and maybe the bats, too."
The Angels -- specifically,
Howie Kendrick
and
Mike Trout
-- lost three catchable balls in the sun, leading directly to two runs that chased Wilson early, but generally defense has been a strength for this team. They were baffled by lanky left-hander
Chris Sale
, but that's understandable. They haven't seen him much and Sale has good stuff, including a heavy, mid-90s fastball.
Despite Thursday's clunker, you get the impression this team could –
could
– be ready to take off. It helps that their next three series are against the San Diego Padres, Oakland A's and Seattle Mariners. The Angels tend to pound the National League, Seattle is playing horribly and Oakland, while fielding a competitive team, is probably the easiest place to play in baseball with its 8,000 fans per night.
If the Angels are going to make a move that can clean up some of that negative energy they generated from five bad weeks, this trip seems like an appropriate time. So, manager
Mike Scioscia
decided to go to his favorite bibliographic analogy Thursday: turn the page.
"We're trying to get momentum. When you lose a game because the other team beats you, you tip your cap and hope to get better from it," Scioscia said. "We just didn't give ourselves a chance. Overall, we're moving forward."
May, 17, 2012
5/17/12
4:28
PM PT
ANAHEIM -- The Angels seemed dazed by the mid-afternoon sun, losing three fly balls in the glare, and
C.J. Wilson
was wild in a 6-1 loss to the Chicago White Sox Thursday at Angel Stadium.
The Good:


A Force. Mark Trumbo
isn't sneaking up on anyone any more. He hit 29 home runs last year, so there are plenty of pitchers who know the damage he can do. He has never been as hot as he is right now. He's batting .460 with seven doubles and three home runs in his last 13 games. At times, he's hitting balls so hard that the fielder catches the carom quickly enough to hold him to a single.
Is he back?
Albert Pujols
had his first back-to-back games with a home run, but it was where the balls traveled -- to center field -- that has the Angels sensing his long cold streak might be over. Pujols has 13 RBIs in his last 10 games and his swing finally looks healthy again. He did have one hard ground ball to the left side, but he's keeping his weight back longer and looks dangerous again.
Thievery.
On a day when the Angels' inability to catch fly balls may have cost them a game,
Vernon Wells
partially redeemed the defense by robbing
Gordon Beckham
of a home run in the eighth inning. Wells timed it well, put his right cleats on the fence and climbed it to keep the ball in the park and send Beckham back to the dugout with his hands on his helmet.
The Bad:
Sun guard.
Imagine if this team had played back when night games were a rarity. Games might have lasted until it got dark.
Mike Trout
and
Howie Kendrick
(twice) lost balls in the sun. Two of them led to a pair of unearned runs that chased Wilson from the game in the fourth inning. Maybe the Angels should play a few more day games to get their players accustomed to the conditions.
Command.
The attribute that sets Wilson apart from
Jered Weaver
and
Dan Haren
is that he occasionally loses touch with the strike zone. Wilson had generally kept that tendency in check this season, but Thursday it exploded all over him. Wilson walked six batters and hit
Alex Rios
with a pitch, pretty much guaranteeing it would be a poor outing. It could have been worse, but he got some clutch outs in each of the first three innings.
Starving Albert.
As Pujols warms up, it's going to be essential that the top-of-the-order hitters give him opportunities to carry the team for the first time. Trout and
Maicer Izturis
never got on base, going 0-for-8. So, each time Pujols batted, the bases were empty. If you're going to suffer through Pujols' dry spells, you may as well maximize his hot streaks.
May, 17, 2012
5/17/12
11:25
AM PT
Big-money contract, new team, new fans, a brutally slow start to the season. Then comes the mounting pressure of all of that. If it sounds familiar to Angels fans, it sounds painful to Vernon Wells.

Like Albert Pujols this season, Wells was that guy last year.

"I understand it first-hand," Wells said. "You never want to go through it, but I think it's a blessing if you're able to go through that, come out the other side and learn from it. When things come easily for you, it feels great, but you never master that ability to get through adversity."

Are we seeing Wells beginning to emerge from a slump that endured through six months of 2011 and had crept into the first five weeks of this season? The last nine games, over which he's hitting .303, may have been his most productive stretch as an Angel. He has already hit six home runs, a mark he didn't reach until June 13 last season, when he wound up with 25.

He said he's "getting there," when asked if he's as locked in as at any time with this team. Like Pujols, he is at his best when he's able to use the whole field. Like Pujols, he got pull-happy for most of 2011 and it choked off his ability to do other things. He hit only 15 doubles, less than half a typical season's worth.

"He's a right-handed pull hitter is what he is, but he has the ability to use more of the field than, at times, he's shown throughout his career," manager Mike Scioscia said. "This is something that plagued him in Toronto and, when he's gotten a grasp of it, he's as productive as any hitter in the league."

Here are lineups for Thursday's 12:35 p.m. game against the Chicago White Sox:

White Sox
Alejandro De Aza CF
Gordon Beckham 2B
Adam Dunn 1B
Paul Konerko DH
Alex Rios RF
A.J. Pierzynski C
Alexei Ramirez SS
Dayan Viciedo LF
Brent Morel 3B

Angels
Mike Trout RF
Maicer Izturis SS
Albert Pujols 1B
Mark Trumbo DH
Howie Kendrick 2B
Vernon Wells LF
Alberto Callaspo 3B
Peter Bourjos CF
John Hester C
March, 14, 2012
3/14/12
2:17
PM PT
GLENDALE, Ariz. --
Los Angeles Angels
pitcher
Ervin Santana
was struck in the right shoulder by a line drive during Wednesday's Cactus League game against the
Chicago White Sox
and had to leave the game.
The Angels are calling it a right shoulder contusion and list Santana as day to day.
"Let's see tomorrow," Santana said. "I have ice on it. There's a little pain, but let's wait."
Alexei Ramirez
lined a ball off Santana in the second inning. Santana, making his second start of the spring, retrieved the ball and threw awkwardly to first base. Afterward, Angels trainer Adam Nevala visited the mound and asked Santana to wiggle his fingers. He was immediately removed from the game.
Santana was 11-12 with a 3.38 ERA last year and threw a no-hitter in Cleveland on July 27. Along with
Jered Weaver
,
Dan Haren
and newcomer
C.J. Wilson
, Santana gives the Angels one of the most highly regarded rotations in baseball.
August, 24, 2011
8/24/11
10:54
PM PT
ANAHEIM, Calif. -- Things felt different for
Jered Weaver
on Wednesday night, and it wasn't just that he was battling to find his release point and having trouble throwing a slider in the early innings.
He felt a little more amped up, he said, in part because the crowd at Angel Stadium -- more than 36,000 people -- was so fixated on him.
[+] Enlarge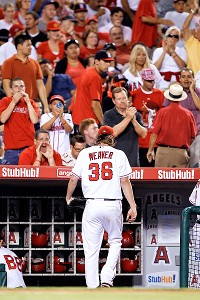 AP Photo/Chris CarlsonJered Weaver pitched seven efficient innings Wednesday and said he felt a different buzz in the Angel Stadium crowd.
This is the stadium where most of Weaver's signature moments have come, from his May 27, 2006, major league debut against the Baltimore Orioles (seven shutout innings) to Wednesday's efficient mastery of the Chicago White Sox (seven shutout innings). He has walked off the mound to dozens of standing ovations, but the buzz was a little different Wednesday.
"I think they were a little louder tonight. I saw some signs that you don't usually see out there," Weaver said.
Weaver's timing couldn't have been more well-honed. On a night when half of Anaheim seemed to pour out in support of a pitcher who might have cost himself millions of dollars by staying close to home, Weaver rewarded the crowd with the kind of performance that has become standard for him.
Weaver (15-6) struck out eight White Sox and gave up only four hits despite having shaky stuff in the early innings, mowing them down with just 96 pitches to set himself up to pitch in this weekend's showdown with the first-place Texas Rangers.
Pitching on three days' rest will be a new experience for Weaver, but then again, so was pitching a few days after agreeing to a five-year, $85 million contract extension. No challenge seems particularly weighty to Weaver these days. A remarkable number of his starts have been dominant. He has pitched at least seven innings and given up one run or fewer 15 times this season, most in the majors.
So, what's the big deal about changing your routine and pitching on short rest in the biggest series of the year?
"I feel good. Let's do it," Weaver said.
It took him three innings to find his slider Wednesday, but it's not as if the White Sox made him pay. Weaver struck out four batters without one of his best pitches. When he found it, the White Sox didn't seem to have a prayer, particularly when Weaver combined it with pinpoint fastball command and a sharper-than-usual changeup.
After
Erick Aybar
hit a two-run double in the seventh, Angels manager
Mike Scioscia
finally had enough breathing room that he was able to save Weaver's arm some wear and tear while not having to sweat out the Angels' bullpen work. He took Weaver out of the game after seven innings but not without a fight.
"It worked out, so I won't hold it over his head," Weaver said.
August, 24, 2011
8/24/11
9:46
PM PT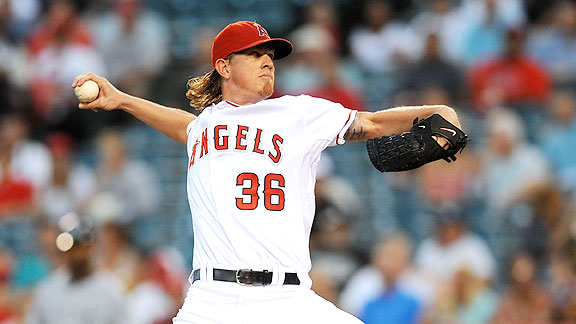 Kelvin Kuo/US PresswireJered Weaver gave the Angels exactly the kind of efficient start they needed from him on Wednesday.
ANAHEIM -- Three days after agreeing to a five-year, $85 million contract extension,
Jered Weaver
dominated the Chicago White Sox Wednesday to help the Angels pull to within 2 1/2 games of the first-place Texas Rangers in the AL West.
Less than a week ago, the Angels were seven games out, but they've trimmed the deficit thanks to a six-game winning streak.
The Good:
Ace shines.
This was exactly the kind of clinical, efficient start the Angels needed from Weaver now that they're going to turn around and use him on three days' rest this weekend in Texas. Weaver (15-6) was able to buzz his way through seven innings without too much fuss -- and with just 96 pitches -- thanks to an aggressive Chicago lineup, relentless strike-throwing and a brilliant breaking ball.
Maligned catcher.
Nothing gets Angels fans worked up like the topic of
Jeff Mathis
. He had an interesting night. He helped Weaver get through another masterful outing and he hit a two-run double in the second inning to stake him to a lead. The odd part about that is that Mathis dropped his head and went into his home run trot on the double, a ball that short-hopped the wall. Had it gone out, it would have been Mathis' third home run.
Balance.
What has slowed down the Angels' momentum all season has been holes in the lineup that have disrupted chemistry and ended innings. With Mathis' contribution, plus two hits (and a walk!) from
Vernon Wells
, the Angels finally displayed offensive depth. It might have been a one-night phenomenon, but it was effective. Every starter other than
Peter Bourjos
reached base safely.
The Bad:
Playing time.
One of the reasons
Hank Conger
played so much better at Triple-A after the Angels demoted him in July is he got to play every day again. Then they brought him back to add some spark to their lineup and ... he has started exactly one game since showing up on Thursday. It seems like an odd way to handle one of your best young players. You could make similar comments about the fact
Mike Trout
has been on the bench the last two games.
Cooling-off period.
The way Bourjos was going, it seemed unlikely he would stay that hot. He hasn't. Though he had the winning hit Tuesday night, Bourjos has one hit in his last nine at-bats and three strikeouts. On balance, though, this has been a wildly successful first full season for a player who seems like a lock to win a Gold Glove.
Adam Dunn.
He's the guy Wells
can point to when he wants to feel better about his season. The Chicago White Sox slugger is on pace to have the worst batting average by a player who qualifies for the batting title in the live-ball era, breaking
Rob Deer's
record from 1991. Dunn's disastrous season continued with three strikeouts and a double play. He's now batting .165.
August, 23, 2011
8/23/11
10:50
PM PT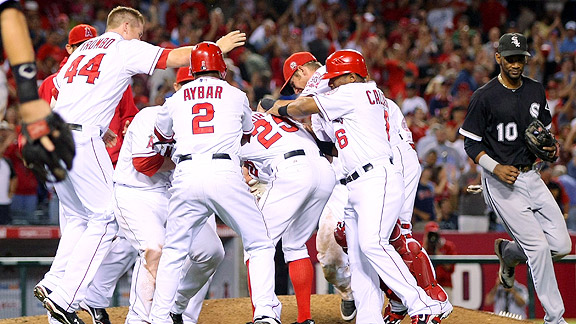 Victor Decolongon/Getty ImagesPeter Bourjos is mobbed by teammates after his ninth-inning single won it for the Angels over the White Sox.
ANAHEIM -- The fact the Angels have needed their last at-bat to win three of the five games in this winning streak -- the one that has let them whittle 3 1/2 games off the Texas Rangers' lead in the AL West in less than a week -- tells you a couple of things.
It tells you they're built to play close games and it tells you they're not a team that gives off the aura of being in the elite. In fact, this propensity to pull things out late kind of mirrors a larger question: Are the Angels in the Rangers' class given the fact they've beaten their opponents by a total of 16 runs and the Rangers' run differential is 112?
Suddenly contenders again, the Angels are choosing to look at how the late escape jobs reflect positively on them.
"It's the greatest thing in the world, man. I love it,"
Torii Hunter
said. "We have a lot of fight over here. Even though a lot of people said we were out of it and they don't have faith, we've got a lot of faith in this clubhouse."
You can see how small steps forward by this offense have deep reverberations in the standings.
Mark Trumbo
hit a two-run home run to avoid a sweep against Texas and keep their hopes alive. They nearly blew one against the awful Baltimore Orioles, then pulled it out in the 12th.
Peter Bourjos
, one of the hottest hitters in the league this month, beat the Chicago White Sox with a ninth-inning single for Tuesday's 5-4 win.
The Angels still have a couple of dead spots in their lineup, but it's not riddled with holes like one of those old gangster sedans.
Bourjos is batting .378 this month. Even if this Angels rally comes up short in September, they'll at least have some bright talents they can look forward to returning next year. Trumbo has a shot at Rookie of the Year and Bourjos is a far more complete player than he looked to be before the All-Star break.
"There's no doubt he's the Gold Glove center fielder of this league and, at the plate, what he's done the last couple months has, I think gone unnoticed by a lot of people," Angels manager
Mike Scioscia
said.
May, 13, 2011
5/13/11
12:11
PM PT
When the Chicago White Sox scored two runs off Jordan Walden to send Wednesday's game into extra innings, it had a familiar feel. It was the Angels' ninth extra-inning game this season in their first 38 games.

That's a "pace" for 38 extra-inning games, if such terminology has any meaning for such a fluky set of circumstances. The MLB record for extra inning games in a season is 31, set by the Boston Red Sox in 1943, according to Steve Glasser of ESPN's Stats and Info department.

The last team to play so many extra-inning games so soon in the season was the 2008 Milwaukee Brewers. They finished with 20.


May, 11, 2011
5/11/11
10:31
PM PT
ANAHEIM -- The Angels' bullpen has hit another patch of ice.
Relievers coughed up five runs in the final three innings as the Angels lost 6-4 to the Chicago White Sox in 10 innings Wednesday night. The go-ahead run scored in a most bizarre fashion:
Kevin Jepsen
,
called up a few hours earlier from Triple-A Salt Lake
, threw a wild pitch over
Hank Conger's
head while intentionally walking
Paul Konerko
.
It was the Angels' ninth extra-inning game this season, most in the majors.
The Good:
Damage control.
Things could have exploded so many times on
Tyler Chatwood
, but the 21-year old has a knack for staying cool under pressure, it seems. Chatwood managed to get into the seventh inning while giving up only one run though he didn't strike out anyone. The key was the two rally-ending double plays, in the first and fourth innings. Chatwood danced his way around 11 base runners.
Slump over.
On the same day the Angels announced they would be
without cleanup hitter Kendrys Morales all season
because of a second round of surgery on his fractured left ankle,
Torii Hunter
continued to look as if he could handle the job. Hunter thought he had figured something out in batting practice before Tuesday's game and his results bear show it. In the last two games, he has gone 4-for-9 with three runs scored and three RBIs.
Thievery.
Angels manager
Mike Scioscia
says he thinks this is the fastest team he has ever had and some aggressive base running has been paying off lately.
Maicer Izturis
and
Howie Kendrick
had stolen bases off
Jake Peavy
that helped lead to runs.
The Bad:
Growing pains.
Thirteen of the first 14 appearances for rookie closer
Jordan Walden
were scoreless, but he has hit a snag. Walden has blown two of his last three save chances and given up five earned runs in his last three outings. His first five pitches were balls, an inauspicious start, and things didn't get much better. Walden walked two batters and gave up an RBI single to
A.J. Pierzynski
and a sacrifice fly to
Omar Vizquel
.
Regrets.
It's amazing to reflect on what one spur-of-the moment decision -- to leap onto home plate celebrating a home run -- could do to Morales' career. He will have missed more than a year-and-a-half of baseball in the prime of his career. He'll also have to battle some serious rust when he finally does return, and that date is anybody's guess at this point.
Setup guy.
The way
Fernando Rodney
and
Rich Thompson
are going, it wouldn't be surprising to see Rodney slip another notch down the bullpen pecking order. Rodney was a mess for the second time in his last three outings, giving up a walk and two sharp hits before a batter's interference call bailed him out of a mess. Meanwhile, Thompson, whose 22 strikeouts lead AL relievers, needed just one pitch to
Carlos Quentin
to get out of the seventh inning.
May, 10, 2011
5/10/11
10:38
PM PT
Joel Pineiro always pitches to contact these days. That's his thing. He's a sinkerball guy.

But it's just a tad easier to do that -- to let it go and hope it ends up in somebody's glove -- when your teammates rush out and hand you a 5-1 lead by the time you jog out for the fourth inning.

"They came out aggressive, they came out swinging the bats from the first inning on," Pineiro said after pitching into the eighth inning of the Angels' 6-2 win over the Chicago White Sox Tuesday. "Sometimes, that plays into my game. Early-count outs, you keep the pitch count low. Sometimes, they're going to hit it right at people."

For one of the few times this year, an Angels pitcher could thank an Angels hitter for making his life easier. Mostly, it's been the other way around. Rarely have Angels pitchers gotten to work with a safety net this wide and soft.

It's been a weird season for the Angels' offense, which leads the American League with a .271 batting average and yet somehow is sixth in runs scored. Scoring at their home ballpark has been particularly challenging, with the team scraping across an average of 2.7 runs per game entering Tuesday.

Especially in the last 10 days or so, you can see semblances of offensive chemistry poking up here and there. With the big-name players -- Torii Hunter, Vernon Wells and Kendrys Morales -- largely struggling or simply not around, it's been smaller guys driving the bus. Guys like Maicer Izturis, Erick Aybar and Alberto Callaspo, the three amigos of short, switch-hitting middle-infielder types.

Guys like Howie Kendrick, who made his professional debut in left field Tuesday, managed to avoid embarrassment in the field (catching the one fly ball hit to him) and smacking a pair of doubles.

"We've got a lot of youth in that lineup, with some guys playing out of psition but I think on the offensive side we're going to be able to do what we need to do," manager Mike Scioscia said.

If he's right, there is a roomful of pitchers at Angel Stadium hoping their lives could soon get just a little bit easier.
May, 10, 2011
5/10/11
9:52
PM PT
ANAHEIM -- The Angels snapped out of an offensive funk at their home ballpark to pound the Chicago White Sox 6-2 Tuesday night.

The Good:

Home cooking. Angel Stadium has always been friendlier to pitchers than hitters, but this season it has been an offensive mausoleum. Entering Tuesday, the Angels were batting .232 at Angel Stadium and .300 on the road, had slugged six homers at home and 25 on the road and were averaging 2.7 runs at home and 5.4 on the road. Maybe it was the sight of 35,000 people wearing wrestling masks... OK, maybe it was an off night for lefty John Danks. The Angels erupted for 11 hits, five of them with runners on base.

Middle men. The Angels have a thing for up-the-middle defenders. Before Vernon Wells got hurt, they had three guys who started their careers as center fielders playing in the outfield. On Tuesday, after Howie Kendrick slid to left field, they had three former middle infielders starting in their lineup. Three of them, Kendrick, Alberto Callaspo and Maicer Izturis provided a lot of the offense, smacking six hits, including a home run and driving in five runs.

Sinkers. The Angels picked a good night to ease Kendrick into playing the outfield. Joel Pineiro practically never gives up fly balls. He had the sinker working and it produced two inning-ending double plays to help him get out of trouble. Pineiro has now given up a total of three earned runs in his three starts since returning from the disabled list.

The Bad:

Insult unanswered. Everybody seemed to have fun other than the bottom of the Angels' lineup. It was a particularly excruciating evening for catcher Jeff Mathis, who had to watch Ozzie Guillen twice intentionally walk rookie Mark Trumbo to get to him. Mathis responded to those affronts with a weak pop-up and a strikeout. He was 0-for-4 with two strikeouts and is now batting .186, right around his career average.

Concentration. It's been a rough start for rookie third baseman Brent Morel of the White Sox. He came into the game batting .218 and Tuesday he did something you don't often see on a major-league field. He dropped a pop-up with no apparent excuses in sight. It was a night game with no wind and nobody else around him. It just glanced off the webbing of his glove.

Sympathy. Chicago catcher A.J. Pierzynski -- always a lightning rod for controversy -- chopped two straight foul balls off his right leg in the ninth inning and the crowd roared its approval while he limped around in pain. As Pierzynski's own manager, Guillen once said, "If he's on the other team, you hate him. If he's on your team, you hate him a little less."
May, 9, 2011
5/09/11
9:55
PM PT
ANAHEIM -- It was a loud night at Angel Stadium, at least when the Chicago White Sox were batting.

The White Sox, who entered the game with a slumping lineup and the worst record in baseball, had seven extra-base hits, including three home runs, in an 8-0 win over Ervin Santana and the Angels on Monday night.

The Good:

Peter picker. Any time the ball is hit toward center field, it feels as if there's a chance it will be caught. Peter Bourjos throws his body around recklessly, even in games that seem like lost causes. He got a fast jump on Alex Rios' slicing drive in the seventh inning and made a sliding catch near the warning track to take away yet another extra-base hit and, eventually, save a run.

On-base machine. Bobby Abreu is having a weird season. He has hit just one home run in 131 at-bats, but he's pushing a .400 on-base percentage. Abreu had a single and a walk Monday. He has 26 walks. The next closest Angel in that category is Torii Hunter with 16.

King Carlos. Few of the White Sox get cheated when they're in the batter's box, especially not Carlos Quentin, who made devastating contact Monday. Quentin had consecutive RBI doubles in the third and fifth innings, then hit a deep three-run home run off Angels reliever Trevor Bell in the seventh. He might be middling along against the rest of the league, but he always seems to punish the Angels.

The Bad:

The starter. After throwing only 61 pitches in his previous start, cut short by rain in Boston, Santana might have been a little too strong Monday night. He couldn't follow up that performance -- in which he struck out seven batters in four hitless innings -- and he didn't give the Angels much of a chance. The White Sox were swinging aggressively and Santana was leaving balls in the heart of the plate -- a toxic combination for him. It was 3-0 by the time the Angels batted in the third inning.

Shooting blanks. The Angels were having better at-bats in clutch situations lately, but Monday they took a step back against Edwin Jackson and a couple of relievers. Hunter grounded into his league-leading 12th double play to end a threat in the sixth inning and the Angels went 0-for-9 with runners in scoring position overall.

Outfield depth. Normally, losing a player who is batting .183 wouldn't be the most crushing blow. But when Vernon Wells left the game after the fourth inning because of a strained groin, it hit the Angels in their most vulnerable spot. They're rail thin in outfielders. While Wells is out, they'll have to plug the hole in left field with some combination of aging players (Bobby Abreu), converted infielders (Alexi Amarista or Mark Trumbo) and guys at Triple-A.