Los Angeles Angels:

Clayton Kershaw
January, 24, 2013
1/24/13
7:40
PM PT
Who knows, maybe this is the season it finally happens. The Dodgers, having spared no expense, will field a balanced, dangerous team and feel like they are positioned for a World Series run. The Angels, who jacked up their already formidable power with the surprise acquisition of
Josh Hamilton
, have similar aims.
If there really is to be a Freeway Series in 2013, a lot of things have to go right for both teams. But the team that made -- and makes -- the best personnel decisions likely will go further into October.
Let's break down the key areas of both rosters to try to decipher which team is better constructed to play longer into 2013.
Starting rotation
This is the part of the discussion in which Dodgers fans get to gloat and Angels fans have to just sit there and marinate. You could argue -- in fact, you don't really even have to -- that the Dodgers have better pitchers in all five spots.
We know this because one of the Angels starters,
Joe Blanton
, couldn't have cracked the Dodgers' seven deep. We also know this because one of the Dodgers' starters,
Zack Greinke
, almost helped the Angels make the playoffs.
Jered Weaver
is perfectly ace-like. About 25 teams would put him at the top of their rotation. He has finished in the top five in Cy Young voting three years running and even got a couple of MVP votes last year -- always a cool accomplishment for a pitcher. He won 20 games, had a sub-3.00 ERA for the second season in a row and usually gives you more than 200 innings. And we won't even hold the .250 and .241 BABIPs from the past two seasons against him. Weaver is a fly ball pitcher and he relies on mishits to pitch deep into games. He gets strikeouts when he needs them, which is quite often, actually.
The only reason he doesn't get the edge is that
Clayton Kershaw
might be the best pitcher in baseball. We don't need SABR to tell us that. It's not that scientific. For the past two seasons he led baseball in ERA and was in the top three in WAR for pitchers. If he's not the most dominant pitcher in baseball, he's in the team photo and it's a small team (probably Kershaw,
Stephen Strasburg
,
Felix Hernandez
and
Justin Verlander
).
So, the Dodgers get an edge in the No. 1 department, though it's a fairly slight edge because of Weaver's competitiveness and consistency. "Slight" isn't the right word for the rest of the Dodgers' edge in starting pitching.
Greinke has never come close to touching his 2009 Cy Young season, but neither has just about any other active pitcher. Greinke flirted with a sub-2.00 ERA, led the league in ERA+ and WHIP. Nobody could square him up. He gave up 0.4 home runs per nine innings. He was mediocre the following season, probably in part because of a personal crisis, but has gone 31-11 with a 3.63 ERA the past two years. Is he worth $147 million? Is any pitcher? He's as good a No. 2 starter as there is out there.
September, 13, 2012
9/13/12
7:23
PM PT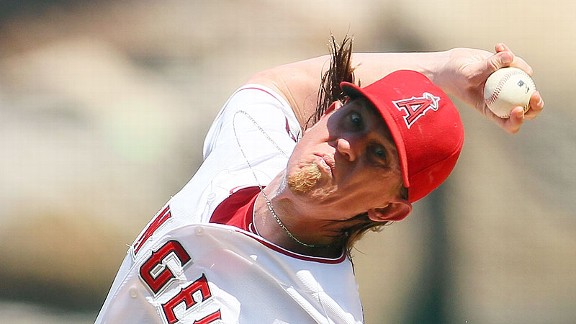 Victor Decolongon/Getty ImagesJered Weaver returned to the rotation after skipping a start and looked as good as ever Thursday.
ANAHEIM, Calif. --
Jered Weaver
has been with the
Los Angeles Angels
long enough to know this isn't where they want to be this time of year. Chasing, pressing, scratching and clawing their way into a playoff spot, rather than lining things up for a deep playoff run.
He was a young pup back in the days when the Angels were the kings of the American League West.
John Lackey
was the staff ace then, and man, doesn't that feel like a long time ago?
Weaver is indisputably the ace of the staff now. The guy the team turns to when it absolutely, positively, needs to win a game. And a moment like that arrived Thursday afternoon with the
Oakland Athletics
on the verge of their first four-game sweep of the Angels since 2001.
Had the Angels been where they want to be this time of year, where their payroll and the talent on their roster projected them to be, Weaver might have been able to rest his tired right arm another week or two.
But the Angels don't have that luxury now. Not when they're still on the outside of the AL wild-card race looking in with just 19 games to go.
So Weaver did what an ace does, coming back to strike out nine and allow just two hits in a walk over seven dominant innings against the previously sizzling A's in a 6-0 win that added fresh kindling to the Angels' flickering playoff chances.
Weaver did his part Thursday, stepping up with a dominant performance in a game the Angels absolutely had to have.
"I wanted to set the tone," he said. "We obviously didn't want to get swept. And the first three games of this series obviously didn't go the way we'd like them to. These guys are playing real good baseball. You can't take them lightly. They're playing the game hard. They're battling just like we're trying to."
While the score looks like a blowout, it was far from it. Weaver and Oakland's
Brett Anderson
were locked into a classic pitcher's duel through six scoreless innings. Things only loosened up in the bottom of the seventh when Angels outfielder
Torii Hunter
slammed a solo home run that seemed to open the flood gates as the Angels batted around to score six runs and chase Anderson in the process.
Having shut down the A's almost completely, Weaver left after throwing 94 pitches in seven innings.
It was what an ace does.
The question is whether it's what a Cy Young winner does.
July, 2, 2011
7/02/11
10:43
PM PT
By
Pedro Moura
| ESPNLosAngeles.com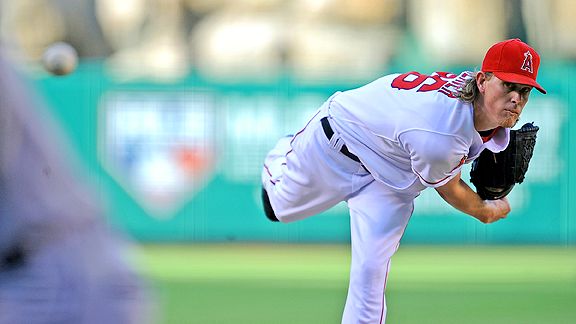 Jayne Kamin-Oncea/US PresswireJered Weaver seems a good bet to start for the AL in the All-Star Game, but that's not something he wants to talk about just yet.
ANAHEIM -- He'll get one more official opportunity to showcase his stuff before Texas Rangers manager
Ron Washington
sits down to determine his starting pitcher for this month's 2011 All-Star Game, but Angels ace
Jered Weaver
did a mighty fine job proving his candidacy in a 7-1 win over the Los Angeles Dodgers on Saturday.
Facing the Dodgers just six days after earning a no-decision in a tough battle in L.A., Weaver was dominant in eight innings of work Saturday. In outdueling Dodgers left-hander
Clayton Kershaw
, he allowed just six baserunners -- two on walks, the first time in a month he has walked more than one -- and struck out eight Dodgers to earn his team-leading 10
th
win and lower his ERA to 1.92.
"Weav pitched terrific baseball," Angels manager
Mike Scioscia
said. "He just kept pounding the zone, and, as the game went on, changed speeds a little bit more.
"He pitched a good ballgame."
He has been pitching good ballgames pretty regularly this season. Weaver hasn't given up more than four runs in any of his 18
starts this season. He has given up only one earned run or fewer in six of his last eight starts, and he's now only the second Angel in franchise history with 10 wins and a sub-2.00 ERA on or before July 2.
The question now is whether he'll get the formal nod from Washington to take the mound. It appears he has a good chance, his most probable competition coming in the form of Detroit Tigers right-hander also slated for a Sunday start just two days before the All-Star Game in Phoenix, meaning he'd be ineligible to pitch in the game per MLB rules instituted last year.
"It's a great honor, and I'm sure he's going to get consideration," Scioscia said of the 28-year-old Weaver. "It'll be something, certainly, for him to look forward to."
July, 2, 2011
7/02/11
9:15
PM PT
By
Pedro Moura
| ESPNLosAngeles.com
ANAHEIM -- Behind yet another great performance from right-hander Jered Weaver and timely hitting throughout their order off of Clayton Kershaw, the Angels evened up a weekend series with the Dodgers after a 7-1 win.

The Good:

Weaver's All-Star starter candidacy. The Angels' ace was dominant Saturday, just as he has been almost every five days throughout this 2011 season. He struck out eight Dodgers and allowed only six baserunners in his eight innings of work, barely even needing to pitch out of any jams. But when he did get in some trouble -- like in the fourth, when Matt Kemp came to the plate with runners on first and second and one out -- he induced the grounders or popouts he needed. He got his 10th win and lowered his ERA to 1.92, best in the American League among starting pitchers. Weaver seems the likely pick to start the All-Star Game in Phoenix, especially since the other top candidate, Detroit's Justin Verlander, is scheduled to pitch the Sunday before.

Vernon Wells' power. Now, this wasn't all good -- Wells did take a few big swings and come up empty against Kershaw. But he had one key cut that rattled the Dodgers left-hander and boosted the Angels' offense. In the third inning, he hit a 94-mile-per-hour fastball from Kershaw deep into the left-field stands on a 2-and-0 pitch, giving the Angels a 3-0 lead. One inning later, though, he swung and missed on a same-situation fastball and ended up popping out. He finished the day 1-for-4 with a strikeout.

Taking advantage of miscues. Friday, it was the Dodgers who were capitalizing on errors and miscommunication from the opponents' infield. Saturday, the Angels switched things around, particularly exploiting young Dodgers shortstop Dee Gordon. The Angels' first run came directly off a Gordon mistake, when he decided to throw home in an attempt to get Jeff Mathis rather than get the sure out at first in Maicer Izturis. Then, in the sixth inning, Gordon threw a two-out grounder that sailed on James Loney at first, allowing Peter Bourjos to bring in an insurance run.

The Bad:

Making the pitchers work. A game like Saturday's allows you to see how poor the Angels really are at stretching out counts and making opposing starters work. Even on a day where Kershaw clearly didn't have his best stuff and the Angels were hitting, they still allowed him to go a full six innings before giving way to Kenley Jansen and Hong-Chih Kuo. He has been better this year, but in previous years Kershaw struggled to make it that deep into outings when he's not cruising. When the Angels get an opportunity to hit around a pitcher, especially one of Kershaw's quality, they must fully seize it and get him out of the game early.

Izturis and Mark Trumbo. The right side of the Angels' infield combined to go 0-for-9 at the plate. Izturis, hitting leadoff, didn't hit a single ball out of the infield and struck out twice. Trumbo, hitting sixth, did muster a flyout to center in the seventh but also struck out twice and looked largely confused against Kershaw. Luckily for them, the other seven Angels hitters all produced hits and went a combined 10-for-22.

Peter Bourjos' detractors. The young Angels center fielder continued his recent run with an impressive day Saturday, reaching base three times and stealing his ninth base of the year. Since he came up to the big leagues last August, the book on Bourjos has been that he's a more-than-capable outfielder but a not-capable hitter. With his average now up to .268, he's getting to the point where that book might have to be changed a little bit. Angels manager Mike Scioscia also said before the game he has been approached by managers and coaches all across the league praising Bourjos' defensive capabilities, too.
July, 2, 2011
7/02/11
5:10
PM PT
By
Pedro Moura
| ESPNLosAngeles.com
ANAHEIM -- When the same two pitchers scheduled to start Saturday's game -- the Angels' Jered Weaver and the Dodgers' Clayton Kershaw -- matched up last weekend in Los Angeles, neither team scored a run until the seventh inning.

The Angels will focus on doing something about that tonight, placing extra emphasis on patching together their patented small-ball techniques to produce a run or two against Kershaw.

"I think early runs, when you have a pitching matchup like this, serve a greater purpose," Angels manager Mike Scioscia said Saturday. "It's probably more important. These two guys are tough."

In a combined 16 innings last time around, Kershaw and Weaver struck out 15 batters, walked just one and allowed 13 hits and three runs. Weaver didn't get a decision; Kershaw got the win after going the full nine innings when his offense rallied against Angels closer Jordan Walden for two runs in the bottom of the ninth.

Both pitchers, who are considered likely All-Star Game participants, have also been particularly effective at the start of their outings. In his first 15 pitches of each of his starts, Kershaw has given up only 11 hits in 97 at-bats, a .113 average. Weaver has been quite as good, allowing 14 hits in 94 at-bats for a .149 average.

Last Sunday's Kershaw-Weaver battle at Dodger Stadium was a 3-2 final. The teams have averaged seven total runs in their four matchups this season, meaning another low-scoring affair is likely.

Said Scioscia: "Yeah, if the groupings are right and the opportunities are there, I think both teams are gonna look to try to get an early run."


June, 26, 2011
6/26/11
4:10
PM PT
LOS ANGELES -- The Dodgers avoided a sweep at home by rallying for two runs off Angels closer Jordan Walden to win Sunday's game 3-2 in the ninth inning. Tony Gwynn Jr.'s single -- his third hit of the day -- drove in the winning run.

The Good:

Sleight of hand. You could question Erick Aybar's decision-making when he tried to stretch a bloop single into a double in the seventh inning, but his body control was extraordinary. The throw beat him by plenty, but Aybar dove headfirst and pulled his hands in to get around Juan Uribe's tag before hooking the bag. Aybar also was off with contact on Howie Kendrick's single (which Matt Kemp nearly caught) and beat that throw narrowly.

Stinginess. Jered Weaver wasn't nearly as dominant as Clayton Kershaw was, judging by the fact he only had four strikeouts. But he was equally unwilling to give any ground. Weaver got through seven innings without much trouble until Gwynn hit an RBI triple off Vernon Wells' glove.

The trip. It wasn't the toughest competition in the world, but it was still an exhausting trip that crossed three time zones and visited every corner of the nation. The Angels went to Seattle, New York, Miami and Los Angeles and returned with eight wins in 12 games and were two outs from a ninth. Pretty solid work.

The Bad:

Wells' first eight innings. He struck out in all three at-bats against Kershaw and then, with the game on the line, let the ball bounce off the heel of his glove. It wasn't an easy play, on the run to the backhand, but it was a catchable fly ball. It might have cost Weaver his 10th win and lead position to start the All-Star game. Wells later put the Angels in position for a win with a solo homer off Kershaw in the ninth.

Bearing down. Giving up the long fly to Gwynn was one thing, but what set up that Dodgers run was Kershaw's two-out single to left. Kershaw has more hits than any pitcher in baseball this year, but Weaver should be able to win that battle.

Command issues. It's almost always the same thing when Walden blows a save, which he has now done two outings in a row: The rookie closer walks the leadoff batter. Sunday he walked the first two batters and couldn't quite pitch out of the mess he created.