Los Angeles Angels:

Cleveland
August, 14, 2012
8/14/12
6:48
PM PT
By
bkamen
| ESPNLosAngeles.com
Losers of three straight and nine of 12 this month, the Angels have now lost a pitching coach. For a night, at least.

Mike Butcher won't take part in Tuesday's game against Cleveland at Angel Stadium, having been slapped with a one-game suspension (and an undisclosed fine) for leaving the dugout to argue balls and strikes with umpire Mike Estabrook during the first inning of Sunday's 4-1 loss to Seattle.

"I believe it is automatic, I think, once a coach leaves a dugout like that," manager Mike Scioscia said before Tuesday's game.

There is no appeal process for coaches.

On the one hand, with the staff having blown up for a 6.30 ERA in August (74 ER in 105.2 IP) and a struggling Zach Grienke starting, it could be a bad night for the Halos to be short a pitching coach. On the other hand, with the staff having blown up for a 6.30 ERA in August, it's fair to wonder how much influence Butcher is having, anyway.

Though not for lack of effort.

"This downturn can be directly attributed to what we felt was a real strength of our club, and that's the frustrating part. Starting pitching is the heartbeat of our club, and they've really struggled to put us in position on a daily basis to win games," Scioscia said.

"(Butcher) has peeled the paint off with these guys and tried to rebuild some of them. Maybe it's a subtlety with one of them, to get them back to where they need to be. Each pitcher has a different set of circumstances of why they're pitching poorly. It's not one blanket sugar pill you give guys, and all of a sudden, boom, they're ready to go."

LINEUPS

CLEVELAND

Jason Kipness - DH
Asdrubal Cabrera - SS
Shin-Soo Choo - RF
Carlos Santana - C
Michael Brantley - CF
Casey Kotchman - 1B
Jason Donald - 2B
Jack Hannahan - 3B
Ezequiel Carrera - LF

ANGELS

Mike Trout - CF
Torii Hunter - RF
Albert Pujols - 1B
Kendrys Morales - DH
Mark Trumbo - LF
Alberto Callaspo - 3B
Howie Kendrick - 2B
Erick Aybar - SS
Chris Iannetta - C


June, 24, 2012
6/24/12
5:36
PM PT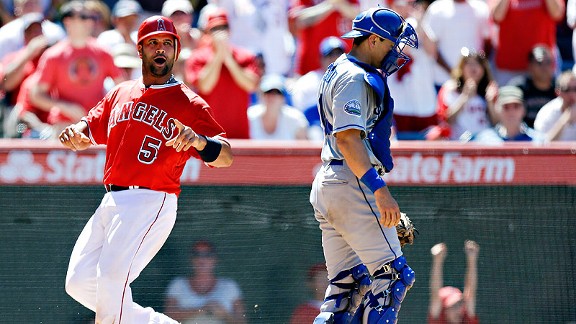 AP Photo/Chris Carlson
Albert Pujols celebrates after scoring on a single by Mark Trumbo during the seventh inning Sunday.
Monday morning, the Los Angeles Angels will board an airplane and travel three time zones east to begin a 10-game trip in the sticky air of Baltimore's Camden Yards. For about the past month, the only thing they've crossed has been lanes while driving to work. The only weather they've faced has been sunshine and refreshing breezes from the Pacific Ocean.
In other words, the test gets harder in the next few weeks. When the Angels returned home from Seattle on May 27, they were just beginning to hit their stride, still under .500 and wondering where this season that seemed so promising in February was headed by late spring.
After playing 21 of their next 24 games in Southern California, they finally hit the road this week as one of the most confident teams in the game, having gone 16-8 in this stretch and doing what they usually do -- paving over the National League. But, as usual when things change in this game, there's a certain fear of the unknown.
The next three series come against the Baltimore Orioles, Toronto Blue Jays and Cleveland Indians -- all above .500, all potential rivals for one of the league's two wild-card slots. They'll have to carry their momentum through a few security lines.
"I can't remember the last time I've been in a hotel room. It's been nice. I think we've really gelled the last month being together and being at home," outfielder
Peter Bourjos
said. "We did a lot of different things that kind of brought us together."
"It's going to be good to go out and play the East. Everybody in the division's got a pretty good record, so it's going to be fun and I think we can separate ourselves if we have a good series."
Manager
Mike Scioscia
saw his team finally forge an identity at home, capping strong starting pitching with stifling late-inning relief and supported by bats that have been thawing gradually as the weather grows warmer. Of course, July and August are the proving grounds in a major league season. This good stretch only sets the stage for what is to come, but for the first time, if the season ended today, the Angels would qualify for the playoffs.
"We need to keep growing," Scioscia said. "We're going to face tough clubs where we're going to have to go in and bring a level of play that's comparable to the way we've been playing the last three weeks or so. We match up well with the clubs we're going to play, but to win you have to play well."
Next season, the Angels welcome the Houston Astros to the AL West. Maybe that will remind them of their fondest time of the season, June's slate of interleague games. Since 2007, the Angels are 74-34 in interleague play. They went 12-6 this season, winning four of six from the Dodgers after Sunday's marathon 5-3 win.
And even if things get rocky over the next couple of weeks, the schedule sets up beautifully for the Angels. The All-Star break, on July 9-11, offers a respite during this grueling stretch.
If the American League manages to cool the Angels off in coming weeks, they won't be able to turn to any of their neighbors and complain. Their home town has treated them well.
June, 20, 2011
6/20/11
11:29
AM PT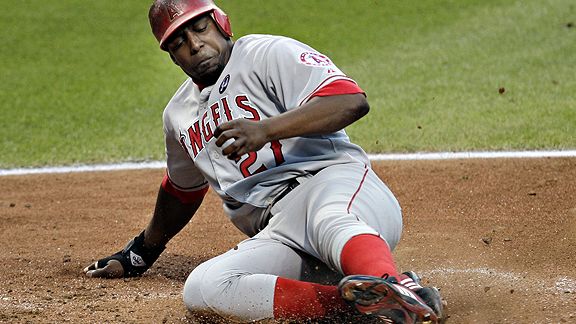 AP Photo/Tony Dejak
Vladimir Guerrero was a cog in the all-.300 lineup the Angels sent out Aug. 18, 2009.
The Angels were halfway through their 5-4 win over the Cleveland Indians when hitting coach
Mickey Hatcher
glanced up at the Progressive Field scoreboard and noticed something unusual. There was a '.3' to the right of everybody's name.
Hatcher sent a clubhouse attendant scurrying to find a camera and take a picture of the scoreboard, a snapshot that has become famous around the Angels -- particularly as they have struggled to score runs the past two seasons.
The date was Aug. 18, 2009, and it was the first time since the pennant-winning 1934 Detroit Tigers of
Hank Greenberg
and
Charlie Gehringer
that a team had gone that deep into a season with a lineup full of .300 hitters (each of whom had at least 200 at-bats).
Angels manager
Mike Scioscia
had had more powerful lineups (eg., 2000, 2004). He'd had faster lineups (most years). But he has never had a deeper lineup since he arrived 12 seasons ago.
That offense "might have been rolling as well as it ever has here," Scioscia told the Orange County Register. In the end, the Angels would set club records in batting average (.285), runs (883), average with runners in scoring position (.297) and hits (1,604). It would steamroll the Boston Red Sox in the playoffs, but then lose to the eventual world-champion New York Yankees in six games.
Since that season, Scioscia and Hatcher have pined for the days when they could post a lineup free of holes. It's not hard to figure out what happened: attrition.
Of the nine guys in that lineup, five have been missing since at least January:
Chone Figgins
(.308 at the time) signed as a free agent with the Seattle Mariners that winter;
Juan Rivera
(.310) and
Mike Napoli
(.300) were traded to the Toronto Blue Jays for
Vernon Wells
five months ago;
Vladimir Guerrero
(.313) moved on to Texas and Baltimore via free agency; and
Kendrys Morales
(.303) broke his leg last May 29.
After the Angels' game Sunday vs. the New York Mets, their lineup featured one .300 hitter:
Howie Kendrick
(.301). It had one guy,
Jeff Mathis
, batting lower than .200 and three, including
Torii Hunter
and Wells, hitting beneath .235. Absent power, the Angels rely on a continual application of offensive pressure, a force they've lacked since the start of 2010.
How long ago that August day in Cleveland now seems.
This story is part of an occasional series of Angels Moments which, when it's complete, will -- we hope -- add up to 50. The Angels are celebrating their 50th anniversary this season. This list is not intended to be exhaustive, but simply an assembly of scenes and anecdotes that are part of the team's colorful past.