Los Angeles Angels:

David Price
June, 18, 2014
Jun 18
10:00
AM PT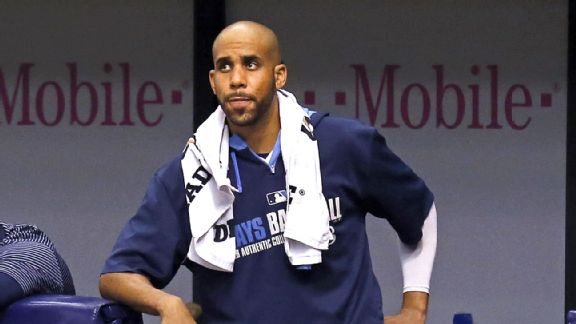 Mike Carlson/Getty ImagesIt makes more sense for the Rays to trade David Price now than wait until this offseason.
The top-of-the-rotation pitcher most likely to be traded between now and the trade deadline is
David Price
of the
Tampa Bay Rays
.
Jeff Samardzija
and
Cliff Lee
are also in the conversation, but the Cubs still could re-sign Samardzija, and a Lee trade would require a return to full health for him and a willingness to be traded to specific teams. The Rays don't have either obstacle with Price.
The Rays also know the best time to trade Price is now; the return won't be as high this offseason or next July as it will be over the next six weeks. So it's only matter of time before he's dealt to the highest bidder.
The most interesting aspect of a potential deal is that there aren't as many contending teams looking for a top-of-the-rotation starter as in the past. For example, in the National League, teams such as the Cardinals, Brewers, Reds, Giants, Dodgers and Nationals all have enough pitching at the top that they have no reason to empty their farm system to acquire Price. In fact, I would argue the Braves (who, by the way, have the best starting pitcher ERA in the league) are the only NL team likely to inquire about Price.
In the American League, two of the top teams -- Oakland and Detroit -- also probably won't be bidding, though I'd never put anything past A's GM Billy Beane, based on his track record.
The Rays could get a large package for Price -- as many as four or five prospects -- but it's more likely they'll shoot for quality over quantity and end up with a two-for-one or three-for-one deal, with the possibility of more players being thrown in by either side. For the purpose of this exercise, I'll try to find the best two-for-one or three-for-one deals that could be offered for Price.
Here are the five teams I view most likely to trade for Price, along with potential deals involving each club:
The Angels appear to be the favorite to win the American League's first wild-card berth, and they actually have a legitimate shot of overtaking the Oakland A's and winning the West. A deal for Price would certainly seal the deal, and the Angels have enough to make it work. They might not have the young starting pitching the Rays would ideally seek, but they do have the bats to get it done.
C.J. Cron
would have to be the central piece in the deal, and given his potential to develop into a 30-homer, middle-of-the-lineup hitter, he'd be a perfect fit for the Rays, who are trying to build the middle of their lineup to complement
Evan Longoria
and
Wil Myers
. Sure, the Rays have
James Loney
signed for two more years, but the Rays could have Cron and Loney share the first base and DH slots until Loney's deal is up, or they could trade Loney this offseason, given his affordable contract.
September, 26, 2012
9/26/12
5:56
PM PT
ANAHEIM, Calif. –
Los Angeles Angels
manager Mike Scioscia knows there are several strong candidates for the American League Cy Young award, but on a night when his team was facing one of them --
Seattle Mariners
ace
Felix Hernandez
-- Scioscia made the case for his own ace,
Jered Weaver
.
"There's no doubt he's in the middle of the conversation," Scioscia said. "I don't think there's anybody that can deny that. I think Weave has meant more to our team than probably any pitcher on any staff just for the fact that we're even talking about a pennant race. Weave had to step up and do what he can do because for a while he was lone soldier out there start after start when the rest of our rotation was trying to find itself for what seemed like an eternity. Weave was the only guy out there giving us what he had and giving us production we expected, which at least kept our heads above water."
Weaver is first or tied for first in the AL in winning percentage (.826), wins (19), WHIP (1.00), third in ERA (2.74) and he's holding hitters to a .213 batting average, best in the American League. Weaver, however, has probably dropped behind
Justin Verlander
, Hernandez and
David Price
in the Cy Young conversation but his 2.10 ERA in September has him right back in the conversation and the Angels right back in playoff contention.
"He's kept us in a position to reach our goals," Scioscia said. "Maybe the one thing a starting pitcher cannot control is a win or a loss, but he's pitched well enough and deep enough into games on a consistent basis to have a chance to win 20 games and that says a lot for how consistent he's been."
Tonight's lineups:
Seattle Mariners:
Dustin Ackley
, 2B
Franklin Gutierrez
, CF
Kyle Seager
, 3B
Jesus Montero
, DH
Justin Smoak
, 1B
Miguel Olivo
, C
Casper Wells
, RF
Chone Figgins
, LF
Brendan Ryan
, SS
Felix Hernandez, P
Los Angeles Angels:
Mike Trout
, CF
Torii Hunter
, RF
Albert Pujols
, 1B
Kendrys Morales
, DH
Alberto Callaspo
, 3B
Howie Kendrick
, 2B
Erick Aybar
, SS
Mark Trumbo
, LF
Chris Iannetta
, C
C.J. Wilson
, P
September, 13, 2012
9/13/12
7:23
PM PT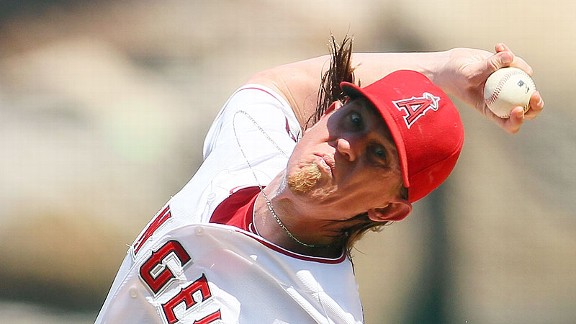 Victor Decolongon/Getty ImagesJered Weaver returned to the rotation after skipping a start and looked as good as ever Thursday.
ANAHEIM, Calif. --
Jered Weaver
has been with the
Los Angeles Angels
long enough to know this isn't where they want to be this time of year. Chasing, pressing, scratching and clawing their way into a playoff spot, rather than lining things up for a deep playoff run.
He was a young pup back in the days when the Angels were the kings of the American League West.
John Lackey
was the staff ace then, and man, doesn't that feel like a long time ago?
Weaver is indisputably the ace of the staff now. The guy the team turns to when it absolutely, positively, needs to win a game. And a moment like that arrived Thursday afternoon with the
Oakland Athletics
on the verge of their first four-game sweep of the Angels since 2001.
Had the Angels been where they want to be this time of year, where their payroll and the talent on their roster projected them to be, Weaver might have been able to rest his tired right arm another week or two.
But the Angels don't have that luxury now. Not when they're still on the outside of the AL wild-card race looking in with just 19 games to go.
So Weaver did what an ace does, coming back to strike out nine and allow just two hits in a walk over seven dominant innings against the previously sizzling A's in a 6-0 win that added fresh kindling to the Angels' flickering playoff chances.
Weaver did his part Thursday, stepping up with a dominant performance in a game the Angels absolutely had to have.
"I wanted to set the tone," he said. "We obviously didn't want to get swept. And the first three games of this series obviously didn't go the way we'd like them to. These guys are playing real good baseball. You can't take them lightly. They're playing the game hard. They're battling just like we're trying to."
While the score looks like a blowout, it was far from it. Weaver and Oakland's
Brett Anderson
were locked into a classic pitcher's duel through six scoreless innings. Things only loosened up in the bottom of the seventh when Angels outfielder
Torii Hunter
slammed a solo home run that seemed to open the flood gates as the Angels batted around to score six runs and chase Anderson in the process.
Having shut down the A's almost completely, Weaver left after throwing 94 pitches in seven innings.
It was what an ace does.
The question is whether it's what a Cy Young winner does.
August, 16, 2012
8/16/12
10:52
PM PT
By
Andy Kamenetzky
| ESPNLosAngeles.com


ANAHEIM, Calif. -- When a team is fighting for a wild-card spot in mid-August, any loss is, by definition, bad news. But a 7-0 loss to Rays, whom the Angels happen to be chasing in that race, on a night when the A's -- a divisional rival also being chased -- won, cranks up the "bummer" factor threefold. Plus, that whole "can barely reach base, much less score" thing leaves a bad taste in one's mouth. And while everyone is certainly happy for pitcher Steven Geltz making his big league debut, that's likely not enough to offset the bigger picture.

THE GOOD

Alberto Callaspo: Remember that movie "Multiplicity," in which Michael Keaton clones four versions of himself to keep up with the responsibilities of a hectic work life and home life? Well, the Angels needed to give Callaspo the same treatment, but nine times over, since he was among the only guys capable of hitting Rays lefty David Price.

The lone multihit Halo, his first of two hits was a two-out double to briefly extend the second inning. Unfortunately, Vernon Wells proceeded to strand Callaspo with a fly out to right. I'd say this was the story of the Angels' life tonight, except they didn't have enough baserunners for the metaphor to work.

Scattered defense: At the top of the broadcast, it was noted that upon his 38th start in left field, Vernon Wells has yet to make an error. Immediately, you're thinking "jinx!!!" Instead, Wells upped the ante in the third inning with a sliding backhanded grab, robbing Carlos Pena of a perhaps a multiple-base hit.

Later, Howie Kendrick stretched high for a backhanded grab to snag a shallow-center bloop and rob poor Pena of yet another hit.

Jerome Williams: Yeah, a fifth-frame breaking pitch clearly didn't fool Evan Longoria and resulted in a two-run homer to center. But the game was already out of hand and that one pitch accounted for the only hit surrendered over 4.1 innings. Factor in the six strikeouts, and the hurler did a very nice job in long relief.

THE BAD

Dan Haren: The starter's first frame featured three batters faced, but also 18 pitches, which isn't the most efficient pace. In other words, there were signs his night could move in two directions. Unfortunately, the answer was: south.

Small problems began in the second inning with a solo shot surrendered to Ben Zobrist on a 2-2 meatball served right up the middle. The third baseman couldn't have asked for a better opportunity, nor did he waste it. Still, Haren shook off the mistake well enough to avoid damage for the remainder of that frame and the next.

But the fourth inning was a killer.

Another solo shot kicked off the proceedings, this time a fastball left up for B.J. Upton to crush into left field. Four additional singles in succession, followed by a sacrifice to center resulted in a quartet of runs added to Haren's résumé. Throughout the stretch, Haren continually left pitches where he shouldn't, and Rays batters might as well have been playing T-ball. After Jose Molina -- the eighth batter of the inning -- singled to right and put men on the corners, Mike Scioscia decided he'd seen enough. Jerome Williams was summoned to clean up the mess, and Haren was left to sit in the dugout to ponder his second consecutive start torched by the inability to finish the fourth inning.

No runs/five hits: Coming into tonight's game, the 17 combined runs Tuesday and Wednesday against Cleveland felt like a cause for celebration. Now they serve as a cautionary tale about the failure to pace oneself.

David Price: As in, David Price was a bad, bad man this evening.


April, 24, 2012
4/24/12
8:18
PM PT
Albert Pujols
is in one of the worst slumps of his career, and now he's got company.
The Angels brought some cold bats to Tampa Bay and ran into one of the league's tougher pitchers,
David Price
, on Tuesday night. The result was a predictably lifeless 5-0 loss at Tropicana Field.
The Good:


Finding room.
Mark Trumbo
has no idea where he's going to play on a given night. He has played five different positions in the last five games. But at least he knows he'll likely be playing. Manager
Mike Scioscia
, after a meeting with
Torii Hunter
, has found ways to get Trumbo onto the field. Tuesday he was playing right field for the second time in his career and Hunter was at designated hitter. Trumbo didn't do much with the bat -- 1-for-4, breaking up Price's no-hitter in the fifth -- but neither did anybody else.
David Carpenter.
The sidearmer is giving the Angels an interesting look in their bullpen. He pitched a solid 1 2/3 innings and just might be locking up a bullpen job after a brilliant 2011 in the minors. Of course, take what happened Tuesday with a grain of salt. This bullpen has proven nothing when it comes to protecting leads. It seems to shine in mop-up time.
Stretches of Santana.
Granted you have to be creative to get
Ervin Santana
in this section since he's 0-4 and is giving up home runs at an historic rate. But frankly, for a guy who has given up 10 home runs in four games, including four solo shots Tuesday, he has stretches where he looks as good as ever. If he could factor out first innings and home runs, he'd look like a Cy Young contender. Oh, wait, no he wouldn't because the Angels aren't scoring any runs for him.
The Bad:
Pujols' press.
He hasn't gotten a hit since Thursday night, a four-game stretch of futility that is longer than any slump he endured last season, his worst year in the majors. He also has yet to homer this season, as you may have read, in 69 at-bats. The guy needs to snap out of this fairly quickly or there's no telling the depths he could pull this team to right now.
Santana's command.
In the first inning, Santana left a fastball just above belt-high in the heart of the plate for
Desmond Jennings
. To absolutely no one's surprise, the ball carried about 15 rows into the left-field stands. Santana only has two pitches and, when he's locating the fastball this poorly, he's going to be in for trouble. You also have to wonder whether he's tipping his pitches. His stuff is too good to pitch this poorly, so maybe they know what's coming.
Power outage.
It goes on. Santana has allowed nearly as many home runs, 10, in four games as the Angels have hit in 17 games, 11. Perhaps he could throw batting practice this week to get hitters on track? The Angels have to find a way to form a little offensive chemistry and the occasional home run wouldn't hurt that search.
June, 6, 2011
6/06/11
10:27
PM PT
ANAHEIM -- In his first appearance on the Angel Stadium mound since starting the 2010 All-Star game, David Price dominated the Angels for seven innings in the Tampa Bay Rays 5-1 victory Monday.

Then again, you don't have to be David Price to shut down the Angels these days. It seems like everybody is doing it. The Angels have gone 9-16 since May 10 and have scored three runs or fewer in six straight games.

The Good:

Clutch hit. Vernon Wells hit a three-run double. Unfortunately for the Angels, it was at a place called High Desert, where the club's Single-A affiliate was playing Monday night. Wells, who was batting .183 when he went on the disabled list May 10, played his second rehab game and figures to be activated before Tuesday's game.

Clutch hit. When Jeff Mathis bounced a single up the middle to drive in Mark Trumbo in the eighth inning of a game that felt like a lost cause, something felt new about it. The Angels had been 0-for-4 with runners in scoring position to that point, kind of a typical night for this team right now.

Hits, period. Maicer Izturis had a couple and seems to have emerged from his long slump; Torii Hunter and Trumbo had ringing doubles to the opposite field. The Angels didn't generate much offense, but three of their key hitters at least showed a pulse.

The Bad:

Streak halted. Tyler Chatwood had been on the best roll of his young career, having allowed one run or fewer in four of his previous five outings, but the Angels didn't support him in the field early and he left a pitch over the middle of the plate that .083-hitting Justin Ruggiano smashed for a two-run home run.

Alertness. The Angels' infield looked like it wasn't ready for the start of the game. In the first inning, three balls that could have led to outs ricocheted off infielders' gloves, one of them for an error (on Alberto Callaspo). Chatwood throws a sinker and gets a ton of ground balls, so it was a bad way to launch his outing.

Atmosphere. There were about 30,000 fans at Angel Stadium to begin the night and half of them, many looking utterly bored, had left by the eighth inning. It's hard to blame them for walking. This team's not very fun to watch right now. The Angels are batting .239 at home and averaging 3.2 runs per game here.