Los Angeles Angels:

Derek Jeter
July, 13, 2012
7/13/12
8:31
PM PT
By
Mike Mazzeo
| ESPNLosAngeles.com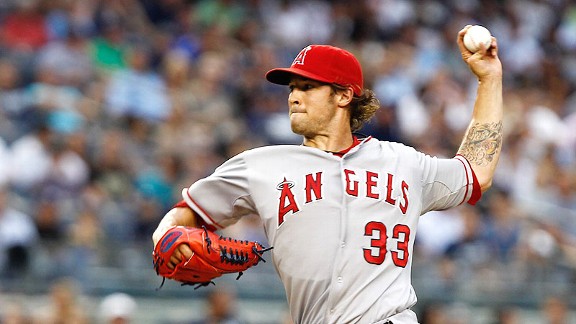 Debby Wong/US PresswireC.J. Wilson was in line for the victory Friday before the Angels' bullpen suffered a rare implosion.
NEW YORK -- The Los Angeles Angels got exactly what they wanted: seven innings of two-run ball from southpaw
C.J. Wilson
and a lead heading into the eighth.
But as their normally untouchable bullpen found out Friday night, no lead is safe at Yankee Stadium.
Scott Downs
gave up four earned runs in two-thirds of an inning and the Angels blew a 5-2 lead, ultimately falling to the New York Yankees, 6-5.


"It's been almost a no-brainer all year," said
Mark Trumbo
, who blasted an estimated 435-foot three-run homer -- his team-leading 23rd of the season -- in the seventh to put the Angels up, 4-2. "This one of those anomalies that you probably won't see for a long time."
He's probably right.
Consider: The Angels have blown just two saves in their past 29 games, while Downs had given up just one earned run in his first 30 appearances this season, pitching to an unfathomable 0.30 ERA.
"I just made a couple mistakes," Downs said. "And good hitters hit mistakes, and that's what they hit."
Derek Jeter
led off the eighth by staying inside a sinker from the left-hander and driving it into right-center for a double.
Curtis Granderson
followed by laying off a 3-2 sinker and drawing a walk.
Then Downs hung a curveball when he was ahead in the count to
Mark Teixeira
, and just like that, the score was tied.
"There's no excuse," replied Downs, who hadn't give up three runs in a game since Aug. 28, 2010, when asked if the layoff during the All-Star break was the reason for his poor outing. "I felt fine. That's just baseball.
"It's behind me. It was already behind me until you all came up and started talking about it."
July, 1, 2012
7/01/12
4:25
PM PT
First comes the speculation, then come the announcements, then comes the grumbling.

It's a yearly tradition around the All-Star Game, and why not? It's all in good fun and if you're not complaining, you're not paying attention.

Angels fans could find themselves whipping up some indignation this year if they really wanted to. What about Scott Downs? Ernesto Frieri should have made it outright, not just to a five-player vote-off in which he stands no chance (mostly because nobody north of Bakersfield or east of Blythe has ever heard of him).

Yet Angels fans have rarely had a moment like this to gloat. Not only are the Angels better-represented at the game with Mike Trout, Mark Trumbo, Jered Weaver and C.J. Wilson than at any time since 1995, but Trout continues to blaze a path few have traveled, or at least way before most do.

Trout, 20, is only the 18th player in major-league history to have reached an All-Star game before his 21st birthday, according to research by the Orange County Register. Half the players getting dressed in the clubhouse with him in Kansas City were entering pro ball when Trout was still bottle-feeding, including fellow New Jersey native Derek Jeter, 38, Trout's childhood hero.

Of those 18 precocious players, six already are in the Hall of Fame and three others, Alex Rodriguez, Ivan Rodriguez and Ken Griffey Jr. might be headed that direction.

On TBS' selection show, former major-league pitcher David Wells called Trout "the most electrifying player in the game."

It's particularly telling that Trout and teammate Mark Trumbo were voted in by fellow players. Few of us really know what it's like to hit a 94-mph fastball, a nasty slider or a heavy sinker. Few of us know what it's like to do something that difficult in front of 40,000 people and to have to answer questions about why we couldn't do it after the game. Players know and they can ferret out the true talents from the flashes in the pan.

It seems telling that the NL players didn't vote in Bryce Harper while the AL players were all over Trout. Neither Trout or Trumbo appears to be a flash in the pan, though they got here by different paths, Trout the short road and Trumbo the meandering trail, not sticking in the majors until he was 25. The rest of the country will get a glimpse of Trumbo's power when he participates in the July 9 Home Run Derby on ESPN.

"They are talented -- very talented -- kids," Texas manager Ron Washington said Sunday of the Angels' T and T duo. "I think Trumbo has tremendous power. He's in a position right now as a young ball player that's learning how to play different positions, which is tough at the major league level. He's handling it extremely well. He's a deep threat at the plate.

"You've got Trout, who runs like a fullback on a football team. He's got talent and power and can change the game. That's two talents these Angels have and they certainly have a lot to look forward to in the future."

That kind of seems to be the point this year.

ESPNDallas.com's Richard Durrett contributed to this report.
May, 29, 2012
5/29/12
10:49
PM PT


ANAHEIM -- Tuesday marked the 17-year anniversary of Derek Jeter's major league debut.

Mike Trout was 3½ and probably had been asleep for hours when Jeter first stepped into a major league batter's box at the old Kingdome in Seattle on May 29, 1995.

Now Trout, 20, isn't just sharing a field with legends such as Jeter and a clubhouse with legends such as Albert Pujols, he is, at times, looking like he can play in their club.

And, as the Angels continue on this torrid streak that came out of nowhere, the emergence of Trout and the continued dominance of Mark Trumbo are part of the most encouraging storyline yet: The Angels are showing an explosive blend of young energy and veteran savvy.

Tempered with the return to form of seasoned, tested veterans such as Pujols and Dan Haren, young players have carried the Angels back to relevance. That blend has been there since those early days of spring training, but like most positive storylines, it was buried under a brutal six-week stretch to open the season.

Now that the Angels have won eight in a row and popped above .500 at last, it's beginning to poke through.

"This is how we expected to play. It's not like we're playing out of our minds," Haren said.

Tuesday's 5-1 win over the New York Yankees may have been the most well-rounded nine innings the Angels have played this year. Haren continued to dominate, going seven strong innings the day the Angels announced Jered Weaver was going on the disabled list. The bullpen stayed on its roll; Trout and Peter Bourjos made brilliant running catches and Trumbo and Pujols both hit mammoth home runs.

For a while, this team was just looking to take solid steps forward. Then, it broke into a jog. Now, it looks like it is in a full-fledged sprint. If it can beat the Yankees -- a team that had won five in a row coming in -- Wednesday night, it would have its first nine-game winning streak in eight years.

"When you're not swinging the bat, you're going to look dead," Angels manager Mike Scioscia said. "We probably looked dead for about a month. It's tough to create energy when you're not getting on base and you're not moving runners and you're not getting into your game.

"Conversely, we've been doing a much better job getting on base, we've been driving the ball better, we've been putting some guys in motion."

And, if you believe the law of inertia, a body in motion tends to stay in motion.

February, 7, 2012
2/07/12
12:08
PM PT
For generations now, the Gold Glove award for American League shortstops has been more of a coronation than a competition.

From 1993 to 2001, the Cleveland Indians' Omar Vizquel won it every year and, from 2004 to 2010, Derek Jeter won it five times. Finally last fall, Erick Aybar -- just as Orlando Cabrera had done four years earlier -- got enough attention from the league's managers and coaches to bring the trophy west.

Aybar became the third Angels shortstop to win a Gold Glove, joining Cabrera (2007) and Jim Fregosi (1967).

It was a fitting moment for a player who had dramatically changed the direction of his career, a U-turn equally dramatic on the infield as it was in the batter's box. Aybar's batting average improved by 26 points from 2010 to 2011; he scored two more runs and drove in 30 more; He stole 30 bases and hit twice as many home runs (10) as he ever had.

But the Angels felt Aybar's impact most when they were in the field. He cut down his errors from 21 to 13. He helped turn 51 double plays, nearly double his 2010 total (26). His range factor, assists and fielding percentage were all in the top four among major-league shortstops.


September, 10, 2011
9/10/11
9:10
PM PT
ANAHEIM -- The Angels look like they're serious about this whole pennant-race thing.

With a dominating 6-0 win over the New York Yankees Saturday night, the Angels pulled to within 1 1/2 games of the Texas Rangers in the AL West. This is the closest the Angels have been to first place since Aug. 10.

The Yankees hadn't seen pitching this good in a while. It was the first time anyone had held them to one run or fewer in back-to-back games since the Baltimore Orioles did so in September of 2004.

The Good:

Ace race. Dan Haren (15-8) pitched just a tad better than Jered Weaver had the night before, going an extra inning and securing the win. Haren's fastball didn't touch 90 mph all night, but he still picked up his fifth career shutout. Power hasn't been a part of either pitcher's success lately, but the results are just as dominant. It was Haren's best outing since a complete-game shutout against the Detroit Tigers on July 5.

Young talent. Mark Trumbo and Mike Trout, a pair of rookies, sparked most of the Angels' offense, which wasn't much until the seventh inning. Trumbo had three singles off CC Sabathia and Trout doubled and drove in the Angels' second run with an excuse-me bloop single to right. If you're projecting the Angels' future, these guys would be right in the middle of things. In fact, they're right in the middle of the present.

Beleaguered catcher. Jeff Mathis has had a rough year. He came into the game batting .176 and he's been relentlessly beaten up in the media and on message boards and call-in shows. But the Yankees seem to bring out the best in Mathis' bat. He pounded their pitching in the 2009 playoffs and Saturday he doubled, homered and scored two runs.

The Bad:

Grinding halt. Vernon Wells just can't sustain any positive momentum. He had it going for a while, but that push has come crashing to a halt in the last few series. Wells went 1-for-5 and stranded eight runners, seemingly defusing every Angels rally for a while. He is 7-for-32 (.219) since the Angels returned from Seattle.

Kendrick's jump. The Angels figured they would test catcher Jorge Posada, considering the 40-year old hadn't caught all season, so Howie Kendrick tried to steal... and was thrown out easily despite an awful throw from Posada. Kendrick is not a great base stealer. He has 13 stolen bases this year and has been caught five times.

Lineups? Is it time to put the Trout Effect to the test? The Angels are 20-4 in games Trout has started, but the 20-year-old uber-prospect still often is benched when the Angels are facing a right-handed pitcher. Maybe Mike Scioscia should ditch that strategy and give Wells a day off instead against Freddy Garcia Sunday?
August, 10, 2011
8/10/11
8:41
PM PT
By
Mark A. Simon
| ESPNLosAngeles.com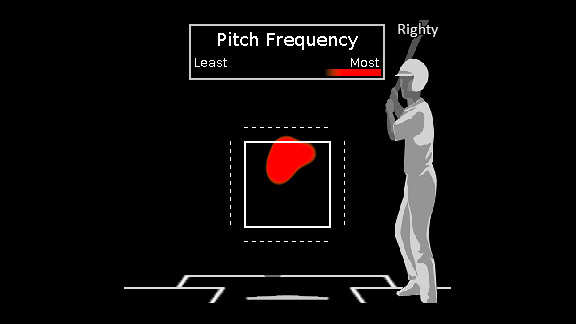 Garrett Richards had limited success against the Yankees on Wednesday, but he was able to get outs by keeping his fastball up (as noted by the red shading) against right-handed hitters.
NEW YORK -- At least Angels rookie
Garrett Richards
will be able to look back on his major league debut and say he struck out a baseball legend.
Richards 95-mph fastball was a little too hittable Wednesday night in the Bronx. He gave up six runs and six hits in five innings. He got his first visit from pitching coach
Mike Butcher
after 12 pitches and two walks, then allowed the first of two home runs to
Curtis Granderson
on his 14th straight fastball. Richards' first 16 pitches of the game were fastballs.
"That's his pitch," said Angels catcher
Jeff Mathis
. "He throws it hard and has good movement with it. I was just trying to get him to find the zone."
Richards had some success in the middle innings, as he worked in his slider, though he didn't get a swing-and-miss on any of the 32 he threw in this game, and an occasional changeup.
"As he refines things, I think you're going to see a very good major-league pitcher," said Angels manager
Mike Scioscia
.
Richards was able to locate the ball up in the strike zone against right-handed hitters, as noted in the heat map at the top of this post.
June, 4, 2011
6/04/11
8:54
PM PT
ANAHEIM -- The Angels were baffled by CC Sabathia and Alex Rodriguez hit a majestic home run off Ervin Santana to give the Yankees a 3-2 win at Angel Stadium, just their fifth win there in their last 13 tries. Mariano Rivera threw one pitch to earn his 15th save, getting Erick Aybar to hit a pop-up to shortstop to end the game. It was Rivera's 1,003rd game and, surely, one of his least-stressful.

The Good:

Abreu's at-bats. Entering Saturday, left-handed hitters were batting .178 against Sabathia. That didn't seem to bother Bobby Abreu, who stroked three singles to left field and is now 6-for-12 against the big lefty. Abreu has been in a rather torrid stretch lately, with 10 hits in his last four games. He has played 57 games this year and failed to get on base in only 10 of them.

110 pitches. Santana threw 112 of them and only two of them cost him runs. Robinson Cano's shot carried into the shortest part of the stadium and Rodriguez's into one of the deepest, with plenty of room to spare. Santana has been on a nice roll and Saturday was a perfectly solid effort aside from the two home runs.

Aussie rules. Rich Thompson is probably in line for a bullpen promotion one of these days. He rarely pitches -- just three appearances in the 15 games before Saturday -- but he has been nasty when he gets into games. Thompson struck out three Yankees in two innings and leads the Angels' bullpen with 30 strikeouts.

The Bad:

Inches. Torii Hunter went flying into the right-field stands, flipping over the low wall in the corner, but he couldn't catch Cano's drive in the fourth inning. It seemed to sail a few inches over his glove for a home run to snap a scoreless tie. Hunter was lucky he didn't get hurt.

Latest slump. For two months, Maicer Izturis might have been the Angels' best player. Not lately, at least offensively. Izturis is stuck in one of the deeper slumps of his last few years, seven hits in hist last 51 at-bats (.137) over his last 15 games.

Kendrick's luck. For a guy who hadn't seen live pitching in more than two weeks, Howie Kendrick looked perfectly in-sync in the batter's box. He didn't have any hits, but he hit two balls rather squarely and was robbed of an infield hit by Mark Teixeira's dive to touch first base with two runners on in the eighth.
June, 3, 2011
6/03/11
10:23
PM PT
ANAHEIM -- Angels ace Jered Weaver emerged from his May haze to win for the first time since April 25 as the New York Yankees continued to struggle in Orange County. The Angels have won 12 of their last 16 home games against the Yankees.

The Good:

Grinding. Sure, Weaver (7-4) had to throw 52 pitches to get through two innings and his fastball hasn't been nearly as fast and it has led to more balls, but he managed to fight through the early innings and then found his tempo. Weaver labored through four innings, but breezed through his last three and, voila, managed to win for the first time since April. Weaver struck out eight and only gave up three hits.

Breaking out. He takes a lot of heat for his hitting, but Peter Bourjos has the third-best OPS in the American League among players 24 and younger. Only Cleveland's Michael Brantley and Seattle's Justin Smoak have him beat. That's not bad for a guy who plays game-changing defense at a premium position. Bourjos had been in a brutal month-long slump (.171 in May), but he had a nice night with a couple of hits to left field.

Unorthodox managing. Mike Scioscia left himself open to some criticism for letting lefty Scott Downs pitch to Alex Rodriguez with the tying run on base in the eighth inning. Most managers would have had the knee-jerk response to bring in their best right-handed setup man. But Downs has been a far more effective pitcher than Fernando Rodney this season and it worked out. Rodriguez fell behind and then hit a harmless bouncer to third for the inning's final out.

The Bad:

Insult. It had to kill Torii Hunter inside when Joe Girardi opted to walk Bobby Abreu intentionally to get to him with a runner on second in the seventh inning. But the numbers supported the decision. It gave Girardi a righty-on-righty matchup and Abreu was a .275 hitter with runners in scoring position entering the game while Hunter was hitting .242 in those spots. David Robertson struck out Hunter looking and Russell Martin threw out Maicer Izturis at third for a double play.

Booing Mark Teixeira. Enough already. It has been three years. He was only here for two months.

Big bat? Is this Russell Branyan thing just not working out? The big designated hitter did have a base hit -- a broken-bat bloop single to left -- but Scioscia pinch-hit for him (with seldom-used catcher Bobby Wilson) against a lefty in the eighth inning. In 23 at-bats with the Angels, Branyan has three singles. Wilson had a productive out, a bouncer to the second baseman to advance the runner. Scioscia was probably trying to protect against a strikeout.
June, 3, 2011
6/03/11
10:50
AM PT
OK, perhaps that's a bit too strong. But during the apex of the New York Yankees' most recent dynasty, no team gave them more trouble than the Angels.

From 2000 through 2007, Mike Scioscia was the only manager to have a winning record against Joe Torre's Yankees. Scioscia was the only manager ever to beat Torre twice in the postseason, in 2002 and 2005.

The hex, as some called it in New York, began to wear off in 2009, when the Angels lost in six games to the Yankees in the ALCS. The Angels lost all three games they played at Yankee Stadium. In the past two seasons, the teams have split the season series, 5-5 and 4-4.

What was it about the Angels that made them so tough for the powerful Yankees? I caught up with Torre a couple of years ago when he was managing the Dodgers to get a sense of that. He attributed it two two primary things -- Scioscia's managing ability and the Angels' capacity to pitch and manufacture runs in key spots.

"It always seemed like, as the game went along, you'd get this feeling that something bad was going to happen," Torre said.

It sometimes happened on the bases. The Yankees weren't used to aggressive base running playing in the powerful, but plodding AL East for all those years. When the USA lost to a much smaller Japan team in the World Baseball Classic a few years ago, Derek Jeter compared it to playing the Angels.

The Angels can only hope their sway over New York isn't completely over because this weekend's three-game series could be an important test of the psyche as the season reaches its middle third. The Angels enter the series sitting at .500. The Yankees are in first place and eight games over .500, but they haven't won a season series at Angel Stadium since 2004.

Editor's note: This story is part of an occasional series of Angels Moments which, when it's complete, will -- we hope -- add up to 50. The Angels are celebrating their 50th anniversary this season. These are not intended to be an exhaustive list, but simply an assembly of scenes and anecdotes that are part of the team's colorful past.