Los Angeles Angels:

Derek Lowe
May, 4, 2012
5/04/12
10:50
PM PT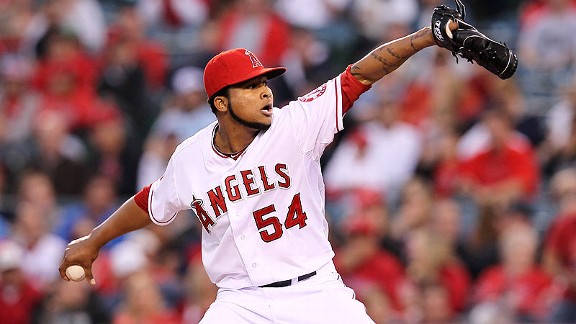 Stephen Dunn/Getty ImagesErvin Santana became the first pitcher in Angels history to lose his first six starts of the season.
ANAHEIM -- The shy smile on
Ervin Santana
's face was telling.
"I don't know how to explain it," Santana said, shrugging his shoulders following the Angels' 4-0 loss to the Toronto Blue Jays on Friday night.
Santana had just become the first Angels pitcher in club history to lose his first six starts of a season, though not entirely by his doing. He has, up to this point, received just three runs of support and the Angels have been shut out in each of his last five outings. He has faced the likes of Kansas City's
Jonathan Sanchez
, Oakland's
Bartolo Colon
, Cleveland's
Derek Lowe
and, Friday, Toronto's
Henderson Alvarez
-- not exactly a list of leading Cy Young Award candidates.
According to Stats Inc., Santana is the first pitcher since at least 1974 to have his team shut out in five straight starts.
"I don't care about my record right now, I just care about pitching well," Santana said. "That's my goal right now. If I don't win it doesn't matter. I want to pitch at least seven innings every time."
He went eight innings Friday and struck out 10 batters, both season highs. He was in good rhythm early, until
Jose Bautista
tagged him for a towering home run in the third. The sequence seemed to drain the energy out of the 33,160 at Angel Stadium.
"Ervin pitched a great ballgame," manager
Mike Scioscia
said. "We just couldn't get him any breathing room."
It must be difficult, then, for Santana to pitch with such caution, knowing that one mistake could prove costly.
"I know we're doing all we can to score runs," he said, "but it's not coming for me yet."
April, 29, 2012
4/29/12
2:47
PM PT


The Angels are in a hitting slump of staggering proportions.

They managed just three hits in a 4-0 loss to Derek Lowe and the Cleveland Indians and have scored 11 runs in their last seven games, in which they are 1-6. The Angels (7-15) collected a total of 12 hits in the three games in Cleveland and have won just one series since the season began.

The Good:

A good start. Ervin Santana finally managed to keep the ball inside the park and he easily pitched well enough to pick up his first win with May just around the corner. But a Torii Hunter two-run error -- he lost a ball in the sun -- and paltry run support did him in. Still, pitching at the scene of his 2011 no-hitter, Santana (0-5) seemed to channel the form of late last season and maybe that will help him get on track.

Scoring change. Major League Baseball instituted new guidelines for official scorers this season, allowing them to charge an error on balls that fielders don't get a glove on. No way a harmless fly ball should have cost Santana two earned runs. Small consolation, but some consolation.

Kendrys' bat. OK, a couple of harmless singles hardly feels worthy of major praise, but the bar is set pretty low for this offense right now. Kendrys Morales isn't exactly killing the ball, but it just feels like he's one of the best nine hitters on the team right now and he probably should be playing a little more than he has been.

The Bad:

The flub. When you score as little as the Angels do, mistakes aren't magnified, they're super-sized. Hunter's error was his 36th in 16 seasons. You can't call it the pivotal moment, because the Angels would have lost anyway. They didn't score any runs.

The slump. Instead of detailing it every day, we should just run a chart. Albert Pujols has now gone his first 88 at-bats without hitting a home run and, lately, he's not hitting anything. Pujols is batting .216. It's starting to look like a painful mental grind, somewhat along the lines of what Adam Dunn and Carl Crawford went through last year after switching teams.

The strikeout. Sometimes, it just takes one swing to snap a team out of its funk. Howie Kendrick had a golden opportunity to change everything after the Angels loaded the bases in the eighth inning. Instead, he struck out on four pitches from reliever Vinnie Pestrano, the last one a 92-mph fastball.
May, 22, 2011
5/22/11
4:18
PM PT
As Atlanta reliever Scott Proctor was warming up in the seventh inning, fans behind the Angels dugout got wind of Bobby Abreu's milestone – the right-field scoreboard tipped them off -- and gave him a localized standing ovation.

Abreu, standing on second base, looked like he didn't know what to do with himself. He sheepishly reached for his helmet, but never got it all the way off.

He's always been a bit unassuming, maybe a bit underappreciated.

With Abreu's RBI double that thwacked off the right-field wall, he pulled into a tie at No. 32 with Lou Gehrig on the all-time doubles list, with 534. He's got seven more Hall of Famers, including Tony Gwynn and Rogers Hornsby, in his sights and probably will pass them by the end of this season.

These, of course, are not minor names in baseball history. Tris Speaker has the career record for doubles with 792, followed by Pete Rose at 736. Abreu would need to play until he's about 50 to have a chance to catch those guys.

Abreu, 37, played with the New York Yankees from 2006 through 2008, but he said he's never visited Gehrig's monument at either Yankee Stadium. He said he felt emotional after tying Gehrig.

"It's a long career," Abreu said. "To get even 500, it's a lot. Five thirty-four, especially to tie Lou Gehrig, come on."

Abreu and Angels cleanup hitter Torii Hunter, 35, aren't relics, of course. They're the oldest players on the Angels' roster and clearly the leaders of an otherwise young lineup. Struggling to drive the ball most of the season, they've snapped awake in this series, going 9-for-21 combined with two home runs and five RBIs.

Hunter, 35, got a hanging curveball from Derek Lowe in the fourth inning and pummeled it over the left-field wall, his first home run in more than a month. He joked that he couldn't remember the last one, which came on April 21.

"I haven't seen one of those in a while. I've seen them on TV and I've seen that in the movies," Hunter said. "It's a lot of fun to get one out of the way for this month."