September, 19, 2012
9/19/12
11:30
PM PT
ANAHEIM, Calif. --
Detroit Tigers
manager Jim Leyland fired the opening salvo two days ago while his team was in Chicago.
When asked about
Miguel Cabrera
's season and the chances the Tigers third baseman could win the American League MVP, Leyland said "it would blow my mind" if Cabrera did not win MVP.
[+] Enlarge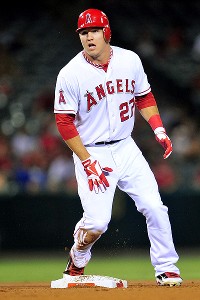 Gary A. Vasquez/US PresswireMike Trout is the first rookie with at least 25 home runs and 45 stolen bases and is the youngest to steal 40 bases since Ty Cobb in 1907.
"In this case, I'm not being partial," Leyland told reporters. "Sometimes we are. And I think you should be if it's your player; you're going to stick up for him more than somebody else's player, first. But this time, I'm not even being partial toward Cabrera."
Los Angeles Angels
manager Mike Scioscia wasn't about to return serve Wednesday night when he was asked about the MVP candidacy of his rookie center fielder,
Mike Trout
.
"I think there's a lot of variables that go into what makes up an MVP," Scioscia said. "For the guys that are voting, beauty is in the eye of the beholder. Some guys are going to put more weight on how a team finishes and some guys are going to put more weight on pure stats and some guys are going to have a combination of both. They're both putting up extraordinary numbers in certain areas. If you look at the whole body of Mike's work, there's no doubt that it compares to [Cabrera] and it will be interesting to see how it works out."
Scioscia sounded like a voter, trying to be politically correct, as he listed criteria for an MVP season before stopping with what he ultimately felt would decide the race, well, at least if he had a vote.
"There are some things that remain to be seen," Scioscia said. "Personally, I do put weight on where a team finishes unless a guy's stats are so far off the charts that no one is even near him. But I think the value to a team would have to influence in a positive way where a team would finish; I think it still remains to be seen. So I think in the last couple of weeks here, there's going to be something that will happen that will separate one guy from the other."
Sure, Scioscia could have easily lauded his player and said "it would blow his mind" if Trout doesn't win the MVP, but he knows better than that. After watching dozens of tight MVP races that came down to the final weeks of the season, he knows that the award will ultimately be decided by the team they play on, not necessarily by the numbers they put up during that time.
Then again, putting up numbers hasn't been an issue for Trout or Cabrera this season. It has been about getting the players around them to be as consistent as they've been. Cabrera leads the AL in batting average (.333) and RBIs (130) and he's second in home runs (41). Trout, who turned 21 last month and was called up on April 28, leads the league with 116 runs scored and 45 stolen bases. He is second in batting average (.327) and has 27 home runs. Trout is the first MLB rookie with at least 25 home runs and 45 stolen bases and is the youngest player to steal 40 bases since Ty Cobb in 1907.