Los Angeles Angels:

Dustin Pedroia
February, 3, 2012
2/03/12
11:02
AM PT
The Angels have gotten more attention for snatching up other teams' free agents lately, but two of their shrewdest signings in the past six months went to homegrown talent.
Less than five months after reaching what appeared to be a club-friendly deal to keep
Jered Weaver
in town for the entirety of his prime, the Angels (under a new GM) reached a similar agreement with
Howie Kendrick
. It's not just about dollars and sense, but about timing.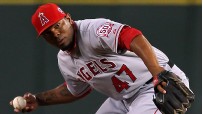 Otto Greule Jr/Getty ImagesSecond base is locked up with Howie Kendrick staying around.
Kendrick, 28, is coming off a career year and could be in position to take his game up another level while, presumably, batting in front of
Albert Pujols
. If his age and batting position converge to make Kendrick an offensive force, the Angels' four-year, $33.5 million extension with him will seem like bargain shopping.
He's starting from a pretty good place. Only four second basemen with at least 425 plate appearances last year had a higher OPS than Kendrick's .806. Two of them,
Robinson Cano
and
Dustin Pedroia
, are superstars and the other two,
Ian Kinsler
and
Ben Zobrist
, get more publicity than Kendrick does. Kendrick had the highest fielding percentage (.992) among AL second basemen.
When Kendrick broke into the major leagues, he was viewed as a potential future batting champion. Throughout the minor leagues, people wondered whether his fielder would ever be better than adequate. His career is taking a different trajectory. A .292 career hitter, Kendrick's power blossomed last season, with his home run total jumping from a habitual 10 to 18. Pitches that he used to hit into alleys, he lifted over fences. Kendrick used to be a doubles machine, but that total declined from 41 to 30 last season.
His ability to make routine plays is as reliable as any Angel and he occasionally makes spectacular diving stops. He has developed good timing with Gold Glove shortstop
Erick Aybar
after nearly a decade of working together, in the minor and major leagues. He'll never be mistaken for
Roberto Alomar
, but he is better with his glove than people expected.
With pitchers wary of facing Pujols with runners on base, they figure to pound fastballs against Kendrick. That should work in his favor as he has traditionally struggled to recognize and lay off sliders.
Bill James
projects Kendrick to regress slightly to a .287/.329/.441 line, but the Pujols effect could negate that.
Unless this season takes an unexpected turn, the Angels have little to worry about at second base.
May, 2, 2011
5/02/11
7:54
PM PT
BOSTON -- The Boston Red Sox slowed down the Jered Weaver express, wearing him out in a long fifth inning en route to a 9-5 victory at Fenway Park Monday night. It was their 14th win in their last 15 games against the Angels and Weaver's first loss of 2011.

Weaver (6-1) would have been the first pitcher in the modern era to go 7-0 on or before May 2.

The Good:

Early Weaver. After giving up a run in the first inning, Weaver hit a roll evocative of his entire first month. He retired eight straight batters at one point and 11 of 12 between the first and fifth innings. But he seemed to come slightly unhinged after the umpire ruled a 2-and-2 pitch to Jason Varitek was low. He threw 38 pitches in the fifth and gave up the tying and go-ahead runs on Dustin Pedroia's single that capped a 13-pitch at-bat.

New lineup. Mike Scioscia has tried 21 different lineups in 29 games. He might have found a top of the order worth sticking with for a while. Maicer Izturis, Bobby Abreu and Howie Kendrick combined for seven of the Angels' 12 hits, two runs scored and three RBIs.

Cleaning up. One key Angels hitter seems to have emerged from his slump. Torii Hunter has six hits in 14 at-bats on this trip. He did, however, hit into his major league-leading 11th double play and got thrown out at third on Vernon Wells' one-hop grounder to Adrian Gonzalez.

The Bad:

A lefty. Hisanori Takahashi toured the Green Monster before Monday's game, his first trip to Fenway. He might not like it as much after Monday's seventh inning. Takahashi gave up hits to two of the three men he faced, including Varitek, whose bat moves at a glacial pace these days.

A righty. The Angels bullpen, even the middle of it, had been pitching brilliantly, but -- as many things do when the Angels travel to Boston -- that came undone. Francisco Rodriguez walked the first batter he faced and the next three hit rockets to the deepest recesses of the park. Adrian Gonzalez and Kevin Youkilis mashed doubles off the wall and David Ortiz hit a towering drive over it.

Concentration. Peter Bourjos seems to make brilliant plays more easily than routine ones. He dropped Jed Lowrie's pop-up in the seventh inning, his third defensive flub in the last 10 days. Bourjos also struck out twice more and leads the Angels in that category.
April, 21, 2011
4/21/11
11:01
PM PT
ANAHEIM, Calif. -- The Angels walked a tightrope for 10 innings, but the Boston Red Sox finally broke through in the 11th for their second road win of the season -- and second in a row. They won 4-2 Thursday night at Angel Stadium, beating the Angels for the 10th time in the teams' last 11 meetings.

The Good:

Slump buster. Torii Hunter was in the worst slump of his career when he stepped to the plate in the seventh inning against Josh Beckett. Hunter had been overswinging for weeks and the result was a 3-for-38 (.079) freefall that had pushed his batting average to the brink of the Mendoza Line (.200). With a good at-bat and a powerful swing, Hunter launched a two-run home run into the trees in center field -- on a 3-and-2 pitch -- to tie the game.

Damage control. Tyler Chatwood learned a few things about pitching around trouble Thursday night, but you can only tempt fate so many times. The Red Sox's 11th base runner of the night finally made Chatwood pay when Jacoby Ellsbury broke his bat hitting a two-run single with two outs in the sixth inning. It was a second straight good start for Chatwood, 21, who seems to be gaining a foothold in the Angels' rotation.

Endless patience. Bobby Abreu can tend to wear out a pitcher's patience because he's got so much of it. Just as Beckett started getting tired as his pitch count crept into the 90s, Abreu worked the leadoff walk that led to Hunter's heroics. The Angels have 61 walks this year and Abreu has 17 of them.

The Bad:

Control. The Red Sox have one of those patient lineups that can annoy opposing pitchers. The Angels' pitchers played right into their hands, walking 11 batters and hitting another. Chatwood had five of those walks, but reliever Hisanori Takahashi had control issues, walking the first two batters he faced, and so did Fernando Rodney, who loaded the bases before getting out of it.

Judgment. Erick Aybar committed one of those baseball no-nos -- making the first out at third base -- at a bad time. He tried to stretch his line drive into the right-field corner into a triple leading off the eighth inning and J.D. Drew and Dustin Pedroia both made good throws to throw him out easily. If Aybar had been content with second, the Angels probably could have sacrificed him over and gotten the winning run in to set up closer Jordan Walden.

Boston's clutch. The Angels have had their own share of struggles with getting clutch hits, but nothing like the Red Sox have. Boston came into Thursday's game batting .200 with runners in scoring position, then managed to lower that by going 2-for-18.