Los Angeles Angels:

Elvis Andrus
June, 3, 2012
6/03/12
12:02
AM PT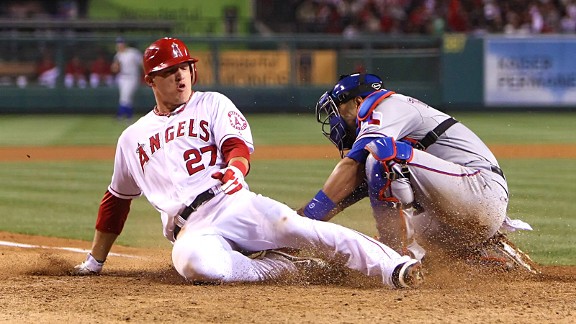 Jeff Gross/Getty ImagesMike Trout, who scored the winning run Saturday, has kept the Rangers on their heels lately.
ANAHEIM -- The Angels are a more uncomfortable team to play since they added
Mike Trout
.
It's not just the speed. It's the intent. He runs hard all the time, perhaps oblivious to the other major-leaguers who think playing at 70 percent most of the time is acceptable. And he knows what his speed can do to disrupt the other team, so he's looking to force it on them as much as possible.
The Texas Rangers are a seasoned ball club, probably the best team in the American League for the third straight season, but they looked flustered Saturday night trying to contain the white-and-red blur wearing 27 that thundered around them on the base paths.
Elvis Andrus
, an acrobatic defender prone to mental mistakes, twice allowed Trout's speed to flummox him. He rushed and threw high in the first inning for an error, then played back and realized he had no play -- not even bothering to throw -- on an infield hit in the seventh.
And Texas right fielder
Nelson Cruz
, whose powerful right arm normally prevents runners from trying to advance, couldn't throw Trout out on a close play at the plate that led to the winning run in the Angels' 3-2 win.
All of which led Angels pitcher
C.J. Wilson
to take a subtle, or perhaps intentional, shot at his former team.
"I think it was a misplay on (Andrus') part to not charge that ball and Cruz has one of the best arms in the league and he ran right in his face and scored," Wilson said. "The thing with Texas is they have a lot of defensive talent, but they also make a lot of errors. Tonight that was really the story.
"Trout is so fast, if you hesitate he's going to beat it out."
January, 20, 2012
1/20/12
10:11
AM PT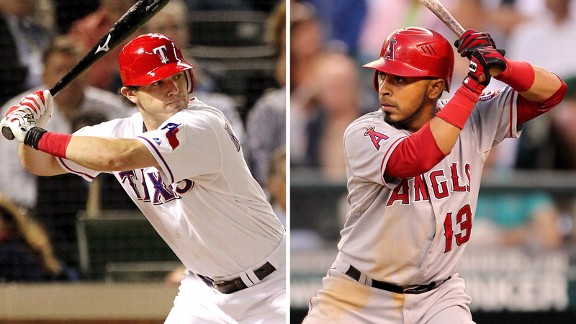 US Presswire/Getty ImagesIan Kinsler and Maicer Izturis bat leadoff, and that's about where the similarities end.
This is part of an occasional series comparing the rosters of the defending AL champion Texas Rangers and the rebuilt Angels, who could have the hottest rivalry in the league this year.
Neither team has the ideal leadoff hitter, but the Angels were -- and probably will be -- at a major disadvantage in setting the table for their big boppers. The two Angels who had the most at-bats leading off last year,
Maicer Izturis
and
Erick Aybar
, had on-base percentages in the leadoff role of .340 and .320 respectively. Izturis was slightly above-average, in other words, and Aybar was well below the league average.
The Rangers'
Ian Kinsler
was an offensive force, but you wonder whether the Rangers would have scored even more runs had he hit deeper in their lineup. He hit 32 home runs and 31 doubles as a leadoff hitter, getting on base at a .356 rate. But largely because of his slot in the order, only six of those home runs and 11 of those doubles came with runners on.
Texas manager
Ron Washington
might want to consider using
Elvis Andrus
once again as his leadoff hitter as Andrus had a .419 on-base percentage in a handful of games batting first. That would allow Kinsler to hit in a more suitable role, maybe second or seventh, say. The problem for Washington isn't really a problem. He has so many powerful hitters, finding a suitable spot for Kinsler isn't easy.
Angels manager
Mike Scioscia
figures to experiment more and more with using his fastest player,
Peter Bourjos
, in the leadoff spot. If the Angels are lucky, he'll grow into the role along the lines of Boston's
Jacoby Ellsbury
, who was easily the league's best leadoff hitter last year. Ellsbury is four years older than Bourjos and the Angels center fielder was rapidly improving as a hitter, so Bourjos looks like a candidate to take over the role. One key difference, of course, is that Ellsbury has shown a much greater willingness to walk. His career on-base percentage of .354 is 52 points higher than Bourjos'.
If Bourjos shows he's not ready to hit first, the Angels always have top prospect
Mike Trout
standing by. If they can find a place for him, he just might lock down the leadoff spot for the next 10 or 15 years. For now, advantage Rangers.
August, 28, 2011
8/28/11
8:27
PM PT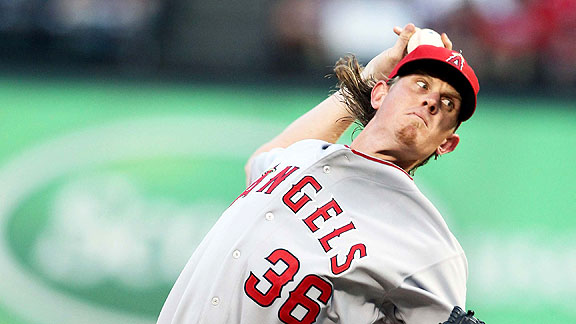 Tim Heitman/US PresswireJered Weaver pitched on three days' rest but didn't have his best stuff in a loss to the Rangers on Sunday night.
ARLINGTON, Texas -- The Angels built a three-run early lead, but fell apart in a couple of sloppy innings and lost the deciding game of their important three-game series against the Texas Rangers 9-5 Sunday night. Ace
Jered Weaver
struggled pitching for the first time in his career on three days' rest, allowing seven runs in in six innings.
The Angels slipped to three games back in the AL West.
The Good:
Hot Howie.
In his last 10 games,
Howie Kendrick
has lived up to his nickname: Truck. He's running over everything in his path. He's 16-for-40 (.400) with six home runs and 10 RBIs since the third game of the previous Texas series. It's been a streaky power season for Kendrick, who hits home runs in bunches -- early and late. He's already launched 14 long balls, well above his career high of 10.
Early action.
One of the issues for the Angels this season was an inability to score early for their pitchers. That was in play Friday night, but not the past two games.
Bobby Abreu
had an RBI single in the first inning,
Jeff Mathis
had one in the second and the Angels scored twice in the third.
Weaver
had plenty to work with.
Schedules.
Before you start thinking this race is over, consider upcoming games: The Angels' next 10 games are against the Seattle Mariners and Minnesota Twins, who are each at least 20 games under .500. Meanwhile, the Rangers play the Tampa Bay Rays and Boston Red Sox, who collectively are 45 games above .500. If the Rangers are still up by three games or so on Sept. 8, they probably deserve this thing.
The Bad:
Weaver.
He managed to get in a nice groove in the middle innings, but much of the night he didn't look like himself. He struggled to put away hitters and only struck out two guys, evidence he didn't have sharp stuff. It was Weaver's worst start this year and might make manager
Mike Scioscia
hesitate to use him on short rest later this season.
Running a-muck.
The Angels' aggressive base running might make a little more sense when the hitters are cold. With guys mashing extra-base hits all over the park, it seems like they give struggling pitchers easy outs sometimes. Angels base runners tested strong-armed catcher
Yorvit Torrealba
twice in the first three innings and he threw out Mathis and Kendrick trying to steal. Without those outs, the Angels almost certainly would have scored an extra run early and gotten to Texas' bullpen earlier.
Facing Napoli. Mike Napoli
apparently learned a few things about Angels pitching from all those years catching those guys. But did the Angels learn nothing about his swing after watching him hit for them? It's hard to tell. So far, Napoli is 17-for-48 (.354) with two home runs and six doubles against his ex-team.
August, 27, 2011
8/27/11
8:19
PM PT
ARLINGTON, Texas -- Ervin Santana pitched a solid game on three days' rest, the bats came alive and the Angels evened their crucial series against the first-place Rangers with an 8-4 win at the Ballpark in Arlington Saturday night. The win trims Texas' AL West lead to two games with ace Jered Weaver scheduled to go on three days' rest in Sunday's series finale.

The Good:

Power ball. As usual, the Angels relied on the long ball. OK, that was a joke. The Angels, 10th in the AL in home runs coming in, tied a season high with five long balls Saturday, four of them off Texas ace C.J. Wilson. Unfortunately for them, all five of them were solo shots, so this game retained a lot more drama than you would have expected.

Thawing. At long, long last, Vernon Wells is emerging from a brutal slump. He is swinging as well as he has since before the All-Star break. Wells, who is from Arlington, went 2-for-4 with a triple and home run and is 9 for his last 17 (.529) in a span of five games. If he can hitch a hot streak to what Torii Hunter is doing, the Angels could have a semblance of continuity in the middle of their order, finally.

Hatchling. Mike Trout turned 20 less than three weeks ago and he's already got three major-league home runs. The young fellow continues to carve a role for himself in this pennant race by producing on the big stage. He took Wilson deep to give the Angels a 3-0 lead and he reached on an infield hit an inning later. His talent is starting to play at this level.

The Bad:

Hatchling. As good as Trout is, you can't hide the fact that he has only been playing professional baseball for two years. Ian Kinsler took advantage of his inexperience on a gift sacrifice fly by bluffing a break for home, then going through with it when Trout hesitated. Trout made a mistake and threw to third -- too late to get Elvis Andrus, who also advanced on the play.

Zeal. When Wells got thrown out after rounding third on Trout's infield single to Andrus, third-base coach Dino Ebel gave him a fist pound as if to say, "My bad." Apparently, Ebel either thought the ball was headed for the outfield or that Andrus would throw to first. He waved Wells all the way. The Angels almost seem to celebrate mistakes of aggression.

Efficiency. The Angels have been around for 50 years and only once before had they ever had five players hit solo home runs in a game, in 1985. It was the first time the Angels had hit five solo shots in a game since 2000, when Mo Vaughn and Tim Salmon each had two.
August, 15, 2011
8/15/11
8:49
AM PT
In advance of the Angels' crucial four-game series with the first-place Texas Rangers this week, we caught up with ESPNDallas.com's
Richard Durrett
to hear his thoughts about the team the Angels are chasing.
For one-stop shopping on Rangers' news, information and analysis, be sure to check out
Durrett's blog
.
Q. From afar, it looks like the Rangers have gained their most consistent groove in a while. How have they done it without Adrian Beltre? When will he be back?
The Rangers are playing consistent baseball. The starting pitching has found a groove and the entire team seems to have more confidence knowing if a starter can go six, manager Ron Washington has Koji Uehara and Mike Adams in that bullpen along with Mark Lowe, who has pitched well. Neftali Feliz has been inconsistent this season, but he's still the closer and a force when he's right. Add in the fact that the offense is getting the clutch hits that it wasn't producing just a few weeks ago and you have a team that is confident and consistent. It's good timing, too. The schedule stiffens with this series against the Angels and a couple coming up with Boston and Tampa Bay on the road, not to mention another visit from the Angels in late August.
Q. As you say, in addition to the Angels series, which are usually hardfought, the Rangers have to play the Red Sox and Rays a bunch of times coming up. How have they typically fared against those clubs and what do you expect?
It will be tough, no doubt about that. But the Rangers believe they can compete with any team and for whatever reason the past few seasons, they've raised their level of play against that type of competition. I think beating David Price in Game 5 in Tampa Bay last year certainly helps with that confidence. Yes, it's a different team in 2011. But a lot of those guys are still around and to win in that kind of environment allows them to draw on that experience. It's a much different Boston team the Rangers will face than the one they swept to start the season. And it could be a ALCS preview too. It's never easy to win in Fenway. It should be interesting.
Q. You're around these guys a lot and covered them during their World Series run. What is the vibe like compared to a year ago? Will the fact that they're in a tight pennant race vs. a rout make any impact on their psyches?
It's different this year, I will say. Not sure exactly why, but different. It's still a close bunch, but they have their own identity. You won't see them doing the claw anymore, BTW. The players felt that was a 2010 thing. And I like that about them. They've got the same lofty goals, but want to chart their own path. That said, Cliff Lee gave this team an ace in the hole that they knew would rise up in the postseason. They don't have that kind of starting pitcher this season, but the staff as a whole has done a solid job. And they are slightly better by record now than they were a year ago. I honestly don't think a tight pennant race will get to this team at all.
Q. If you compare these two teams in the three phases, Texas would appear to have the edge because its offense is so much stronger. The Angels say the key to this race is for them to get their offense going. Is there one key for Texas, in your mind?
Defense. It just hasn't been as good as expected. They'll score enough runs and now that management has taken care of the bullpen issue, that's not a problem. But the defense has been way too inconsistent. Part of that is not having Adrian Beltre around. He seems to lift the entire infield, though Michael Young has certainly filled that spot well in his absence. But Elvis Andrus has made too many errors on routine balls and they aren't doing the little things consistently like throwing to the proper base, hitting the cutoff man, etc. If they can sharpen that up, you'll see a complete team ready to make noise again in the postseason.
Q. Is the bullpen better with the new guys, Adams and Uehara? How solid is Neftali Feliz entering this home

stretch

?
The bullpen is way better. It allows Washington to shove Mark Lowe, who has pitched well, to the sixth or seventh and still have Uehara and Adams to go to. It gives them depth late that they haven't had all season. Feliz is still fine on the velocity, but the fastball command hasn't been the same. He's just not the dominant pitcher he was last year. His walks are up and strikeouts down. Still, he's shown flashes. They've got to figure out how to get those flashes into more lenghty bursts down the stretch.
April, 19, 2011
4/19/11
10:47
AM PT
The Angels proved to be the moveable object when they met the Texas Rangers and lost 7-1 Monday night at the Ballpark in Arlington. The Angels had come in riding a five-game winning streak and the Rangers entered it with a 6-0 record at home.

To find out what the Angels are up against in this series, we caught up with ESPNDallas.com's Richard Durrett for a look at the 2011 Rangers:

Was there a pattern, other than the opponent, to the Rangers starting so hot (9-1) and then cooling off in the last couple of series?

The offense was on fire to start the season, beating up on the Red Sox and Mariners at home. In fact, going into Monday's game, the Rangers hadn't even batted in the ninth inning in Arlington (six wins, none in extra innings). They got good starting pitching, but frankly, they got good enough starting pitching on this just-completed nine-game road trip, but they didn't hit well as a team. The clutch at-bats and big innings just weren't there with any consistency. Add in the fact that the bullpen was wobbly and the Rangers lost some games late.

How in the world have they managed to patch together that rotation? Is Alexi Ogando's long-term future as a starter and how badly do you think they'll miss him as a late-inning reliever?

They miss him badly in relief. Manager Ron Washington is trying to piece together the late innings to get the game to closer Neftali Feliz. Ogando was the hard-throwing righty that could come in and pitch that eighth inning. Lately, the Rangers have relied on veteran lefties Darren Oliver and Arthur Rhodes for that inning. But those guys can't keep up the pace they are going. The Rangers need a right-handed arm to step up. Could it be Pedro Strop? We'll see. But you can bet bullpen help is high on the list of Rangers' needs now and in the future. BTW, the back end of the rotation is what's making this happen. Matt Harrison, Derek Holland and Ogando have been solid. You'll get to see Harrison, who is undefeated, on Wednesday.

Do you get the sense the Rangers are more concerned about Anaheim or Oakland as the team that could cut short what they hoped would be long-term dominance of the division?

Honestly, they are concerned about both. Oakland and the Angels have the pitching to stay in the division and the Rangers feel like both are a threat. They believe they can win the division, but I talked to several players the past few days about the AL West and all of them are expecting a tight, three-team race until the very end.

It seems Adrian Beltre hasn't gotten off to the slow start that some other big-money guys who changed teams have (eg., Carl Crawford and Vernon Wells). What kind of influence has he been on the team aside from his numbers, so far?

Beltre was actually much better at the plate on the road trip (he and Michael Young were the only two guys that really hit much at all on that trip) and comes into this series feeling better about his offense. But he's had big impact everywhere else. The guy grabs anything and everything hit his way, helping make the Rangers' infield one of the best in the majors. At times, it feels like he's playing third and short because of his range. That allows shortstop Elvis Andrus to slide a little bit more toward the bag, making it even tougher to get a ground ball through. Beltre also fits in well in the clubhouse. Like last year, this is a group of guys that are close-knit and like to have fun.



Catch us up on Mike Napoli. Is he viewed as an everyday player, a bench guy who a hybrid? What's your crystal ball tell you about his impact this season?

His role changed at the end of spring training when the club traded Matt Treanor to keep an extra reliever. Instead of mainly 1B or DH, Napoli is the backup catcher. They traded for him to provide some pop against lefties off the bench and that's still his primary role. But now he catches more and the short bench and no third catcher means manager Ron Washington has to get creative (he can't put Napoli at DH, for instance, with Yorvit Torrealba catching unless he wants to risk losing the DH). But Napoli is another good guy in the clubhouse and has worked well with the pitchers.

If you were to pick one area of this team that you think management is most concerned about for the rest of the season, what would it be?

Bullpen, as we've discussed. But they'll also monitor how this team responds to the loss of Josh Hamilton. Seems strange to think they'd add a bat, but you never know what might be available at the trade deadline. Also, it's still WAY early in the season and you can never have enough starting pitching depth. Watch to see how Brandon Webb progresses and when Tommy Hunter is ready. They could provide some key reinforcements.