Los Angeles Angels:

Felix Hernandez
September, 26, 2012
9/26/12
5:56
PM PT
ANAHEIM, Calif. –
Los Angeles Angels
manager Mike Scioscia knows there are several strong candidates for the American League Cy Young award, but on a night when his team was facing one of them --
Seattle Mariners
ace
Felix Hernandez
-- Scioscia made the case for his own ace,
Jered Weaver
.
"There's no doubt he's in the middle of the conversation," Scioscia said. "I don't think there's anybody that can deny that. I think Weave has meant more to our team than probably any pitcher on any staff just for the fact that we're even talking about a pennant race. Weave had to step up and do what he can do because for a while he was lone soldier out there start after start when the rest of our rotation was trying to find itself for what seemed like an eternity. Weave was the only guy out there giving us what he had and giving us production we expected, which at least kept our heads above water."
Weaver is first or tied for first in the AL in winning percentage (.826), wins (19), WHIP (1.00), third in ERA (2.74) and he's holding hitters to a .213 batting average, best in the American League. Weaver, however, has probably dropped behind
Justin Verlander
, Hernandez and
David Price
in the Cy Young conversation but his 2.10 ERA in September has him right back in the conversation and the Angels right back in playoff contention.
"He's kept us in a position to reach our goals," Scioscia said. "Maybe the one thing a starting pitcher cannot control is a win or a loss, but he's pitched well enough and deep enough into games on a consistent basis to have a chance to win 20 games and that says a lot for how consistent he's been."
Tonight's lineups:
Seattle Mariners:
Dustin Ackley
, 2B
Franklin Gutierrez
, CF
Kyle Seager
, 3B
Jesus Montero
, DH
Justin Smoak
, 1B
Miguel Olivo
, C
Casper Wells
, RF
Chone Figgins
, LF
Brendan Ryan
, SS
Felix Hernandez, P
Los Angeles Angels:
Mike Trout
, CF
Torii Hunter
, RF
Albert Pujols
, 1B
Kendrys Morales
, DH
Alberto Callaspo
, 3B
Howie Kendrick
, 2B
Erick Aybar
, SS
Mark Trumbo
, LF
Chris Iannetta
, C
C.J. Wilson
, P
September, 13, 2012
9/13/12
7:23
PM PT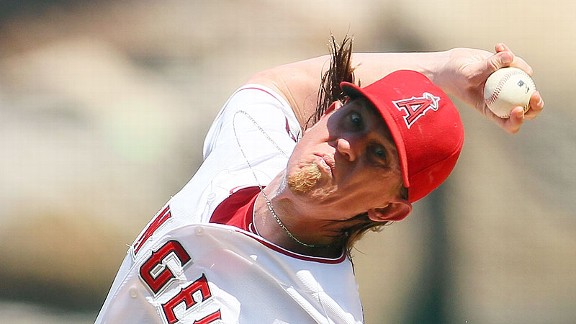 Victor Decolongon/Getty ImagesJered Weaver returned to the rotation after skipping a start and looked as good as ever Thursday.
ANAHEIM, Calif. --
Jered Weaver
has been with the
Los Angeles Angels
long enough to know this isn't where they want to be this time of year. Chasing, pressing, scratching and clawing their way into a playoff spot, rather than lining things up for a deep playoff run.
He was a young pup back in the days when the Angels were the kings of the American League West.
John Lackey
was the staff ace then, and man, doesn't that feel like a long time ago?
Weaver is indisputably the ace of the staff now. The guy the team turns to when it absolutely, positively, needs to win a game. And a moment like that arrived Thursday afternoon with the
Oakland Athletics
on the verge of their first four-game sweep of the Angels since 2001.
Had the Angels been where they want to be this time of year, where their payroll and the talent on their roster projected them to be, Weaver might have been able to rest his tired right arm another week or two.
But the Angels don't have that luxury now. Not when they're still on the outside of the AL wild-card race looking in with just 19 games to go.
So Weaver did what an ace does, coming back to strike out nine and allow just two hits in a walk over seven dominant innings against the previously sizzling A's in a 6-0 win that added fresh kindling to the Angels' flickering playoff chances.
Weaver did his part Thursday, stepping up with a dominant performance in a game the Angels absolutely had to have.
"I wanted to set the tone," he said. "We obviously didn't want to get swept. And the first three games of this series obviously didn't go the way we'd like them to. These guys are playing real good baseball. You can't take them lightly. They're playing the game hard. They're battling just like we're trying to."
While the score looks like a blowout, it was far from it. Weaver and Oakland's
Brett Anderson
were locked into a classic pitcher's duel through six scoreless innings. Things only loosened up in the bottom of the seventh when Angels outfielder
Torii Hunter
slammed a solo home run that seemed to open the flood gates as the Angels batted around to score six runs and chase Anderson in the process.
Having shut down the A's almost completely, Weaver left after throwing 94 pitches in seven innings.
It was what an ace does.
The question is whether it's what a Cy Young winner does.
August, 10, 2012
8/10/12
11:31
PM PT
By
Kenton Wong, ESPN Stats & Info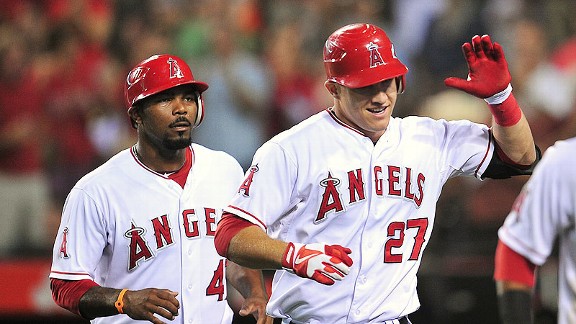 Gary A. Vasquez/US PresswireMike Trout tied a career high with five RBIs in the Angels' 6-5 win over the Mariners on Friday.
With the Angels mired in an August slump and facing a 5-0 deficit Friday with one of the best pitchers in the league on the mound, they needed someone to step up. That someone -- as it has been many times this season -- turned out to be
Mike Trout
.
Trout came through with a career-high-tying five RBIs. But not all five RBI games are created equal. All of Trout's damage came off of former Cy Young winner
Felix Hernandez
, who was coming off a two-hit shutout in the Bronx. According to the Elias Sports Bureau, Trout is the first player to drive in five runs off of Hernandez.
The last two RBIs came on a rare two-run sacrifice fly. It is the first two-RBI sac fly in the majors since
Nate McLouth
hit one to deep center for the Braves on Sept. 5, 2010, at Sun Life Stadium. The Angels last had one on Sept. 15, 1986 (Ruppert Jones with bases loaded, scored Dick Schofield and Bob Boone).
Sac fly rarity aside, the truly impressive feat was Trout's three-run homer in the third inning. Trout took Hernandez deep on a changeup. This season right-handed hitters are 6-for-54 against Hernandez's change (.111). In fact, the last righty to go deep off a Hernandez changeup was
Jhonny Peralta
three years ago on Aug. 23, 2009.
When your leadoff hitter is driving in runs, it means the bottom of the order is setting the table. Howie Kendrick and
Erick Aybar
(8-for-16 in August) each reached base twice and scored twice. Aybar has been hot since returning from injury -- hitting .500 in August in 16 at-bats.
September, 6, 2011
9/06/11
10:12
PM PT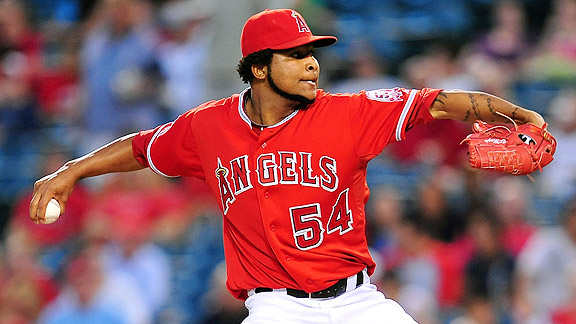 Gary A. Vasquez/US PresswireErvin Santana had a good start but also committed a costly error that contributed to two unearned runs.
ANAHEIM -- The Angels had as many errors, four, as hits Tuesday night and -- not surprisingly -- they lost to Felix Hernandez and the Seattle Mariners, 2-1 at Angel Stadium.
The mistakes proved costly, as did the loss. The Angels dropped a game in the standings and now trail the Texas Rangers by 3 1/2 with 20 games left.
The Good:
Staying hot. Ervin Santana
wasn't particularly dominant and he made one of the errors that cost him two unearned runs, but he continues to be the Angels' best starting pitcher in recent weeks. Santana got through six laborious innings and hasn't had a bad start since the end of May. He had to swallow just his second loss since June 15.
Learning fast.
It didn't seem particularly noteworthy, but file
Garrett Richards'
scoreless seventh inning away. It was his first professional relief appearance and he seemed perfectly comfortable. Richards pitched around a single and an infield hit, struck out two and touched 94 mph on the radar gun. The 23-year-old rookie could be a significant addition to the bullpen this September.
Sparking things. Torii Hunter
is showing some creativity -- and a willingness to set the table rather than clear it -- during this hot second half. With
Hernandez
dominating the Angels' lineup, Hunter bunted his way on, reached second on Hernandez's throwing error and scored a cheap run on
Alberto Callaspo's
single. It was a good example of scrapping for runs against a tough pitcher.
The Bad:
Slop.
The Mariners committed five errors Monday night and the illness apparently is contagious. The Angels made four. They seemed incapable of making a routine play in the early innings, with errors by Santana and
Erick Aybar
leading to unearned runs. The mistakes were crucial, as well as being surprising, since this has been a solid fielding team all year.
Subs.
A couple of
Mike Scioscia's
pinch-hitting decisions seemed odd. Twice, he pinch-hit for the catcher's spot with non-catchers, forcing him to use four guys for two substitutions. Neither
Mike Trout
or
Howie Kendrick
got on base and, meanwhile, two left-handed hitters,
Hank Conger
and
Russell Branyan
never got off the bench to face Hernandez. Strange.
Short.
Balance has been a strength for the Angels lineup lately, but it hasn't been for most of the season. The Nos. 7, 8 and 9 hitters Tuesday went 0-for-10 with with a couple of strikeouts. They collectively reached base once, when
Peter Bourjos
struck out and got to first on a passed ball.
September, 6, 2011
9/06/11
6:10
PM PT
The Angels are 18-4 in games Mike Trout has started for them. They are 59-60 in games he has not started.

These numbers may not be coincidences. Trout, 20, has batted .325 with four home runs, 11 runs and eight RBIs in the 13 games since he was recalled from Double-A Arkansas.

But there's a spillover effect to his arrival. It seems to have energized the play of veterans Vernon Wells and Bobby Abreu, who are being pushed for playing time and have also gotten more rest since Trout arrived. Wells is 32, Abreu 37.

Mike Scioscia left Trout out of his lineup Tuesday night against Seattle Mariners ace Felix Hernandez. Abreu, a left-handed hitter, is batting .244 off Hernandez. Trout is 1-for-6 against Hernandez. Scioscia said Trout would return to the lineup Wednesday.

"It's been very tangible what he's given to our club and he'll certainly be given more opportunities," Scioscia said. "That's not a dilemma. A dilemma's when you have three guys swinging the bats well and nine spots to fill. You can't have these guys change uniforms the other inning and pretend to be somebody else. That was the issue. Right now, we have a deep lineup."

Here are the lineups for Tuesday:

Seattle

1. Ichiro Suzuki RF

2. Brendan Ryan SS

3. Dustin Ackley 2B

4. Mike Carp DH

5. Justin Smoak 1B

6. Miguel Olivo C

7. Kyle Seager 3B

8. Trayvon RobinsonLF

9. Michael Saunders CF

Angels

1. Maicer Izturis 2B

2. Erick Aybar SS

3. Bobby Abreu DH

4. Torii Hunter RF

5. Mark Trumbo 1B

6. Alberto Callaspo 3B

7. Vernon Wells LF

8. Peter Bourjos CF

9. Bobby Wilson C

August, 7, 2011
8/07/11
3:01
PM PT
ANAHEIM -- Ervin Santana got a standing ovation when he walked off the field in the ninth inning Sunday, two outs short of his third straight complete game.

Santana continued his brilliant run in the Angels' 2-1 win over the Seattle Mariners at Angel Stadium.

The Good:

Groove. Santana has gotten more life on his fastball in the second half, but that hasn't translated to straight-ahead velocity. He's able to throw the ball with better downward action and it's cutting and sinking more. He's been as tough as any starting pitcher in baseball for a couple of weeks, having allowed just three earned runs in his past four starts.

Trumbo-tron. Mark Trumbo hit one of his tape-measure home runs, something he's been doing pretty frequently. This one traveled 471 feet, per ESPN's home run tracker, and rattled around near the flag poles in left-center. Trumbo has hit three home runs that total 1,360 feet on this homestand. That's about one-third of a mile worth of home runs.

Aybar's fielding. The Angels shortstop might combine creativity, athleticism and reliability better than any shortstop in the American League right now. He was all over the place stopping the Mariners from getting on base Sunday. He made a running catch in foul ground in left field and a brilliant play to force a runner at second, but Howie Kendrick dropped it.

The Bad:

Abreu. This slump is getting ugly and it's putting Mike Scioscia in a pickle. The Angels desperately need left-handed hitters and they desperately need Abreu's ability to get on base, but right now he is doing nothing with his bat. He looked awful again Sunday while going 0-for-3 with two strikeouts. He's 16-for-103 (.155) since July 1.

Offense. Yeah, they were facing Felix Hernandez. Yeah, the Mariners have good pitching. But the Angels won two of three games in this series while scoring a total of four runs. Something tells me that won't work in their next venue, Yankee Stadium.

The roster. What, exactly, is Russell Branyan doing on this team? He had all of nine at-bats in July and hasn't played yet in August. Are the Angels keeping him as a security guard?
July, 10, 2011
7/10/11
4:40
PM PT
Mark Trumbo led all of minor league baseball with 36 home runs last year.

Ask Brandon Wood how those numbers translate.

What the Angels are seeing is that Trumbo isn't slowing down as opposing teams learn his tendencies, he's improving. Most impressive about the rookie's 17 home runs -- the most for an Angels rookie at the All-Star break since Tim Salmon's 1993 Rookie of the Year season -- is who they've come against.

Trumbo hit a two-run home run -- a hooking line drive into the left-field corner -- to tie the game off reigning Cy Young winner Felix Hernandez Sunday. That gave Trumbo three straight games with a home run. He also has homered this year off Tim Hudson, David Price and Jon Lester. The Angels keep tabs on how their minor league guys do against the toughest pitching in the league and Trumbo was always right at the top.

"You're seeing that power play in the big leagues and I think that's what's impressive," Angels manager Mike Scioscia said. "You see a lot of guys come up with tools and maybe it doesn't come out on the field."

Trumbo had never faced Hernandez before, so he talked to several Angels veterans before the game to get a feel for how the big right-hander likes to attack hitters. In fact, he also talked to Salmon, a part-time Angels broadcaster.

Trumbo struck out in his first at-bat, but -- after watching Hernandez for a few innings from the top step of the dugout -- he had learned enough to adjust. He looked for a sinker on the inner half, figuring Hernandez would try to get him to hit into a double play. He got one -- at 92 mph -- and pummeled it.

"I guess a lot of people have said that it's going to get tougher once they've seen me, but I've always felt the ball shifts in my court a little bit after I've seen them," Trumbo said. "I'm pretty optimistic going into the second half."
July, 10, 2011
7/10/11
3:19
PM PT
ANAHEIM -- Dan Haren outlasted Felix Hernandez in a taut pitchers' duel and Alberto Callaspo came up with a clutch two-run double to send the Angels into the All-Star break on a serious roll. Their 4-2 win over the Seattle Mariners on Sunday gave them a four-game sweep and was their 20th win in the last 27 games.

The Good:

Pitching. Sometimes, great pitching matchups fizzle, which could easily have happened after Haren (10-5) gave up two runs in the first inning. But he got into a serious groove, as did Hernandez. The middle innings of the game were a desert of scoring. Twenty-one straight batters made outs before Torii Hunter's eighth-inning single. Mike Scioscia got booed when he took Haren out for closer Jordan Walden with two outs in the ninth and Haren got a standing ovation.

Kid dynamite. Mark Trumbo showed the Angels his massive power in spring training and now he's swinging with that kind of confidence again. Trumbo has homered in three straight games. His low liner into the left-field stands on a 92-mph Hernandez fastball tied the game in the fourth inning. Trumbo's 17 home runs are the most by an Angels rookie since Tim Salmon hit that many in 1993. Salmon was Rookie of the Year.

Callaspo music. For a while, Callaspo wasn't doing much that was worthwhile. He was in a 2-for-33 slump and playing sloppy defense. But he's gotten his swing together on this homestand, batting .353 after Sunday's 3-for-4 day. Eric Wedge decided to intentionally walk Howie Kendrick after David Pauley fell behind him 2-and-0 and Callaspo made that look foolish.

The Bad:

Trout flops. When you're in the major leagues at 19, you're going to make mistakes. Mike Trout made a couple in the first two innings, one of which cost the Angels a run. On Justin Smoak's deep fly ball, Trout threw to third instead of second, allowing Dustin Ackley to take an extra base. He then scored on Adam Kennedy's two-out single to left. Trout charged Kyle Seager's single the next inning and allowed it to get past him for a two-base error.

Umps. Boy, have they been inconsistent around here lately. Gerry Davis lost track of balls and strikes in the third inning, allowing Bobby Abreu to reach first base on a 3-and-1 walk. Amazingly, that was the second time in eight days the Mariners had given up a 3-ball walk. They lost their July 2 game to the San Diego Padres after Cameron Maybin walked on three balls and eventually scored.

Seattle support. Hernandez has given up two runs or fewer in 12 of his 20 starts this year, but he's somehow 8-8 at the All-Star break. At least somebody saw through that record, because Hernandez will pitch in the All-Star game. He's kind of this era's Nolan Ryan: dominating with a mediocre record, because he plays on bad teams.
July, 10, 2011
7/10/11
12:25
PM PT
ANAHEIM -- The All-Star break comes at an inconvenient time for the Angels, who have been one of the hottest teams in baseball for a month.

Since ending a six-game losing streak on June 11, the Angels are 19-7 and have won eight straight series. So much of it is about power, an attribute they simply didn't have in April, May and early June. Vernon Wells has hit nine home runs during this run, Mark Trumbo has hit five, Torii Hunter has hit three and even Erick Aybar has hit a couple.

The Angels hit 49 home runs in the first 67 games, but they've now hit 26 in the last 24, including 15 on this homestand.

"We're going to take them any way we can get them," manager Mike Scioscia said. "Obviously, if a guy comes up and hits a home run or a guy comes up and gets to first base and we have to move him around to score on a sacrifice fly and manufacture a run, sure [it's easier]."

Here are lineups for Sunday, with a brilliant pitching matchup between Dan Haren and Felix Hernandez:

Seattle

1. Ichiro Suzuki RF

2. Brendan Ryan SS

3. Dustin Ackley 2B

4. Justin Smoak 1B

5. Adam Kennedy DH

6. Franklin Gutierrez CF

7. Josh Bard C

8. Kyle Seager 3B

9. Greg Halman LF

Angels

1. Erick Aybar SS

2. Torii Hunter RF

3. Bobby Abreu DH

4. Vernon Wells LF

5. Howie Kendrick 2B

6. Alberto Callaspo 3B

7. Mark Trumbo 1B

8. Jeff Mathis C

9. Mike Trout CF