Los Angeles Angels:

free agency
December, 2, 2011
12/02/11
2:34
PM PT
We don't have enough of a track record on Jerry Dipoto as a general manager to know how he likes to negotiate. Nobody does. He's been doing this job for barely a month now.

But it's clear he views his public comments as a way of swaying the market, rather than as a reliable guide for Angels fans to track his off-season progress.

On Wednesday, Dipoto essentially characterized the Angels' interest in Chicago Cubs third baseman Aramis Ramirez as "kicking the tires." On Thursday, two reports surfaced that the Angels have not only met with Ramirez and his agent, but are likely readying an offer.

Hmmm.

If these reports are true, is it a good idea or a bad idea? Here are some of Ramirez's pluses, followed by a corresponding minus:

Plus: Power: Angels third basemen -- Alberto Callaspo and Maicer Izturis, mostly -- combined to hit seven home runs last year. Only two teams in the majors got less power from the left corner of the infield: the Florida Marlins and Seattle Mariners.

Ramirez, 33, mashed 26 home runs last year and, just five years ago, hit 38. He slugged .510 in 2011. Angels third basemen slugged .379.

Minus: Wrigley Field: Fourteen of Ramirez's home runs came at Wrigley Field and it's a fair guess that a number of those balls would have been easy fly ball outs at Angel Stadium, where walls are deeper and games are typically played at night.

Still, these are not alarming home-road splits. If the Angels sign Ramirez and he has a typical season, he's probably due for 16 to 23 home runs. That's more than double what they got from the not-so-hot corner last season.

Plus: On-base percentage: Dipoto clearly is on a mission to inject walks into an Angels lineup that has been among the most free-swinging in the AL for 10 years. Ramirez is good at this, not great. He has a career on-base percentage of .342, which compares favorably to the league average most years of around .326.

Minus: 2010: Where was that patience two seasons ago? Ramirez had a dismal season, by any measure, but it was particularly brutal in the on-base department. He got on at a .294 clip. That's barely better than what Vernon Wells did last year and Wells was the worst in the majors at getting on base.

Plus: Veteran savvy: Ramirez has been in the major leagues since 1998, when he was 20 years old. That means he has a lot of experience to draw on. Plus, his hitting approach could benefit some of the Angels' younger players, as it did when they first got to watch Bobby Abreu in action a few years ago.

Minus: Reputation: I once had a conversation with a coach (who is now a manager) who worked with Ramirez in the Dominican winter league and said Ramirez had the worst attitude of any player he had ever worked with. He has a reputation for being a numbers guy, most recently according to Cubs TV analyst Bob Brenly. There was a report that he prematurely booked a flight home before Game 7 of the 2003 NLCS. Another linked him to a cockfighting ring.

Even if you ignore that baggage, Ramirez has spent his entire career in Pittsburgh and the north side of Chicago, not exactly the proving grounds for championship-caliber talent. He has 67 post-season at-bats and he's hitting .194 in those situations. The last time the Angels signed an ex-Pirates phenom with a dubious reputation (Jose Guillen), it didn't work out so well. Guillen got in an altercation with manager Mike Scioscia and was suspended a week before the playoffs started.

Conclusion: If the market falls apart and the Angels can get Ramirez for a reasonable deal (say $25 million for two years), it might be worth the risks. Otherwise, it might be a good time for Dipoto to show he means what he says.
November, 15, 2011
11/15/11
10:12
AM PT
Remember when New York Yankees general manager Brian Cashman admitted his team pretended to have an interest in signing Carl Crawford simply to drive up the price the Boston Red Sox had to pay?

Something about the way the Angels are approaching this C.J. Wilson courtship smacks of such a ploy. Why else would they be so obvious about the whole thing? Why dine with his agent at the Pfister Hotel -- where dozens of media members in town for the GM meetings happen to be staying -- rather than sampling some of the other fine restaurants Milwaukee has to offer, where they could get a private little booth in the back?

Why profess to so many reporters that your interest in Wilson is "serious?" Would we otherwise assume that their interest is "frivolous," or "just for fun?" Or, have they been so public about their admiration simply to drive up the price the Texas Rangers will have to pay to keep their best starting pitcher? Hmm.

Sliding Wilson after Jered Weaver in the Angels' rotation, followed by Dan Haren and Ervin Santana isn't a bad thing, of course. It would give the Angels the best rotation in the American League, especially if No. 5 starter Jerome Wiliams keeps it going.

But at what cost? They've already said they want to keep the payroll in the $140 million range and signing Wilson would eat up most, if not all, of GM Jerry Dipoto's spending money. They'd still be short a late-inning reliever, a catcher and a patient bat -- all professed needs, according to Dipoto.

Where there's smoke, there's probably some fire. Wilson is a local guy (grew up in Fountain Valley, lives in L.A.) and probably has genuine (or is it "serious?") interest in pitching in his backyard. Most pitchers like Angel Stadium anyway, because of its generous dimensions and cool nighttime temperatures.

But sometimes, where there's smoke, there's just smoke.
November, 2, 2011
11/02/11
4:26
PM PT
Angels general manager Jerry Dipoto was fairly coy when asked by Steve Mason and John Ireland on 710 ESPN today if his team would get involved with any of the big-name free agents who just hit the market.

By now, most people probably know who those guys are -- sluggers Albert Pujols and Prince Fielder, shortstop Jose Reyes, pitchers C.J. Wilson and Jonathan Papelbon. Without going into specifics, Dipoto said the Angels would be active in the free-agent market, but then dropped this:

"Sometimes, the best free agents you can acquire are via trades," Dipoto said. "There are so many different ways to acquire a player in today's game. A team might be moving a contract, they might be moving a player who's bearing down on free agency or getting up there in arbitration. The economics of it are there are 30 different teams in 30 different situations."

One way of condensing that answer to fit the previous question might be: No (At least, not yet).

Angels owner Arte Moreno laid out the parameters when speaking to reporters after Dipoto was introduced as the new GM Saturday. He would like to keep the payroll capped at $140 million. Already, the Angels are on the hook for $99 million going to players on long-term deals. They'll have to shell out about $19 million more to players going to arbitration. The guys making the minimum salary will eat up another $2 million or so.

That leaves -- at most -- $20 million for Dipoto to play with. The Angels would like to add a reliever, a starting pitcher and, maybe a hitter who can get on base and drive the ball. Pujols and Fielder figure to make more than that by themselves.

So, unless Dipoto can find a way to unload salary without compromising his club too much in the process, the Angels don't figure to be in play for the biggest names out there. Guys like Bobby Abreu ($9 million) and Vernon Wells ($21 million) aren't exactly easy to move.

So, before the Angels figure to wade into the deep end of the free-agency pool, Dipoto's going to have to flash some of the skills the Angels just hired him for.
October, 31, 2011
10/31/11
10:50
AM PT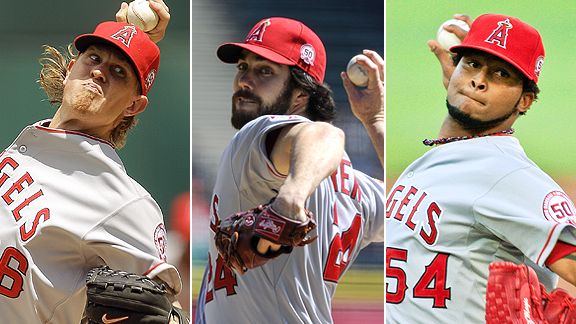 AP Photo, Getty Images
The top of the Angels' rotation isn't a concern. It's the 4 and 5 spots that could use some help.
New
Los Angeles Angels
general manager
Jerry Dipoto
will have a few days to unpack and settle into his new office.
Until Thursday, teams can only negotiate with their own free agents. The odds of the Angels bringing back
Russell Branyan
,
Joel Pineiro
or
Fernando Rodney
are infinitesimal. Branyan didn't play, Pineiro lost the ability to get American League hitters out and Rodney constantly grumbled about his lack of use.
By Thursday, Dipoto should have a pretty good idea of what he has, what he needs and what he's working with. He has a team with some promising building blocks, but encumbered by escalating salaries for aging players. He needs a veteran late-inning reliever and a starter. He would like a catcher and, perhaps, a power-hitting third baseman.
He's not working with as much as it once appeared he might. Angels owner
Arte Moreno
told reporters on Saturday he'd like to keep a lid on the payroll at $140 million and the Angels already have $99 million tied up in nine veteran players on long-term contracts. It will cost them about $20 million more to keep all their arbitration-eligible players, plus roughly $2 million more to sign all the young guys making the minimum.
That means, even if he can persuade Moreno to stretch the budget, he'll be looking at a roughly $19 million budget to address multiple needs.
This probably won't be a big-splash kind of winter in Anaheim, but it could be a pivotal one. Let's delve into some of Dipoto's needs: