Los Angeles Angels:

Gio Gonzalez
July, 2, 2011
7/02/11
10:43
PM PT
By
Pedro Moura
| ESPNLosAngeles.com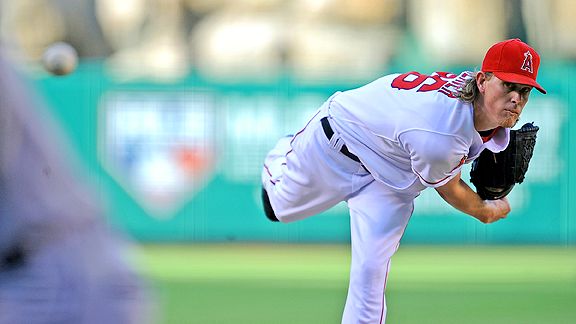 Jayne Kamin-Oncea/US PresswireJered Weaver seems a good bet to start for the AL in the All-Star Game, but that's not something he wants to talk about just yet.
ANAHEIM -- He'll get one more official opportunity to showcase his stuff before Texas Rangers manager
Ron Washington
sits down to determine his starting pitcher for this month's 2011 All-Star Game, but Angels ace
Jered Weaver
did a mighty fine job proving his candidacy in a 7-1 win over the Los Angeles Dodgers on Saturday.
Facing the Dodgers just six days after earning a no-decision in a tough battle in L.A., Weaver was dominant in eight innings of work Saturday. In outdueling Dodgers left-hander
Clayton Kershaw
, he allowed just six baserunners -- two on walks, the first time in a month he has walked more than one -- and struck out eight Dodgers to earn his team-leading 10
th
win and lower his ERA to 1.92.
"Weav pitched terrific baseball," Angels manager
Mike Scioscia
said. "He just kept pounding the zone, and, as the game went on, changed speeds a little bit more.
"He pitched a good ballgame."
He has been pitching good ballgames pretty regularly this season. Weaver hasn't given up more than four runs in any of his 18
starts this season. He has given up only one earned run or fewer in six of his last eight starts, and he's now only the second Angel in franchise history with 10 wins and a sub-2.00 ERA on or before July 2.
The question now is whether he'll get the formal nod from Washington to take the mound. It appears he has a good chance, his most probable competition coming in the form of Detroit Tigers right-hander also slated for a Sunday start just two days before the All-Star Game in Phoenix, meaning he'd be ineligible to pitch in the game per MLB rules instituted last year.
"It's a great honor, and I'm sure he's going to get consideration," Scioscia said of the 28-year-old Weaver. "It'll be something, certainly, for him to look forward to."
May, 18, 2011
5/18/11
7:15
AM PT
The Angels lost their third straight game Tuesday, putting up only scant resistance against the Oakland A's and their good left-hander Gio Gonzalez, falling all the way to third place after a 14-0 loss in Oakland. It was the Angels' most lopsided loss of the season.

The Good:

Slightly less-foul weather. This time, it only sprinkled and the game was delayed by less than 30 minutes. The good news is the Angels are headed to Seattle and it never rains there... right?

The matchups. The Angels at least can fall back on the fact their top two starting pitchers, Jered Weaver and Dan Haren, are pitching in Seattle this week. Anything less than a sweep would be disappointing, and could stick the Angels firmly in a familiar spot -- third place -- where they finished last season.

Howie. Hey, it wasn't a dazzling performance for Howie Kendrick, but his fifth-inning single meant the Angels wouldn't have to deal with being on the wrong end of a no-hitter by Gonzalez. They managed to come up with a whopping two hits against Gonzalez and two relievers.

The Bad:

The kid. It's easy to forget that Tyler Chatwood would be on the young end if he were at Double-A. Instead, he's in the major leagues, pitching to well-paid grown men. His charmed streak finally ended. For most of his starts, Chatwood was able to gut his way through difficult innings, with lots of base runners. Not Tuesday, when the 21-year-old couldn't get out of the third inning, allowing nine base runners and seven runs (five earned).

"Hot" corner. For a while, Alberto Callaspo played fine defense at third base, but his resume suggests he can be error-prone -- he booted 17 balls in 2009 for Kansas City -- and that tendency has come back. Callaspo made an error to usher in a couple of unearned runs. It was his sixth of the year. That's too high for mid-May.

Hitting. Make no mistake, Gonzalez is tough to hit. He's got a a mid-90s fastball, a nasty slider, a brilliant, sub-2.50 ERA and he's in a rotation of up-and-coming aces. But the Angels have some serious offensive issues right now. They're desperately short of power and they go through long stretches of futility with runners on base. The shutout loss was their fifth this season. They had nine all of last year, which wasn't exactly a slugfest.
April, 25, 2011
4/25/11
9:34
PM PT
ANAHEIM, Calif. -- Jered Weaver is having the best first month of any Angels starting pitcher ever. Weaver (6-0) breezed through a complete-game, seven-hit, 10-strikeout performance Monday in the Angels' 5-0 win over the Oakland A's.

No Angels pitcher had ever picked up his sixth win by the team's 23rd game. Weaver needed only 114 pitches to stifle a slumping Oakland lineup. It was his second straight complete game and only the sixth of his career.

The Good:

The roll. Weaver made the A's lineup look like... well, a lot like the Angels' did over the weekend against the Boston Red Sox's staff. The last pitcher in the majors to win six games this quickly in a season was Arizona's Randy Johnson. How'd that work out? Johnson went 24-5, had a 2.32 ERA and won his fourth straight Cy Young award that season.

New day. Adding Howie Kendrick to the list of slumping Angels was the final straw over the weekend. Kendrick has been the most consistent hitter at driving the ball, but he came into Monday in a 1-for-14 skid. That ended quickly, when Kendrick lined a two-run single to right field. He later had a hit that bounced off the third baseman's glove.

Creativity. Mark Trumbo was stuck in the worst slump of his young career (0-for-20) when he figured out a way to snap it. The 6-foot-4, 220-pound first baseman shocked the defense by bunting for a hit in the fourth inning... and managed to get it past pitcher Gio Gonzalez for a hit.

The Bad:

Hunter's luck. Torii Hunter's slump might be a bit deceptive. He hit a vicious liner right to David DeJesus in the first inning, similar to a ball Hunter hit in Sunday's game. In the Texas series, he pulled a ball into the corner, but Nelson Cruz was standing right there. Hunter is batting .096 in his last 14 games, but some of that has been bad luck. He's also one of the few Angels showing some patience. Hunter walked twice.

Catching up. Soon, the Angels figure to break up the three-catcher glut, but it's hard to predict who will go. The amazing thing is that Jeff Mathis continues to get as much time as rookie Hank Conger despite a glaring gap in hitting ability. Mathis went 0-for-3 with a double play grounder and strikeout and is now batting .200. Mathis has started 12 games to Conger's nine. Bobby Wilson has caught two games, but he's out of options.

Coco can. Going into Monday, Oakland leadoff hitter Coco Crisp had one hit in 17 career at-bats against Weaver. Somehow, he managed to come up with three hits in one game, and the rest of Oakland's lineup had four. Crisp is now hitting .190 off Weaver.