Los Angeles Angels:

James Shields
July, 24, 2012
7/24/12
11:13
PM PT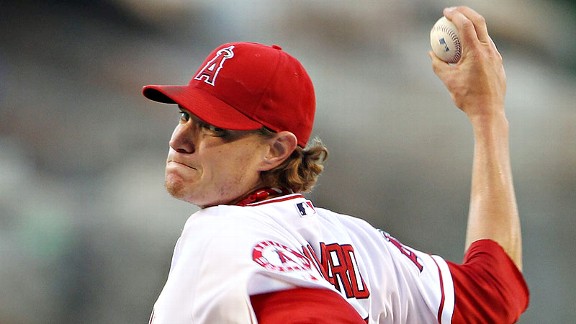 AP Photo/Reed SaxonGarrett Richards has been up and down this season with the Angels, who are trying to solve their pitching issues.
ANAHEIM, Calif. -- Rumors swirl this time of year.
They also dart. They almost always die.
A couple of potentially marquee solutions to the Los Angeles Angels' pitching problem might have disappeared late Tuesday, as reports indicated
Cole Hamels
was nearing a contract extension to stay in Philadelphia and ESPN's
Tim Kurkjian
reported
that the Angels' talks with the Tampa Bay Rays about
James Shields
had "fizzled."
So much for those big names, perhaps, but Angels general manager
Jerry Dipoto
still has until 1 p.m. next Tuesday to make the one move that could radically change the AL playoff picture in his team's favor. The Angels have been hoping for a while now that their rotation would heal itself, but that has been like watching paint dry in 80 percent humidity.
After rookie
Garrett Richards
put the Angels in an early hole they couldn't climb out of in Tuesday's 4-1 loss to the Kansas City Royals, the evidence suggests Dipoto has little choice but to act. In the Angels' last 23 games, the starters' ERA is 5.81. Take
Jered Weaver's
five starts out of that mix and it's 6.95.
You know the players are pulling for Dipoto, just as he pulls for them night after night. Perhaps they could stand around and clap when he pulls out his cell phone? It can't be fun watching much of their work go for naught. Since the All-Star break, the Angels have averaged 5.2 runs per game and gone 5-7.
Lately, the offense has shown some signs of petering out and that's a truly frightening thought.
"It's always good if you go get somebody,"
Torii Hunter
said. "If it's a veteran guy who's been around, that's fine. If you get him, you get him, but right now, it's not really a necessity. If we get him, we'll be thankful, we'll be happy. Other than that we're going to just go out there and keep doing what we do."
July, 2, 2011
7/02/11
10:43
PM PT
By
Pedro Moura
| ESPNLosAngeles.com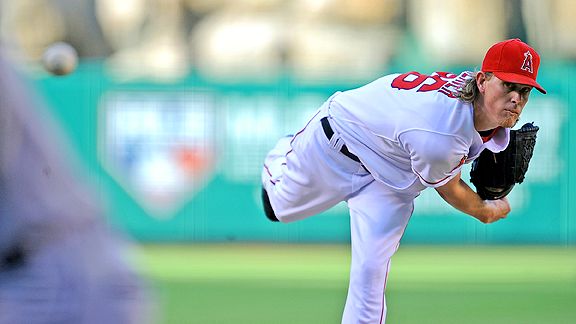 Jayne Kamin-Oncea/US PresswireJered Weaver seems a good bet to start for the AL in the All-Star Game, but that's not something he wants to talk about just yet.
ANAHEIM -- He'll get one more official opportunity to showcase his stuff before Texas Rangers manager
Ron Washington
sits down to determine his starting pitcher for this month's 2011 All-Star Game, but Angels ace
Jered Weaver
did a mighty fine job proving his candidacy in a 7-1 win over the Los Angeles Dodgers on Saturday.
Facing the Dodgers just six days after earning a no-decision in a tough battle in L.A., Weaver was dominant in eight innings of work Saturday. In outdueling Dodgers left-hander
Clayton Kershaw
, he allowed just six baserunners -- two on walks, the first time in a month he has walked more than one -- and struck out eight Dodgers to earn his team-leading 10
th
win and lower his ERA to 1.92.
"Weav pitched terrific baseball," Angels manager
Mike Scioscia
said. "He just kept pounding the zone, and, as the game went on, changed speeds a little bit more.
"He pitched a good ballgame."
He has been pitching good ballgames pretty regularly this season. Weaver hasn't given up more than four runs in any of his 18
starts this season. He has given up only one earned run or fewer in six of his last eight starts, and he's now only the second Angel in franchise history with 10 wins and a sub-2.00 ERA on or before July 2.
The question now is whether he'll get the formal nod from Washington to take the mound. It appears he has a good chance, his most probable competition coming in the form of Detroit Tigers right-hander also slated for a Sunday start just two days before the All-Star Game in Phoenix, meaning he'd be ineligible to pitch in the game per MLB rules instituted last year.
"It's a great honor, and I'm sure he's going to get consideration," Scioscia said of the 28-year-old Weaver. "It'll be something, certainly, for him to look forward to."
June, 8, 2011
6/08/11
6:02
PM PT
How desperate are the Angels to shake some runs out of their sleepy offense?

Desperate enough that manager Mike Scioscia moved his cleanup hitter, Torii Hunter, into a spot in the lineup where he hasn't hit since 1999: the two-hole. Hunter couldn't ever remember hitting there, in fact. He started just 16 games batting second for the Minnesota Twins 12 years ago, when he was 23.

Hunter, who averages 23 home runs per year, has played 85 percent of his games in the Nos. 3 through 6 spots in the lineup.

Wednesday night's lineup was as much about experimentation as finding Hunter's ideal spot, though he's hoping to see a few more fastballs if Angels leadoff hitters can reach base in front of him. The Angels have averaged two runs per game in their last five games and haven't scored more than three in a game since May 30.

"This is just about four games where we've (stunk) and trying to shake things up. If I was the manager, I'd probably do that, too," Hunter said. "But I am who I am. I'm Torii. Pitcher's know what I do and I'm not going to change how I swing, powerfully."

* The Angels drafted Scioscia's son, Matt, in the 45th round Wednesday. Scioscia said Matt, who played first base, designated hitter and catcher at Notre Dame, likely will sign Thursday. Scioscia batted .200 in 16 games for the Fighting Irish.

"He can really swing the bat," Mike Scioscia said. "He's excited just for the fact to get out there and play professional baseball."

Here are the lineups for Wednesday, with dueling aces on the mound, Jered Weaver opposing James Shields:

Tampa Bay

1. Johnny Damon DH

2. Ben Zobrist 2B

3. Matt Joyce RF

4. B.J. Upton CF

5. Casey Kotchman 1B

6. Justin Ruggiano LF

7. Felipe Lopez 3B

8. Kelly Shoppach C

9. Reid Brignac SS

Angels

1. Maicer Izturis SS

2. Torii Hunter RF

3. Alberto Callaspo 3B

4. Bobby Abreu DH

5. Howie Kendrick 2B

6. Mark Trumbo 1B

7. Vernon Wells LF

8. Peter Bourjos CF

9. Jeff Mathis C