March, 31, 2014
Mar 31
8:00
AM PT
The other day, a reporter asked Angels general manager Jerry Dipoto to assign blame for the acquisition of pitcher
Joe Blanton
, the occasion being the Angels' unconditional release of the, ahem, struggling right-hander. Dipoto's answer was refreshing.
"It's a mistake on my part. There's no one else to blame," Dipoto said.
That little bit of accountability had to be music to Angels fans ears. For four long years, a team with three of the most dangerous hitters in baseball, a strong manager and one of the best starting pitchers in the game has been shut out of the playoffs, and the atmosphere in Anaheim has been a bit more drab with each passing season.
It should be noted, by the way, that owner Arte Moreno didn't do Dipoto any favors in recent seasons by jumping in on the big-splash signings of
Albert Pujols
and
Josh Hamilton
, leaving Dipoto scant resources to build a pitching staff.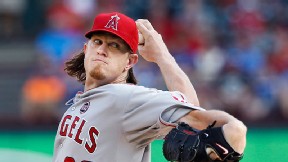 AP Photo/Jim CowsertJered Weaver still has the deception, movement and savvy to serve as a legitimate No. 1 starter.
Perhaps Angels fans didn't realize how spoiled they had become by the team's run of excellence under Mike Scioscia from 2002 to 2009, a stretch that included a World Series title, three trips to the ALCS and six trips to the postseason.
Did the release of Blanton and Dipoto's frankness signal a new era for Orange County's baseball team?
The Angels' offseason makeover wasn't all that different from what the Boston Red Sox underwent going into the 2013 season. It was a bit of a reboot, with an emphasis on quality, low-impact moves rather than the big winter meetings splash that winds up weighing the team down.
Dipoto has certainly been making every effort to improve the team's pitching, which -- even more than underperformance and injuries from Pujols and Hamilton -- has been this team's demise. Presuming even a marginal uptick in those two sluggers' production, the Angels look like a team with vast potential to improve. Who wouldn't take a lineup that includes
Mike Trout
, Pujols and Hamilton?
This pitching staff has potential. When
Jered Weaver
first arrived in the major leagues, he could touch 95 mph and, combined with his off-speed pitches and funky delivery, made for one of the more uncomfortable at-bats in baseball. He's different now, with the years of heavy workloads reducing his fastball velocity to the sub-90 range most games. But he's still got the deception, the movement and the savvy to serve as a legitimate No. 1 starter.