Los Angeles Angels:

Joakim Soria
July, 24, 2012
7/24/12
10:46
PM PT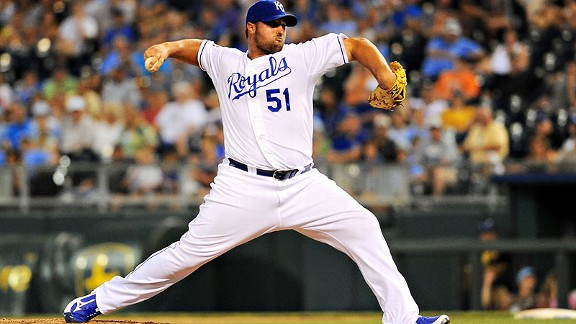 Denny Medley/US PresswireRoyals reliever Jonathan Broxton did not want to talk about his deparature from the Dodgers, saying he has turned the page.
ANAHEIM, Calif. --
Jonathan Broxton
has always had a great poker face. Win or lose, hero or goat, the former Los Angeles Dodgers closer's face never gave much of anything away. He was as stoic and silent as he was strong.
Until, it seems, he actually plays poker.
Broxton wasn't just smiling as he played cards in the Kansas City Royals' clubhouse Tuesday afternoon before their game against the Los Angeles Angels, he was laughing. At what, it's hard to say. A big hand? A bluff? Or maybe just the place he has pitched himself back into with a solid season as the Royals closer?
The Dodgers cut ties with Broxton, 28, last winter after a frustrating season of arm trouble, but aside from a high 1.40 WHIP (he has given up 36 hits and 14 walks in his 35 innings], Broxton has been one of the more pleasant surprises in baseball this season.
Broxton, who signed a one-year deal with the Royals last winter, has converted 23 of 27 saves and posted a 2.27 ERA in 35 appearances this year.
He has pitched so well, he has even been the subject of trade rumors recently.
"People had their own opinions, but I knew I still had it in me," said Broxton, who closed out the Royals' 4-1 win over the Angels on Tuesday. "All I had to do was get another chance. Kansas City gave me a chance, they've been great to me. They basically took a shot in the dark."
Broxton got his chance because small-market teams like the Royals have to take chances on guys like him every once in a while. But he's right about the shot-in-the-dark thing.
After numerous setbacks recovering from a bone bruise in his right pitching elbow, Broxton had surgery in September to remove two bone spurs and three bone chips in the elbow. He didn't begin throwing again until early January. So when the Royals signed him in early December, it was sight unseen.
"We have to do some of that here," Royals pitching coach
Dave Eiland
said. "But with Jonathan Broxton and his track record, I don't think it was too big of a shot in the dark.
"It wasn't like it was a
Tommy John
thing where we were pushing it in 7-8 months. It was chips where we knew if we took our time with it he could come back."
September, 30, 2011
9/30/11
4:50
PM PT
In light of
today's news
that Tony Reagins is stepping down as Angels general manager, here are some ideas for the new GM of the Angels (whoever that ends up being) for this off-season:
1. Try to trade for Ryan Zimmerman of the Nationals or David Wright of the Mets.
If that doesn't work sign Aramis Ramirez.
The Angels have not gotten enough run production from the third base position and Alberto Callaspo and they need a long term solution. After Evan Longoria of the Rays, two of the best third baseman in baseball reside in the National League East, in Ryan Zimmerman of the Nationals and David Wright of the Mets. The Nationals have been trying to acquire a long term solution in center field and the Angels could afford to offer a package starting with CF Peter Bourjos and starting pitcher Tyler Chatwood for Zimmerman. The Nationals would then put their 2011 first round choice Anthony Rendon at third base and use the money saved on Zimmerman to sign free agent starting pitcher C.J. Wilson.
If that doesn't work the Angels could offer a similar package to the Mets for David Wright, although that would be less likely since New York already might lose Jose Reyes to free agency. If the Angels are unable to trade for Zimmerman or Wright, then the third alternative would be to sign free agent third baseman Aramis Ramirez.
Either way, the Angels need more power and run production from the hot corner. If they need to trade Bourjos to get an impact player like Zimmerman or Wright, then obviously Mike Trout would take over in center field.
2. Try to sign Jose Reyes.
Reyes is the best free agent fit for the Angels. He's one of the best lead-off hitters and defensive shortstops in baseball. He has better range than Aybar to both sides and a very strong arm. He plays with energy and enthusiasm and he would completely change the Angels' lineup, creating more fastballs for the middle of the lineup. With Reyes and Trout at the top, this offense would be much improved in 2011.
3. Sign one of the best free agent closers that will be available
, whether that is Jonathan Papelbon, Heath Bell or Ryan Madson, or trade for Joakim Soria of the Royals and move Jordan Walden back to the 8th inning and let him continue and develop in that role.
This year's playoff teams are using a closer for the 8th inning and another for the 9th inning. The Yankees have Soriano, Robertson and Rivera. The Tigers have Benoit and Valverde and the Rangers have Adams and Feliz. The Angels need to follow that formula and reduce their blown saves in 2012.
4. Sign Hiroki Kuroda to be their 4th starter.
Kuroda loves Los Angeles and only wants to pitch here or in Japan. The Angels should steal him from the Dodgers and let him be their fourth starter behind Weaver, Haren and Santana. He provides solid innings and is one of the more underrated middle-of-the-rotation starters in baseball.
The Angels next GM will have the opportunity to make a few bold moves that could certainly put the team back into the post-season next year.
Jim Bowden served as the senior vice president and GM for the Cincinnati Reds and the Washington Nationals, and is an analyst for ESPN.com.