Los Angeles Angels:

John Hester
July, 5, 2012
7/05/12
10:38
PM PT
ANAHEIM -- Resiliency proved to be the difference for the Angels on Thursday night.
Kendrys Morales
' two-run single in the fourth was the final jolt in a wild comeback effort, and the Angels pulled out a 9-7 victory over the Baltimore Orioles. Starting pitcher
Garrett Richards
struggled mightily but the bullpen shut the door to give the Angels their 28th win in the last 40 games.
The Good:


Counter attack
. It could have been easy for the Angels to fold, call it a night and roll off the old "we'll get them tomorrow" spiel. Richards just didn't have it (he opened the game with a five-pitch walk), and the Angels faced 4-1 and 7-3 deficits early. But a five-run explosion in the fourth gave the Angels their first lead and deflated whatever momentum the Orioles had built.
The kid
. You know this by now, but All-star
Mike Trout
is pretty good. The 20-year-old led off the sixth with a four-pitch walk, stole second, stole third and scored on
Matt Wieters
' wild throw into left field for a much-needed insurance run. It was his 26th stolen base before the break, tying him for an Angels rookie record.
Trumbo, left fielder
. First baseman turned third baseman turned outfielder
Mark Trumbo
has improved tremendously with the glove, and he demonstrated it again Thursday. Trumbo made a jumping catch at the wall in the fourth inning to save a run and, about a minute later, threw out
Ryan Flaherty
on a laser to third base.
The Bad:
Roughed up
. It was, without a doubt, the last thing Angels manager
Mike Scioscia
wanted to see. On a day when
Dan Haren
(back) went on the disabled list for the first time in his 10-year career, Richards did little to alleviate Scioscia's concerns about the lack of pitching depth in the organization. Richards surrendered seven runs and 10 hits, as his ERA ballooned up from 2.81 to 4.21.
Alignment
. The Angels shifted their defense for notorious pull hitter
Jim Thome
in the first inning, sliding second baseman
Howie Kendrick
to short right field in anticipation of a hard hit ball to that side. Thome did exactly that, lining a one-hopper that Kendrick was unable to snag. It was a make-able play that wasn't made, allowing the Orioles to plate their first run.
Excluded
. Trumbo, coming off a good road trip in which he hit .353, went hitless in four at-bats. He and catcher
John Hester
were the only Angels that failed to reach base.
June, 26, 2012
6/26/12
8:23
PM PT
Baltimore's Camden Yards is always a good place to hit and the Angels offense is settling into a dangerous groove. Combine the two and you have perhaps the most prolific display Angels hitters have put on this season.
The Angels had a season-high 17 hits in a 7-3 win over the Baltimore Orioles Tuesday, including four home runs. They just keep on trucking, having won 12 of their last 13 road games, though it was interrupted by a lengthy homestand.
The Good:


Another victim. Albert Pujols
added Orioles youngster
Brian Matusz
to a ridiculously long list of pitchers he has homered off of. Pujols connected for a two-run shot off the lefty, the 282nd pitcher Pujols has taken deep. He also added Camden Yards to his list of 33 different ballparks he has homered in, several of them now no longer standing. Pujols didn't have a great homestand, but the overall trend has been clear: up. He has 11 homers and 34 RBIs in 38 games since May 15.
All-Star lefty? C.J. Wilson
has gotten himself into an unbelievable amount of trouble in his last few starts and gotten himself out of virtually all of it. Can it continue? Probably not -- the law of averages suggests it's a dangerous way to live -- but his escape artistry is helping him motor through a great first half. Wilson (9-4) is 5-0 in his seven starts since May 18, over which he has a 1.30 ERA over that span.
Power to the ninth. John Hester
has developed into Wilson's personal catcher. That and a surprisingly robust bat could make him the Angels' backup catcher when
Chris Iannetta
returns from the disabled list, a development that could put
Bobby Wilson
in danger of being designated for assignment. Hester, batting ninth, homered along with two other hits. His only out was a drive to the base of the left-field wall. His defense appears flawed, but he's making up for it by chipping in when he's at bat.
The Bad:
Why Erick? Why?
Why did
Erick Aybar
try to score from first on Hester's two-out single to center in the fourth inning? He was, predictably, thrown out easily. Aybar isn't the only Angels hitter to look unnecessarily aggressive on the bases this season. He wasn't the only guy in this game (
Torii Hunter
). Would it kill this team to settle in and play for a big inning every once in a while. It's kind of how things are done in this league, especially in cozy little stadiums like Baltimore's.
LOB passes.
It's amazing how many chances the Angels actually blew in this game and still won easily. That tells you all you need to know about Matusz's season. It tells you all you need to know about how this team's hitters are feeling at the plate lately. The Angels went 1-for-8 with runners in scoring position, left nine men on base and still scored seven. It was largely much ado about nothing, but it somehow added up to something.
Snub patrol.
It's great when fans and managers and coaches criticize the baseball writers for how they vote in the award races and then butcher the Gold Glove and All-Star voting respectively. The Angels two most deserving All-Stars aren't even visible in the voting.
Mark Trumbo
, hitting .320 with 18 home runs and 50 RBIs, is listed as a third baseman and getting virtually no support.
Mike Trout
, who was leading the league in hitting going into Tuesday, isn't even on the ballot. Both guys will be there -- I'd be shocked if they're not -- but it's yet more evidence that this stuff is harder than it looks.
June, 17, 2012
6/17/12
12:08
AM PT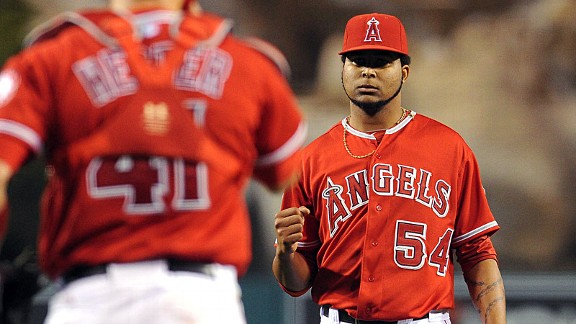 Jayne Kamin-Oncea-US PresswireErvin Santana retired the first 20 batters he faced Saturday on his way to a one-hitter.
ANAHEIM -- It had been 20 minutes or so since
Ervin Santana
walked off the mound after taking a perfect game into the seventh inning and finished with a one-hit complete game shutout of the Arizona Diamondbacks on Saturday. Twenty minutes and here came the question that is always the question with Santana.
"Mike, is this the turning point for him?"
Mike would be Angels manager
Mike Scioscia
and as usual he was blunt.
"We'll see," he said. "As Ervin hopefully gets in those workouts between his starts and carries that same feeling through his next start, he could very easily get on a roll like he did last year."
Santana had a masterful night like this almost a year ago when he finished off a no-hitter of the Cleveland Indians as part of a five-game winning streak to turn around a 3-8 start to the year.
This season has gone about the same way with Santana entering Saturday's game with a 3-7 record, 5.74 ERA and facing the very real possibility of dropping out of the rotation once
Jered Weaver
returns from the disabled list. To be fair, the Angels didn't score in five of Santana's first six starts this year. But it's still fair to say he has been inconsistent enough that it was reasonable to wonder whether he might be moved to the bullpen for a stretch.
Although Scioscia has maintained the team was not yet seriously considering making that move, the fact that the question was being asked seriously says enough.
For all his talent, Santana wasn't putting it together. His fastball command was shaky and from there it's like a house of cards with all of his other pitches. The curveball becomes his best weapon, but teams sit on it. The change-up has nothing to play off of.
If there was a mechanical explanation, the Angels and Santana would have found it a long time ago.
No, this is just your garden-variety baseball story. The game is hard and inscrutable. One day you're great, the next you can't find your fastball. There is no light switch to turn on and off.
As Santana's catcher
John Hester
said Saturday night, "He's got a great arm. There's no reason for him not to be able to throw like that most times. I understand it's a tough game, but he's got it in him every time he steps on the mound."
June, 3, 2012
6/03/12
3:56
PM PT
ANAHEIM -- The Texas Rangers fought back to avoid the sweep, beating the Angels 7-3 at Angel Stadium Sunday afternoon to pad their AL West lead to 4 1/2 games.

The big blow, literally, was Nelson Cruz's two-run home run in the seventh inning that reached the Monster Energy sign, roughly 484 feet from home plate. It was the longest home run in the majors this year, according to ESPN's Home Run Tracker.

The Good:

Scrappiness. The Angels didn't have much of a day at the plate and the middle of their bullpen, as usual, offered scant relief. But the team did fight and stay in the game despite all that. After going in a 2-0 hole, the Angels scored. After going down 3-1, they scored again. When it was 5-2, they scrounged for a run and put the tying run at second. Their execution was flat, but not their effort.

Still going. Mike Trout wasn't having the most productive day when he came up with two on and two outs in the seventh innning. But that at-bat showed the maturity the Angels love from their 20-year-old leadoff hitter. Trout fell behind hard thrower Alexi Ogando before taking some borderline pitches and then putting a compact swing on one and sending it up the middle for an RBI single. Trout also singled to right off Texas closer Joe Nathan.

Finally producing. The latter third of the Angels order had been where rallies went to die and where pitchers went to catch their breath. But it was the guys struggling to stay above the Mendoza line who sparked what little offense the Angels generated. Erick Aybar, stuck in a miserable funk all year, drove a double into the left-field corner to bring home the first run and journeyman backup catcher John Hester hit a solo home run.

The Bad:

Big boys. It was the kind of situation for which you sign an Albert Pujols. Down by two in the seventh inning, the Angels had the bases loaded. But Ogando''s final two pitches to Pujols were clocked at 99 and 100 mph and Pujols ended the inning with a broken-bat pop-up to left. It wasn't a great day for the Angels big boppers. Pujols and Mark Trumbo combined to go 1-for-6 and the lone hit was a Trumbo pop-up lost in the sun.

Hit Hunter. Torii Hunter was in a deep slump before he went on the restricted list last month. Missing two weeks didn't seem to cure what was ailing him. Hunter is now in a 3-for-46 (.065) slump over the last month. His at-bats were costly Sunday. He struck out twice and then swung at Matt Harrison's first pitch with two runners in scoring position and hit a lazy fly ball to end the sixth inning.

Intensive labor. Dan Haren looked like his old self in the previous two starts, mowing down hitters and getting deep into games. But it looked like he had mediocre stuff Sunday and the Rangers lineup has a way of grinding that can make it difficult for a pitcher to catch his breath. Haren did his best to minimize damage, but long innings drove up his pitch count and drove him from the game after five innings.
June, 3, 2012
6/03/12
12:03
PM PT
It's not often a team is dying to get a .197 hitter back in the fold, but the absence of catcher Chris Iannetta has left a major hole in the bottom of the Angels' lineup.

Since Iannetta went on the disabled May 9, the Angels are still waiting for an RBI -- one RBI! -- from a catcher. Bobby Wilson is an above-average defender and John Hester has done fine since being recalled, but they have collectively batted .186 in Iannetta's absence. Wilson was 0-for-4 with three strikeouts Saturday night.

The lack of production from the catcher's spot in the order is part of the reason virtually all of the Angels' offense lately has been generated in the top half of the order, often around Mike Trout, Albert Pujols and Mark Trumbo.

Iannetta is progressing in his rehab from a broken wrist, having been cleared to long toss and to do plate-blocking drills. Manager Mike Scioscia said he would be surprised if Iannetta doesn't return within the next two weeks.

"Even though his average wasn't that high, he was getting on base and there was definitely a threat in the bottom of the lineup," Scioscia said. "So, any time you can get a guy who has that kind of power and ability to get on base back in your lineup it makes you deeper and we'll welcome that back."

* Also, on Sunday Mike Trout was named the American League rookie of the month for May, when he batted .324 with six doubles, three triples and five home runs.

Here are lineups for Sunday's series finale, the Angels going for a three-game sweep behind Dan Haren:

Texas
Ian Kinsler 2B
Elvis Andrus SS
Josh Hamilton CF
Adrian Beltre 3B
Michael Young DH
Nelson Cruz RF
David Murphy LF
Mike Napoli C
Mitch Moreland 1B

Angels
Mike Trout LF
Alberto Callaspo 3B
Albert Pujols 1B
Mark Trumbo RF
Torii Hunter DH
Howie Kendrick 2B
Erick Aybar SS
Peter Bourjos CF
John Hester C
June, 1, 2012
6/01/12
9:49
PM PT
ANAHEIM -- The Angels took another step toward restoring what was supposed to be a heated rivalry with the Texas Rangers.
They rallied for a 4-2 win Friday night behind two key hits from phenom
Mike Trout
. Baseball fans have been anticipating a good fight between the two AL West heavyweights, but it has been a rout lately, with Texas winning 10 of the 13 previous matchups coming in.
The Angels pulled to within 4 1/2 games of first place, the closest they've been since April 16.
The Good:


The Flash.
He spent the first three weeks at Triple-A (and the Angels have played only eight), but
Trout
leads the Angels in triples. Any time he gets a hit that gets past an outfielder, he digs hard for third base. When he smacked one off the right-field scoreboard, it was almost automatic. Trout has been a spark since he arrived and he helped the Angels generate some energy on a night when
Colby Lewis
was lulling them to sleep. He also had the broken-bat single to center that drove in the winning runs in the seventh.
Call Jerome.
You can't expect much more from your No. 5 starter.
Jerome Williams
gives the Angels innings -- and a chance to win -- virtually every time he takes the mound. Eight of his 10 starts have been quality. Things were wobbly for him early, but it was mostly due to an assortment of soft hits, and he got
Mitch Moreland
to hit into a couple of early double plays to avoid major damage.
Stoppers.
It's amazing how much the addition of one pitcher can do to improve a bullpen. Angels general manager
Jerry Dipoto
changed everything by adding
Ernesto Frieri
. Frieri has been ridiculous: 27 strikeouts and no hits in 13 innings. Now, Angels manager
Mike Scioscia
has three viable choices for the final two innings: Frieri,
Scott Downs
and
Jordan Walden
. He can make decisions based on matchups, and it's working like a charm so far.
The Bad:
Rough stretch. Alberto Callaspo
came to the plate with Trout on third and nobody out and got to a 3-and-1 count -- with
Albert Pujols
on deck -- but, oddly, he decided to swing at the pitch ... and hit a weak foul popup to third. A few minutes later, maybe he was thinking about that bad at-bat when he played back on
Nelson Cruz's
routine grounder and flubbed it for an error.
Atmosphere.
The Angels expect sellouts the next two games, but you would think a Friday night with the first-place team in town might generate more excitement. The Angels announced 40,040 fans were here -- about 5,000 off capacity -- but the crowd looked smaller than that, with the corners of the upper deck completely empty. Attendance is off by about 14 percent and the Angels have nobody to blame but themselves with their slow start.
Run defense.
Backup catcher
John Hester
deserves the credit for jump-starting the Angels offense. He got the first extra-base hit off Lewis and scored the first run. But the Rangers ran wild on him in the early innings, stealing three bases. Hester has a slow release and the Rangers apparently had a good scouting report.
May, 25, 2012
5/25/12
10:13
PM PT
The Angels did something they've rarely done this year: they rallied.

Down by a run going into the ninth inning Friday night, the Angels scored three times off Seattle Mariners closer Brandon League for a 6-4 win that gave them their first four-game winning streak this season. Howie Kendrick, making a rare pinch-hitting appearance, drove in the winning runs with a two-run single.

The Good:

Hot Albert. The focus all season has been on the home runs, but the most damaging part of Albert Pujols' slump was the lack of run production. He had four RBIs in April. That tune has changed dramatically lately, with Pujols driving in 20 runs in his last 19 games. Oh, and the home runs? Those are way up, too, with five -- including the three-run blast in the sixth that got the Angels in the game -- in the last 10 games. He had one in the first 36.

Hot bullpen. What was once a major concern is now far less of a concern. The Angels bullpen has been sharp for weeks. It wasn't as high-pressure as some roles, but it also wasn't blowout duty and Hisanori Takahashi and Jason Isringhausen did what the rest of the relievers have been doing lately -- they got a bunch of outs, three innings worth. Then Scott Downs in the ninth did what he always seems to do: pitched a drama-free inning, quickly getting his fourth save.

Sparking things. When you're as hot as Mark Trumbo was for a couple of weeks, you know it's not going to last forever. You just hope for a soft landing, which is unlike what had been happening to the Angels' second-year slugger. The 0-fors were piling up for Trumbo, who has five hits in his last 35 at-bats. Perhaps his ninth-inning single, which sparked the winning rally, will get him going again.

The Bad:

Swervin' Ervin. Lost in the fact that the Angels can't score runs in support of Ervin Santana is the fact that Santana hasn't pitched very well. He has allowed 13 home runs in 10 starts and has an ERA well north of 4.00. He has only had two starts this year when he struck out more than six batters. Walks (seven!) were a big chunk of the problem Friday, but it seems like it's always something that keeps Santana from winning games these days.



Chilled Trout. Similar things as we said about Trumbo could be said of Mike Trout. The rookie was red hot for a while, but not so much lately. The rookie leadoff man didn't get on base again and is now 2 for his last 22, his batting average going from .355 to sub-.300.

Power outage. Kendrys Morales' last home run came on May 13. That also happened to be his last extra-base hit. When you are coming off a catastrophic leg injury, becoming a slap hitter normally isn't a great idea. The Angels need Morales to start driving the ball again, because pitchers are starting to become awfully careful with Pujols all of a sudden.
May, 22, 2012
5/22/12
10:46
PM PT
The Angels got a dominating pitching performance from C.J. Wilson and saw some signs of life from Albert Pujols' bat in a 5-0 win over the Oakland A's Tuesday night.

The Good:

Mr. Steady. Other than a rain-shortened outing in Texas and his previous start -- when he was battling a stomach virus -- C.J. Wilson hasn't had a bad start all year. Tuesday, against the punchless A's, was one of his finest -- an eight-inning one-hitter. The jury is still out on the Angels' two marquee off-season acquisitions, but the Wilson investment looks a lot more sound so far than the Albert Pujols deal.

Albert. He hit his first home run on the road and also had a sacrifice fly. Every time you make grandiose statements about Pujols getting hot, he cools off again, so we'll refrain from that. But four home runs nearing the end of May sounds a lot better than zero going into early May. He's at least taking baby steps.

Pushing buttons. This has been a grueling couple of months for manager Mike Scioscia. His close friend, hitting coach Mickey Hatcher, got fired. Scioscia has taken more criticism than ever before. But Tuesday he seemed to set the right tone by giving Angels hitters a day off from on-field batting practice, something he calls "going American Legion." Maybe it helped alleviate a little pressure? Also, Scioscia seems, at last, to have settled on a more or less set lineup, with Mike Trout leading off, one of the switch-hitting third basemen batting second and either Kendrys Morales or Mark Trumbo at cleanup.

The Bad:

Aybar exits. Shortstop Erick Aybar took a breaking ball off the right knee and had to leave the game in the seventh inning. Aybar hasn't exactly been killing the ball at the plate, but if he's out for more than a couple of days, it could put a big dent in the Angels' defensive continuity. Also, the infield options in the minor-leagues are scant since the team sent Alexi Amarista to San Diego.

Maicer struggles. Maicer Izturis has been one of the more underrated players on the roster as long as he's been an Angel, and that's a long time (he's the longest-serving player on the roster, having been acquired from Montreal in 2004). The utility guy, however, has been in a mighty slump lately, just one hit in his last 19 at-bats. He had a rare 0-for-6 Sunday in San Diego and he followed that with Tuesday's 1-for-5 performance.

AL West hitting. Leave Texas out of the discussion and the offensive performance of the AL West is just staggeringly anemic. Wilson was good Tuesday, but was he this good? Oakland entered Tuesday night with a .216 team batting average. That's incredible.
May, 12, 2012
5/12/12
1:11
PM PT
By
Randy Jennings
| ESPNLosAngeles.com
C.J. Wilson
and four relievers cooled off the Texas bats and the Angels played a little small ball to win Game 2 of the three game series Saturday at Rangers Ballpark.
In contrast to Game 1, the Angels were crisp on defense, turning double plays in each of the first two innings. And their winning rally in the seventh inning came immediately after Texas tied the score at 2.
The Good:


Little things mean a lot.
Textbook execution at the plate, something that couldn't be said a lot about the Angels in 2012, produced a decisive pair of runs in the seventh. After
Mark Trumbo
waited out a leadoff walk, Howie Kendrick and
Peter Bourjos
bunted for base hits to load the bases. Facing hard-throwing Rangers reliever
Alexi Ogando
, pinch hitter
Kendrys Morales
and
Mike Trout
delivered sacrifice flies for a two-run Angels lead. Along with John Hester's infield single, none of the three Angels hits in the inning reached the outfield. It was the kind of inning that could make an oldtimer smile.
Going deep.
Coming off an impressive rookie season, the Angels 2012 expectations for Mark Trumbo are high. With good reason. In the fourth inning of a scoreless pitcher's duel, Trumbo launched a drive into the left field stands an estimated 420 feet off
Matt Harrison
for a 2-0 lead. It was home run No. 5 for Trumbo, tying Torri Hunter for the team lead. His previous four were solo homers. Trumbo hit a team-leading 29 as a rookie in 2011 and was named the club's MVP.
Good first impression.
Newest Angels catcher
John Hester
, who joined the team on Friday, lined an opposite-field single in the third inning, the first hit off Rangers starter Matt Harrison. Maybe it shouldn't come as surprise because Hester hit a pinch-hit home run in his first Major League plate appearance with Arizona in 2009.
The Bad:
Groovin.
C.J. Wilson admirably handled Rangers slugger
Josh Hamilton
in his first two plate appearances, recording swinging strikeouts. Perhaps that lured C.J. into a false sense of security. Hamilton continued his torrid home run streak, his eighth in five games and third of the series, with a game-tying solo home run in the sixth. Wilson failed to finish the inning and left with a no-decision on a day when he pitched well.
Going quietly.
Three hits through six innings is not going to cut it for the Angels. Three hits was all they could muster through the first six against
Yu Darvish
and
Mark Lowe
in Friday's 10-3 loss to Texas. It was the same story in six against Matt Harrison on Saturday. A little early offense could make things less stressful for the starting staff.
K Zone.
The first time through the batting order, four Angels struck out. But they also showed plate patience that was lacking all to often in the first 33 games. Angels fans can accept strikeouts when it means better at-bats.
May, 12, 2012
5/12/12
10:06
AM PT
By
Randy Jennings
| ESPNLosAngeles.com
ARLINGTON, Texas -- Mike Scioscia is giving struggling slugger
Albert Pujols
a break from defensive duties at first base today, plugging him into the designated hitter role.
Mark Trumbo
starts at first base.
It will be Pujols' second start as the DH. He was hitless on Friday.
"It was a tough right night for him," Scioscia said after Friday's game. "Every time like it seems like he's inching closer and feeling more comfortable, he's taking a half-step back. I know he's working hard on some stuff. He's frustrated We're going to keep moving forward."
•
John Hester
makes his Angels debut behind the plate today.
It caps quite a month for the 28-year-old Hester. He began the season at Triple-A Norfolk as a member of the Baltimore organization and was released on April 20. Two days later, he signed with the Angels. He was batting .222 with a home run and five RBI in 27 at-bats for Triple-A Salt Lake City at the time of his promotion.
A roster spot became available when regular catcher
Chris Iannetta
underwent wrist surgery on Friday.
A strenuous night behind the plate for
Bobby Wilson
due in part to a two-hour rain delay on Friday influenced today's start for Hester, Scioscia said.
Hester, who bats from the right side, broke in with the Diamondbacks in 2009 with a pinch-hit home run, becoming the 101st big leaguer to homer in his first career plate appearance. He was a 13th round draft selection by Arizona after attending Stanford from 2004-2006. He helped the Cardinal reach the College World Series and was named the team's Most Inspirational Player.
• The Angels have been outscored 33-5 in their last six losses and failed to score in four. When scoring three runs or less, the Angels are 1-16, but they are 13-3 when scoring four or more.
• Look for
C.J. Wilson
to work carefully to
Josh Hamilton
. The Rangers outfielder homered twice in Friday's series opener, giving him seven home runs in the last four games.
"He's locked in right now," Scioscia said.
May, 11, 2012
5/11/12
4:49
PM PT
By
Randy Jennings
| ESPNLosAngeles.com
ARLINGTON, Texas -- Angels catcher
Chris Iannetta is expected to miss six to eight weeks
after undergoing a 40-minute surgical procedure Friday in Los Angeles to repair a broken bone in his right wrist. Iannetta's wrist problem dates to the second inning of
Jered Weaver's
no-hitter on May 2 when he was struck by a pitch thrown by Minnesota's
Liam Hendriks
.
Iannetta finished that game and played in four more subsequent games, going hitless.
"It's a big loss,'' said Angels manager
Mike Scioscia
, "but it could have been worse. At least, we should get him back for the lion's share of the season.
"We need to get him back behind the plate for our pitching.''
Bobby Wilson
will catch Friday's opener of a three-game series with the Rangers.
"Wilson caught three straight games last week and it didn't seem to be a problem,'' Scioscia said.
Catcher
John Hester
, signed by the organization less than a month ago, has been promoted from Triple-A Salt Lake City to fill Iannetta's roster spot.
Before the injury, Iannetta showed some pop with three home runs, just one off the team lead.