Los Angeles Angels:

John Lackey
September, 13, 2012
9/13/12
7:23
PM PT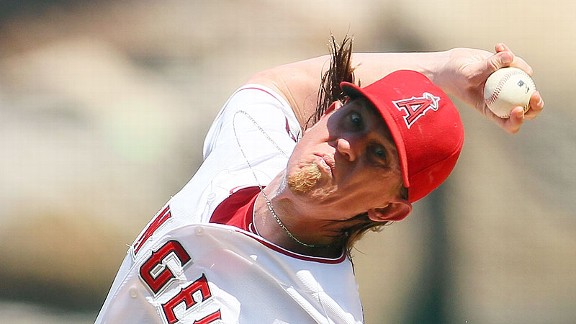 Victor Decolongon/Getty ImagesJered Weaver returned to the rotation after skipping a start and looked as good as ever Thursday.
ANAHEIM, Calif. --
Jered Weaver
has been with the
Los Angeles Angels
long enough to know this isn't where they want to be this time of year. Chasing, pressing, scratching and clawing their way into a playoff spot, rather than lining things up for a deep playoff run.
He was a young pup back in the days when the Angels were the kings of the American League West.
John Lackey
was the staff ace then, and man, doesn't that feel like a long time ago?
Weaver is indisputably the ace of the staff now. The guy the team turns to when it absolutely, positively, needs to win a game. And a moment like that arrived Thursday afternoon with the
Oakland Athletics
on the verge of their first four-game sweep of the Angels since 2001.
Had the Angels been where they want to be this time of year, where their payroll and the talent on their roster projected them to be, Weaver might have been able to rest his tired right arm another week or two.
But the Angels don't have that luxury now. Not when they're still on the outside of the AL wild-card race looking in with just 19 games to go.
So Weaver did what an ace does, coming back to strike out nine and allow just two hits in a walk over seven dominant innings against the previously sizzling A's in a 6-0 win that added fresh kindling to the Angels' flickering playoff chances.
Weaver did his part Thursday, stepping up with a dominant performance in a game the Angels absolutely had to have.
"I wanted to set the tone," he said. "We obviously didn't want to get swept. And the first three games of this series obviously didn't go the way we'd like them to. These guys are playing real good baseball. You can't take them lightly. They're playing the game hard. They're battling just like we're trying to."
While the score looks like a blowout, it was far from it. Weaver and Oakland's
Brett Anderson
were locked into a classic pitcher's duel through six scoreless innings. Things only loosened up in the bottom of the seventh when Angels outfielder
Torii Hunter
slammed a solo home run that seemed to open the flood gates as the Angels batted around to score six runs and chase Anderson in the process.
Having shut down the A's almost completely, Weaver left after throwing 94 pitches in seven innings.
It was what an ace does.
The question is whether it's what a Cy Young winner does.
September, 12, 2011
9/12/11
11:23
AM PT
Suddenly, the Angels' chances of getting into the playoffs as the wild card have sprouted to life.

The Boston Red Sox are battered and, lately, beaten. Boston has lost five in a row and 10 of its last 13, including the past three to the Tampa Bay Rays, whom they play in a four-game series starting Thursday in Boston. Meanwhile, Kevin Youkilis has hip and groin injuries, Josh Beckett is coming off a sprained ankle and John Lackey has been the worst starting pitcher in the American League.

Maybe the super team is in the midst of a spectacular September collapse? It's worth noting, because the Texas Rangers are 27-9 this year against the teams they're playing before they reach Anaheim later this month.

The Rays trail Boston by 3 1/2 games in the wild-card standings. The Angels are five back.

It's possible the Rays could take it from the Red Sox, then hand it to the Angels. Tampa plays six of its final nine games against the first-place New York Yankees. The key for the Angels in any playoff-push scenario is to do well on this dominate-able road trip, which begins tonight in Oakland, moves to Baltimore and finishes in Toronto. Anything less than 6-4 could end their hopes.

Hey, it's possible. Just saying.
April, 24, 2011
4/24/11
4:45
PM PT
Vernon Wells has been one of the most efficient hitters in baseball this season. You could see that on Sunday against John Lackey, when Wells only needed to see three pitches in his first two at-bats to make outs.

That's the kind of series it was for Wells and the Angels this weekend, when they dropped four straight to the Boston Red Sox and then got together for a short team meeting to hear manager Mike Scioscia talk about all the at-bats they gave away.

"The one thing that's for sure is that we need tougher at-bats," Scioscia said afterward.

Here's how ugly it had gotten by Sunday, with virtually every Angels hitter not only struggling, but barely making Lackey work to get outs: "The frustrating part was getting guys to compete in the box," Angels hitting coach Mickey Hatcher said.

In a way, Angels management has no one to blame but itself. A few years ago, the organization began emphasizing patience for the first time under Scioscia and Hatcher, but that effort seems to have been abandoned. Exhibit A was the acquisition of Wells, one of the freest swingers in baseball.

Entering Sunday, among the 152 American League hitters with 30 or more plate appearances, Wells ranked 150th in pitches seen per plate appearance (thank you, John Fisher of ESPN Stats and Info). Only 19 of those batters swung at the first pitch more frequently than Wells and he was hitting .176 when he puts that pitch in play.

It's not like the Angels didn't know all this when they acquired Wells for Mike Napoli (a supremely patient hitter) and Juan Rivera in late January.

"It's always been like that, good or bad," Wells said.

Entering this season, Wells had a career on-base percentage of .329, barely average and shockingly low for a player with his power. Entering Sunday, only three AL hitters had lower OBPs: Carl Crawford, Brett Gardner and Chone Figgins. In the struggling-rich-guys-with-new-teams race, Crawford (.171 batting average) surpassed Wells (.169) on Sunday, by the way.

It's not as if impatience is the only thing plaguing the Angels' lineup at the moment. A lack of hits – particularly in the clutch – has also been a rather pressing issue. The Angels only had 22 at-bats with runners in scoring position in this series and they had two hits.

The Red Sox's pitching staff looked like it could handle the Angels' lineup while juggling with the other hand. Then again, Boston hasn't had much to worry about from the Angels in a while. They're 13-1 against them since they were swept out of the 2009 playoffs.

The Red Sox had one road win before they got to Anaheim. Now they have five.

"You know they're not going to struggle like that for long. They have too much talent on that team, but for them to come in here and do what they did to us, obviously that's not a good thing," Wells said. "We'll learn from it and we'll get another chance at them here pretty soon."
April, 24, 2011
4/24/11
3:48
PM PT
ANAHEIM, Calif. -- An old friend administered the latest humiliation to the Angels in their increasingly lopsided "rivalry" with the Boston Red Sox.

John Lackey pitched eight shutout innings Sunday in a 7-0 Red Sox romp. Boston won for the 13th time in the last 14 meetings between the two teams. In this four-game sweep, the Red Sox outscored the Angels 20-5.

The Good:

Peter rabbit. In honor of the Easter holiday, we bestow that nickname on Peter Bourjos, the Angels' fastest player. He was the only Angel with more than one hit. He bunted his way on in the third -- he's getting better and better at that -- and then lined a single to center. A day off seems to have refreshed the young center fielder.

No congestion. The Angels solved their clutch hitting problem -- a poor batting average with runners in scoring position -- by simply staying off base. They only had 22 at-bats with runners in scoring position over four games, and they got two hits in those situations.

Ace in the hole. No, Jered Weaver didn't pitch. But the best thing the Angels had going for them Sunday was the knowledge that Weaver starts Monday night's game against Oakland. If he wins, he'd be the first pitcher in club history to win six games in the team's first 23 games. He'd be the first to do it in MLB since Randy Johnson for the Arizona Diamondbacks in 2002.

The Bad:

Wells' woes. Vernon Wells seemed to be figuring things out in the last road trip, when he batted .360 and hit his first Angels home run. That momentum came crashing to a halt against Boston. Wells, now batting .169, had one hit in 15 at-bats in the series. Even Carl Crawford (.171) surpassed him in the slow-motion race of who can have a less-disappointing start with his new team.

Trumbo's travails. Virtually every hitter in the Angels' lineup is struggling, but none more so than rookie first baseman Mark Trumbo. He looked overmatched against some good Boston pitching, failing to get a hit in this four-game series. Trumbo is 0 for his last 19 at-bats with seven strikeouts.

That's that. The Angels don't have particularly high expectations for Matt Palmer, who is in their rotation only because of two injuries. If they're lucky, they may not have to endure another Palmer start, as Joel Pineiro could make his final rehab outing Monday and rejoin the Angels by next weekend. Palmer (1-1, 5.17 ERA) got things off to a poor start by giving up three runs in the first inning.
April, 21, 2011
4/21/11
9:53
AM PT
By Gordon Edes

ESPN Boston

ANAHEIM, Calif.—With the Red Sox coming to town for a four-game series, ESPNLA colleague Mark Saxon (Mark, shouldn't that be the ESPNLA of Anaheim?) was interested in some first-hand observations about the state of the Sox in the season's first month.

* Naturally, Saxon commenced his inquiry by asking what the "vibe of the town" was like during those initial startling days when the Sox gracelessly lost their first six games after going 162-0 in all the preseason forecasts. Not satisfied by his own research that showed there was not a spike in calls to suicide hot lines, no leaps from the Lenny Zakim Bridge, and no sightings of Ben Affleck and Matt Damon in Yankee caps, Mark clearly was hoping that a jaded journalist would confirm his fantasy that disillusioned Sox fans had switched to professional lacrosse in droves (And yes, Mark, we do have a professional lacrosse team—they're known as the Cannons and you're invited to come when the Angels come our way later this month).

Sorry to disappoint you, old pal, but while Boston drivers might have been even surlier than usual as they navigated the rotaries that still terrify Terry Francona ("How come,'' he once asked, "that when five drivers enter the rotary at the same time, they're only giving the finger to me?''), the region generally maintained its equilibrium.

This isn't Philadelphia, after all, where fans just booed a robot that bounced its ceremonial first pitch into home plate. Boston is so magnanimous, Sox owners cut a business deal with LeBron James and no one organizes a boycott on Yawkey Way. (A-Rod, we heard, was the next name on their list)

So, OK, there may have been an uptick in calls to radio stations that identified the Red Sox manager as someone named "Chowderhead," Daisuke Matsuzaka was booed louder than Kobe on his worst day, and bewildered John Lackey, who never got this treatment when he was an Angel, found himself skipped in the rotation for the first time ever and his acquisition discussed in terms generally reserved for the Babe's sale to the Yankees.

Even Carl Crawford, the new left-fielder who by comparison makes even Manny look underpaid by the Sox, said he fretted that the Sox would be booed en masse when they lined up for the home opener with an 0-6 record.

But instead, the crowd showered them with the usual affection, the Sox took two of three from the hated Yankees, and the general consensus was that owner John W. Henry didn't need to be shipped out to Liverpool after all.

Of course, if they'd have been swept by the Bombers, they'd be celebrating the 100th anniversary of Fenway next summer on a funeral pyre.

* Saxon then wanted to know all about Crawford, feigning concern about his wretched start and in syrupy tones asking if, well, you know, does anyone back there think maybe Crawford wasn't worth all that money.

Mark, I know you can do better. New Englanders, you must know, didn't just fall off the turnip truck. They haven't forgotten that everyone in the world thought Crawford was going to leave one beach house off Tampa Bay for another off Newport Beach, that he would join old pal Torii Hunter as the newest Angel in the outfield. That was the idea, of course, until your GM, Tony Reagins, got out-maneuvered, and CC stayed in-conference. Here's some advice: Don't start gloating yet. Yes, CC has a number -- .149 -- that would show much better as an ERA for CC Sabathia than as a batting average for Carl Crawford, but did we panic the last two Aprils when Big Papi didn't hit a lick? (Well, we did, but we learned from that experience, especially since Ortiz hit home runs in the first two games this season after going six weeks without one in 2009.)

We haven't lost a whit of confidence in our Carl, though we must admit we expected a little bit more out of his first dozen or so games. Especially since he made more money in that time than Ted Williams made in his entire career. But we don't take cheap shots like that around here. If a few dozen shrinks called up Theo Epstein offering their services to help Crawford make the adjustment from Tropicana Field, where kid-friendly rays swim around in an outfield fish tank, to Fenway Park, where beer-swilling piranhas roam the bleachers, well, just chalk it up to trying to be helpful. It's a matter of time before he comes around. We've had guys from Tampa Bay before, you know. Remember Julio Lugo?

It's getting late here, Mark, so I'm going to put your last questions in tweet form and answer them the same way.

* @GordonEdes wht can u tell me re Lackey? FB down, CB up, confidence broken? R media picking on him?

@MarkSaxon JL is one po'd-Texan. 4 sure. Pride took big hit. Ptched great when mad, tho. 1 scout: Best I seen JL in 3 yrs. Vel 95 1 pitch. See 4 urself Sun

* @GordonEdes Doctor, doctor, give me cure. What ails Sox most?

@MarkSaxon Can Scioscia still catch? Track shoes for Angels. Salty not throwing, Varitek not hitting. SOS.

* @GordonEdes Angels fans save their Haterade 4 Sox 4 more reasons than can count. Where do Angels rate on Sox hate scale?

@MarkSaxon Last time hate 4 Angels was when Cowboy stole Lynn and Remy, 30 yrs ago. Remdawg rules, Lynn 4given. Angels? Plyoff loss in '09 a fluke.

Hope this was helpful, Mark. Maybe we'll let you write your name inside the Monster when you visit next time. So you'll know what real history feels like.

Your friend, Gordon