Los Angeles Angels:

Jonathan Papelbon
January, 5, 2012
1/05/12
11:45
PM PT
By
Mark Simon, ESPN Stats & Information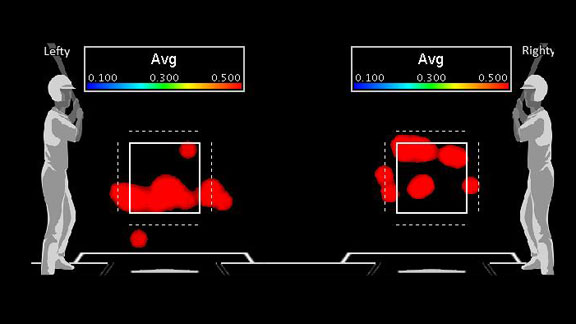 Pitch locations for two-strike hits vs Jordan Walden in 2011.
Click here to create your own Walden heat maps
If the Angels do intend to move forward with Jordan Walden as their closer in 2012, what's the one area most important to watch in his performance?
Statistically speaking, it's his ability to get hitters out once he gets to a two-strike count.
That's what most separated Walden from the Jonathan Papelbon, Mariano Rivera and Craig Kimbrels of the world.
Last season 19 closers, including Walden, saved at least 30 games. Walden's rank among those 19 pitchers in opponents' batting average, on-base-percentage, and slugging percentage with two strikes were 18th, 17th, and 19th, respectively.
Walden fared considerably better when combining his numbers in all other counts (sixth in both opponents' batting average and slugging percentage, and 15th in on-base percentage.)
Walden's failure to match up with the game's elite closers in two-strike counts cost him save conversions throughout 2011.
Remember that goofy five-hour, 13-inning marathon in Boston last May 4th? Walden had the lead and a two-strike count on five hitters in the ninth inning. He only retired one in blowing that save chance.
On June 26 against the Dodgers, Walden had a one-run lead in the ninth inning, and was ahead 1-2 on leadoff man Juan Uribe before walking him.
The Dodgers would tie the game on a two-strike sacrifice fly by Aaron Miles and win it on a single by Tony Gwynn Jr, who battled back from an 0-2 hole.
On September 25, he blew a 5-2 ninth-inning lead, with the tying hit coming on a Kurt Suzuki line drive with two strikes. The Angels would lose, 6-5.
Those are two of the seven times in 2011 that a two-strike hit or walk played a pivotal role in a Walden blown save or loss.
Specifically, the greatest separation between Walden and the elite closer in two-strike situations is in Walden's second pitch -- his (sometimes) nasty slider.
Walden's average fastball velocity (98 miles-per-hour) was third-best in the majors. But his 10 strikeouts-per-nine innings ranked only 25th. That may have been due to a lack of effectiveness with the slider.
If a hitter chose to swing at Walden's two-strike slider, he usually missed it. The problem is that Walden couldn't tempt enough hitters into swinging at it.
Walden threw slightly less than half of his two-strike sliders (49.3 percent) for strikes, because hitters wouldn't chase it. Inside Edge video scouting keeps a "chase rate" stat, to judge how often hitters swung at pitches out of the strike zone. Walden's 30 percent chase rate with his two-strike slider was among the lowest in the majors, far below the big league average of 46 percent.
Walden ranked last among those 19 closers, and among the worst relievers in baseball at throwing his secondary pitches (be they curves, sliders, changeups, or splitters) for a strike in a two-strike situation.
That put him in a position in which he had to rely on his two-strike fastball, and as he learned the hard way from the likes of Gwynn and Suzuki, that major league hitters can catch up to a 97 mile-per-hour fastball.
The batting average on play against Walden's two-strike fastball was a little above average, so perhaps bad luck came into play a couple of times. But if Walden could throw his slider for strikes more often, he wouldn't need to be as reliant on his defense or for the luck to go his way.
Walden got three outs with a two-strike fastball for every out he got with a two-strike slider. The ratio of his fellow young closers, like Drew Storen of the Nationals, and Kimbrel for the Braves, is much closer to 1-to-1.
There were days where
Walden looked like the second coming of Francisco Rodriguez
, such as when he whiffed the side against the Mets in mid-June with an array of nastiness.
If Walden, who will be in only his third major league season, can find that sort of success more often, it would be a major boost to the Angels hopes of winning the AL West in 2012.
September, 30, 2011
9/30/11
4:50
PM PT
In light of
today's news
that Tony Reagins is stepping down as Angels general manager, here are some ideas for the new GM of the Angels (whoever that ends up being) for this off-season:
1. Try to trade for Ryan Zimmerman of the Nationals or David Wright of the Mets.
If that doesn't work sign Aramis Ramirez.
The Angels have not gotten enough run production from the third base position and Alberto Callaspo and they need a long term solution. After Evan Longoria of the Rays, two of the best third baseman in baseball reside in the National League East, in Ryan Zimmerman of the Nationals and David Wright of the Mets. The Nationals have been trying to acquire a long term solution in center field and the Angels could afford to offer a package starting with CF Peter Bourjos and starting pitcher Tyler Chatwood for Zimmerman. The Nationals would then put their 2011 first round choice Anthony Rendon at third base and use the money saved on Zimmerman to sign free agent starting pitcher C.J. Wilson.
If that doesn't work the Angels could offer a similar package to the Mets for David Wright, although that would be less likely since New York already might lose Jose Reyes to free agency. If the Angels are unable to trade for Zimmerman or Wright, then the third alternative would be to sign free agent third baseman Aramis Ramirez.
Either way, the Angels need more power and run production from the hot corner. If they need to trade Bourjos to get an impact player like Zimmerman or Wright, then obviously Mike Trout would take over in center field.
2. Try to sign Jose Reyes.
Reyes is the best free agent fit for the Angels. He's one of the best lead-off hitters and defensive shortstops in baseball. He has better range than Aybar to both sides and a very strong arm. He plays with energy and enthusiasm and he would completely change the Angels' lineup, creating more fastballs for the middle of the lineup. With Reyes and Trout at the top, this offense would be much improved in 2011.
3. Sign one of the best free agent closers that will be available
, whether that is Jonathan Papelbon, Heath Bell or Ryan Madson, or trade for Joakim Soria of the Royals and move Jordan Walden back to the 8th inning and let him continue and develop in that role.
This year's playoff teams are using a closer for the 8th inning and another for the 9th inning. The Yankees have Soriano, Robertson and Rivera. The Tigers have Benoit and Valverde and the Rangers have Adams and Feliz. The Angels need to follow that formula and reduce their blown saves in 2012.
4. Sign Hiroki Kuroda to be their 4th starter.
Kuroda loves Los Angeles and only wants to pitch here or in Japan. The Angels should steal him from the Dodgers and let him be their fourth starter behind Weaver, Haren and Santana. He provides solid innings and is one of the more underrated middle-of-the-rotation starters in baseball.
The Angels next GM will have the opportunity to make a few bold moves that could certainly put the team back into the post-season next year.
Jim Bowden served as the senior vice president and GM for the Cincinnati Reds and the Washington Nationals, and is an analyst for ESPN.com.
August, 8, 2011
8/08/11
2:57
PM PT
If ever the reverse-lock theory came into play, it was the 2009 American League Division Series.

The Boston Red Sox had tormented the Angels and their fans throughout the teams' playoff histories. It began, famously, in 1986 with a dramatic comeback sparked by Dave Henderson's home run, but it became an epidemic in the last decade.

The Red Sox knocked the Angels out of the playoffs in 2004, 2007 and 2008. So, when the 2009 playoffs began, it seemed as if the Angels were just walking into their yearly October trap. Fenway Park was their chamber of horrors and it started getting scary again when, while holding a 2-0 series lead, the Angels fell behind 5-2 entering the eighth inning of Game Three.

What made things seem more hopeless was the guy sitting in Boston's bullpen. In 17 post-season games, no team had ever managed to score off Jonathan Papelbon.

On this particular October afternoon, though, the Angels were relentless. Papelbon would come within one strike of ending the game three different times and be denied.

The Angels started their rally off Billy Wagner in the eighth, with Juan Rivera smacking a two-run single. But Boston scored an insurance run and Papelbon had a two-run lead entering the ninth. What happened next would send most of the 38,704 fans streaming out of the old stadium with a sense of vintage Fenway despair.

The man in the middle of the rally was Bobby Abreu, who -- after an Erick Aybar single and Chone Figgins walk -- smacked a 1-and-2 pitch for a double off the Green Monster to make it 6-5 Boston. Terry Francona opted to walk Torii Hunter to load the bases and bring up Vladimir Guerrero, who was 1-for-10 lifetime against Papelbon.

Guerrero didn't make hard contact, but he blooped a two-run single to center, the Angels held on in the bottom half of the inning and, just like that, they dragon was dead. For once, it was Boston that had to nurse its wounded pride.

"More than anything, I wasn't able to stop the bleeding," Papelbon said.

Abreu was probably the primary reason the Angels won that series. He batted .556 and walked four times, filling the bases all series long.

"We never surrender. We never give up," Abreu said.

This story is part of an occasional series of Angels Moments which, when it's complete, will -- we hope -- add up to 50. The Angels are celebrating their 50th anniversary this season. These are not intended to be an exhaustive list, but simply an assembly of scenes and anecdotes that are part of the team's colorful past.