Los Angeles Angels:

Jose Guillen
June, 20, 2012
6/20/12
3:38
PM PT
If you were surprised when Tampa Bay Rays manager
Joe Maddon
called the Washington Nationals "bush" for checking reliever
Joel Peralta's
glove for pine tar Tuesday, you might not know
the full back story
.
Maddon was a coach under
Mike Scioscia
in June 2005 when the same thing happened to the Angels, who also happened to be playing Washington at the time. Nationals manager
Frank Robinson
, prompted by former Angel
Jose Guillen
, asked the umpires to check the glove of reliever
Brendan Donnelly
, who was ejected and later suspended for eight games.
Scioscia and Robinson started yelling at each other behind home plate, the benches emptied and players began pushing and shoving. Guillen, who had been suspended by the Angels the previous year for an encounter with the Scioscia, later called the Angels manager a "piece of garbage."
Peralta saw all of that happen, because he was a young reliever sitting in the Angels' bullpen.
At the time, here was what Scioscia said about pitchers having pine tar on their gloves: "A pitcher who would have a little pine tar on his glove is not something that you're going to go around and randomly check. It happens with a lot of pitchers in baseball and it's just been a practice that's accepted."
August, 1, 2011
8/01/11
3:08
PM PT
If Angels fans were excited when Arte Moreno reduced ticket and beer prices when he bought the team, they were giddy over his next few gifts.

First, in that winter after the 2003 season, came hard-throwing pitcher Kelvim Escobar; then a mercurial but talented outfielder, Jose Guillen; then Bartolo Colon, one of the top free agent pitchers available, and, finally, a superstar outfielder who had played his entire career in the wilderness of Montreal, Vladimir Guerrero.

Moreno's unprecedented outpouring of cash to haul in those marquee names that winter came as a boon to fans who had grown accustomed to a franchise that used to wade gingerly into free agency. Guerrero would win a league MVP trophy in his first season in Anaheim. Colon would win the Cy Young award the following season.

It was a brash first step and it soon paid off. In the first year under Moreno, the Angels drew more than 3 million fans, about 750,000 more than they had attracted in their championship season two years earlier.

Moreno's honeymoon with his fan base would last about two years, before another brash marketing move, renaming the team the Los Angeles Angels, would cause some backlash. It also led to a lengthy court battle with the City of Anaheim that would result in the team being named -- to the delight of comedians and the dismay of geographers -- the Los Angeles Angels of Anaheim.

Moreno may have angered some sectors in Orange County, but he has clearly made the Angels a bigger national brand. He signed a lucrative 10-year broadcasting deal with Fox Sports Net before the 2006 season and, according to Forbes magazine, had more than doubled the value of the franchise by 2006, to around $368 million.

Moreno's teams would reach the playoffs in five of the seven seasons he has owned the club and reach the ALCS in 2005 and 2009, but have yet to win another World Series.

His commitment to fielding competitive teams hasn't wavered. The Angels entered 2011 with the highest payroll in team history, $140 million.
June, 13, 2011
6/13/11
2:50
PM PT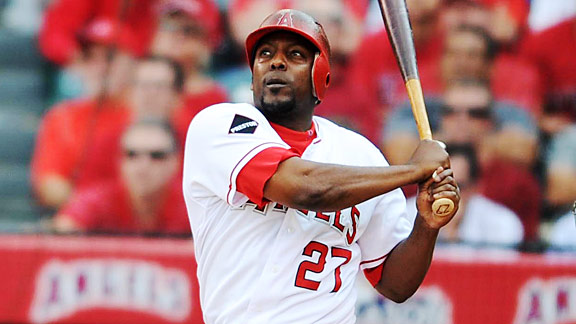 Christopher Hanewinckel / US Presswire
Vladimir Guerrero put up startling numbers in his first season as an Angel.
Vladimir Guerrero's
arrival with the Angels in 2004 wasn't exactly eye-popping. His first few swings in the batting cage in Tempe, Ariz., that spring were "worthy of Mario Mendoza," according to the Los Angeles Times.
That would be the last time such phrases were uttered around Anaheim for the next five years. Guerrero, the centerpiece of owner
Arte Moreno's
$146-million spending spree the previous winter, lived up to all of the Angels' expectations and more. The numbers he put up were startling, particularly by the standards of the anemic 2011 Angels offense.
Guerrero batted .337 with 39 home runs and 126 RBIs to win the MVP easily. He was the first Angel to win the award in 25 years, since
Don Baylor
did it after the 1979 season.
He spent eight seasons with the Montreal Expos, but suddenly, the country knew all about Guerrero's exploits, and he escaped the wide shadow cast by
Barry Bonds
in the National League.
What set Guerrero apart in his prime was his ability to hit just about any pitch anywhere. After seeing him for a few months, fellow Angels hitters marveled at his ability to hit bad balls. He could hit a curveball outside and inches off the plate out of the park for a home run. More than once, he hit a ball that bounced for a base hit. Outfielders played him with their heels practically touching the warning track, so he picked up plenty of bloop hits.
Even his outs were impressive: He once knocked over a second baseman with a line-drive that the guy caught.
That 2004 season, which also signaled the arrivals of
Bartolo Colon
,
Kelvim Escobar
and
Jose Guillen
, was all about Guerrero in his prime. He was 28 (though, his birth certificate later showed, he was actually 29).
It's not as if the rest of Guerrero's stay in Anaheim would be a disappointment. He would finish third in MVP balloting in two of the next three seasons. But in 2004, everything he did was fresh to the Angels, who had barely glimpsed his talents in Montreal.