Los Angeles Angels:

Justin Verlander
September, 26, 2012
9/26/12
5:56
PM PT
ANAHEIM, Calif. –
Los Angeles Angels
manager Mike Scioscia knows there are several strong candidates for the American League Cy Young award, but on a night when his team was facing one of them --
Seattle Mariners
ace
Felix Hernandez
-- Scioscia made the case for his own ace,
Jered Weaver
.
"There's no doubt he's in the middle of the conversation," Scioscia said. "I don't think there's anybody that can deny that. I think Weave has meant more to our team than probably any pitcher on any staff just for the fact that we're even talking about a pennant race. Weave had to step up and do what he can do because for a while he was lone soldier out there start after start when the rest of our rotation was trying to find itself for what seemed like an eternity. Weave was the only guy out there giving us what he had and giving us production we expected, which at least kept our heads above water."
Weaver is first or tied for first in the AL in winning percentage (.826), wins (19), WHIP (1.00), third in ERA (2.74) and he's holding hitters to a .213 batting average, best in the American League. Weaver, however, has probably dropped behind
Justin Verlander
, Hernandez and
David Price
in the Cy Young conversation but his 2.10 ERA in September has him right back in the conversation and the Angels right back in playoff contention.
"He's kept us in a position to reach our goals," Scioscia said. "Maybe the one thing a starting pitcher cannot control is a win or a loss, but he's pitched well enough and deep enough into games on a consistent basis to have a chance to win 20 games and that says a lot for how consistent he's been."
Tonight's lineups:
Seattle Mariners:
Dustin Ackley
, 2B
Franklin Gutierrez
, CF
Kyle Seager
, 3B
Jesus Montero
, DH
Justin Smoak
, 1B
Miguel Olivo
, C
Casper Wells
, RF
Chone Figgins
, LF
Brendan Ryan
, SS
Felix Hernandez, P
Los Angeles Angels:
Mike Trout
, CF
Torii Hunter
, RF
Albert Pujols
, 1B
Kendrys Morales
, DH
Alberto Callaspo
, 3B
Howie Kendrick
, 2B
Erick Aybar
, SS
Mark Trumbo
, LF
Chris Iannetta
, C
C.J. Wilson
, P
September, 13, 2012
9/13/12
7:23
PM PT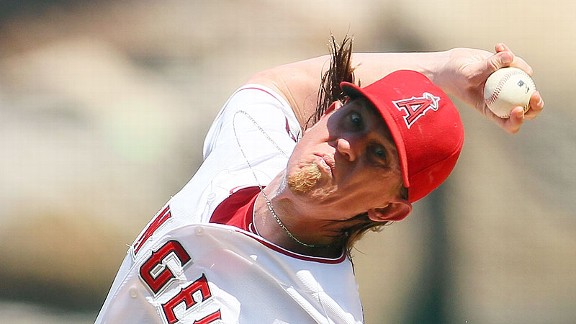 Victor Decolongon/Getty ImagesJered Weaver returned to the rotation after skipping a start and looked as good as ever Thursday.
ANAHEIM, Calif. --
Jered Weaver
has been with the
Los Angeles Angels
long enough to know this isn't where they want to be this time of year. Chasing, pressing, scratching and clawing their way into a playoff spot, rather than lining things up for a deep playoff run.
He was a young pup back in the days when the Angels were the kings of the American League West.
John Lackey
was the staff ace then, and man, doesn't that feel like a long time ago?
Weaver is indisputably the ace of the staff now. The guy the team turns to when it absolutely, positively, needs to win a game. And a moment like that arrived Thursday afternoon with the
Oakland Athletics
on the verge of their first four-game sweep of the Angels since 2001.
Had the Angels been where they want to be this time of year, where their payroll and the talent on their roster projected them to be, Weaver might have been able to rest his tired right arm another week or two.
But the Angels don't have that luxury now. Not when they're still on the outside of the AL wild-card race looking in with just 19 games to go.
So Weaver did what an ace does, coming back to strike out nine and allow just two hits in a walk over seven dominant innings against the previously sizzling A's in a 6-0 win that added fresh kindling to the Angels' flickering playoff chances.
Weaver did his part Thursday, stepping up with a dominant performance in a game the Angels absolutely had to have.
"I wanted to set the tone," he said. "We obviously didn't want to get swept. And the first three games of this series obviously didn't go the way we'd like them to. These guys are playing real good baseball. You can't take them lightly. They're playing the game hard. They're battling just like we're trying to."
While the score looks like a blowout, it was far from it. Weaver and Oakland's
Brett Anderson
were locked into a classic pitcher's duel through six scoreless innings. Things only loosened up in the bottom of the seventh when Angels outfielder
Torii Hunter
slammed a solo home run that seemed to open the flood gates as the Angels batted around to score six runs and chase Anderson in the process.
Having shut down the A's almost completely, Weaver left after throwing 94 pitches in seven innings.
It was what an ace does.
The question is whether it's what a Cy Young winner does.
July, 16, 2012
7/16/12
1:42
PM PT
The last time the Angels played the Detroit Tigers, things turned chippy.

Jered Weaver hooked up with Justin Verlander, two of the league's best pitchers in a Cy Young showdown, and tension gradually built on a muggy afternoon. Weaver got angry at Magglio Ordonez's reaction to a home run, so Carlos Guillen reacted even more theatrically. Weaver buzzed a batter and was ejected. Verlander erupted (both during and after the game) over Erick Aybar trying to bunt to break up his no-hitter.

It was a mess in Motown. Luckily, conditions couldn't be riper for a detente as the Angels start a three-game series in Detroit tonight. Guillen and Ordonez are both out of the game. Verlander and Weaver each pitched Sunday and will miss the series.

The only participants in the drama who will play this week are catcher Alex Avila, the player Weaver brushed back (and who, apparently, was simply in the wrong place at the wrong time); and Aybar. The umpires will be under orders from the league to keep things orderly. Maybe they won't have to.
January, 20, 2012
1/20/12
2:00
PM PT
Writing for Grantland, baseball's godfather of statistics,
Bill James
,
ranks the 100 greatest pitchers' duels
of 2011. At the very top is
Dan Haren's
two-hit mastery of the Detroit Tigers on July 5, a game in which he (very slightly) out-pitched eventual Cy Young winner
Justin Verlander.
Here is what James says about that memorable game:
"In the first inning
Bobby Abreu
was called out on strikes, argued with the call, and was thrown out of the game by home plate umpire
Angel Campos
. With one out in the second,
Howie Kendrick
grounded to short and beat the throw to first — or not, but anyway, he was called safe by first base umpire
Joe West
. Well, OK, he was out; West blew the call. You beat it out of me. Tiger manager
Jim Leyland
came out to dispute the call, but, of course, to no avail.
Erick Aybar
then doubled to right field, scoring Kendrick and giving the Angels what was to be the game's only run. Cowboy Joe later threw Leyland out of the game for continuing to squawk about the call on Kendrick, and, when Verlander was relieved with one out in the bottom of the eighth, he screamed at West and Verlander also was ejected, although he was already out of the game. Haren pitched a two-hit shutout, striking out nine and walking no one. Verlander struck out eight. Angels 1, Detroit 0."
September, 23, 2011
9/23/11
9:40
AM PT
A week ago, when Mike Scioscia decided he would start Jered Weaver on three days' rest -- though the first try had been a mess -- this is exactly what he had in mind. Weaver would pitch two of the Angels' final six games (on regular rest) to try to help the team reach the playoffs.

What he didn't anticipate was that his team would go 3-4 in the interim.

Now, instead of Weaver being the finisher, he's the last wall of defense. Rookie closer Jordan Walden said it after Thursday night's lifeless 4-3 12-inning loss to the Toronto Blue Jays: The Angels have six games left and they have to win them all. Of course, that might not be enough. The Boston Red Sox would have to go 3-3 just to give the Angels a share of the wild card and force a playoff.

If you're going to go down, may as well do it with your best on the mound. Weaver makes his 33rd start tonight aiming for his 19th win. He already is three innings over his personal high with two starts remaining. Only Justin Verlander and Dan Haren have thrown more pitches than Weaver's 3,629 in the AL.

The heavy wear and tear has made Weaver a different pitcher, but amazingly, a similarly effective pitcher. Weaver somehow has gone 3-0 this month with an average fastball velocity of about 88 mph, according to ESPN Stats and Info. That's a few miles per hour off his typical fastball and a few miles per hour off the major-league average.

It may not just be fatigue. Weaver seems to be throttling back, aware that he needs to reserve some fuel to get through his most trying season yet. It worked against the Orioles. It worked last time against the Oakland A's. If he can pull it off again tonight, the Angels will live to fight another day.
July, 31, 2011
7/31/11
12:59
PM PT
Jered Weaver was great until his temper got the better of him, but Justin Verlander was unhittable.

The Angels lost 3-2 to the Detroit Tigers on Sunday in a game rife with dominant pitching and bad blood. The Angels' first hit off Verlander didn't come until there were two outs in the eighth inning. A batter later, Verlander struck out Torii Hunter on a 101-mph fastball.

Weaver, clearly unhappy about two earlier Tigers' showboating after home runs, was ejected an inning earlier for throwing at a Detroit batter.

The Good:

Erick Aybar's creativity. The sellout crowd didn't like it. Verlander didn't like it. But, given how the Tigers had acted earlier, who cares how they felt? Erick Aybar showed savvy trying to bunt for the Angels' first hit. Verlander had been waiting around after Weaver's ejection and it was a good bet that he would be flustered, and he was, throwing wildly to first. It may have broken an unwritten baseball rule, but those shouldn't matter when a team has a chance to win a key game in a pennant race.

It should have been ruled a hit, but the official scorer was off the hook when Maicer Izturis lined a clean single to left later in the inning.

The TV replay later showed Verlander yelling at Aybar from the dugout and pointing to the middle of his back. Lucky for Aybar, the teams won't meet again until next year ... unless they meet in the playoffs.

Weaver's pitching. The game was hyped heavily in Detroit and it actually lived up to the billing strictly in a baseball sense. Weaver wasn't quite as sharp as Verlander -- few have been -- but he allowed only four hits and struck out eight in 6 2/3 innings.

Maicer Izturis. He calmly stroked a base hit to left field to save the Angels the indignity they had inflicted on the Cleveland Indians four days earlier: a no-hitter.

The Bad:

Magglio Ordonez's antics. He got a hanging slider and pummeled it over the left-field fence to determine this duel's outcome early. Then, he took a while to enjoy the sight of it sailing away. That's great, Magglio, but act like you've been there before. Oh wait, he hasn't been -- often. It was only Ordonez's fourth home run this year.

Carlos Guillen's antics. Guillen made a big show of standing at the plate after his seventh-inning solo blast off Weaver. He also stared at him the whole way to first. It seems like kind of a childish move for such a respected veteran. Too bad baseball doesn't have a 15-yard penalty for taunting.

Weaver's temper. Even with all of that being said, for Weaver to throw a 92-mph fastball over Alex Avila's head was ridiculous. You could see in Weaver's eyes before that pitch that he was seething. Poor sportsmanship is one thing; throwing at a player's head is about safety. Weaver deserved to be ejected.
July, 6, 2011
7/06/11
12:03
AM PT
By
Pedro Moura
| ESPNLosAngeles.com

ANAHEIM – Only seven of the first 41 pitches Angels right-hander Dan Haren threw to the Detroit Tigers in a virtuoso two-hitter Tuesday night at Angel Stadium were fastballs.

So, yes, it'd be fair to say he did a superb job mixing his pitches against a tough Tiger lineup.

In earning his 100th career win, Haren threw cutters and split-fingers galore in baffling Detroit's potent 4-5-6 combination of Miguel Cabrera, Victor Martinez and Jhonny Peralta as the Angels won 1-0.

"Dan should frame that one, because that was incredible," Angels manager Mike Scioscia said of Haren's work of art. "That's a very, very tough lineup he was facing."

Haren didn't even know how few fastballs he had thrown through three innings, but he knew it was abnormal. Then, as the Angels batted in the top of the fourth, he approached rookie right-hander Tyler Chatwood, who was charting the pitches he threw from the dugout. Haren said later he was a little surprised when Chatwood told him the exact number: seven of 41, or just 17 percent of his pitches.

Over the course of his career, Haren has thrown fastballs just over 50 percent of the time. He went back to a more normal ratio later in the game, but the ruse had already worked.

"I kinda set 'em up, then threw more fastballs as the game went along," Haren said afterward. "The last pitch of the game was a fastball. My fastball was feeling better later on, so I threw a lot more of it."

Scioscia said Haren's split-finger fastball was moving around more than he'd ever seen it in an Angel uniform. That's saying a lot, considering the performances Haren has already turned in through 33 starts with the Angels.

His second start with the team last July was a five-hit complete game, and he threw three more scoreless outings of at least seven innings before the 2010 season ended.

This year, his third start was a one-hit shutout against the Cleveland Indians. But Haren said he felt more dominant Tuesday than he did at any other point with the Angels – even including the start against the Indians.

"Even in that game, I didn't have everything working," Haren said. "Tonight, I had my stuff working. Everything was really working well, especially against that lineup, one of the best. It ranks right up there with Texas, Boston and New York.

"The middle of that lineup is as good as it gets, and it definitely means more against a good team like that and a good pitcher."

The good pitcher? Only MLB's strikeout leader, Detroit's Justin Verlander, who went 7 2/3 strong innings against the Angels and gave up seven hits and just one run.

The game was being billed as a premium pitching matchup, and it delivered in every way. Verlander's only run allowed came on a hit-and-run double from Erick Aybar where Detroit right fielder Magglio Ordonez mistakenly threw to second, allowing Howie Kendrick to come home.

Haren faced only one significant challenge, and even that came with two outs. Tiger center fielder Austin Jackson tripled to the right-center gap in the fourth inning on a ball that the Angels' Peter Bourjos just missed. Haren got Brennan Boesch, one of the hottest hitters in baseball over the last month, to hit a come-backer to end the scare.

Haren threw 122 pitches in all, his second-highest total this season. Roughly half of those were probably of the cut-fastball variety, a pitch he picked up midway through his career in 2007 but has since become perhaps his most dominant.

And, well after he was done shying away from his fastball in Tuesday's duel, Haren went back to the cutter, again and again, to retire the Tiger hitters.

"My cutter's been my best pitch all year, and, in a 1-0 game, you want to get beat with your best pitch," Haren said. "I threw it quite a bit. I had to.

"The game called for it."
July, 5, 2011
7/05/11
9:45
PM PT
By
Pedro Moura
| ESPNLosAngeles.com
ANAHEIM -- Dan Haren threw a two-hitter and outdueled the Tigers' Justin Verlander in a pristine pitching matchup and the Angels (46-41) took the second game of their series with Detroit (45-42) to win four straight games for the first time since April.

Howie Kendrick scored the Angels' only run on the night, coming around all the way from first on a leg-it-out double by Erick Aybar in the second inning.

The Good:

Haren. Are we sure the American League players made the right choice in not selecting Haren to next week's All-Star Game in Phoenix? After his latest start lowered his ERA to 2.66 and gave him his 100th career win, it'd be hard to construct an argument detailing why he doesn't deserve to go. He completely shut down a talented, tough Tigers lineup Tuesday, striking out nine hitters and only going three batters over the minimum. He's now seventh among AL starters in ERA, and five of the six pitchers in front of him earned All-Star nods.

Smart baserunning. OK, maybe not so much smart -- it was risky -- but successful baserunning. After reaching base via an infield single in the bottom of the second, Kendrick ran all the way home from first on a double to right by Aybar. It doesn't sound nearly as impressive as it was, but Aybar's hit probably wouldn't have gone for more than a single had Kendrick not been going home on the play. When that's the winning margin in a victory over a solid team like the Tigers, that's a reason to celebrate.

More good defense. Left fielder Vernon Wells made a superb running grab in the left-center gap of a Jhonny Peralta drive in the second inning. Center fielder Peter Bourjos caught a to-the-wall fly ball from Victor Martinez with two outs in the fourth after just missing an Austin Jackson gapper in the third. First baseman Mark Trumbo saved a single or a double with his diving stop of another Martinez hit in the seventh inning. The Angels' defenders are making their pitchers look even better with their play in the field of late.

The Bad:

Bases loaded, no outs, no runs. One of the cardinal sins of baseball is getting into the optimum situation and not coming away with anything to show for it. In the bottom of the fifth inning Tuesday, Aybar, Trumbo and Bourjos all got aboard in succession, setting the table for the anemic-hitting Jeff Mathis to potentially drive in some runs in a 1-0 game. But Mathis struck out swinging, despite being staked out to a 2-0 count by Verlander, and Maicer Izturis, following him, popped out in the infield. Torii Hunter took Verlander all the way to 3-2 and fouled off a payoff pitch before lining one right to Austin Jackson in center as the Angels failed to give Haren any sort of insurance runs as he went into the later innings.

Abreu's anger. Designated hitter Bobby Abreu was ejected in the bottom of the first inning after arguing a called third strike with home-plate umpire Angel Campos, becoming the first Angel ejected in 2011. It was also Abreu's first in-game ejection since August of 2007, when he played for the New York Yankees. The call from Campos looked a bit premature, at best, as Abreu wasn't even facing him when the you're-outta-here signal was made and didn't appear to be all that incensed.

Double plays. The Angels' two leaders in hitting into double plays, Hunter and Kendrick, each did it again Tuesday, and they're creeping up the league-leader list in an undesirable category. Hunter grounded into a typical one of the 6-4-3 variety in the eighth inning; Kendrick hit a Verlander pitch pretty well in the sixth but unluckily lined into one at first base. Hunter is now just one behind Boston's Adrian Gonzalez for the league lead with 19 GIDP's, and Kendrick has hit into 14 for sixth place. It would have made some sense to have Hunter bunt in the eighth inning to move Izturis over to second for Russell Branyan in the 3-hole, but manager Mike Scioscia elected not to and paid the price.
July, 5, 2011
7/05/11
6:35
PM PT
By
Pedro Moura
| ESPNLosAngeles.com
ANAHEIM – Detroit Tigers right-hander Justin Verlander has been dominant in 2011, bringing a 2.32 ERA and 11-3 record into Tuesday's start against the Angels.

He allowed five total runs in five June starts. He threw a no-hitter in May. Of his 18 starts this season, 17 have been of the quality variety.

So, what do you do if you're an Angel hitter going up against him Tuesday?

"You hope for a little help," said left fielder Vernon Wells, who's hitting .429 against Verlander in his career. "He's not gonna give you too many opportunities to do too much, so, whenever he does happen to leave the ball over the plate, we gotta do our best to do some damage with it.

"Hopefully he'll make a few more mistakes than he has throughout this whole season."

About the mistakes – Verlander's lowered his walk-rate significantly in 2011, to the point where he's now issuing less than two free passes a game. He's actually allowing more homers than he has in the past, but the lack of walks has made such a dramatic difference it's made up for it.

Verlander's opponent Tuesday will be Dan Haren, a dominant pitcher in his own right who is coming off a 7 1/3-inning shutout performance against the Nationals last week. His numbers aren't quite at Verlander levels, but his win-loss record stands at a respectable 8-5, with a 2.85 ERA to boot.

A duel between the two is likely, although they'll go about it in their own contrasting styles.

"They're totally different in the way they pitch," manager Mike Scioscia said Monday. "Verlander has that electric power stuff. "He relies on stuff and movement, changing movement from fastball to breaking ball to changeup -- as opposed to Dan Haren, who relies on locating pitches with a different variety of looks.

"They have different ways of going about it, but they are two of the best pitchers in baseball."

The current Angels do hit the 28-year-old Verlander well, in general, totaling 48 hits in 148 at-bats for a .324 average. Center fielder Peter Bourjos, catcher Jeff Mathis and second baseman Howie Kendrick are a combined 2-for-19 against Verlander, but the other five Angels in Tuesday's lineup – excluding rookie Mark Trumbo, who's never faced him – are all hitting better than .300 in head-to-head matchups.

But, this year, opponents are hitting just .184 against Verlander, the second-worst clip in the majors.

"He's throwing the ball, right now, better than he ever has in his career," Scioscia said. "There's no doubt you've gotta try to pressure him to piece together some offense, because you very rarely get the big inning off a pitcher of his caliber.

Earlier in his seven-year career, Verlander had a reputation as more of a thrower than a pitcher, a guy who struggled with his control at times but often got by because of the velocity on his fastball.

Not so much anymore.


July, 2, 2011
7/02/11
10:43
PM PT
By
Pedro Moura
| ESPNLosAngeles.com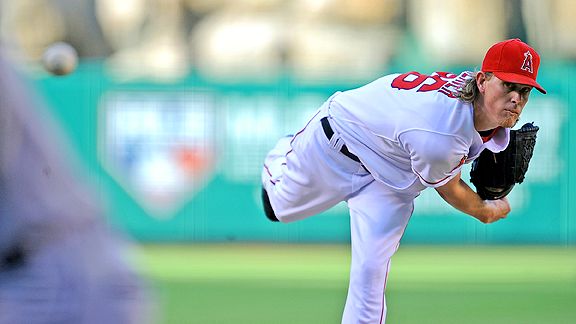 Jayne Kamin-Oncea/US PresswireJered Weaver seems a good bet to start for the AL in the All-Star Game, but that's not something he wants to talk about just yet.
ANAHEIM -- He'll get one more official opportunity to showcase his stuff before Texas Rangers manager
Ron Washington
sits down to determine his starting pitcher for this month's 2011 All-Star Game, but Angels ace
Jered Weaver
did a mighty fine job proving his candidacy in a 7-1 win over the Los Angeles Dodgers on Saturday.
Facing the Dodgers just six days after earning a no-decision in a tough battle in L.A., Weaver was dominant in eight innings of work Saturday. In outdueling Dodgers left-hander
Clayton Kershaw
, he allowed just six baserunners -- two on walks, the first time in a month he has walked more than one -- and struck out eight Dodgers to earn his team-leading 10
th
win and lower his ERA to 1.92.
"Weav pitched terrific baseball," Angels manager
Mike Scioscia
said. "He just kept pounding the zone, and, as the game went on, changed speeds a little bit more.
"He pitched a good ballgame."
He has been pitching good ballgames pretty regularly this season. Weaver hasn't given up more than four runs in any of his 18
starts this season. He has given up only one earned run or fewer in six of his last eight starts, and he's now only the second Angel in franchise history with 10 wins and a sub-2.00 ERA on or before July 2.
The question now is whether he'll get the formal nod from Washington to take the mound. It appears he has a good chance, his most probable competition coming in the form of Detroit Tigers right-hander also slated for a Sunday start just two days before the All-Star Game in Phoenix, meaning he'd be ineligible to pitch in the game per MLB rules instituted last year.
"It's a great honor, and I'm sure he's going to get consideration," Scioscia said of the 28-year-old Weaver. "It'll be something, certainly, for him to look forward to."