Los Angeles Angels:

Kendry Morales
March, 14, 2011
3/14/11
9:47
AM PT
The Angels are more than halfway through their spring schedule and, believe it or not, the season starts two weeks from Thursday. It's a good time to examine some trends this spring to see how they might affect a summer of baseball in Anaheim:
Mark Trumbo is pushing hard
. He's clearly
the guy
this spring. It's funny because when I talked to Trumbo a few days before spring training began,
he sounded fairly resigned
to starting the season at Triple-A. He's not playing like that. He leads the majors in at-bats (43), total bases (32) and is tied for the lead in RBIs (11). Only
Ian Kinsler
and
Michael Morse
have hit more home runs.
Upside:
At the very least, the Angels have a power-hitting first baseman in reserve if
Kendry Morales
can't get all the way back. At most, they have a guy they absolutely have to find a spot for.
Downside:
There's always a Triple-A guy who puts on a show in spring training, when the pitchers aren't quite as focused. He has to do a little more in the minors to really make the Angels' front office scramble.
Getting on base could be a problem.
The Angels have neglected this aspect of hitting for years and it cost them in a big way last year. The team's on-base percentage was .311, which is, quite frankly, awful. The trend has continued this spring, with the Angels' .327 OBP ranking 23rd out of 30 teams. The Angels are perfectly willing to be out of step with the rest of the statistically driven teams in the league, but in this regard it seems self-defeating. If
Bobby Abreu
ever got hurt, the Angels might go a month without drawing a walk.
Upside:
Shorter innings and quick games (thank you, free swingers!).
Downside:
The Angels' disdain (or is it lack of interest?) in walks means they're unusually batting average-dependent and sometimes easy fodder for control pitchers.
They should pitch the ball well.
Dan Haren
and
Jered Weaver
look like a couple of top-of-the-rotation veterans getting into season mode. They've combined for 17 strikeouts in 19 innings.
Joel Pineiro
and
Ervin Santana
have looked great and
Scott Kazmir
has looked, well, about how he usually looks. Does anybody other than Philly have a No. 5 starter they're sure about?
There's spirited competition for some final bullpen roles, with
Jason Bulger
and
Rich Thompson
out of options and young guns like
Jordan Walden
and
Michael Kohn
making noise. This might be the Angels' deepest bullpen since 2002.
Upside:
It's the name of the game.
Downside:
They still have the
Fernando Rodney
question at closer.
March, 8, 2011
3/08/11
10:14
AM PT
Just getting on base has never been as important to the Angels as it has been to most other teams -- they prefer measuring what happens after guys get there -- but last year things got ridiculous.

After finishing third in the majors with a .350 on-base percentage in 2010, the Angels plunged to 27th with a .311 OBP last year. It's probably no coincidence they scored 202 fewer runs. Days seemed to go by with the Angels barely troubling an opposing first baseman to hold someone on.

Even Mike Scioscia, who walked copiously as a player but prefers slashing speedsters as a manager, recognized his team simply didn't have enough "volume" on the bases in 2010.

"I think we will be better in that area this year," Scioscia said earlier this spring.

Oh, really? How? The Angels seemed to fix the problem by acquiring yet another free swinger, Vernon Wells, a player with a .329 lifetime OBP. Last season, the major-league average was .325. Wells' career high for walks in a season is 54. Barry Bonds used to reach that total by June 1.

Eventually, the Angels also will welcome Kendry Morales back, but his career OBP is .336, not exactly robust. The Angels project to have just one starter, Bobby Abreu, with a career OBP of better than .340.

Once again, this offense will rely heavily on base hits. The rule of thumb over the last decade or so: When the Angels bat .280 or better as a team (2002, 2004, 2007 and 2009), they score lots of runs. When they don't hit that mark -- or fall way below it -- they scuffle.

The easiest way to describe the Angels' departure from most other teams: They simply don't value walks.

No team in baseball is more batting average-dependent than the Angels. The good news is you only have to glance at a box score at any point of the season to see how they're doing.
March, 7, 2011
3/07/11
2:27
PM PT
One of the best story lines this spring has been a strong push from first baseman Mark Trumbo.

It's good timing for Trumbo, a local guy from Villa Park High near Angel Stadium, and it could be good timing for the Angels, who might need an understudy to fill in at first base while slugger Kendry Morales returns to full health.

It's not quite the dream scenario it would appear, though. Trumbo might be the right guy at the right time in the wrong place.

He mashed the ball at Triple-A last year, tying the minor-league lead with 36 home runs and driving in 122 guys. He continued to hit in Venezuelan winter ball, against good competition, and he's kept up his thing this spring. He leads the Angels with three home runs, six RBIs and an .875 slugging percentage.

But do the Angels need another right-handed hitter with marginal speed and a propensity to strike out? If Trumbo is in the starting lineup, the Angels have six full-time right-handed hitters, two switch hitters and a lefty (Bobby Abreu). That makes them susceptible to right-handed starters and makes late-game pitching changes easy for the opposing manager.

Also, Trumbo struck out 126 times last year, a career high. If you've watched a lot of Mike Scioscia baseball, you'll know he likes to call for hit-and-runs, run-and-hits and straight steals frequently. Swings and misses tend to derail a lot of that stuff, leaving runners hung out to dry.

Frankly, I'd like to see what Trumbo could do if he gets a month's worth of at-bats, but I'm not sure Scioscia and his coaches are as eager as I am. We could be about to find out.
March, 6, 2011
3/06/11
3:43
PM PT
Mike Scioscia told reporters in Arizona recently that Kendry Morales needs to be on the field in a spring training game by March 19, 20 or 21 in order to make it by Opening Day.

Scioscia is rarely so specific, so you can bet he's been thinking about it a lot. And you can also bet Morales won't be back any sooner than that.

If everything works out and he is playing by then, is it really enough time? The season begins early this year, on March 31. We're talking about a severely fractured bone here, not a strained muscle. Odds are, he's going to feel some tightness and/or pain when he first starts running on it competitively. It's fair to assume he'll need a day or two off from the Cactus League schedule.

That means it's doubtful he'll get even 40 at-bats against major-league pitching going into season. Plus, by the time he returns, the pitchers will be stretched out and looking to get into regular-season form. It's not going to be easy for Morales to find his timing.

And 40 at-bats is on the low end of what Scioscia first said he'd need. In other words, Morales might be ready, but Las Vegas likely would handicap that as a sizeable long shot right now.
March, 2, 2011
3/02/11
11:08
AM PT
After four spring games, you could argue that none of it matters.

A slightly less jaundiced view is that a few things matter.

One thing that probably doesn't matter is how the veteran starting pitchers are throwing. Guys such as Jered Weaver, Joel Pineiro, Dan Haren and, to a lesser extent, Scott Kazmir, are just getting their arms ready for the abuse of the next seven months. Their outings are the equivalent of a jogger stretching before a run.

Things that could have a bearing on the Angels' 2011 season:

• Kendry Morales hasn't played in a game and hasn't even been in camp the past couple of days. He was running with about 80 percent of his weight on his legs before he caught a virus and had to stay home sick. It's not that we know he won't be ready by Opening Day, but it's never good to see a spring with so many stops and starts.

Say things go smoothly and he has no setbacks, he is able to run with all 235 pounds on his left ankle in five days and he is playing 10 days from today. That would put him on target to start at first base March 31. But things rarely go that smoothly, do they?
• Peter Bourjos is making stuff happen. The Angels' offense looks a little lumpy right now. You've got a solid middle of the order from Bobby Abreu to Erick Aybar batting seventh, but the edges have the potential to be flaccid. If Bourjos can connect the No. 9 hole to leadoff man Maicer Izturis, it could help catalyze unexpected action. Bourjos has been working on his bunting this spring, according to mlb.com, and he has scored four runs in three games.

These are good things for the Angels.

• The young arms are bringing appropriate levels of heat. Pitching has carried the day for the Angels in these early games, particularly the youngest pitchers on the roster. Tyler Chatwood, Michael Kohn, Garrett Richards, Francisco Rodriguez, Rich Thompson and Jordan Walden have combined for nine scoreless innings.

That matters, at least a little, because all those guys have big upsides and might not be in camp long, and the Angels have desperately lacked quality pitching depth in recent seasons. You saw that last year. After Pineiro got injured, the season essentially collapsed. Early indications are that some of the young arms will start forcing difficult decisions, and difficult roster decisions are better than easy ones in spring training.
February, 25, 2011
2/25/11
1:39
PM PT
* Saturday is the Cactus League opener and Kendry Morales won't be on the field. In fact, the Angels have no immediate plans to play Morales this spring.

Morales, who broke his left ankle last May, continues to run on a specialized treadmill in which 30 to 40 percent of his body weight is supported by a harness. Scioscia continues to say he is confident Morales will be ready by Opening Day. Scioscia said the goal is to get him 30 to 50 game at-bats, which means he'll need to be playing by about March 12.

"There's some work to do, but I think there's enough time to get through this process and have him ready for the start of the season," Scioscia said.

* I asked Jered Weaver if he was working on any new pitches this spring and he said, "Shhhhhh..."

Then he admitted he is working on his cut fastball, a pitch he tinkered with last spring but didn't throw consistently in the season. Last year, Weaver led the majors with 233 strikeouts but went just 13-12. It could particularly help him against left-handed batters, though they hit just .223 off him last year.

"These hitters are too good to throw what you threw at them last year and for them not to know what's coming," Weaver said. "This is something they haven't really seen before."

* Brandon Wood said his lower back is no longer bothering him, but he has yet to face live pitching this spring.

* The Angels may not use many regulars in the opener against the Dodgers. Vernon Wells said he isn't in the lineup and isn't sure when he'll start playing in games. He said he feels good physically.
February, 15, 2011
2/15/11
3:32
PM PT
Yesterday, the news around the Angels' best hitter was generally
gloomy
after
Kendry Morales
said he wasn't sure he'd be ready in time for Opening Day.
But there are signs of hope for Morales already, too. Hitting coach
Mickey Hatcher
has been working with Morales and
Erick Aybar
, the two rehabbing hitters, on a back field in these early days of camp. Hatcher said Morales' swing looks excellent from both sides of the plate.
Another key: Morales has been able to hit while wearing spikes and isn't feeling any pain in his surgically repaired left ankle afterward.
"He's able to do whatever he wants right now," Hatcher said. "Hit balls off the wall the other way, homers, line drives. This guy looks good."
Morales likely won't see major-league pitching for weeks and probably won't be running until late this month, at the earliest, but there's a chance he'll pick up right where he left off, at least in the batter's box.
February, 3, 2011
2/03/11
1:03
PM PT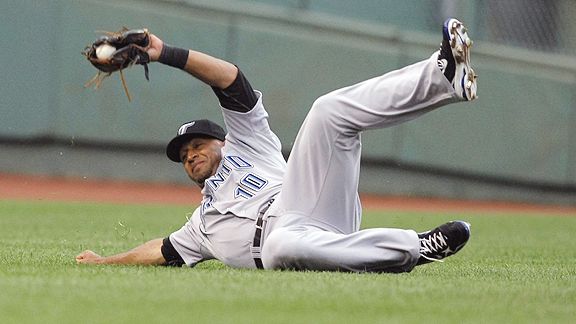 David Butler II/US Presswire
New Angel Vernon Wells said he'll take fly balls in left and center during spring training, but where does he fit best?

Each week leading up to spring training, Mark Saxon breaks down a big question facing the Angels heading into camp.
Angels manager
Mike Scioscia
thinks his 2011 outfield could be as good as any in the past quarter century.
Scioscia thinks you have to go back to the speedy St. Louis Cardinals of the 1980s -- with
Vince Coleman
,
Willie McGee
and
Andy Van Slyke
-- to find a group capable of catching and throwing the ball this well.
I dug that comparison, mostly because I was a 15-year-old suburban St. Louis kid in 1985. Willie McGee was my guy.
Is it hyperbole? Probably, but it might be fitting that Scioscia invoked baseball history, because last year's Angels outfield was historically awful. It became a sore subject for fans, pitchers, coaches and, especially, one keenly interested observer.
"I'm not trying to be disrespectful to any players, but we really had a lot of problems in right field and left field last year," Angels owner
Arte Moreno
said recently. "There were balls falling short, over their heads, in the gaps … Torii [Hunter] was running everywhere and, to be a good hitter, you've got to have your legs."
The ultimate zone rating data -- which seems to be as good as any defensive measure -- suggest that
Juan Rivera
(minus 4.9) was well below average as a left fielder, Hunter (minus 3.8) was well below average as a center fielder and
Bobby Abreu
(minus 6.2) was a borderline disaster in right.
Now, Rivera's been shipped north of the border, Abreu is a designated hitter and Hunter has moved into a corner, where he won't have to run so much. Plus, another ex-center fielder,
Vernon Wells
, will be in left field and young
Peter Bourjos
-- if he can hit well enough to stay in the lineup -- could be a dazzling center fielder. He is among the three or four fastest players in the American League.
Wells said he'll take fly balls in left and center during spring training, but the Angels are a better-fielding team with Wells, 32, tucked safely in left.
Jered Weaver
led baseball in strikeouts, pitched more than 224 innings and had a 1.07 WHIP last year, but he went just 13-12.
He might be the happiest Angel this spring and not just because he's about to sign the richest contract of his life. Weaver, one of baseball's best fly ball pitchers, could scarcely contain his frustration at the Angels' defense at times last year. If he pitches like he did last year, he could easily go 18-9 or so strictly on the defensive upgrade.
January, 27, 2011
1/27/11
11:46
AM PT
Each week leading up to spring training, Mark Saxon breaks down a big question facing the Angels heading into camp.

You can still hear the frustration in Arte Moreno's voice as he looks back at the 2010 Angels, his first losing team in 7 1/2 years as the owner. He recalls an endless series of mental mistakes, balls dropping in front of -- and over -- outfielders. He thinks of shoddy relief work.

And then he comes to this: "We weren't prepared to replace Morales."

A year ago, the Angels knew they were going to be thin in some areas, particularly the outfield. They had no idea how thin their lineup was. Then came that fateful May 29 afternoon, when Kendry Morales made an awkward hop onto home plate in celebration of a winning grand slam against the Seattle Mariners, slipped and snapped a bone in his left leg.

For the next four months, nearly everyone in the Angels' lineup was forced into uncomfortable roles. Hideki Matsui and Bobby Abreu, who thrived as auxiliary hitters in deep lineups, struggled under the pressure of having to carry a team.

"I was batting cleanup," Torii Hunter said. "I've never been a No. 4 hitter in my life."

The Angels' offense essentially collapsed, going from No. 2 in baseball in runs scored in 2009 to No. 19. They touched the plate 202 fewer times, a fairly astonishing drop.

Morales' return -- and the early indications are that he should be healthy by Opening Day -- could be more important to the Angels than any big-splash free agent they might have signed. But there are warning signs, too. It might be unrealistic to expect Morales to pick up where he left off, as one of the up-and-coming young sluggers.

Consider the case of Jermaine Dye. The Oakland A's cleanup hitter shattered the shin bone of his left leg fouling off a pitch from Orlando Hernandez in the 2001 Division Series. The A's would go on to blow that series after taking a 2-0 lead. Dye just wasn't the same the following season.

He batted .252 and had the lowest doubles total, 27, of his career to that point.

Is it realistic for the Angels to expect Morales to return to MVP-contending form eight months after a surgery in which doctors attached screws and steel plates to hold his bones in place? Speed has never been an integral part of Morales' game, but lingering pain could affect him both in the field and at bat.