Los Angeles Angels:

Koji Uehara
February, 1, 2012
2/01/12
10:21
AM PT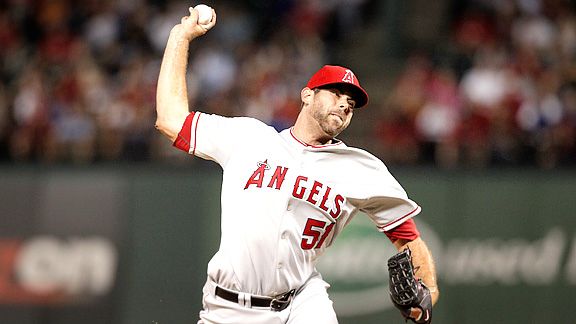 AP Photo/Tony Gutierrez
The Angels stood pat at closer, leaving their most crucial relief role to 24-year-old Jordan Walden.
This is part of an occasional series comparing the rosters of the two-time defending AL champion Texas Rangers and the rebuilt Angels, who could have the hottest rivalry in the league this year.
Bullpens are as unpredictable as the economy nowadays. You just never know what direction they'll go.
At this time 10 years ago,
Brendan Donnelly
had never thrown a major-league pitch,
Ben Weber
was a 32-year-old minor-league journeyman with a career 4.15 ERA and nobody had ever heard of a 20-year-old Venezuelan kid named
Francisco Rodriguez.
The Angels' 2002 bullpen became a virtually impermeable barrier to late-inning rallies.
Both the Angels and Rangers have had to accept some risk as they enter this season, the Rangers because they tinkered with the bullpen, the Angels because they didn't.
Instead of sticking with what worked -- strong setup men funneling the game to
Neftali Feliz
-- Texas seems intent on moving Feliz to its rotation and added 37-year old
Joe Nathan
to be its closer. Nathan pitched in 48 games for the Minnesota Twins last year -- two seasons removed from ligament-replacement surgery in his right elbow -- and had a 4.84 ERA.
The Angels sat back and watched a regiment of closer candidates sign with other teams this winter, leaving its most crucial relief role to 24-year old
Jordan Walden
(hometown: Arlington, Texas). Walden's blazing fastball earned him an All-Star bid but he wobbled in the final few weeks of the pennant race, one memorable meltdown against Oakland virtually ending the Angels' chances.
Whose bullpen would you rather have? The Angels had a surprising edge in 2011, with their relievers putting up a 3.52 ERA, second in the American League to the New York Yankees. Texas relievers had a 4.11 ERA, near the bottom of the league, but they also blew six fewer saves than the Angels. And Texas fortified the seventh and eighth innings by adding
Mike Adams
and
Koji Uehara
near the trade deadline.
August, 1, 2011
8/01/11
9:41
AM PT
Angels general manager Tony Reagins explained the team's lack of action at Sunday's trade deadline this way:

"We had discussions that were interesting, but when you look at the overall picture of what you had to give up to get what was out there, it just didn't make sense for us."

Another way of saying that is: The Angels didn't do anything at the trade deadline. They were one of two contenders in the American League -- the other being the New York Yankees -- who couldn't find a match in the market. The Yankees are 22 games over .500 and lead the Angels by 6 1/2 games in the wild-card standings.

No matter what the Angels say, this failure to execute was about resources. Specifically, it was about having so few high-level prospects that the Angels had to change philosophies and load up on college players in the June draft. And yeah, I'm guessing it was also about owner Arte Moreno's reluctance to push the payroll much higher than it stands, $140 million, for perfectly justifiable reasons.

Reagins did make some moves for 2011, but they happened in 2010. He traded five prospects last summer to land Dan Haren and Alberto Callaspo. Both of those guys have been key to the Angels' contention so far.

The other reason the Angels are so short of trade chips: Five of the guys who would have been considered top prospects are or were filling key roles for the Angels. It's doubtful the Angels would have found a bat bigger than rookie Mark Trumbo's or an arm as powerful as Jordan Walden's.

If nothing else, the front office's sense of timing is in need of repair. This team has been fighting against a swift current all year and it may have just wandered into a rip tide. How much longer can they keep swimming hard?

Not only did the Angels stand pat, but Texas might have made the most impactful trades of the deadline. The reason catching the Rangers was always going to be so tough is the gap in depth between the two franchises. Texas easily could part with Tommy Hunter, Chris Davis and the two young pitchers to land relievers Mike Adams and Koji Uehara because they have prospects to spare. They've had them stockpiled in Round Rock and Frisco all season, something the Angels could only sit and fret about.

Now, Texas went from having one of the shakiest bullpens in baseball to one of the best.

"The Rangers made two acquisitions that were solid acquisitions that fill a need they had," Reagins said. "But we still have to play them, they have to play us."

In other words, "go get 'em boys."

But, just as seeing a newly acquired veteran walk in the clubhouse one day can energize a team, seeing the same collection of talent on Aug. 2 as on July 31 can have the opposite effect.

One official of another team told ESPN's Jayson Stark, "If your team plays well like they have and you don't do something at the deadline, it can almost have an effect the other way, where you lose guys who have been playing their rear ends off trying to stay in it. I don't know if that's going to happen with this team. But it could."

Keep a close eye on this team for the next couple of weeks. It could be headed for deep water.