Los Angeles Angels:

Mariano Rivera
August, 12, 2013
8/12/13
8:15
PM PT
By
Mark Simon
| ESPNLosAngeles.com
Chris Nelson
is the latest in a long line of opposing hitters who have failed in that situation, not just against
David Robertson
, but against Yankees pitchers in potential game-winning scenarios.
Nelson wasn't just the 25th straight hitter to make an out against Robertson with the bases loaded (and 18th to strike out). He's also the eighth in a row to make an out against a Yankees pitcher when batting with his team down a run and the bases loaded with two outs in the ninth inning or later.
The full list is in the chart on the right.
There's no shame in being a member of that club. It's one that includes the likes of
David Ortiz
and
Albert Pujols
, who did so earlier this season. Nelson was the second of those eight to work the count to 3-2, joining
Rocco Baldelli
of the 2004 Rays (then-Devil Rays).
Six of the eight outs in those situations were recorded by
Mariano Rivera
. The two that weren't are Nelson and
Asdrubal Cabrera
, whom
Rafael Soriano
got to fly out to end a 5-4 win over the
Cleveland Indians
last June 27.
It was a first time for Robertson. Elias notes that his streak of 25 straight batters retired with the bases loaded is the longest of its kind since
Jeff Brantley
set down 30 in a row from 1989 to 1991.
June, 16, 2013
6/16/13
8:05
PM PT
By
Mark Simon
| ESPNLosAngeles.com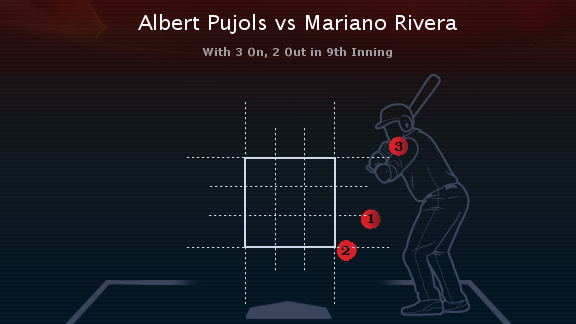 Mariano Rivera had a specific plan for his pitch sequence to Albert Pujols.
Sometimes a baseball game will produce the ultimate matchup and Sunday's Yankees-Angels series finale gave us that-— bases loaded, two outs in a one-run game in the ninth inning with a pair of legends going head-to-head:
Albert Pujols
versus
Mariano Rivera
.
Let's go inside the matchup:
The setup
The Yankees had nearly completely frittered away a 6-0 ninth-inning lead after a terrific start by
CC Sabathia
. Rivera had allowed three hits and a walk in one-third of an inning prior to Pujols' turn.
Entering the at-bat, Rivera had faced a hitter with the bases loaded, two outs and a one-run lead one out from a win on 10 previous occasions. He'd gotten the batter out eight times, including five straight over the last 10 seasons.
Pujols had only been in this situation once before in the regular season and popped out. He also was 0-for-1 with a hit by pitch in two regular-season turns against Rivera.
First pitch
Rivera's first pitch was a strike called, one deemed on the inside corner, though the Pitch F/X pitch-tracking system disagreed (as you can see above).
A lot of pitchers have high batting averages allowed on the first pitch of an at-bat, but Rivera does not.
Over the last four seasons, Rivera has thrown a first pitch to 316 right-handed hitters. Batters who swung made 24 outs (three of which became double plays) and netted only four hits.
Rivera also has among the highest first-pitch strike rates over the last four seasons when the pitch is thrown outside of the Pitch F/X strike zone (36 percent), attributable to getting hitters to chase bad pitches and to getting a lot of borderline pitches called strikes.
Pujols is one of those hitters who hits well in the first pitch of an at-bat (.373 batting average since 2010, about 30 points above major-league average), but he's very discerning.
Pujols typically swings at a rate of about one of every six first-pitches. The average major league hitter swings at about one of every four.
Second pitch
The advantage that comes for Mariano Rivera when he gets up 0-1 in the count is this: If he throws an inside pitch, the hitter becomes very eager.
When Rivera is in that situation and throws a pitch out of the strike zone, but "inside" (defined as: over the inner-third, or off the inside corner), hitters swing more than half of the time.
His 54 percent chase rate on those pitches (dating back to 2010) is nearly 20 percentage points above what an average pitcher would get.
With regards to chasing, Pujols has been an aggressive hitter in the first 60-plus games of the season when he has one strike against him. He swings at nearly half the pitches out of the strike zone in those instances. The typical hitter swings at about a 28 percent rate.
Rivera came inside again and Pujols dinked the ball foul. Now he's behind 0-2.
Third pitch
Earlier in the inning, Rivera had given up a hit on an 0-2 pitch to
Peter Bourjos
. The pitch was off the inside corner, but Bourjos was able to bloop it to left center.
Bourjos was the first batter all season to get a hit against Rivera after falling behind 0-2. The first 22 hitters Rivera faced in that situation this season, he retired. Bourjos got him, but no one else would.
Since joining the Angels last season, Pujols has not fared well in a situation in which a pitcher comes inside with an 0-2 pitch.
He'd seen 56 such pitches, managed one hit, and made 18 outs.
This 0-2 would again come spinning inside and Pujols could do nothing but try to check his swing.
No luck, strike three. Rivera and the Yankees were winners this time.
February, 20, 2012
2/20/12
5:03
PM PT
How does one of the best pitchers in the league get better?
[+] Enlarge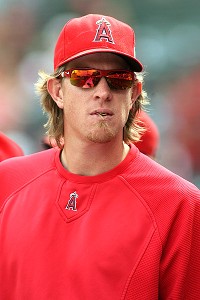 Jeff Golden/Getty ImagesJered Weaver is trying to add a cutter to his pitching arsenal.
Jered Weaver
is working on a new pitch, a cutter, this spring. One of Weaver's teammates,
Dan Haren
, happens to have one of the best cutters in the league and the two have been playing catch in recent weeks, Weaver trying to learn the pitch from his fellow right-hander.
"I'd like to create a cutter, but it's not coming along too good right now," Weaver said.
Weaver uses his changeup and slider as secondary pitches to a low-90s fastball, but has added a sinker in the past couple of years. The cutter has a motion similar to a slider, but instead of looping, it runs and is typically thrown with more velocity. Since the rise of
Mariano Rivera
, the cutter has been the most fashionable pitch of this generation.
Other than a faltering attempt at adding the new pitch, Weaver intends to take it slowly this spring. He signed a five-year, $85 million extension in August and was married in November.
"I don't think I have to prove myself to make the team this year," he said.
January, 5, 2012
1/05/12
11:45
PM PT
By
Mark Simon, ESPN Stats & Information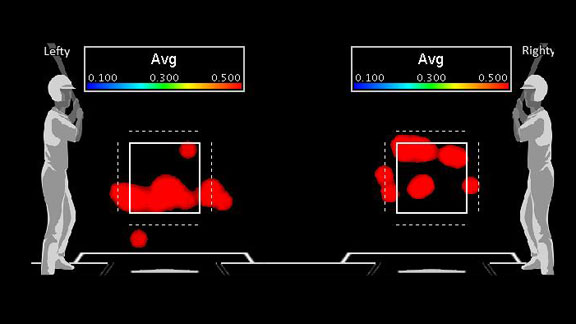 Pitch locations for two-strike hits vs Jordan Walden in 2011.
Click here to create your own Walden heat maps
If the Angels do intend to move forward with Jordan Walden as their closer in 2012, what's the one area most important to watch in his performance?
Statistically speaking, it's his ability to get hitters out once he gets to a two-strike count.
That's what most separated Walden from the Jonathan Papelbon, Mariano Rivera and Craig Kimbrels of the world.
Last season 19 closers, including Walden, saved at least 30 games. Walden's rank among those 19 pitchers in opponents' batting average, on-base-percentage, and slugging percentage with two strikes were 18th, 17th, and 19th, respectively.
Walden fared considerably better when combining his numbers in all other counts (sixth in both opponents' batting average and slugging percentage, and 15th in on-base percentage.)
Walden's failure to match up with the game's elite closers in two-strike counts cost him save conversions throughout 2011.
Remember that goofy five-hour, 13-inning marathon in Boston last May 4th? Walden had the lead and a two-strike count on five hitters in the ninth inning. He only retired one in blowing that save chance.
On June 26 against the Dodgers, Walden had a one-run lead in the ninth inning, and was ahead 1-2 on leadoff man Juan Uribe before walking him.
The Dodgers would tie the game on a two-strike sacrifice fly by Aaron Miles and win it on a single by Tony Gwynn Jr, who battled back from an 0-2 hole.
On September 25, he blew a 5-2 ninth-inning lead, with the tying hit coming on a Kurt Suzuki line drive with two strikes. The Angels would lose, 6-5.
Those are two of the seven times in 2011 that a two-strike hit or walk played a pivotal role in a Walden blown save or loss.
Specifically, the greatest separation between Walden and the elite closer in two-strike situations is in Walden's second pitch -- his (sometimes) nasty slider.
Walden's average fastball velocity (98 miles-per-hour) was third-best in the majors. But his 10 strikeouts-per-nine innings ranked only 25th. That may have been due to a lack of effectiveness with the slider.
If a hitter chose to swing at Walden's two-strike slider, he usually missed it. The problem is that Walden couldn't tempt enough hitters into swinging at it.
Walden threw slightly less than half of his two-strike sliders (49.3 percent) for strikes, because hitters wouldn't chase it. Inside Edge video scouting keeps a "chase rate" stat, to judge how often hitters swung at pitches out of the strike zone. Walden's 30 percent chase rate with his two-strike slider was among the lowest in the majors, far below the big league average of 46 percent.
Walden ranked last among those 19 closers, and among the worst relievers in baseball at throwing his secondary pitches (be they curves, sliders, changeups, or splitters) for a strike in a two-strike situation.
That put him in a position in which he had to rely on his two-strike fastball, and as he learned the hard way from the likes of Gwynn and Suzuki, that major league hitters can catch up to a 97 mile-per-hour fastball.
The batting average on play against Walden's two-strike fastball was a little above average, so perhaps bad luck came into play a couple of times. But if Walden could throw his slider for strikes more often, he wouldn't need to be as reliant on his defense or for the luck to go his way.
Walden got three outs with a two-strike fastball for every out he got with a two-strike slider. The ratio of his fellow young closers, like Drew Storen of the Nationals, and Kimbrel for the Braves, is much closer to 1-to-1.
There were days where
Walden looked like the second coming of Francisco Rodriguez
, such as when he whiffed the side against the Mets in mid-June with an array of nastiness.
If Walden, who will be in only his third major league season, can find that sort of success more often, it would be a major boost to the Angels hopes of winning the AL West in 2012.
August, 16, 2011
8/16/11
5:48
PM PT
The Angels have one of the most enigmatic players in the game on their roster, though most days you'd hardly notice he was around.

Russell Branyan is among the most consistent home run hitters in baseball history. Yes, you read that right. Baseball history.

In his career, which goes all the way back to 1998, he has homered once every 15.16 at-bats. That ranks No. 17 all-time, 11 slots behind Jim Thome, who just hit his 600th home run. Branyan has played for 10 franchises and has gotten 400 at-bats in a season only once, primarily because hitting home runs is about his only marketable commodity.

He does his one trick well. After not seeing a live pitch for nearly three weeks, he homered off Mariano Rivera in New York last week. Then, five days later, he hit his second pinch-hit home run in as many at-bats, this time taking Alexi Ogando deep Monday night.

It's hard to calculate the degree of difficulty of that feat.

"Pinch-hitting's tough, but that's my role here," Branyan said. "I know there's no chance I'm going to start here, so I'm happy with what I've got. In Arizona, it was a little tougher to swallow, because I felt I could have been the starter."

Here are lineups for Tuesday night:

Texas

1. Ian Kinsler 2B

2. Elvis Andrus SS

3. Josh Hamilton LF

4. Michael Young 3B

5. Nelson Cruz RF

6. Mike Napoli C

7. Mitch Moreland 1B

8. Yorvit Torrealba DH

9. Endy Chavez CF

Angels

1. Peter Bourjos CF

2. Alberto Callaspo 3B

3. Bobby Abreu DH

4. Torii Hunter RF

5. Mark Trumbo 1B

6. Vernon Wells LF

7. Howie Kendrick 2B

8. Erick Aybar SS

9. Jeff Mathis C

August, 11, 2011
8/11/11
3:24
PM PT
The Angels lost just their second series since June 12, with Thursday's 6-5 loss to the New York Yankees pushing them two games back of the first-place Texas Rangers.

Seldom-used slugger Russell Branyan slammed a three-run home run off Mariano Rivera in the ninth inning -- the second homer the Angels hit off the Yankees legend this series -- but their rally fell short.

The Good:

Branyan. Talk about degree of difficulty. Not only was Branyan facing a future Hall of Famer, but he hadn't seen a live pitch in three weeks, as he has remained planted on the bench with Mark Trumbo figuring out how to hit tough right-handers. He swung at Rivera's first pitch to him and sent it arcing into the right-field seats to give the Angels a chance.

Yankees lefties. The Angels would have had their 15th winning series in their last 17 tries if they had been able to pitch to Curtis Granderson and Robinson Cano. Then again, a few other teams could have probably said the same thing. Those two left-handed hitters went 11-for-24 with six home runs and 13 RBIs combined in the three-game series. Tough to overcome that production from just two hitters.

Chatwood. He wasn't dominant, but the Angels need some stability at the back of their rotation and the 21-year old gave them some by pitching into the sixth inning and allowing only two runs. He improved on the performance of the other rookie in the Angels' rotation from the night before, which allowed some relievers to get a little rest. The Angels figure to need lots of pitching in Toronto, where the Blue Jays are scoring a lot of runs.

The Bad:

Pitching in the Bronx. When Curtis Granderson swung and made contact with Tyler Chatwood's pitch to him in the sixth inning, his head slumped as if he'd just hit a routine fly ball. The ball carried 10 rows deep into the right-field bleachers. No wonder Granderson has 32 home runs. Right field at Yankee Stadium is even more hitter-friendly than the old place.

Concentration. Maicer Izturis is one of the steadiest fielders the Angels have, but he took his eye off Mark Teixeira's routine chopper in the seventh inning on what would have been the third out. It was only Izturis' second error. You pretty much knew the Angels were in trouble at that point, as the Yankees for years have punished teams that make mistakes. Bam, Robinson Cano hit the lights-out grand slam off Scott Downs.

Homecomings.Vernon Wells is carrying some pretty embarrassing numbers with him as he returns to Toronto for the first time since being traded to the Angels in January. He's making it far too easy for Blue Jays fans to be glad their team got out from under his big contract. Wells has seven hits in his last 48 at-bats and he's only driven in three runs in August.
August, 9, 2011
8/09/11
7:59
PM PT
The Angels blew a 4-1 lead, but rallied against -- of all people -- Mariano Rivera to beat the New York Yankees 6-4 at Yankee Stadium and keep their playoff hopes alive and well.

The Good:

Bobby Abreu. For more than a month, he lived in the "bad" section on this blog. Why? No reason other than the fact he was hitting .155 since July 1. Perhaps reports of his decline were greatly exaggerated. Abreu drove two home runs over the right-field wall to provide half the Angels' offense. The second one -- a two-run shot -- came off Rivera, who looked stunned. It was just the second home run Rivera has allowed this season.

Torii Hunter. It's vital that the middle-of-the-order veterans start producing and Hunter has been doing that since the calendar flipped to August. He had three more hits to follow a blazing homestand. Hunter is 15-for-28 so far this month. Don't worry that only a couple of those hits went for extra bases. The Angels just need action in their lineup and Hunter has produced it -- perhaps by cutting down his swing?

Dan Haren. It wasn't technically a quality start, but it would have been if Fernando Rodney hadn't let both inherited runners score by falling behind Derek Jeter and then grooving a fastball. Haren dominated the Yankees until the seventh inning and pitched plenty well enough for the team to win.

The Bad:

Rodney. If the Angels fall short, you can blame the front office for not landing one of the many bullpen arms that wound up switching teams at the trade deadline. Aside from Jordan Walden and Scott Downs, no Angels reliever has been reliable, or even close. In the clutch, Rodney doesn't look like a viable third option.

Vernon Wells. Mike Scioscia bowed to a mounting tide of evidence and slid Wells down to the No. 6 spot, moving leading run producer Mark Trumbo in front of him at No. 5. Wells is 3 for his last 24 and only one of those hits went for extra bases. A month ago, he was in a nice groove, but not now.

Howie Kendrick. No sweeping generalizations here. He's been one of the Angels' best hitters -- maybe the best pure hitter on the team -- but he had a really tough night: 0-for-5 with three strikeouts.
July, 7, 2011
7/07/11
5:56
PM PT
Angels reliever Jordan Walden got a call from team publicist Tim Mead just a couple of minutes before an interview with Doug Gottlieb on ESPN Radio on Thursday afternoon. Mead informed the rookie closer he had been picked to replace Yankees legend Mariano Rivera on the American League All-Star team.

But the league office hadn't yet released the news to the public, and Walden didn't bring it up during the appearance with Gottlieb.

"Right after I got done off the phone, they called back and said, 'We didn't know. Can he call us back?' " Walden said. "I was like, 'Sure.' "

Walden, 23, already was taking heat in the Angels' clubhouse. While he was discussing his selection with reporters, Angels manager Mike Scioscia walked by and said, "Wally, you've still got to go to team meetings."

* Scioscia got the team together before Thursday's game with the Seattle Mariners to find out which players were staying in town for next week's All-Star break. The Angels have an optional workout next Thursday afternoon at Angel Stadium before their trip to Oakland.

Here are lineups for Thursday, with Jered Weaver going for his 11th win and trying to sew up the starting bid for the All-Star Game:

Seattle

1. Ichiro Suzuki RF

2. Brendan Ryan SS

3. Adam Kennedy 1B

4. Justin Smoak DH

5. Dustin Ackley 2B

6. Miguel Olivo C

7. Kyle Seager 2B

8. Franklin Gutierrez CF

9. Carlos Peguero LF

Angels

1. Maicer Izturis 3B

2. Torii Hunter RF

3. Bobby Abreu DH

4. Vernon Wells LF

5. Howie Kendrick 2B

6. Erick Aybar SS

7. Mark Trumbo 1B

8. Peter Bourjos CF

9. Jeff Mathis C

April, 8, 2011
4/08/11
7:02
PM PT
As of 90 minutes before Friday's Angels home opener against the Toronto Blue Jays, closer Jordan Walden still hadn't picked out any entrance music.

"I have no idea," Walden said. "I'll probably go inside and make something up here."

That's how sudden Walden's elevation has been, from struggling minor-league starter to major-league closer in less than a year. Manager Mike Scioscia named Walden, 23, his ninth-inning specialist over struggling veteran Fernando Rodney on Tuesday.

Entrance music is part of a closer's persona, particularly since Mariano Rivera started coming into games at Yankee Stadium with Metallica's "Enter Sandman" blaring and Trevor Hoffman entered games in San Diego to AC/DC's "Hells Bells." For years, Troy Percival jogged to the Angel Stadium mound to the song, "Stay Away," by Godsmack.

Feel free to leave suggestions for Walden in the comments below.