Los Angeles Angels:

Mark Lowe
April, 4, 2013
4/04/13
11:57
PM PT
By
Kenton Wong | ESPN Stats & Information
Frank Victores/USA TODAY SportsJosh Hamilton will look to punish his former team this weekend in Texas
Welcome to the first Halo Effect of the season -- a weekly stats-based post on the
Los Angeles Angels
. Sample sizes are obviously extremely small, but here are some things that stood out in the first series of the season: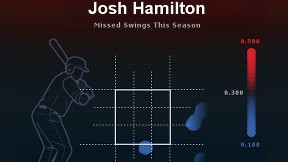 ESPN Stats & Information
Hamilton pressing?
It has only been three games, but so far
Josh Hamilton
hasn't been productive at all for the Angels.
Cincinnati Reds
pitchers attacked Hamilton with a steady diet of offspeed pitches once they got him into two-strike counts -- holding him 0-for-4 in the series -- all on strikeouts in those situations. A look at his missed swings this season show a lack of plate discipline as he has consistently chased pitches away. Hamilton will look to turn things around this weekend as the Hamilton Reunion Tour continues against another former team, the
Texas Rangers
.
Can Pujols still handle the heat?
Albert Pujols
got off to an extremely slow start last season with the Angels. A myriad reasons can be blamed, but one thing to watch for this season, and as he continues to age, is Pujols' ability to turn around fastballs. In his last season in St. Louis, Pujols missed making contact on nine percent of pitches that were clocked at 95 mph or faster. Since joining the Angels he has swung-and-missed on 20 percent of pitches of that velocity.
Lowe
The Lowe down
New bullpen addition
Mark Lowe
has quickly gained Mike Scioscia's confidence. He has pitched two separate two-inning stints without allowing a hit and has struck out out four. Lowe is primarily a fastball/slider pitcher and so far his slider has been extremely effective as opposing hitters have missed on 62.5 percent of swings against it. The Angels need someone to step up in middle-relief this year as the team's 3.97 bullpen ERA in 2012 was the third-worst in the American League.
Today's matchup
Jason Vargas (LAA) vs. Derek Holland (TEX), 11:05 AM PT
Jason Vargas
makes his Angels debut after spending his last four seasons with the
Seattle Mariners
. Vargas' fastball averages only 87 mph, but it does enough to set up Vargas' best pitch, which is his changeup. He throws the change a quarter of the time and in the last four seasons, opponents have hit .192 in at-bats ending with the pitch.
The Rangers will counter with
Derek Holland
. The lefty has struggled in his career against the Angels with an ERA of 5.58 and a .828 OPS.
May, 12, 2012
5/12/12
1:11
PM PT
By
Randy Jennings
| ESPNLosAngeles.com
C.J. Wilson
and four relievers cooled off the Texas bats and the Angels played a little small ball to win Game 2 of the three game series Saturday at Rangers Ballpark.
In contrast to Game 1, the Angels were crisp on defense, turning double plays in each of the first two innings. And their winning rally in the seventh inning came immediately after Texas tied the score at 2.
The Good:


Little things mean a lot.
Textbook execution at the plate, something that couldn't be said a lot about the Angels in 2012, produced a decisive pair of runs in the seventh. After
Mark Trumbo
waited out a leadoff walk, Howie Kendrick and
Peter Bourjos
bunted for base hits to load the bases. Facing hard-throwing Rangers reliever
Alexi Ogando
, pinch hitter
Kendrys Morales
and
Mike Trout
delivered sacrifice flies for a two-run Angels lead. Along with John Hester's infield single, none of the three Angels hits in the inning reached the outfield. It was the kind of inning that could make an oldtimer smile.
Going deep.
Coming off an impressive rookie season, the Angels 2012 expectations for Mark Trumbo are high. With good reason. In the fourth inning of a scoreless pitcher's duel, Trumbo launched a drive into the left field stands an estimated 420 feet off
Matt Harrison
for a 2-0 lead. It was home run No. 5 for Trumbo, tying Torri Hunter for the team lead. His previous four were solo homers. Trumbo hit a team-leading 29 as a rookie in 2011 and was named the club's MVP.
Good first impression.
Newest Angels catcher
John Hester
, who joined the team on Friday, lined an opposite-field single in the third inning, the first hit off Rangers starter Matt Harrison. Maybe it shouldn't come as surprise because Hester hit a pinch-hit home run in his first Major League plate appearance with Arizona in 2009.
The Bad:
Groovin.
C.J. Wilson admirably handled Rangers slugger
Josh Hamilton
in his first two plate appearances, recording swinging strikeouts. Perhaps that lured C.J. into a false sense of security. Hamilton continued his torrid home run streak, his eighth in five games and third of the series, with a game-tying solo home run in the sixth. Wilson failed to finish the inning and left with a no-decision on a day when he pitched well.
Going quietly.
Three hits through six innings is not going to cut it for the Angels. Three hits was all they could muster through the first six against
Yu Darvish
and
Mark Lowe
in Friday's 10-3 loss to Texas. It was the same story in six against Matt Harrison on Saturday. A little early offense could make things less stressful for the starting staff.
K Zone.
The first time through the batting order, four Angels struck out. But they also showed plate patience that was lacking all to often in the first 33 games. Angels fans can accept strikeouts when it means better at-bats.
August, 15, 2011
8/15/11
8:49
AM PT
In advance of the Angels' crucial four-game series with the first-place Texas Rangers this week, we caught up with ESPNDallas.com's
Richard Durrett
to hear his thoughts about the team the Angels are chasing.
For one-stop shopping on Rangers' news, information and analysis, be sure to check out
Durrett's blog
.
Q. From afar, it looks like the Rangers have gained their most consistent groove in a while. How have they done it without Adrian Beltre? When will he be back?
The Rangers are playing consistent baseball. The starting pitching has found a groove and the entire team seems to have more confidence knowing if a starter can go six, manager Ron Washington has Koji Uehara and Mike Adams in that bullpen along with Mark Lowe, who has pitched well. Neftali Feliz has been inconsistent this season, but he's still the closer and a force when he's right. Add in the fact that the offense is getting the clutch hits that it wasn't producing just a few weeks ago and you have a team that is confident and consistent. It's good timing, too. The schedule stiffens with this series against the Angels and a couple coming up with Boston and Tampa Bay on the road, not to mention another visit from the Angels in late August.
Q. As you say, in addition to the Angels series, which are usually hardfought, the Rangers have to play the Red Sox and Rays a bunch of times coming up. How have they typically fared against those clubs and what do you expect?
It will be tough, no doubt about that. But the Rangers believe they can compete with any team and for whatever reason the past few seasons, they've raised their level of play against that type of competition. I think beating David Price in Game 5 in Tampa Bay last year certainly helps with that confidence. Yes, it's a different team in 2011. But a lot of those guys are still around and to win in that kind of environment allows them to draw on that experience. It's a much different Boston team the Rangers will face than the one they swept to start the season. And it could be a ALCS preview too. It's never easy to win in Fenway. It should be interesting.
Q. You're around these guys a lot and covered them during their World Series run. What is the vibe like compared to a year ago? Will the fact that they're in a tight pennant race vs. a rout make any impact on their psyches?
It's different this year, I will say. Not sure exactly why, but different. It's still a close bunch, but they have their own identity. You won't see them doing the claw anymore, BTW. The players felt that was a 2010 thing. And I like that about them. They've got the same lofty goals, but want to chart their own path. That said, Cliff Lee gave this team an ace in the hole that they knew would rise up in the postseason. They don't have that kind of starting pitcher this season, but the staff as a whole has done a solid job. And they are slightly better by record now than they were a year ago. I honestly don't think a tight pennant race will get to this team at all.
Q. If you compare these two teams in the three phases, Texas would appear to have the edge because its offense is so much stronger. The Angels say the key to this race is for them to get their offense going. Is there one key for Texas, in your mind?
Defense. It just hasn't been as good as expected. They'll score enough runs and now that management has taken care of the bullpen issue, that's not a problem. But the defense has been way too inconsistent. Part of that is not having Adrian Beltre around. He seems to lift the entire infield, though Michael Young has certainly filled that spot well in his absence. But Elvis Andrus has made too many errors on routine balls and they aren't doing the little things consistently like throwing to the proper base, hitting the cutoff man, etc. If they can sharpen that up, you'll see a complete team ready to make noise again in the postseason.
Q. Is the bullpen better with the new guys, Adams and Uehara? How solid is Neftali Feliz entering this home

stretch

?
The bullpen is way better. It allows Washington to shove Mark Lowe, who has pitched well, to the sixth or seventh and still have Uehara and Adams to go to. It gives them depth late that they haven't had all season. Feliz is still fine on the velocity, but the fastball command hasn't been the same. He's just not the dominant pitcher he was last year. His walks are up and strikeouts down. Still, he's shown flashes. They've got to figure out how to get those flashes into more lenghty bursts down the stretch.