Los Angeles Angels:

Mark Reynolds
September, 17, 2011
9/17/11
7:13
PM PT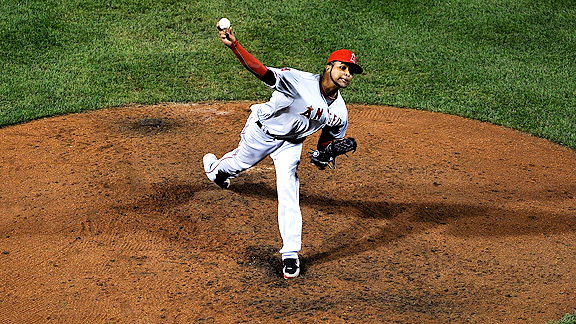 Patrick Smith/Getty ImagesErvin Santana had a disastrous first inning and the Angles couldn't climb out of the hole.
Two of the Angels' best pitchers let them down in Baltimore and the offense continued to struggle, putting their playoff hopes on the verge of flickering out.
Ervin Santana gave up five first-inning runs on a couple of Baltimore home runs and the Angels lost 6-2, leaving them 4 1/2 games behind the first-place Texas Rangers after the Rangers defeated the Mariners, 7-6, later Saturday. The Angels have only 11 games left on their schedule.
The Good:
Catcher indifference.
An Angels catcher managed to go an entire game without making an unproductive out.
Bobby Wilson
started and walked and hit a sacrifice fly before the perfunctory pinch-hitting appearance took him out of the game. That's 0-for-0, wildly productive for an Angels catcher this year.
Triple threat. Vernon Wells
had an RBI triple, albeit too late to help prevent a crushing loss. That kind of says it all about Wells' season. Maybe he can get hot and build a little momentum for next April.
Baltimore's fight.
You've got to give Baltimore some credit for playing hard in these games and, frankly, dominating them. The Orioles went 6-0 vs. the Angels last year, by the way.
The Bad:
Santana's first. Ervin Santana
pitched well from the second inning through the seventh, but the damage had already been done.
Mark Reynolds
did some serious damage to the Angels this season, including his three-run blast off Santana in the first.
Hitting.
The struggling starters were a surprise. The lack of offense wasn't. But still, the Angels managed four hits, not exactly the effort you're looking for in the heat of a race. It kind of speaks for itself.
Top four.
You're not going to win many games when the first four batters in your lineup combine to go 0-for-14 with four strikeouts. This offense fell back into one of its swoons, something it could cover up when the pitching was stout but that has now been exposed. It could get ugly if the Angels don't hit in Toronto next week, because that team figures to score.
July, 24, 2011
7/24/11
1:17
PM PT
Mike Trout's first major-league home run helped the Angels defeat the Baltimore Orioles, 9-3, on Sunday at steamy Camden Yards, keeping their pennant hopes from fading further.

The Angels now have won 11 of their past 12 series.

The Good:

Firsts. A guy in an Angels cap caught Trout's home run ball and then, it appeared, agreed to give it up to Camden Yards officials (perhaps in exchange for some memorabilia). There should be no shortage of people to bring the ball back to nearby New Jersey as Trout had at least a dozen friends and relatives from his home state on hand. The numbers suggest Trout has struggled offensively, but he's gotten all the firsts out of the way, which should help ease his transition to the majors.

By the way, according to ESPN Stats and Info, the ball traveled 414 feet. It went about 15 rows deep in left-center.

Power. For a team that makes a lot of noise about its aggressive base running, the Angels seem awfully reliant on the home run in the past couple of months. They were in a tense battle with the last-place Orioles before Trout's blast broke it open and Torii Hunter's two-run shot made it a laugher.

Command. Who cares that Tyler Chatwood only allowed six hits in seven innings or struck out five. The number that stands out is zero. Chatwood didn't allow a single walk, the thing that often has been his undoing when he has struggled this season.

The Bad:


Callaspo's instincts. He has had a good season at the plate and he has made some nice plays in the field, but Alberto Callaspo has had an awful time running the bases. It didn't end up mattering after Trout's blast, but Callaspo could have jogged into third on Mark Trumbo's deep fly ball with nobody out. He didn't bother to tag up. Mike Scioscia didn't appear pleased.

Trumbo's dive. He added an extra run with a nice opposite-field hit in the ninth inning, but he looked more than a little awkward while oversliding the bag going for a double. He beat the throw, but decided to slide too late. Trumbo's a home-run hitter, so maybe he hasn't had a lot of practice sliding.

Rumor. One trade rumor has suggested the Angels might have some interest in trading for Orioles third baseman Mark Reynolds. Other than the fact the Angels have gotten scant power from their third basemen, in what universe does that make sense? Reynolds already has struck out 111 times and he's batting .222.