Los Angeles Angels:

Matt Shoemaker
August, 31, 2014
8/31/14
9:54
PM PT
When Garrett Richards, the best pitcher on the
Los Angeles Angels
in 2014 and one of the best pitchers in the league, went down with a knee injury on Aug. 20, the consensus seemed to be: The AL West race is over; the Angels didn't have the rotation depth to survive his loss, especially with veterans
Jered Weaver
and C.J. Wilson not what they once were.
The West is over. Except it's the Angels, who finished off a four-game sweep of the
Oakland Athletics
with an
8-1 win on Sunday
, and not the A's, who are going to win the division. The sweep pushed the Angels' lead over the A's to five games, had winning pitcher
Matt Shoemaker
calling it a "huge series for us in regards to the playoffs," saw Angels fans chanting "Sweep! Sweep!" late in the game and caused normally placid Oakland manager Bob Melvin to call out his team: "They should be embarrassed."
It was an energizing four days for the Angels -- they shut out the A's for 29 consecutive innings at one point -- and a demoralizing series for the A's, who finished August with a 12-17 record, their first losing month since May of 2012.
"We don't play like that," a glum Melvin said after the game. "The last three games here were the worst I've seen this team play in I can't remember how long. I feel bad for our fans to have to watch that."
What has gone right with the Angels? What has gone wrong with the A's?
For the Angels, let's start not with likely AL MVP
Mike Trout
-- who did homer on Sunday -- but the rookie Shoemaker, who continues to excel. Before the season, Baseball America didn't even rate the 27-year-old right-hander as one of the Angels' top 30 prospects. Perhaps understandable given his age, undrafted status coming out of Eastern Michigan and his pedestrian numbers the past two seasons at Triple-A Salt Lake, but the Angels were also rated to have the worst farm system in the majors -- for the second year in a row. How could this guy not be one of their 30 best minor leaguers? Put it this way: Shoemaker wasn't on anybody's radar as a potential key contributor.
But here he is: 14-4, with a 3.14 ERA and 115 strikeouts and 21 walks in 117.2 innings. There's nothing in those numbers that screams fluke: The strikeout rate is very good, the control is excellent, the BABIP isn't abnormal. Does he have an overpowering fastball? No, it averages just 90.6 mph, but he does have an effective splitter that has become a wipeout pitch. That pitch has accounted for 68 of his 115 K's and batters are hitting just .148 against it with one home run.
It's a pitch he initially learned to throw as a 14-year-old. "It just continues to get better," he said after beating the A's with seven scoreless innings. He threw it 30 percent of the time on Sunday, but considering he also mixes in a two-seam sinker, a slider and curveball, he's a five-pitch pitcher with a repertoire that resembles Seattle's
Hisashi Iwakuma
, and that has made him tough even without the blazing heater.
Or maybe it's the beard. He has grown a
Brian Wilson
-esque patch of fur on his chin. Hey, considering he's 7-2 with a 1.67 ERA since the All-Star break, I wouldn't shave either.
Another secret weapon for the Angels is catcher
Chris Iannetta
, who only has an on-base percentage better than Trout. Or right fielder
Kole Calhoun
, hitting .299/.346/.476 since June 6 and doing an excellent job setting the table for Trout. Or the bullpen. On Saturday, manager Mike Scioscia started reliever
Cory Rasmus
, who pitched three innings, and then used seven other relievers. The eight pitchers combined for a 2-0 shutout. It was an effective strategy as the Angels continue to scuffle for a fifth starter, one made possible by Scioscia's confidence in Shoemaker going deep into the game on Sunday.
As for the A's, the cop-out excuse is to say they miss
Yoenis Cespedes
. Maybe he did help provide a certain swagger, but that's
not the reason they've struggled in August
. Plus, have you eve know an A's team to lack swagger? Look at how their All-Stars have fared before the break and after:
Josh Donaldson
: .238/.317/.449 to .314/.427/.529
Brandon Moss
: .268/.349/.530 to .183/.318/.254
Derek Norris
: .294/.402/.477 to .235/.300/.336
Scott Kazmir
: 11-3, 2.38 ERA to 3-4, 6.21 ERA
Sean Doolittle
: 2.89 43 IP to 11.2 IP (injured)
Only Donaldson, who has actually played better, has kept up his pace. Moss' struggles have created a power hole in the middle of the lineup, especially when combined with Cespedes' departure. The declines of Norris and Kazmir were predictable to some extent, two guys playing above their heads in the first half. Further,
Sonny Gray
had a 2.79 ERA before the break and 3.61 after;
Jason Hammel
has a 6.09 ERA since the break;
Coco Crisp
is hitting .172/.252/.284. Don't blame this slide on the Cespedes trade (and
Jon Lester
has been terrific).
Can the A's turn it around and catch the Angels? I don't see it. Yes, we've had teams blow five-game leads in September in recent years -- see the 2011 Red Sox in the wild-card race; the 2007 Mets had a seven-game lead on Sept. 12; and the A's certainly remember the 2012 Rangers -- Texas had a five-game lead over Oakland as late as Sept. 24 but the A's still won the division.
So never say never. But the Angels have the lineup depth with a superstar leading the way (they haven't even needed big seasons from
Albert Pujols
and
Josh Hamilton
); the bullpen is on a roll and deep enough that Scioscia doesn't need his starters to go deep into the game; 12 of the Angels' next 13 games are against the Astros, Twins and Rangers while the A's will have two series against the Mariners. On paper, it's going to difficult for Oakland to make up much ground the next two weeks.
Yes, the Angels' rotation is now depending on a 27-year rookie -- 28 later this month -- leading the way while the A's counter with a deep arsenal of starters.
But that's baseball, the most unpredictable of sports. We thought the A's getting
Jeff Samardzija
and Lester would be the big story in the AL West. Instead, it's Matt Shoemaker. Gotta love it.
August, 1, 2014
8/01/14
9:42
AM PT
By
Kenton Wong
| ESPN Stats & Information
AP Photo/Mark J. TerrillRookie Matt Shoemaker has defied the odds to claim a spot in the Angels' rotation.
The
Los Angeles Angels
were dealt a potentially big blow Thursday night when southpaw
Tyler Skaggs
had to leave his no-hit bid in the fifth inning with an apparent injury to his pitching arm. If Skaggs lands on the disabled list, the timing should work out as
C.J. Wilson
is set to come off the DL Saturday.
Meanwhile, Friday starter
Matt Shoemaker
will remain in the Angels' rotation for the foreseeable future.
The rookie right-hander has been solid since transitioning from long relief to the rotation. His one major hiccup came when he gave up 11 hits and eight earned runs in his last start of June in Kansas City.
Diamond in the rough
Unlike his rotation mates, Shoemaker wasn't drafted at all, let alone in the first five rounds like Wilson, Skaggs,
Garrett Richards
and
Jered Weaver
. The Angels signed him as a free agent in 2008.
By 2011, the Eastern Michigan grad was the star of the double-A affiliate in Arkansas, throwing five complete games en route to being named Texas League player of the year.
Shoemaker struggled in two-plus seasons at Triple-A in the Pacific Coast League, but has actually pitched better from an ERA standpoint at the big league level.
He's also an extreme bargain at $500,500 this season.
Albert Pujols
makes that in three-and-a-half games. The Angels are paying
Joe Blanton
$7 million more than that NOT to pitch.
With all the big contracts on the team, Shoemaker's contributions this season have been a god-send.
Killer change
The righty has always flashed solid strikeout rates throughout the minor leagues (7.4 K/9 IP), but he has strangely been able to boost that at the big league level (9.1 K/9 IP).
This season, 12 percent of Shoemaker's pitches have resulted in a swing-and-miss. That ranks 11th among all MLB starters, just ahead of the likes of
Zack Greinke
,
David Price
and
Yu Darvish
.
The main pitch behind Shoemaker's success is his changeup. Opponents are hitting just .135 against it, swinging and missing a ridiculous 27 percent of the time. That's the second-best rate in baseball.
Of his 77 strikeouts on the season, 48 have come on changeups (62 percent).
July, 22, 2014
7/22/14
1:48
AM PT
By
Christina Kahrl
| ESPNLosAngeles.com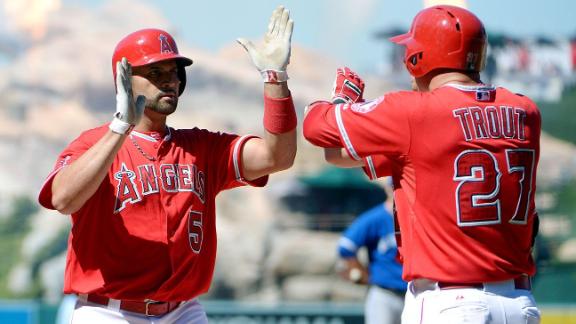 The Angels are the second-best team in baseball. Win or lose going into Monday night's game against the AL East-leading Orioles, they were going to be the second-best team in baseball after the fact. They lost, missing the chance to move within a game of the A's in the AL West race. But it's July and there's still plenty of time, so there's no reason to sweat, right?
Certainly not, at least not if you look at the big picture and the projection models at
FanGraphs
or
Baseball Prospectus
, which say the Angels have a 98 or 99 percent shot at the playoffs. Slam-dunk sure thing? Sounds like it.
But there's a problem with that: It doesn't mean all that much in the era of the one-game play-in wild-card "round." The Angels' shot at winning the AL West is calculated as much less of a sure thing, from
the 20 percent range according to analyst Clay Davenport
, to the 30s for FanGraphs, or the 40s for Baseball Prospectus. These are roughly the same as the chances of the Blue Jays coming back to win the AL East and then also not having to sweat a one-or-done scenario despite probably being 10 games worse than the Angels at season's end. Saying the Angels' shot at playing their way into the one-game coin-toss of the wild card is around 60 or 70 percent is like saying their chance of their season ending a day or two after the regular season is still astonishingly likely.
[+] Enlarge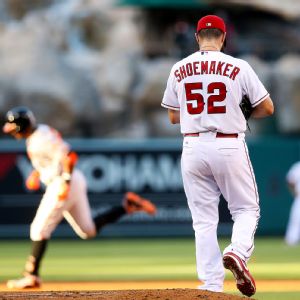 Stephen Dunn/Getty ImagesMatt Shoemaker's loss was the latest tough start for the Angels' non-Richards rotation regulars.
Unless they beat the A's and win the West. Unless they make their math problem now into Oakland's math problem tomorrow. That's their challenge, and losing games like Monday's will only make it harder.
To pull this off in the long weeks to come, they're going to have to find a happier answer in their rotation than the ones they've found so far. While the trades for
Jason Grilli
and
Huston Street
may have shored up their bullpen, there's the larger problem of how good their rotation really is outside of newly minted ace and All-Star
Garrett Richards
. Assuming that
Jered Weaver
's back is sound all the way down the stretch, he hasn't overpowered strong teams' lineups, seeing his OPS jump 50 points and his WHIP increase by 0.3 facing teams that are .500 or better; unsurprisingly, his FIP is 4.12, which suggests sturdy mediocrity, not the ace he once was.
C.J. Wilson
won't be back from his DL stint for a sprained ankle until after the trade deadline; even if he's sound, his 4.29 FIP doesn't suggest he's a solid No. 2, either. And the back-end trio of
Hector Santiago
,
Tyler Skaggs
and
Matt Shoemaker
have put together just 15 quality starts in their 38 turns.
To catch the A's, the Angels are going to need not just one guy but several guys to step up down the stretch. Not just because you can't count on a league-best offense to crank out five or more runs every night, but because the Angels need to have somebody else besides Richards to use in those potentially scary end-of-year situations. What if Richards has to pitch in the last weekend series against the Mariners but the Angels don't catch the A's then? What if they have to play a tiebreaker? Who pitches the wild-card game? Where does that leave them in the ALDS? They'll need some of the non-Richards starters to step up, not just to keep up with the A's and their shored-up rotation, but to be able to win October games when they don't put five or six runs on the scoreboard.
That was why Shoemaker's start against Baltimore was a little more important than just another late-July turn. Barring a trade, somebody is going to be bumped once Wilson comes back from the DL. Even on a night when he struck out a career-high 10 batters, seeing Shoemaker get beaten deep twice by
Adam Jones
was the sort of thing that won't keep the rookie ahead of Skaggs or Santiago, not that either of them is owning his slot.
To be sure, the Angels should be grateful things are this close. Thanks in large part to early-season bullpen problems of their own, the A's are four games worse than you'd project from their runs scored and allowed, which is a big part of the reason they are within striking range for the Angels, even after Oakland went 20-10 in its past 30 games. All it took was the Angels going 22-8 in their past 30 before Monday, no easy thing to do with a rotation that may struggle to match the A's made-over,
Jeff Samardzija
-enhanced rotation in the last 60 games.
If Wilson or Weaver, Shoemaker or Skaggs steps up, things will be that much more interesting all the way down to the wire. If not, the Angels may be one of those great teams that, like the 1993 Giants, wind up getting to brag about how great they were without getting much of an opportunity to prove it come October. Those Giants were caught from behind by the Braves, San Francisco winning 103 games for the second-best record in baseball … and no October invite. The Halos have to hope they'll earn something more than one game better than that -- but more than hoping for it, they'll have to do it.
Christina Kahrl writes about MLB for ESPN. You can follow her on Twitter.
March, 8, 2012
3/08/12
10:58
AM PT
The 2008 draft dragged on for 50 rounds, with the 30 major league teams trading picks during a seemingly endless conference call that eventually led to 1,504 players being taken.

Of that number, 1,019 were college players.

None of them was named Matt Shoemaker of Eastern Michigan University.

So, it comes as a bit of a surprise that Shoemaker, 25, is in Angels camp with an outside shot to make the team's rotation. If Shoemaker makes it, it would be among the least-likely stories in recent memory.

"To me, it's just fuel to the fire," Shoemaker said. "I'm just out here trying to show what I can do, trying to play and bust my butt every day, trying to get an opportunity to play in the big leagues and make a career out of it."

Nobody seemed to utter Shoemaker's name much before last summer, but he forced his way into the team's collective conscience. He went 12-5 with a 2.48 ERA for Double-A Arkansas, walked practically nobody (fewer than two batters per nine innings) and was named the Texas League pitcher of the year. He got invitations to pitch in the Baseball World Cup and the Pan Am Games.

Suddenly, his is a name people recognize, even Angels manager Mike Scioscia, whose rotation is strong, but not quite deep.

"I think Shoe has a real chance to open some eyes in this camp," Scioscia said. "I think we have a lot of guys competing for a spot in our rotation and, when that day comes up April 15, some things can change and you don't know what player out of a pool of guys is going to jump up and take it."