Los Angeles Angels:

Melky Cabrera
June, 8, 2012
6/08/12
8:32
AM PT
By
Kenton Wong | ESPN Stats & Information
The Angels followed their encouraging series win against the Rangers by losing two of three against the last-place Mariners. That cost them an opportunity to gain more ground on the Rangers who dropped three of four in Oakland. The Halos enter Friday's action four games back in the AL West.
KENDRYS RETURNING TO FORM?
One bright spot in the series against the Mariners was
Kendrys Morales
. He went 5-13 with three home runs, including his first multi-homer game since having his 2010 season cut short. Morales has been feasting on fastballs, hitting six of his seven homers this year against heaters.
T-N-T ARE DYNAMITE
Mike Trout
and
Mark Trumbo
have more in common than just their initials. Since the start of May they have the exact same batting average at .348 to lead the team. Each has 46 hits in their last 132 at-bats.
Both players have benefited this season from very high batting averages on balls in play (BABIP - http://www.fangraphs.com/library/index.php/offense/babip/). Trumbo ranks seventh among qualifiers this season at .387, while Trout ranks eighth at .382.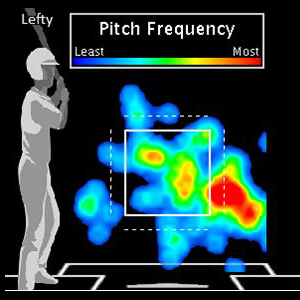 ESPN Stats & InformationC.J. Wilson vs. left-handed hitters since May 22.
PUJOLS TO VISIT SOME FAMILIAR PARKS
Albert Pujols
will definitely be comfortable as interleague play starts up again. The Angels next 15 games are against NL West teams starting with stops at Coors Field and Dodger Stadium. The Machine hasn't homered at Coors Field since 2007. In his last four seasons there, he is hitting 12-52 (.231). As for Dodger Stadium, Pujols homered three times in four games there last season.
WILSON STAYS HOT
Today's starter
C.J. Wilson
has really stepped up his game in his last few starts. Since May 22, Wilson's 0.45 ERA is fourth-best among starters behind only
Johan Santana
(0.00),
R.A. Dickey
(0.29) and
Jarrod Parker
(0.43). In his last 20 innings, Wilson has held opponents to a .129 batting average and has been especially tough on lefties, holding them hitless in 14 at-bats. A look at his heat map shows his approach has been to stay low-and-away to lefties. That approach should bode well against a Rockies lineup that features
Carlos Gonzalez
and
Todd Helton
.
June, 10, 2011
6/10/11
10:12
PM PT
ANAHEIM -- The Angels reached rock bottom Friday night. At least, they hope they did.

For the ninth straight game, the Angels failed to score more than three runs and, for the sixth straight time, they lost. This time it was by a score of 4-2 and it was to the struggling Kansas City Royals and their soft-tossing lefty, Jeff Francis. The Angels are stuck in their longest home losing streak since April 2002.

They slipped six games out in the AL West and are holding off the Oakland A's, who ended a 10-game losing streak Friday, by just two games to avoid last place.

The Good:

Half-a-lineup. For the second straight game, the top five hitters did virtually all the damage, what little there was anyway. Maicer Izturis, Torii Hunter, Howie Kendrick, Bobby Abreu and Vernon Wells were on base seven times, drove in both runs and scored them, too.

Hurt guys. Since Kendrick and Wells came back from the disabled list, they had combined to go 2-for-25. Both of them showed signs of getting their timing back Friday. Kendrick lined a double into right-center -- his go-to spot -- and Wells pulled a single into left. It was a start. Maybe?

Creativity. You don't see many 5-6 double plays, but Izturis and Erick Aybar aren't ordinary defenders. Fielding generally has not been a problem and Izturis, who plays three positions at Gold Glove level, is among the reasons why. He dove to catch Jeff Francoeur's line drive, then lobbed it to Aybar, who alertly covered third. Cabrera apparently thought it was headed for left field, because he was double off the bag.

The Bad:

Snap judgment. As bad as the Angels are going, they can't afford to give up runs or even base runners. Third-base coach Dino Ebel waved Abreu around third after Wells' line-drive single to left in the sixth inning and Alex Gordon made an accurate throw to nail him. It was an aggressive base-running play, typical of the Angels' m.o. This time, it didn't work. Therefore, it was a bad decision.

Efficiency. That sixth inning was the game for the Angels. Soft-tossing lefty Jeff Francis appeared to be unraveling, but somehow the Angels squeezed just two runs out of five hits. It's something different every night, except the result is always this: relentlessly not scoring runs.

Mediocrity. The kind of starts Ervin Santana is churning out would play well on a team with a powerful, deep lineup. On the Yankees or Red Sox, he'd probably be 6-3 instead of 3-6. But the Angels aren't any of those things and Santana's typical four-run evening really didn't give them much of a chance. His problem Friday was spotty command. He walked five batters and was behind frequently.