Los Angeles Angels:

Michael Kohn
April, 11, 2012
4/11/12
6:50
PM PT
Reliever Michael Kohn is scheduled to undergo ligament-replacement surgery on his right elbow Thursday and will miss the 2012 season, the Angels announced.

Kohn's star was on the rise at this time last year, but he struggled early and spent the majority of last season at Triple-A Salt Lake. He made five appearances this spring, but was placed on the 15-day disabled list when the Angels opened the season.

Tommy John surgery, named after the former Dodgers' left-hander, typically requires a year-and-a-half of recovery time.

Kohn, 25, is 2-1 with a 4.01 ERA in 38 major-league games. Dr. James Andrews will perform the surgery in Florida.
March, 3, 2012
3/03/12
11:33
AM PT
TEMPE, Ariz. -- The
Los Angeles Angels
renewed the contract of closer
Jordan Walden
and reached agreements on one-year deals with 21 other young players.
Peter Bourjos
,
Hank Conger
,
Kevin Jepsen
,
Michael Kohn
,
Brad Mills
,
Garrett Richards
,
Rich Thompson
,
Mike Trout
,
Mark Trumbo
and
Bobby Wilson
were among the players who reached agreement.
When a team renews a player's contract, it typically signals a dispute over salary. The Angels didn't release terms of the contracts, but each of them figures to be for around the major-league minimum, $480,000.
Walden reached the All-Star game in his rookie season last year, but also blew 10 saves, tied for the major-league lead.
July, 20, 2011
7/20/11
7:07
PM PT
One area the Angels could improve before the trade deadline without costing them much in terms either of dollars or prospects is their middle relief.

It has been a mess all season, with a revolving carousel of pitchers who have failed to lock down the sixth through eighth innings, including Kevin Jepsen, Jason Bulger, Michael Kohn, Michael Thompson and Hisanori Takahashi.

Next up is seven-year veteran Horacio Ramirez, a left-hander who was recalled from Triple-A Salt Lake before Wednesday's game. Kohn, who surrendered three home runs Tuesday night, went back down.

There reportedly are dozens of middle relievers available before the deadline, though thus far there has been little movement. Middle relief has historically been one of the Angels' strong suits, with skilled non-closers like Scot Shields, Brendan Donnelly and Francisco Rodriguez getting the ball to the ninth inning for a time.

"Some of that's been frustrating," Angels manager Mike Scioscia said. "I think we've lost some games with the inability to keep ourselves close, to give ourselves a shot at comebacks. We haven't made some teams work as hard as they needed to to win games."

Here are the lineups for Wednesday's game vs. the first-place Texas Rangers, who -- by the way -- also are in the market for setup help:

Texas

1. Ian Kinsler 2B

2. Elvis Andrus SS

3. Josh Hamilton LF

4. Adrian Beltre 3B

5. Michael Young DH

6. David Murphy RF

7. Yorvit Torrealba C

8. Mitch Moreland 1B

9. Endy Chavez CF

Rangers

1. Erick Aybar SS

2. Torii Hunter RF

3. Bobby Abreu DH

4. Vernon Wells LF

5. Alberto Callaspo 3B

6. Howie Kendrick 2B

7. Mark Trumbo 1B

8. Bobby Wilson C

9. Mike Trout CF

April, 11, 2011
4/11/11
3:30
PM PT
The two roster moves the Angels announced after Sunday's game weren't shockers, but the corollary moves were mildly surprising.

The team needed a starter for Monday and 21-year-old prospect Tyler Chatwood seems as good a choice as any. Veteran reliever Scott Downs was ready to return from the disabled list.

But should Kevin Jepsen and Michael Kohn have been the guys boarding a plane for Salt Lake City? Jepsen was one of the Angels' most important late-inning relievers last year. Two years ago, he pitched three games in the ALCS against the New York Yankees. Kohn has the look of an up and comer, having been dominant in the spring and last September.

Both relievers struggled in their early outings. Jepsen's WHIP was 2.25. His strikeouts were down, an average of just 2.25 per nine innings. Both relievers walked too many batters (Jepsen with four in four innings, Kohn with three in 3 2/3 innings).

But Jason Bulger had struggled in roughly equal measure. Bulger has walked eight batters in five innings. His WHIP (2.00) is roughly the equal of Jepsen's. He hasn't given up an earned run, but he did give up a home run in extra innings that cost the Angels a game.

It's not always what happens on the field that makes these decisions. Bulger had one major advantage: no minor-league options. The Angels couldn't demote Bulger without risking losing him to another team via waivers. His stuff looks improved over last season as well, so the Angels clearly made this move based on not wanting to lose a pitcher with good raw stuff.

Jepsen admitted he was pretty shocked.

"It's always tough to swallow," he said.
April, 1, 2011
4/01/11
8:45
PM PT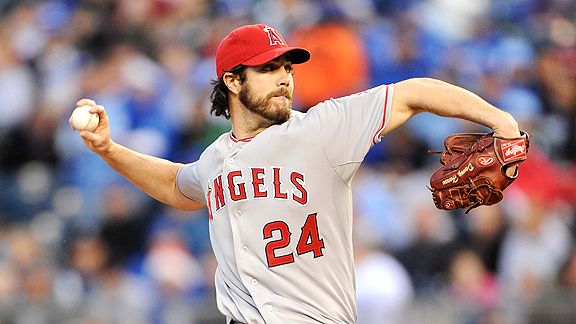 Peter G. Aiken/US PresswireDan Haren again pitched well for the Angels but didn't get the run support necessary for a victory.
KANSAS CITY, Mo. -- They want things to be different. If they keep saying they are, will they be?
Two games into the 2011 season, some of the plagues of 2010 have come marching back into the picture.
Dan Haren
is still pitching well and the Angels aren't scoring any runs for him. Nobody has any idea what the bullpen's going to do on a given night. Angels base runners get to second or third base and might as well lie down and take a nap. They're not going anywhere.
Ah, but it's still spring. Far too early for such hum-buggery, right?
"It's a two-game sample size," manager
Mike Scioscia
said after Friday's 2-1 loss to the Kansas City Royals, the result of
Kila Ka-aihue's
walk-off home run against reliever
Michael Kohn
. "Let these guys get their feet on the ground and we'll evaluate this as we move along."
Scioscia says the Angels have a deeper offense. That might be true when
Kendrys Morales
returns. It might even be true now, but so far the evidence has been scant. The Angels have batted 18 times with a runner at either second or third base and come up with three hits.
Being a starting pitcher in Anaheim was a chore last season and Haren and
Jered Weaver
didn't exactly enjoy relaxing first days on the job. The bullpen wobbled through Thursday's finishing innings and the offense relentlessly failed to score against
Jeff Francis
and two Kansas City relievers Friday.
"We had a rough offensive night," was how Scioscia put it.
Haren wasn't about to start casting blame after the first of 33 or so starts, but he's got to be wondering about these hitters with whom he shares a clubhouse. After the Angels acquired him from the Arizona Diamondbacks last July, he had a 2.87 ERA in 14 starts and went just 5-4. He lost his first game with the Angels 1-0. He lost his second game with the Angels 2-1. Sound familiar?
"I'm not really thinking about that," Haren said. "I try to stay more in the present day."
Maybe that's good advice for Angels fans, but it's hard when the present feels so much like the past.
March, 14, 2011
3/14/11
9:47
AM PT
The Angels are more than halfway through their spring schedule and, believe it or not, the season starts two weeks from Thursday. It's a good time to examine some trends this spring to see how they might affect a summer of baseball in Anaheim:
Mark Trumbo is pushing hard
. He's clearly
the guy
this spring. It's funny because when I talked to Trumbo a few days before spring training began,
he sounded fairly resigned
to starting the season at Triple-A. He's not playing like that. He leads the majors in at-bats (43), total bases (32) and is tied for the lead in RBIs (11). Only
Ian Kinsler
and
Michael Morse
have hit more home runs.
Upside:
At the very least, the Angels have a power-hitting first baseman in reserve if
Kendry Morales
can't get all the way back. At most, they have a guy they absolutely have to find a spot for.
Downside:
There's always a Triple-A guy who puts on a show in spring training, when the pitchers aren't quite as focused. He has to do a little more in the minors to really make the Angels' front office scramble.
Getting on base could be a problem.
The Angels have neglected this aspect of hitting for years and it cost them in a big way last year. The team's on-base percentage was .311, which is, quite frankly, awful. The trend has continued this spring, with the Angels' .327 OBP ranking 23rd out of 30 teams. The Angels are perfectly willing to be out of step with the rest of the statistically driven teams in the league, but in this regard it seems self-defeating. If
Bobby Abreu
ever got hurt, the Angels might go a month without drawing a walk.
Upside:
Shorter innings and quick games (thank you, free swingers!).
Downside:
The Angels' disdain (or is it lack of interest?) in walks means they're unusually batting average-dependent and sometimes easy fodder for control pitchers.
They should pitch the ball well.
Dan Haren
and
Jered Weaver
look like a couple of top-of-the-rotation veterans getting into season mode. They've combined for 17 strikeouts in 19 innings.
Joel Pineiro
and
Ervin Santana
have looked great and
Scott Kazmir
has looked, well, about how he usually looks. Does anybody other than Philly have a No. 5 starter they're sure about?
There's spirited competition for some final bullpen roles, with
Jason Bulger
and
Rich Thompson
out of options and young guns like
Jordan Walden
and
Michael Kohn
making noise. This might be the Angels' deepest bullpen since 2002.
Upside:
It's the name of the game.
Downside:
They still have the
Fernando Rodney
question at closer.
March, 2, 2011
3/02/11
11:08
AM PT
After four spring games, you could argue that none of it matters.

A slightly less jaundiced view is that a few things matter.

One thing that probably doesn't matter is how the veteran starting pitchers are throwing. Guys such as Jered Weaver, Joel Pineiro, Dan Haren and, to a lesser extent, Scott Kazmir, are just getting their arms ready for the abuse of the next seven months. Their outings are the equivalent of a jogger stretching before a run.

Things that could have a bearing on the Angels' 2011 season:

• Kendry Morales hasn't played in a game and hasn't even been in camp the past couple of days. He was running with about 80 percent of his weight on his legs before he caught a virus and had to stay home sick. It's not that we know he won't be ready by Opening Day, but it's never good to see a spring with so many stops and starts.

Say things go smoothly and he has no setbacks, he is able to run with all 235 pounds on his left ankle in five days and he is playing 10 days from today. That would put him on target to start at first base March 31. But things rarely go that smoothly, do they?
• Peter Bourjos is making stuff happen. The Angels' offense looks a little lumpy right now. You've got a solid middle of the order from Bobby Abreu to Erick Aybar batting seventh, but the edges have the potential to be flaccid. If Bourjos can connect the No. 9 hole to leadoff man Maicer Izturis, it could help catalyze unexpected action. Bourjos has been working on his bunting this spring, according to mlb.com, and he has scored four runs in three games.

These are good things for the Angels.

• The young arms are bringing appropriate levels of heat. Pitching has carried the day for the Angels in these early games, particularly the youngest pitchers on the roster. Tyler Chatwood, Michael Kohn, Garrett Richards, Francisco Rodriguez, Rich Thompson and Jordan Walden have combined for nine scoreless innings.

That matters, at least a little, because all those guys have big upsides and might not be in camp long, and the Angels have desperately lacked quality pitching depth in recent seasons. You saw that last year. After Pineiro got injured, the season essentially collapsed. Early indications are that some of the young arms will start forcing difficult decisions, and difficult roster decisions are better than easy ones in spring training.
February, 20, 2011
2/20/11
12:04
PM PT
Michael Kohn was a senior catcher at College of Charleston when he tried a little experiment. He stepped on a mound, warmed up and made a handful of pitches.

One of the coaches had a radar gun on him and asked him how hard he thought he was throwing. Kohn hadn't pitched since his freshman year at Camden High in South Carolina.

"I don't know, 84?" he guessed.

Not quite, the coach said. Eight of his 10 pitches were at 96 or higher.

A pitcher was born that day, but Kohn, 24, never altered his delivery much and that's part of the reason he could be a key reliever for the Angels this season.

A 13th-round draft pick in 2008, Kohn throws in the mid-90s with an unusual and deceptive short-arm delivery. He gets rid of the ball quickly, which is good for a quarterback and can be good for a pitcher. Hitters just don't see it much.

"Being an infielder my entire life, short-arming was how I threw growing up," Kohn said. "Nobody really ever tried to change me. They're like, 'Hey, he's got a quick arm. That's good for an infielder.' I kept it as a pitcher."

Kohn said he dealt with a "dead arm" period near the end of last season that accounted for a dip in velocity, to about 91 mph. His deception got him through -- he was 2-0 with a 2.11 ERA in 24 games after being recalled in late July -- but he could be more effective if he can return to mid-90s form.

"I don't think velocity makes or breaks a pitcher," Kohn said, "but to be a back-end bullpen guy, I'll need to get back to my normal velocity."