Los Angeles Angels:

Michael Young
May, 12, 2012
5/12/12
12:14
AM PT
By
Randy Jennings
| ESPNLosAngeles.com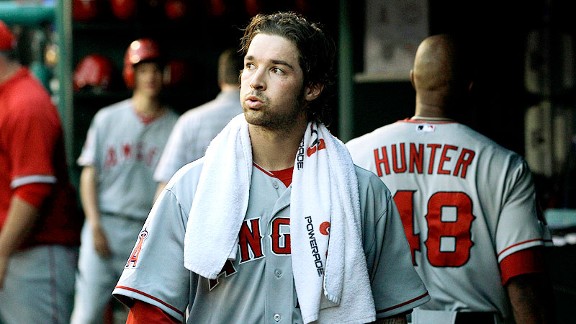 AP Photo/Tony GutierrezC.J. Wilson will get a chance for redemption when he starts Saturday's game for the Angels.
ARLINGTON, Texas --
C.J. Wilson
gets a do-over.
Rain spoiled Wilson's homecoming party after only a third of an inning Friday at Rangers Ballpark, but Angels manager
Mike Scioscia
will send him back to the mound for Game 2 of the three-game series on Saturday.
Texas took Game 1, 10-3.
"We weighed a lot of things, but two hours was a long time for C.J. to go back out,'' Scioscia said. "He felt really strongly that he could come back Saturday. He thought that was the best option and we'll see how he does. He didn't throw that much [22 pitches] and the bounce-back should be really routine for him. I'd rather start him fresh.''
Wilson will become the first major league pitcher to start in back-to-back games since the Rangers'
Aaron Myette
in 2002. It was an early ejection, instead of rain, that gave Myette his opportunity.
Wilson left the Rangers' organization after 11 years in December when he signed a five-year, $77.5 million deal with the Angels.
The Newport Beach native anticipated boos from the sold-out Ballpark and he got them.
After striking out
Ian Kinsler
to begin the game, Wilson was the victim of three straight infield singles, accounting for the first run of the game. As if on cue, the rain began and the game was halted following a walk to
Michael Young
that loaded the bases.
May, 11, 2012
5/11/12
7:33
PM PT
By
Randy Jennings
| ESPNLosAngeles.com
ARLINGTON, Texas -- It is Jerome Williams, and not C.J. Wilson, who is warming in the Angels' bullpen in anticipation of tonight's resumption after a rain delay approaching two hours.

Yu Darvish, on the other hand, is taking his warm-up tosses in the bullpen and it appears he will return to the mound for the Rangers.

The Rangers lead 1-0 and have the bases loaded in the bottom of the first.

Wilson, making his return to an organization where he spent 11 seasons, was booed during introductions.
Adding insult to injury, Wilson was able to retire only one of the five batters he faced.

The Rangers touched the left-hander for three infield singles that produced a run. Just after issuing ball four to Michael Young to load the bases with one out, the game was halted by rain.

February, 25, 2012
2/25/12
1:18
PM PT
After Saturday morning's workout, six Angels players --
Albert Pujols, Vernon Wells, Alberto Callaspo, Kendrys Morales, Erick Aybar
and
Maicer Izturis
-- crammed onto a golf cart for the trip back to the clubhouse.
Aybar was driving, Izturis was sitting awkwardly on the dashboard and Pujols was practically in Callaspo's lap. That's about 1,300 pounds and $320 million worth of ballplayer, not to mention one bouncy ride.
"We bottomed out a couple times," Wells said.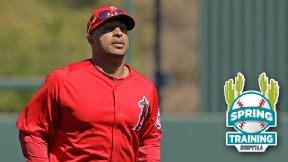 AP Photo/Mark DuncanVernon wells hit .218 last season with an on-base percentage of .248.
Wells knows what it feels like to hit the bottom. His career reached a shocking low in 2011. A .280 hitter entering his first season in Anaheim, Wells put up career lows in batting average (.218), on-base percentage (.248) and doubles (15).
It took enough of a toll on Wells' psyche that he figured something drastic was in order. He hired Chicago Cubs hitting coach
Rudy Jaramillo
, one of the most respected teachers in the business, to revamp his swing. He took two weeks off after the season and then got back to work in the cage at his Dallas-area home.
At one point,
Michael Young
and
Ian Kinsler
of the Texas Rangers stopped by to get a little work off Wells' pitching machine, which throws curveballs and sliders and can be set to 100-mph-plus velocity.
"Watching them hit off the machine was kind of funny. I was like, 'All right, I'm ahead of these guys,' " Wells said.
Asked what he did wrong last season, Wells said, "Do we have time for this interview?"
He predicted that 2012 would be one of his best seasons to date. In 2006, he batted .303 with 32 home runs and 106 RBIs. Add that to a lineup with Pujols and, possibly, Morales and the Angels could have one of the most potent lineups in baseball. Of course, that's a sentence wrought with uncertainty.
"I think it's a matter of getting that swagger back and knowing each time you get in the box, you have a chance to do damage," Wells said. "That puts fear in the pitcher. I don't think there's a pitcher out there, with the exception of a week here or there, that had fear once I got in the box and that shouldn't be the case."
Home runs -- 25 of them last year -- were Wells' undoing, he said. As his swing became more pull-happy, he lost the ability to drive balls up the middle and to right field. Pitchers learned to prey on that inability, relentlessly pecking at the holes in his swing. The drop in the number of doubles he hit, from 44 to 15 in one year, was the most drastic measure of the breakdown in his swing.
The Angels are heavily invested in Wells' turnaround, literally. They're on the hook to pay him $63 million over the next three seasons. General manager
Jerry Dipoto
said recently that "Vernon's our left fielder," even with No. 1 prospect
Mike Trout
applying pressure from below.
"Some of his numbers last year were what we would expect and some were absolutely awful," manager
Mike Scioscia
said. "I think we're going to see a more consistent Vernon than we did last year. What his numbers are going to be is impossible to tell, but I think you're going to see more productivity from him."
January, 25, 2012
1/25/12
11:27
AM PT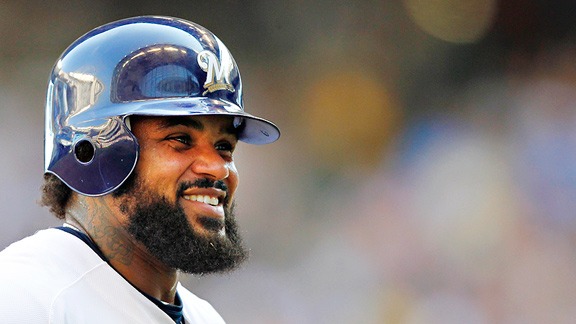 AP Photo/Jeffrey Phelps
Of all the moves this offseason, Prince Fielder
not
signing with Texas ranks as one of the biggest for the Angels.
This is part of an occasional series comparing the rosters of the two-time defending AL champion Texas Rangers and the rebuilt Angels, who could have the hottest rivalry in the league this year.
If you were ranking this winter's free-agent news in terms of its impact on the Angels, you might have to put the stories in the following order:
1.
Albert Pujols
signs with the Angels.
2.
Prince Fielder
doesn't sign with Texas.
3.
C.J. Wilson
signs with the Angels.
4.
LaTroy Hawkins
signs with the Angels.
No offense to Wilson, a fine left-handed pitcher who I think will
thrive pitching at Angel Stadium
, or to Hawkins, who should be a winning influence on the bullpen in 2012. Their impact probably won't approach the damage Fielder could have done from afar over the next nine years.
Just imagine what Texas' lineup would have been like on a nightly basis after inserting a guy who has averaged 37 home runs (and hit 50 one year) and 106 RBIs, who doesn't turn 28 until May. The Rangers scored 855 runs last year, just 20 behind league-leading Boston.
Inserting Fielder would have given Texas perhaps the two most-feared left-handed hitters in the game (Fielder and
Josh Hamilton
) to go along with its four right-handed hitters who smacked at least 29 home runs last year. The only reason to think Texas wouldn't have had the best 3-4 hitters in baseball is you don't know whether manager
Ron Washington
would have broken up his two left-handed sluggers.
Not only would the Angels have had to pitch to Fielder about 75 times a year (as opposed to 25 or fewer now), they would have faced the possibility of meeting that lineup again in the playoffs. Who knows, it might have reduced the Angels to chasing one of the wild-card spots for years. Under the new proposed format, that's a far more perilous road to the World Series than winning the division.
Yeah, it's scary to think about, but now you don't have to. Instead, we can ask: Whose middle-of-the-order would you rather have, the Angels' or the Rangers'?
August, 26, 2011
8/26/11
12:15
PM PT
These three games kind of speak for themselves, don't they?

By the end of this weekend's series in Texas, the Angels could be anywhere from first place (by a game) to barely clinging to contention, five games out with 29 to go.

But what doesn't speak for itself is the direction the teams have been heading lately. To catch up on the state of the Rangers, we checked in with our friend from ESPNDallas.com, Richard Durrett:

MS. Richard, What has happened to the Rangers? From your seat, is it just that they've been playing a tough team, the Red Sox, or are there indications of more systematic breakdowns?

RD. No question, the Red Sox came in with their bats swinging and ready to go. But two big concerns came out of the series. First, the starting pitching didn't do the job in the final three games. CJ Wilson has been great, but other than that, it's a trend for the whole month, really. Derek Holland, Matt Harrison and Alexi Ogando have all pitched more innings this season than they ever have and it might be taking a toll. They say they aren't tired, but they look it. Second, the offense struggled to do anything. They are batting .197 in the last 8 games, which includes that walkoff win by Trumbo, and are 2-6. The Rangers must get those trends turned around to win this series.

MS. Momentum is fickle in baseball. Do you see it as a factor in this series?

RD. Momentum can change quickly. We saw that last week in Anaheim. It's a factor early in the series, in that both teams come in on vastly different runs. But once the game starts, it just depends on who can get on a roll. I think it's more critical for the Rangers to score early just to feel like the bats can get going and that they have a lead. They haven't really had that feeling in three days.

MS. I read Nolan Ryan's comments about the pitching looking tired. Can you draw this out a little bit? Which guys, specifically, are wearing down?

RD. As I mentioned earlier, it's the young guys like Holland, Harrison and Ogando, though Lewis has struggled at times too. Harrison's velocity was down in his last start, which makes me wonder if that's also fatigue. But he said he felt good physically out there. The Rangers know it's an issue and they are meeting after the series to decide if they want to spot start someone and how to work the rotation with the off days. I think they'll do something to try to give these guys a little bit of a break.

MS. Everyone talks about the heat of Texas. This year it's been more ridiculous than usual. Something about a high-pressure system. Is it too late to build a retractable roof, can you give us some details about first-pitch temperatures and is it a factor in this series? In this season?

RD. It's been triple-digit first pitches for much of July and August. And it is more ridiculous than normal. A retractable roof isn't possible. Way too costly. I do wish there was a way to configure Cowboys Stadium for baseball, but I can't see that happening. So everyone will just have to deal with it. Even starting the game at midnight wouldn't help much. It's just hot here all the time right now.

MS. What's your prediction for the next three games?

RD. Though the Rangers are clearly struggling, I'll say they win 2 out of 3. I don't think either team will sweep and I can't think the offense can struggle like this much longer. But it should be very entertaining. What the Angels have done is make this a great race.
August, 25, 2011
8/25/11
8:58
PM PT
In October of 2010, Vernon Wells finally got to go to the playoffs. He just had to pay for his seats, like every other fan at the Texas Rangers' ballpark.

Wells attended the Rangers' playoff and World Series games near his home – and even a couple in New York – to support one of his closest friends, Rangers infielder Michael Young. Sometimes, he went with his wife and friends. Sometimes, he brought his two little boys.

But he didn't miss one. That's how much he cares about Young.

"You wish you were there, but being happy for him far outweighed anything else. Getting a chance to watch him finally get a chance to play in the post-season, to see the enjoyment in his face, it was fun," Wells said.

What might prove even more fun for Wells is to force Young to stay home in October, because this time Wells is an Angel. His team is in a heated pennant race with Young's Rangers. The teams play a crucial three-game series this weekend in Texas with the Angels trailing by just two games.

Wells and Young talk two or three times a week. Their families have become close over the years. But when the games start, there's not a lot of room for empathy or chit chat.

"I love the guy like a brother and I want him to have great years every year of his career, but when we're on the field I'm trying to win for my team and he's trying to win for his," Young told ESPNDallas.com's Richard Durrett.

This friendship has an odd wrinkle to it. Wells grew up in South Arlington, about 10 minutes' drive to the Rangers' ballpark and still lives in the Dallas-Fort Worth Metroplex. Young grew up in Covina, roughly 25 miles from Angel Stadium.

"We both get to go home while we're on the road," Wells said. "It's a different way of looking at it, but we're both in the same boat now."

The two players have been friends for 14 years, bonding shortly after their were picked by the Toronto Blue Jays in the 1997 draft. They played together at every level until Wells moved up to Triple-A in 2000 and Young moved on – traded to Texas for Esteban Loaiza that June.

From there, both players began building lucrative major-league careers, but until last season, Young, 34, had never played in the post-season. Wells, 32, still hasn't – Until January, he was stuck in Toronto, which plays in a division dominated by the New York Yankees and Boston Red Sox.

Young said it meant a lot to have Wells along during his playoff experiences.

"If he ever needed anything, I'd drop everything and help," Young said. "He'd do the same."
August, 15, 2011
8/15/11
8:49
AM PT
In advance of the Angels' crucial four-game series with the first-place Texas Rangers this week, we caught up with ESPNDallas.com's
Richard Durrett
to hear his thoughts about the team the Angels are chasing.
For one-stop shopping on Rangers' news, information and analysis, be sure to check out
Durrett's blog
.
Q. From afar, it looks like the Rangers have gained their most consistent groove in a while. How have they done it without Adrian Beltre? When will he be back?
The Rangers are playing consistent baseball. The starting pitching has found a groove and the entire team seems to have more confidence knowing if a starter can go six, manager Ron Washington has Koji Uehara and Mike Adams in that bullpen along with Mark Lowe, who has pitched well. Neftali Feliz has been inconsistent this season, but he's still the closer and a force when he's right. Add in the fact that the offense is getting the clutch hits that it wasn't producing just a few weeks ago and you have a team that is confident and consistent. It's good timing, too. The schedule stiffens with this series against the Angels and a couple coming up with Boston and Tampa Bay on the road, not to mention another visit from the Angels in late August.
Q. As you say, in addition to the Angels series, which are usually hardfought, the Rangers have to play the Red Sox and Rays a bunch of times coming up. How have they typically fared against those clubs and what do you expect?
It will be tough, no doubt about that. But the Rangers believe they can compete with any team and for whatever reason the past few seasons, they've raised their level of play against that type of competition. I think beating David Price in Game 5 in Tampa Bay last year certainly helps with that confidence. Yes, it's a different team in 2011. But a lot of those guys are still around and to win in that kind of environment allows them to draw on that experience. It's a much different Boston team the Rangers will face than the one they swept to start the season. And it could be a ALCS preview too. It's never easy to win in Fenway. It should be interesting.
Q. You're around these guys a lot and covered them during their World Series run. What is the vibe like compared to a year ago? Will the fact that they're in a tight pennant race vs. a rout make any impact on their psyches?
It's different this year, I will say. Not sure exactly why, but different. It's still a close bunch, but they have their own identity. You won't see them doing the claw anymore, BTW. The players felt that was a 2010 thing. And I like that about them. They've got the same lofty goals, but want to chart their own path. That said, Cliff Lee gave this team an ace in the hole that they knew would rise up in the postseason. They don't have that kind of starting pitcher this season, but the staff as a whole has done a solid job. And they are slightly better by record now than they were a year ago. I honestly don't think a tight pennant race will get to this team at all.
Q. If you compare these two teams in the three phases, Texas would appear to have the edge because its offense is so much stronger. The Angels say the key to this race is for them to get their offense going. Is there one key for Texas, in your mind?
Defense. It just hasn't been as good as expected. They'll score enough runs and now that management has taken care of the bullpen issue, that's not a problem. But the defense has been way too inconsistent. Part of that is not having Adrian Beltre around. He seems to lift the entire infield, though Michael Young has certainly filled that spot well in his absence. But Elvis Andrus has made too many errors on routine balls and they aren't doing the little things consistently like throwing to the proper base, hitting the cutoff man, etc. If they can sharpen that up, you'll see a complete team ready to make noise again in the postseason.
Q. Is the bullpen better with the new guys, Adams and Uehara? How solid is Neftali Feliz entering this home

stretch

?
The bullpen is way better. It allows Washington to shove Mark Lowe, who has pitched well, to the sixth or seventh and still have Uehara and Adams to go to. It gives them depth late that they haven't had all season. Feliz is still fine on the velocity, but the fastball command hasn't been the same. He's just not the dominant pitcher he was last year. His walks are up and strikeouts down. Still, he's shown flashes. They've got to figure out how to get those flashes into more lenghty bursts down the stretch.
May, 27, 2011
5/27/11
10:35
AM PT
Dan Haren just went from being the seventh-best pitcher in the American League to being No. 5 and he didn't have to get sweaty.

The Angels appealed an official scoring decision from their May 14 game at Texas and the MLB office agreed with them, taking an RBI hit away from Michael Young, an earned run away from Haren and saddling Erick Aybar with an error.

After that game, Mike Scioscia was adamant that the play was an error, saying Aybar would have it nine times out of 10.

Haren's ERA went from 2.24 to 2.13, sliding him ahead of Oakland's Gio Gonzalez and Seattle's Michael Pineda.
May, 14, 2011
5/14/11
5:19
PM PT
Two of baseball's fastest-starting pitchers have slowed down in a hurry, though for slightly different reasons.

Jered Weaver has hit a bit of a slump. Dan Haren can't catch a break.

Haren left Saturday's game in the eighth inning with a 2-1 lead only to watch struggling reliever Fernando Rodney give up a sharp grounder to Michael Young, the ball taking a strange hop and skipping off Erick Aybar's glove to drive in the tying run.

On a 50-50 call, the official scorer ruled it a hit – saddling Haren with a dubiously earned run – and all his hard work was in jeopardy of being wasted. At that point, Haren – typically laidback – lost his cool just a tad. He snatched his gear off the bench and stomped up the tunnel toward the clubhouse.

It's been a maddening stretch for Haren, who has gotten a total of nine runs of support in his past five outings, has seen the bullpen blow three potential wins and hasn't gotten a win since April 22.

"That's the story of my life. It's no big deal," Haren said. "Those are really hard to swallow when they tie it up, on kind of a flukey play or whatever, and we lose the game. That's when it's really tough to handle. We bounced back and scored a run and won the game. I'll sleep well tonight."

The Angels lobbied the official scorer to change the call to an error, no avail.

"Michael hit it good, but I think if you ask Erick he's going to handle that ball 99 times out of 100," manager Mike Scioscia said.

Haren said he felt better as the game went on – Ian Kinsler's eighth-inning double skipped off the back of the third-base bag – but Scioscia elected to give Haren the hook, in part because shadows had crept across home plate and Rodney throws about 95 mph.

It didn't work out. But then again, few things have for Haren lately.
April, 19, 2011
4/19/11
10:47
AM PT
The Angels proved to be the moveable object when they met the Texas Rangers and lost 7-1 Monday night at the Ballpark in Arlington. The Angels had come in riding a five-game winning streak and the Rangers entered it with a 6-0 record at home.

To find out what the Angels are up against in this series, we caught up with ESPNDallas.com's Richard Durrett for a look at the 2011 Rangers:

Was there a pattern, other than the opponent, to the Rangers starting so hot (9-1) and then cooling off in the last couple of series?

The offense was on fire to start the season, beating up on the Red Sox and Mariners at home. In fact, going into Monday's game, the Rangers hadn't even batted in the ninth inning in Arlington (six wins, none in extra innings). They got good starting pitching, but frankly, they got good enough starting pitching on this just-completed nine-game road trip, but they didn't hit well as a team. The clutch at-bats and big innings just weren't there with any consistency. Add in the fact that the bullpen was wobbly and the Rangers lost some games late.

How in the world have they managed to patch together that rotation? Is Alexi Ogando's long-term future as a starter and how badly do you think they'll miss him as a late-inning reliever?

They miss him badly in relief. Manager Ron Washington is trying to piece together the late innings to get the game to closer Neftali Feliz. Ogando was the hard-throwing righty that could come in and pitch that eighth inning. Lately, the Rangers have relied on veteran lefties Darren Oliver and Arthur Rhodes for that inning. But those guys can't keep up the pace they are going. The Rangers need a right-handed arm to step up. Could it be Pedro Strop? We'll see. But you can bet bullpen help is high on the list of Rangers' needs now and in the future. BTW, the back end of the rotation is what's making this happen. Matt Harrison, Derek Holland and Ogando have been solid. You'll get to see Harrison, who is undefeated, on Wednesday.

Do you get the sense the Rangers are more concerned about Anaheim or Oakland as the team that could cut short what they hoped would be long-term dominance of the division?

Honestly, they are concerned about both. Oakland and the Angels have the pitching to stay in the division and the Rangers feel like both are a threat. They believe they can win the division, but I talked to several players the past few days about the AL West and all of them are expecting a tight, three-team race until the very end.

It seems Adrian Beltre hasn't gotten off to the slow start that some other big-money guys who changed teams have (eg., Carl Crawford and Vernon Wells). What kind of influence has he been on the team aside from his numbers, so far?

Beltre was actually much better at the plate on the road trip (he and Michael Young were the only two guys that really hit much at all on that trip) and comes into this series feeling better about his offense. But he's had big impact everywhere else. The guy grabs anything and everything hit his way, helping make the Rangers' infield one of the best in the majors. At times, it feels like he's playing third and short because of his range. That allows shortstop Elvis Andrus to slide a little bit more toward the bag, making it even tougher to get a ground ball through. Beltre also fits in well in the clubhouse. Like last year, this is a group of guys that are close-knit and like to have fun.



Catch us up on Mike Napoli. Is he viewed as an everyday player, a bench guy who a hybrid? What's your crystal ball tell you about his impact this season?

His role changed at the end of spring training when the club traded Matt Treanor to keep an extra reliever. Instead of mainly 1B or DH, Napoli is the backup catcher. They traded for him to provide some pop against lefties off the bench and that's still his primary role. But now he catches more and the short bench and no third catcher means manager Ron Washington has to get creative (he can't put Napoli at DH, for instance, with Yorvit Torrealba catching unless he wants to risk losing the DH). But Napoli is another good guy in the clubhouse and has worked well with the pitchers.

If you were to pick one area of this team that you think management is most concerned about for the rest of the season, what would it be?

Bullpen, as we've discussed. But they'll also monitor how this team responds to the loss of Josh Hamilton. Seems strange to think they'd add a bat, but you never know what might be available at the trade deadline. Also, it's still WAY early in the season and you can never have enough starting pitching depth. Watch to see how Brandon Webb progresses and when Tommy Hunter is ready. They could provide some key reinforcements.