April, 14, 2013
Apr 14
1:02
AM PT
September, 9, 2012
9/09/12
12:33
PM PT
ANAHEIM --
Jered Weaver
could return to the Los Angeles Angels' rotation as early as next week but Angels manager Mike Scioscia was cautious not to lock him into an exact date until he saw his ace on the mound.
"At some point he's going to have to get on the mound for touch and feel and it will likely be (Monday)," Scioscia said. "But we're not fitting in a schedule for Weave to follow of when he has to pitch. We're going to pitch him when he's ready. So it's going to go according to how he feels. When he's ready to pitch we'll put him in there."
Weaver missed his start Friday night against the
Detroit Tigers
to rest his biceps tendinitis but played catch from about 90 feet on Saturday and Sunday. Sciosica said he would talk to Weaver Sunday and Monday to determine when Weaver would return.
"He'll verbalize it and we want to tangibly see him throwing the ball free and see how it's coming out of his hand," Scioscia said. "And just get confidence that he's at a higher level than he was last week. If he's not, you're just spinning your wheels."
Here's a look at today's lineups:
Tigers
Austin Jackson
2B
Andy Dirks
LF
Miguel Cabrera
3B
Prince Fielder
1B
Delmon Young
DH
Brennan Boesch
RF
Jhonny Peralta
SS
Alex Avila
C
Omar Infante
2B
Angels
Mike Trout
CF
Torii Hunter
RF
Albert Pujols
DH
Kendrys Morales
1B
Howie Kendrick
2B
Erick Aybar
SS
Mark Trumbo
LF
Alberto Callaspo
3B
Chris Iannetta
C
August, 17, 2012
8/17/12
11:49
PM PT
ANAHEIM, Calif. – The tributes have been rolling in all week to commemorate the 10th anniversary of the Angels' World Series win in 2002.
[+] Enlarge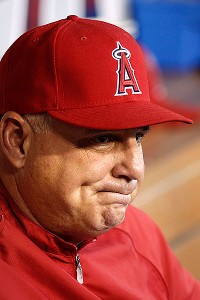 AP Photo/Reed SaxonThe Angels have shifted their focus to big-money players, and with a high payroll comes elevated expectations that Mike Scioscia needs to live up to.
Several players looking slightly different than they did during that magical run 10 years ago have been throwing out the first pitch before each game during this 10-game homestand, culminating in a team reunion on Saturday night.
The one constant over the past 10 years has been
Mike Scioscia
's presence in the Angels' dugout.
"I'm probably 40 pounds heavier," Scioscia said Friday night. "With a little less hair."
Tampa Bay Rays manager Joe Maddon, who was Scioscia's bench coach with the Angels from 2000-2005 and was the team's interim manager in 1996 and 1999, laughed when he heard Sciosca's line.
"I thought he lost a couple pounds," Maddon said. "Either that or he's wearing bigger shirts, one of the two."
This 10-game homestand was supposed to be a celebration of the Angels' past and perhaps a turning point for the current team. Instead, after Maddon's Rays beat the Angels on Friday, 12-3, they have gone 3-5 (and 5-11 in August) and have slowly faded in their playoff race. As they show highlights of the Angels' World Series run in between innings night after night, the difference between the clubs then and now couldn't be any more noticeable.
The Cinderella story on the video board is a stark contrast to the highly-paid underachievers currently on the field.
August, 17, 2012
8/17/12
10:19
PM PT
ANAHEIM, Calif. – The one constant the Los Angeles Angels could always count on during their rocky, unpredictable season was Jered Weaver giving them a solid outing. While the other high-priced arms on the staff failed to deliver, Weaver was always there for them each time he took the mound.

For the second straight start, however, Weaver wasn't himself and the Angels now have to wonder where their season is headed if their Cy Young candidate can't even give them a quality start.

Weaver gave up nine runs and was pulled in the fourth inning without recording an out as the Tampa Bay Rays beat the Angels 12-3 on Friday night and pushed the Angels to seven games behind the Texas Rangers in the American League West.

The good:

Kendrick. On a night when the Angels could do nothing right offensively, Howie Kendrick was one of the few bright spots. He hit a two-run homer to right center in the fourth inning to bring the Angels to within 9-3, which is as close as they would get. Kendrick now has hits in 15 of his past 17 games and is batting .317 since June 9.

Aybar. Erick Aybar homered to right center to cut the Rays' lead in half (2-1) in the third inning before the game got out of hand. It was a solid game for Aybar, who was 2-for-3 with a run and an RBI. Aybar is batting .368 with nine runs and three home runs since being reinstated from the disabled list on Aug. 6. After batting .197 through the season's first 40 games, he owns the top average by a shortstop in baseball at .309.

Downs and Walden. One of the few bits of good news on the night for the Angels was they will be getting some much-needed reinforcements in the bullpen this weekend. Scott Downs is expected to be activated Saturday and Jordan Walden could be activated by Sunday. Walden, who was the Opening Day closer, has been on the disabled list since July 15 with a strained right biceps, while Downs has been out since July 28 with a left shoulder strain. "It's going to be huge for us [to get Downs and Walden back], but it has to be paired with more effective starting pitching if it's going to work," Angels manager Mike Scioscia said. "We hope those two things will come together."

The bad:

Weaver. Weaver wasn't just bad Friday night, it was "Could this season be slipping away from the Angels?" bad. It was as if whatever sickness has been ailing the rest of the staff this season finally spread to Weaver like a terrible cold. Weaver gave up a career-high nine runs before getting pulled in the fourth inning without getting anyone out. It was an almost surreal sight as Weaver walked off the mound before Scioscia could get to him. Weaver allowed eight hits, including two home runs after he had won 10 straight before losing on Sunday. He had given up only three home runs at home in his previous nine starts. He has given up four in his past two starts. Suddenly that Cy Young award most thought was in the bag for Weaver is not such a sure thing anymore.

Fourth inning. If the Angels fail to make the playoffs, even the most optimistic Angels fans will have to admit the fourth inning of this game was the moment they felt the season slipping away. The Rays scored seven runs during a seemingly never-ending fourth inning on Friday, as Weaver was unable to get anyone out. He faced seven batters and gave up five hits, two walks and five runs and recorded no outs. It was Weaver at his all-time worst and the Angels in their most hopeless state.

Bullpen. Well, this one has been a given this season, but combine a bullpen in shambles with a career-bad start for Weaver and you have one ugly night for the Angels. After Weaver was taken out of the game, LaTroy Hawkins came in and gave up a two-run single, although both runs were charged to Weaver. The Angels also used Hisanori Takahashi, Jason Isringhausen and Steven Geltz out of the bullpen, with each one giving up at least two hits. This month the Angels' pitchers have combined for a 6.17 ERA, the worst in the American League, and have allowed four or more runs in an inning 11 times in past 17 games, the most in baseball.
August, 17, 2012
8/17/12
7:00
PM PT
ANAHEIM, Calif. – The Angels got some good news and potentially good news on their much-maligned pitchers on Friday.

Barring an unforeseen setback, Scott Downs will be activated tomorrow and Jordan Walden will be activated this weekend.

While Downs seems ready to go, Walden still had to go through a bullpen session with pitching coach Mike Butcher on Friday and will be reevaluated on Saturday.

Walden, who was the opening day closer, has been on the disabled list since July 15 with a strained right biceps while Downs has been out since July 28 with a left shoulder strain.

"Scott looks like he will be activated tomorrow, he'll just play some catch today," Angels manager Mike Scioscia said. "Jordan is working with Mike Butcher today and we'll evaluate him tomorrow. Downs looks ready so unless something happens today he'll be activated tomorrow."

As bad as the bullpen has been this month (and they've been the worst in baseball), Scioscia said the bullpen needs the starters to help them out as well. The Angels' bullpen isn't set up for the starter to not go at least seven innings, which has been a rarity outside of Jered Weaver recently.

"It's going to be huge for us (to get Downs and Walden back) but it has to be paired with more effective starting pitching if it's going to work," Scioscia said. "We hope those two things will come together."

In an effort to fix one of their starters, Dan Haren will not take the mound for the Angels again until a week from Saturday in Detroit.

Haren will use the time to work with Butcher on his mechanics and to get more comfortable after failing to complete four innings in each of this last two starts. On Thursday night he gave up five runs on seven hits to Tampa Bay in a 7-0 loss.

"Dan reviewed some tape and feels there's some things in his release point that are a little different from where he was throwing even last year," Scioscia said. "He's going to try to get those things tuned… He thinks his arm slot has changed a little bit, just slightly, and he just wants to try to get back to where it needs to be."

Monday's day off will allow Haren the extra time off without requiring any of the starters to pitch on short rest.

"This is a mechanical thing," Scioscia said. "I think when Dan is on, he can pitch deep into a game. He's going to throw some pens with Butch and hopefully find a release point that's going to give him the consistency he needs and get him ready for next Saturday in Detroit."

Here are Friday's lineups:

Rays –

Desmond Jennings LF
B.J. Upton CF
Matt Joyce RF
Evan Longoria DH
Ben Zobrist SS
Jeff Keppinger 1B
Sean Rodriguez 3B
Ryan Roberts 2B
Jose Molina C

Angels –

Mike Trout CF
Torii Hunter RF
Albert Pujols 1B
Kendrys Morales DH
Mark Trumbo LF
Alberto Callaspo 3B
Howie Kendrick 2B
Erick Aybar SS
Chris Iannetta C
August, 12, 2012
8/12/12
12:49
PM PT
ANAHEIM, Calif. -- When Vernon Wells arrived in the Angels' clubhouse Sunday morning, he found himself back in the starting lineup for the second time in as many days.

His appearance Saturday night was supposed to be for just one game but he essentially forced Angels manager Mike Scioscia to find a spot for him again Sunday.

Wells was 0-for-16 with three strikeouts in his first six games back from the disabled list but went 3-for-3 with 3 RBIs and a home run on Saturday. He hit his first home run since May 16 in the eighth inning. It was also Wells' first three-hit game since July 22 of last season.

"That was the most comfortable we've seen him in the box since he put on an Angels uniform," Scioscia said. "Hopefully it is something he can build on. If a guy is performing, you're going to play more. Hopefully Vernon can carry it over."

Wells, who received a back-loaded seven-year, $126 million contract from the Toronto Blue Jays after the 2006 season, hasn't been a factor with the emergence on Mark Trumbo and Mike Trout this season. He batted .218 last season with 25 home runs and 66 RBI. This season, he is batting .234 with 7 home runs and 15 RBI.

Scioscia is still unsure why a player as talented as Wells was in Toronto has been unable to have any kind of sustained success with the Angels.

Wells, who missed 55 games because of a right thumb injury before being instated on July 27, found himself in the lineup on Saturday as Trumbo took the day off and tried to break out of the 8-for-50 slump he is in. On Sunday he replaced Kendry Morales. As long as he keep hitting, Scioscia said he will find a way for him to play.

"Last night Vernon had it and hopefully it's something he can bottle," Scioscia said. "He's definitely underperformed and it's good to see him contribute."

Here are lineups for Sunday:

Seattle
Dustin Ackley 2B
Michael Saunders CF
Kyle Seager 3B
John Jaso DH
Jesus Montero C
Mike Carp 1B
Eric Thames RF
Trayvon Robinson LF
Brendan Ryan SS

Angels
Mike Trout CF
Torii Hunter RF
Albert Pujols DH
Mark Trumbo 1B
Howie Kendrick 2B
Erick Aybar SS
Vernon Wells LF
Maicer Izturis 3B
Bobby Wilson C
August, 11, 2012
8/11/12
5:10
PM PT
ANAHEIM, Calif. -- The Los Angeles Angels optioned right-handed reliever David Carpenter to Triple-A Salt Lake and called up right-hander Steven Geltz from Salt Lake after Friday night's 6-5 win over the Seattle Mariners.

This is Geltz's first call-up after posting a 2.09 ERA, 0.95 WHIP and 4.0 strikeout-to-walk ratio in 51 2/3 innings for Double-A Arkansas and Triple-A Salt Lake this season.

"He's a right-hander that has really pitched his way onto our depth chart," Angels manager Mike Scioscia said. "He's a guy who got an opportunity and he showed in the minor leagues that he has the makeup and the stuff to get an opportunity up here to fill some of the holes in our pen right now and hopefully he can pitch like he was down there."

During the Angels recently completed 10-game trip, Scioscia saw his bullpen post a 10.54 ERA with five losses and five blown saves. During that time they also gave up 32 runs in 27 1/3 innings and 41 hits, including 11 home runs.

Carpenter was just one of many problems in the pen. He has been inconsistent all season as a long reliever, posting a 4.76 ERA in 28 appearances.

"Carpenter needs to work on a couple of things," Scioscia said. "He needs to go down and try to refine a couple of things and get more consistent. I think the major changes in our pen are going to come when Jordan Walden and Scott Downs are back and healthy. Right now it's an opportunity to fill some of these voids and hopefully Steven can be a part of that."

Walden, who was the opening day closer, has been on the disabled list since July 15 with a strained right biceps. He was scheduled to begin a two-game rehab assignment in Triple-A Salt Lake on Saturday and Monday and could return to the team next week.

Downs, who has been out since July 28 with a left shoulder strain, is progressing with his long-toss program and could return next week as well.


July, 30, 2012
7/30/12
8:11
PM PT
The Los Angeles Angels let out 24 straight innings of scoreless frustration on the Texas Rangers on Monday night in a 15-8 rout that very well could be a turning point in the race for the American League West. In the process, Kendrys Morales became only the third player in MLB history to hit a home run from each side of the plate in one inning during the Angels' nine-run sixth.
Entering their biggest series of the season -- with four games in Arlington that could make or break their year -- few outside the Angels' clubhouse had much confidence in their offense after back-to-back shutouts at home versus the Tampa Bay Rays. It didn't take long to shatter those concerns with three runs in the first three innings and a nine-run sixth inning that not only broke open the game but might have given this struggling Angels team new life. They now are just four games behind the Rangers with three games left in their crucial series in Arlington.
The good:


MVP Trout
. A day after
Mike Trout
sat out Sunday's game against the Tampa Bay Rays with a left knee contusion, he returned to the lineup Monday night and picked up right where he left off. Trout hit an opposite field, two-run home run to give the Angels a 3-2 lead in the third inning when
Roy Oswalt
tried to go inside on him. Trout then hit a two-run single to center to score
Maicer Izturis
and
Peter Bourjos
, giving the Angels an 8-3 lead in the sixth inning.
Trout, who was 2-for-5 Monday with four RBIs and three runs, is first in the AL in batting average, stolen bases and runs, and third in OBP and slugging percentage. Trout currently is on pace to bat .350 with 28 home runs and 54 stolen bases. No player in MLB history has hit .340 with at least 20 homers and 40 stolen bases. What's more remarkable is that Trout didn't begin the season until April 28, essentially giving everyone else a 20-game head start before he was called up to help turn around the Angels' season. Trout's uncanny ability to quickly adjust is easily noticeable when you break down his batting averages. He is batting just less than .300 in his first at-bat but is batting more than .400 in his second, third and fourth at-bats.
Switching it up.
When
Kendrys Morales
hit a two-run homer to right to score
Albert Pujols
in the sixth inning, the Angels were just happy to have the lead again. No one could have imagined it would be the beginning of a nine-run sixth inning for the Angels, which would see Morales become only the second Angels player and first since
Rick Reichardt
in April 30, 1966, to hit two home runs in a single inning. But the achievement in no way stops there: Morales become just the third player ever to switch-hit home runs in the same inning. Morales' second homer was a grand slam, which gave him 6 RBIs in the inning. It was the most RBIs in one inning for a player since
Juan Uribe
also had six for the San Francisco Giants on Sept. 23, 2010 against the Chicago Cubs.
Settling Santana.
It wasn't a stellar outing, but judging it against recent
Ervin Santana
starts, it was a solid one for the inconsistent right-hander. Angels manager
Mike Scioscia
had a 15-out "limit" for Santana against the Rangers, and few thought Santana would last that long. After all, we are talking about the same guy who gave up a combined 14 runs in three innings of work in two of his past three starts. Santana, however, settled himself Monday and pitched five innings, giving up four hits and three runs and striking out three. Again, it wasn't an amazing start by normal standards, but it was a major improvement for Santana, who got a much-needed win.
The bad:
Drought ends, Part 1.
Going into the game, the Rangers were 0-for-their-previous-29 with runners in scoring position. It was their longest drought since April 1988, when they went 0-for-35. That was before
David Murphy
doubled to deep left to score
Josh Hamilton
to give the Rangers a 2-1 lead in the bottom of the second inning. Although the run stopped the drought, it was the last time the Rangers would lead in the game.
Drought ends, Part 2.
Hamilton had been in a two-month slump that was so bad he recently was booed at home. Hamilton wasn't quite sure what was wrong with him, and neither was Rangers manager
Ron Washington
, who dropped him to fifth in the lineup. Hamilton went into the game hitting .115 over his previous 17 games and .204 over his previous 56 games. After a torrid start to the season during which he was the AL player of the month in April and May, he hit .223 in June and just .141 in July. Hamilton, however, started the game with a double down the left-field line, then homered to left to tie the game at 3 in the fourth inning. It was his first multihit game since July 4. Hamilton finished the game going 3-for-4 at the plate with two runs and one RBI.
Trumbo out.
For the second straight game, a member of the Angels' vaunted "TNT" attack was missing, as
Mark Trumbo
was held out with a tweaked rib-cage muscle in his right side that he suffered Sunday. Trumbo apparently hurt himself during batting practice before Sunday's game against Tampa Bay but played anyway. After he went hitless in three at-bats against the Rays, Scoscia held him out Monday. Trumbo, who is hitting .304 with a team-leading 27 home runs and 69 RBIs, likely will be back in the lineup Tuesday. In other injury news, it appears
Dan Haren
will not be able to make Wednesday night's scheduled start against Texas due to tightness in his back. Haren recently returned from a lower-back injury that sent him to the disabled list July 4.
June, 22, 2012
6/22/12
10:41
PM PT
ANAHEIM -- Perhaps the Angels simply wanted to give their rivals up the Interstate 5 freeway something to get excited about early in the game. After all, the Dodgers had only scored two runs in their last three games when they finally exploded for five in the first two innings against the Angels on Friday night to take an early 5-0 lead.
While the start of the game was a sight for sore eyes in the Dodgers' dugout, the ending was a familiar one for the Angels and Dodgers, two teams going in opposite directions to begin the summer.
The Angels' 8-5 win over the Dodgers on Friday was the Angels' 21st win in their last 28 games as they now have an MLB-best 32-18 record since April 28. Meanwhile the loss was the Dodgers' fourth straight, one off their season-high.
The Good:


The comeback.
By the time many fans, who had been stuck in Friday afternoon traffic, made it to their seats in the bottom of the first inning, the Angels were already down 3-0 and would soon be down 5-0 in the top of the second inning before the Angels mounted a comeback. The Angels responded by scoring three runs in the second and three more in the third to take a 6-5 lead. The final two runs of the comeback came on a squeeze play by
Bobby Wilson
which scored
Erick Aybar
and was followed by a
Mike Trout
home run to left centerfield. Trout's homer brought the 44,545 in attendance, the largest regular-season crowd in the reconfigured Angel Stadium, to their feet.
T&T.
There is no question the reason the Angels have an MLB-best 33-18 record since April 28 is because of Trout. It is no coincidence the team's turnaround began as soon as he was brought up on, you guessed it, April 28.
Mark Trumbo
, however, deserves some credit too. On Friday night Trout and Trumbo combined to go 2-for-7 with three runs and one homer.
Solid bullpen.
Perhaps the unsung heroes of the Angels' turnaround this season have been the relief pitchers in their bullpen. In their first 32 games the Angels' bullpen was 1-6-5 with a 4.70 ERA. In their last 39 games they are 6-2-10 with a 1.99 ERA. On Friday night, the relief pitchers for the Angels took over for
Dan Haren
in the sixth inning and allowed only three hits and no runs to seal the Angels' 21st win in their last 28 games.
The Bad:
Shaky start.
To say Haren had a shaky start Friday night would be putting it mildly. Haren gave up five runs in the first two innings and finally took a seat after pitching five innings. Although he settled himself after the first two innings and was credited with the win, he still gave up five earned runs and nine hits and had a 4.24 ERA.
Not there yet.
There is no question
Albert Pujols
, much like the Angels, is light years ahead of where he was at the start of the season. He is still, however, nowhere near where the team needs him to be and where it looked like he was headed two weeks ago. Pujols only has five hits in his last 28 at-bats and was 1-for-4 on Friday night with no runs. His current slump has to be especially disconcerting considering he has been facing National League pitching he is more familiar with.
Howie you doing?
You won't find this stat in the game notes but it is entirely possible that
Howie Kendrick
leads the league in having bats flying into the stands. It happened again Friday night as he has had made life far harder on fans sitting on the baselines than infielders over the past week. After going 0-for-3 on Friday he only has two hits in his last 13 at-bats.