Los Angeles Angels:

Reggie Willits
May, 31, 2011
5/31/11
9:22
PM PT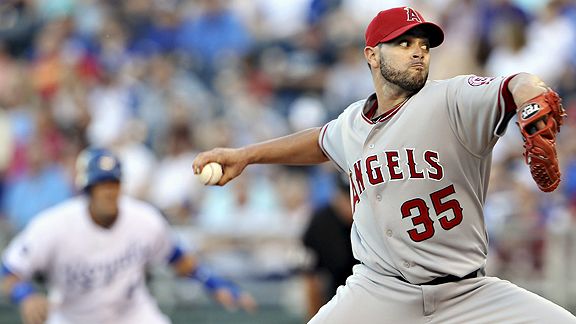 Jamie Squire/Getty ImagesAfter Tuesday's defeat in Kansas City, Joel Pineiro has lost four straight starts.
The Angels got off to a quick start in Kansas City on Tuesday, but the offense sputtered after the first inning and
Joel Pineiro
continued to struggle in a 7-3 loss at Kauffman Stadium.
The Good:
Momentum.
The Angels had one of their more complete offensive performances Monday -- flashing some power and bunching hits -- and they seemed to carry that confidence into the first inning. Without taking a walk, they forced struggling lefty
Jeff Francis
to throw a lot of pitches and four of the first five batters came up with base hits. (See below)
Corners.
It's generally a good idea to get offensive production from your first and third basemen, but the Angels got shockingly little in 2010.
Mark Trumbo
and
Alberto Callaspo
have been two of the team's hotter hitters, so maybe they won't have to relive that nightmare again this year.
Bell toils. Trevor Bell
has been on a shuttle between Triple-A Salt Lake and the big leagues for a few years running, but maybe he has found his niche at last. He gave the Angels a scoreless inning at the end and has now given up only two runs in his last seven innings.
The Bad:
Green light.
The Angels had Francis reeling in the first inning, but for some reason,
Mike Scioscia
gave .240-hitting
Peter Bourjos
the clearance to swing away on a 3-and-0 count. Typical Angels aggressiveness. Bourjos hit a shallow pop-up to left field, the Angels could cash in only two runs, Francis settled in and they wouldn't get another opportunity this good again.
Stuck on 99.
Pineiro has been searching for his 100th win for a while. He pitched great after coming off the disabled list, but he has lost four straight starts and hasn't pitched particularly well. The sinkerball specialist has given up 15 earned runs in those four starts.
Lightweight bench.
Right now,
Reggie Willits
is contributing nothing to this team. He is batting .045 in 25 at-bats and seems to be ordered to bunt every time he comes up. So, why is Willits in the lineup, other than for the fact
Bobby Abreu
has become a brutally bad outfielder? Look for Willits to head back to Triple-A Salt Lake when
Howie Kendrick
returns from the disabled list Saturday.
May, 25, 2011
5/25/11
10:00
PM PT
ANAHEIM -- The Angels' offense snapped awake for one loud inning Wednesday night to defeat one of the best pitchers in the league, Oakland's Trevor Cahill. Torii Hunter and Alberto Callaspo both homered during the Angels' three-run fifth inning and Ervin Santana pitched six strong innings in a 4-1 win.

The Good:

No 'A' in Ervin. But there's an Ervin in the A's... heads. Santana wasn't efficient, but he was stingy, striking out six, to improve his lifetime record to 13-3 with a 1.97 ERA vs. Oakland. He gave the Angels a chance to rally off Oakland ace Trevor Cahill, an unlikely proposition that they somehow pulled off.

A big bat. Ah, so the Angels do have one hitter capable of hitting a baseball into an unplayable area beyond an outfield wall. Hunter has found his groove, at long last. The Angels' cleanup hitter mashed a home run to left-center field in the fifth inning, giving him eight RBIs and two homers in his last six games.

Turning tide. The Angels badly need their least-experienced hitters to grow up fast. Hank Conger, Peter Bourjos and Mark Trumbo each snapped out of a funk to some degree. Conger smacked hard singles to right in his first two at-bats, Bourjos struck out twice but had an RBI infield hit and Trumbo singled to right amid the Angels' fifth-inning rally.

The Bad:

Small ball. The fourth inning was a good microcosm of how feeble this offense often is. After Conger's leadoff single, Alexi Amarista reached on an infield hit -- diving headfirst to beat the pitcher to the first-base bag. After that, Reggie Willits bunted, Bourjos struck out (on a curveball in the middle of the plate) and Erick Aybar hit a dribbler that made it halfway to the pitcher's mound. Wow. Just wow.

K-club. Bourjos is still striking out an alarming rate for a player with his speed and relative lack of power. Entering Wednesday, Adam Dunn and Austin Jackson were the only guys in the AL who had struck out more than the 53 times Bourjos had whiffed. He took a curveball for a called strike three and swung and missed in the fifth for two more. His swing-and-miss rate makes you wonder if he'll ever be an impact hitter.

West is worst? The Angels came into Wednesday batting .230 with runners in scoring position. The A's were hitting .234 in those situations. The Angels went 2-for-8. The A's went 1-for-7. No wonder people on the East Coast can't stay up to watch West Coast games. They're boring.
May, 24, 2011
5/24/11
6:23
PM PT
Reserve outfielder Reggie Willits was glued to the afternoon's TV coverage of a series of tornadoes that struck Oklahoma.

One of them touched down in Chickasha, the town where Willits was born and about 15 miles from where he lives, Fort Cobb. Willits said he spoke with his parents and everyone is fine.

"My dad said there was baseball-sized hail," Willits said. "Pretty scary."

* Howie Kendrick tested his strained right hamstring by doing some agility drills in the outfield, but he's unlikely to play on the remainder of this homestand. The Angels are hoping to avoid placing him on the 15-day disabled list, but every day that goes by makes that less likely.

Kendrick, who leads the team in batting, hasn't played since Thursday.

"I think they're being cautious in a good way, because if I go out and do something stupid, I could be hurt for a while," Kendrick said.

* How's this for a promotion: The Angels gave away Kendrys Morales bobblehead dolls Tuesday night, two days before he's scheduled to undergo season-ending surgery. They also misspelled his name, leaving out the 's,' he announced had been erroneously left off his first name since he signed in 2004. The figurines were manufactured in China before Morales corrected the Angels' spelling.

Here are the lineups for Tuesday night's game against the Oakland A's, with Dan Haren opposing Guillermo Moscoso:

Oakland

1. Coco Crisp CF

2. Daric Barton 1B

3. Josh Willingham LF

4. Hideki Matsui DH

5. Kurt Suzuki C

6. David DeJesus RF

7. Mark Ellis 2B

8. Andy LaRoche 3B

9. Cliff Pennington SS

Angels

1. Maicer Izturis 2B

2. Erick Aybar SS

3. Bobby Abreu DH

4. Torii Hunter RF

5. Alberto Callaspo 3B

6. Mark Trumbo 1B

7. Hank Conger C

8. Alexi Amarista LF

9. Peter Bourjos CF