Los Angeles Angels:

Ricky Romero
September, 19, 2011
9/19/11
8:57
PM PT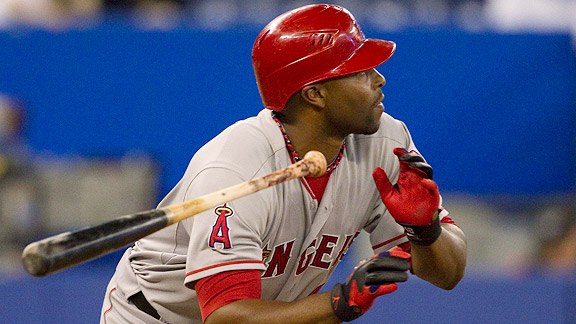 AP Photo/The Canadian Press, Chris YoungTorii Hunter homered Monday in Toronto, but it wasn't enough as the Angels lost in 10 innings.
The Angels continued to fritter away their playoff hopes on the road, losing 3-2 in 10 innings to the Toronto Blue Jays on Monday, their third loss in the last four games.
The Angels lost ground in both playoff races. They're now five games out in the AL West and 4 1/2 out in the wild-card race with only nine games left.
The Good:
(Small doses of) power. Torii Hunter
and
Mark Trumbo
hit solo home runs off
Ricky Romero
, a Los Angeles native and former Cal State Fullerton Titan. Otherwise, the Angels had no offense to speak of. It seems as if those two have often worked in an offensive vacuum during this team's sputtering playoff push.
Williams' work.
It looks more and more as if that poor start in Oakland was the anomaly, not the rule.
Jerome Williams
has been better than solid, even working on extra rest as the Angels position their Big Three starters to work as often as possible. If Williams had fielded his position better (he dropped the relay on a double-play ball and made the throwing error that cost him two runs), he would have had a dominant evening.
Relief work. Scott Downs
has had a remarkable season, but he's not a miracle worker. He escaped one dangerous situation in the ninth, but after
Erick Aybar's
error put him in another jam, he gave up the
Adam Lind
fielder's choice grounder to fifth infielder Hunter that brought in the winning run in extras. Downs, in his first season with the Angels, has been perhaps the team's most consistent player.
The Bad:
Turned off (ense).
The Angels just haven't been reliable enough on offense to stay afloat. They go long stretches of games without managing a base runner and rarely put consistent pressure on other teams. Seven hits and zero walks in 10 innings really doesn't amount to an offense, and that has been a familiar refrain.
Settings.
This trip has had some rather drab backdrops, perhaps fitting for the Angels' fall from contention. The crowds in Oakland were just a few scattered thousand a game and the 11,000 or so who showed up in Toronto accounted for the smallest crowd of the season there -- and 7,000 fewer than showed up at an exhibition hockey game down the street. If a tree falls in the forest ...
Opportunism.
Thinking like this can drive you crazy, but if the Angels had just managed to eke this game out and beaten last-place Baltimore on Friday and Saturday -- far from impossible tasks -- they'd be 1 1/2 games out in the wild-card hunt, with Boston apparently sinking like a stone (and Tampa facing the New York Yankees six more times). They've blown what could have been a golden opportunity and have no one to blame but themselves.
August, 13, 2011
8/13/11
5:41
PM PT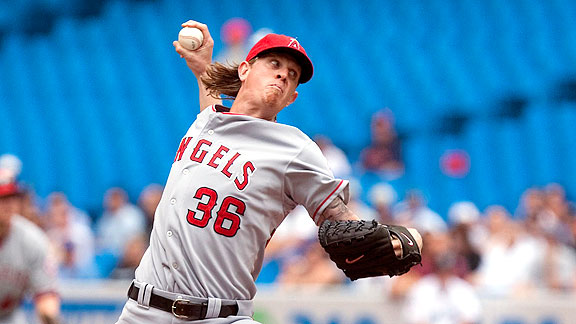 AP Photo/The Canadian Press, Chris YoungMore rest didn't mean a better Jered Weaver, who was hit hard by the Blue Jays on Saturday.
Jered Weaver
didn't fare well on seven days' rest and the Angels slipped to three games back of the first-place Texas Rangers with an 11-2 loss to the Toronto Blue Jays at Rogers Centre. The Angels' ace made his first start since serving a six-game suspension for throwing at Detroit catcher
Alex Avila
.
The Good:
Alberto Callaspo
. He is the Angels' leading hitter. Let that sink in for a while. He hit a home run and is one of the few Angels swinging a decent bat these days. It's probably not a great sign for your offense when a slow-footed slap hitter is your most vibrant offensive force.
Ricky Romero.
The lefty from East Los Angeles and Cal State Fullerton has matured into one of the most reliable pitchers in the game. His 11-9 record doesn't show it, but a 2.87 ERA tells you he's having a pretty dominant season. He certainly pitched better than his former rival from the Big West conference, Weaver.
Lineup moves.
Obviously, it didn't work on this particular afternoon, but putting your leading run producer,
Mark Trumbo
, in the cleanup spot seems like a reasonably smart thing to do. Eventually, you've got to figure Trumbo's power will produce some good things in the middle of the order. But will it be too late?
The Bad:

Scoring. Mike Scioscia
spent much of his pregame media session talking about the need to produce more offense, and then his team went out and proved him right. The Angels only scraped together four hits. Rarely will you win those games. The Angels entered Saturday 23rd in the majors in runs scored.
Weaver.
It was a bad game. Even
Bob Gibson
and
Sandy Koufax
had those. But Weaver clearly didn't have his stuff or command and it's hard to believe the long layoff had nothing to do with it. It would be a shame if his immature display in Detroit ends up costing the Angels a playoff berth, because he has been the main reason they're in the race.
Erick Aybar.
The problem when you're
Erick Aybar
is that, when you're not getting base hits, you provide absolutely no value to an offense.
Bobby Abreu
still gets on base five or six times a week even when he's scuffling, but Aybar virtually never walks. Stuck in a 1-for-35 rut (yeah, you read that right), Aybar got a day off. Aybar hasn't taken a walk since July 28.